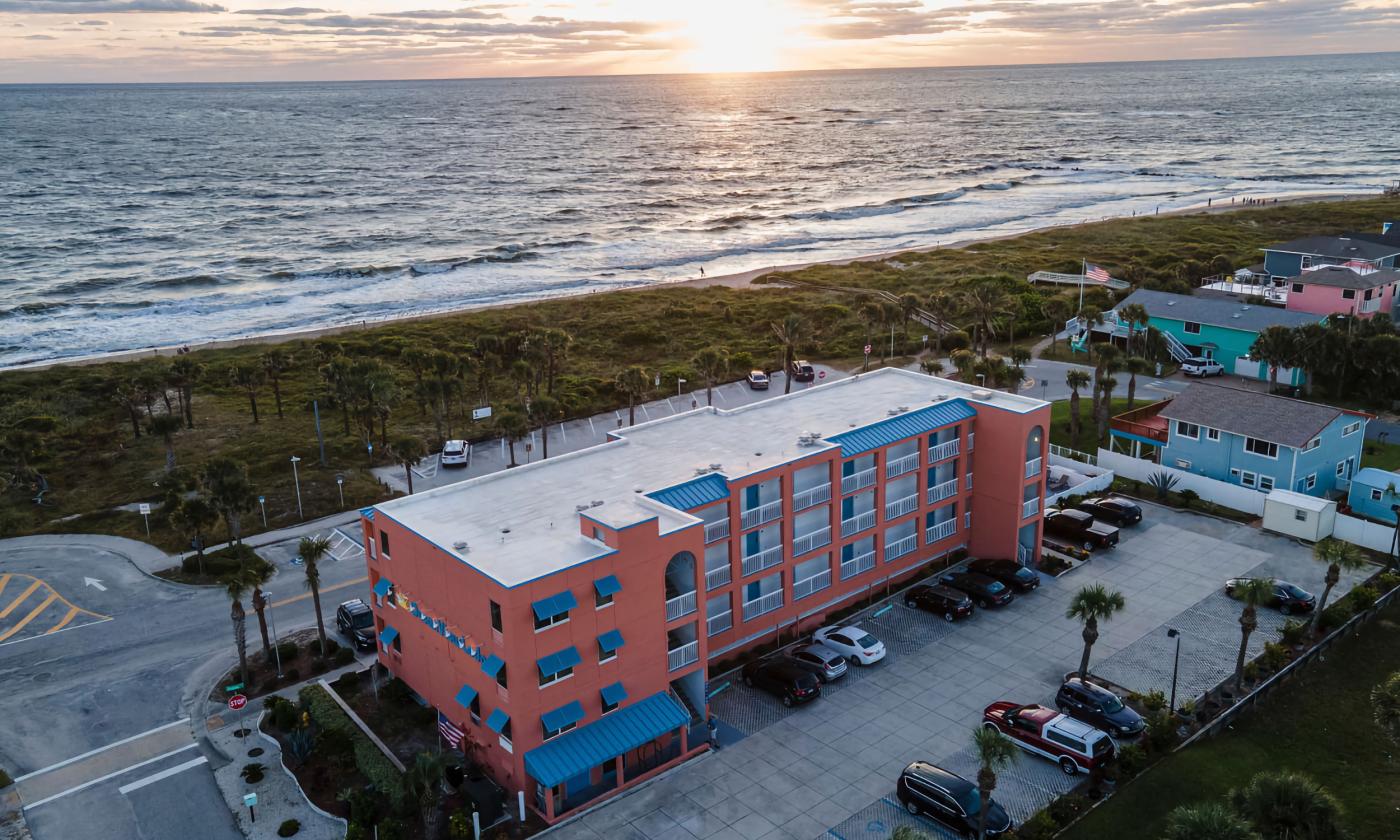 A hotel on Vilano Beach, the OceanView Lodge offers comfortable rooms in a three-story lodge and two-unit vacation rental. Except for the first floor of the vacation rental, each room has a breathtaking view of the Atlantic Ocean. Located just five minutes over the arched bridge to Vilano from the North end of the historic district. This hotel is just 3 miles from the sites and attractions of downtown, and steps away from the beach.
OceanView Lodge offers comfortable rooms, some have a jetted tub, some have a private balcony, and all but one has a sunrise view over the Atlantic Ocean. The Lodge has easy access to Vilano Beach which is a favorite for surfers, skim boarders, fishermen, and those hoping to catch a glimpse of dolphins. The peninsula of Vilano Beach that juts out where the Matanzas River meets the ocean is called Porpoise Point. At this peninsula it's not rare to catch sight of porpoises leaping in the water. 
The OceanView Lodge is just a few steps from access to Vilano Beach, and a half mile from the Vilano Fishing Pier and Beach Pavilion. Within that walk can also be found a Publix grocery store and other shops, restaurants, and a nature trail and boardwalk. This pet-free and smoke-free place to stay also has rooms that are accessible for those in wheelchairs or with limited mobility.
Call (904) 819-5555 for reservations.
Amenities
Wifi, Pool, Private Balcony, Elevator, Beach access, 2 room suites, mini-refrigerator and microwave, coffee maker, Cable/Satellite TV, Hairdryer. Two-room units are availble.

Have a Question?