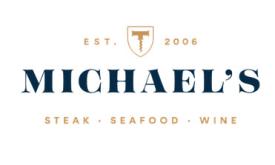 Mon - Thu:
5:00 pm - 9:30 pm
Fri - Sat:
5:00 pm - 10:00 pm
Michael's, one of St. Augustine's finest restaurants, offers both a casual and elegant dining experience that specializes in steak. Michael Lugo, chef and owner, has created a selection that pays homage to Spanish and European influences.
The traditional menu serves items such as cheese and charcuterie, filet mignon, ribeye, salads, la chamba chicken, grilled Atlantic swordfish, and Scottish salmon -- the list changes seasonally. Seafood dishes can include lobster gnocchi, oysters, crab croquetas, criollo shrimp, and sea scallops.
Pair any meal with a glass of wine, as there is an extensive 400-label wine selection available.
Michael's caters private events such as weddings, luncheons, celebrations, and social gatherings. Call (904) 810-2400 or check the business's website for more information.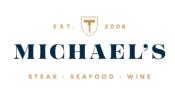 Mon - Thu:
5:00 pm - 9:30 pm
Fri - Sat:
5:00 pm - 10:00 pm