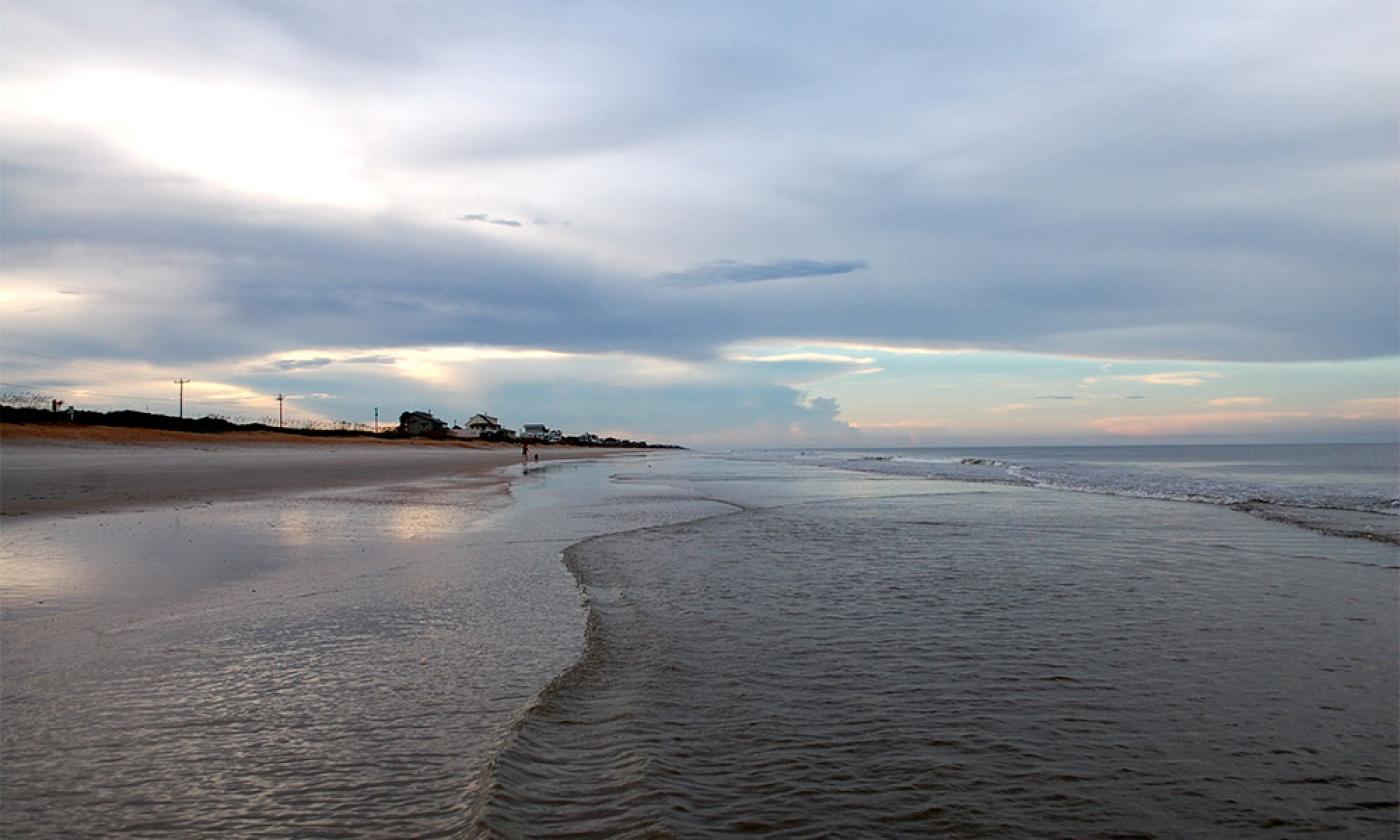 Vilano Beach is located just north of downtown St. Augustine's historic district, on the north side of the Matanzas Inlet. The town of Vilano Beach is charmingly Art Deco, with its tiled fountains and retro pier, and this local beach is also a wonderful surprise, and one of St. Augustine's best-kept secrets. 
The beach has a steep drop-off, heavier surf, and a strong current due to its location near the inlet, which makes it ideal for surfing (when the tide is coming in) and skimboarding.
The main access area to the beach is located right on the Atlantic, at 2725 Anahma Drive. The beach area continues around the southern end of Vilano Beach to Porpoise Point, a favorite place for fishing and launching jet skis. Visitors can enjoy both sunrises and sunsets from this area.
The Vilano Beach Pier is located nearby on the river side of the island. Vilano Beach hosts a variety of special events, and there are a number of excellent restaurants in the area, as well as shops where beachgoers can stop in for some last-minute items.
Beach Access and Facilities
Minimal vehicle beach access is offered at Porpoise Point access ramp. Vehicle access in Vilano Beach is restricted to four-wheel-drive vehicles, and may be unavailable on occasion depending on the condition of the sand. A nominal access fee is charged from March 1 through Labor Day to drive on the beach. Visit here for more information. Rules for driving on the beach are clearly posted and are strictly enforced for the safety of beach goers.
From May 1 through September 30 driving on the beach is allowed only from 8:00 a.m. to 7:30 p.m.
From October 1 through April 30, driving on the beach is allowed only from 9:00 a.m.  to 5:00 p.m.
The Surfside Walkover is an additional beach access in Vilano Beach, located at 3070 Coastal Highway just north of the town center. Though the facilities are limited at Surfside, there is vehicle access ramp here as well as equestrian trailer parking for horseback riding on the beach. Visit here for more information about permits for horseback riding on St. Johns County beaches.
Well-behaved dogs on leashes are allowed at most St. Johns County beaches, including Vilano Beach.
This map shows all beach access points in St. Johns County, and will note the walkover points and footbridges that are currently closed. 
Facilities available at Vilano Beach:
Off-beach parking
Limited on-beach driving (for a fee from March to September)
Restrooms
Showers
Pavilion (rentals available by calling 904-209-0331)
Picnic tables
Lifeguards staffed seasonally
St. Johns County offers a free app with all the information visitors need to find their perfect beach. Search for "St. Johns County beaches" at the Apple store or Android marketplace to download the app.