Victorian House Bed and Breakfast
11 Cadiz St, St. Augustine, FL, 32084
(904) 824-5214
(877) 576-7742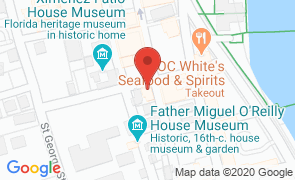 Hours
of Operation
Check in is between 1 PM and 6 PM<br />Check out is 11 AM
Victorian House Bed and Breakfast is a beautiful turn-of-the-century home nestled between two of the oldest streets in America. Each of the unique guest rooms at this historic inn have an en suite bathroom. Its location in the heart of the downtown district makes it an ideal spot to take a break from a day's sightseeing and experience what St. Augustine was like over a hundred years ago.

This is a wonderfully romantic place to stay. Guests can linger on one of the inn's many porches and balconies and enjoy the sounds of the horse-drawn carriages as they clip-clop down Aviles Street.

There's plenty of Old World charm and modern comfort at the Victorian House Bed and Breakfast. Inside the inn, guests can relax in the parlor on a vintage sofa or comfortable chair. Delicious homemade breakfasts are served in the dining room every morning. The emphasis is always on hospitality, comfort, and beautiful surroundings at the Victorian House Bed and Breakfast.

Amenities
Free parking, free wireless Internet, air conditioning, alarm clock, ceiling fans, fireplace, hairdryer, iron, ironing board, satellite/cable TV.
Restaurants
Near Victorian House Bed and Breakfast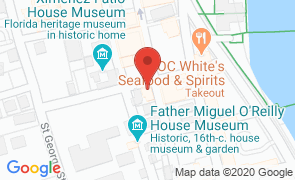 Victorian House Bed and Breakfast
11 Cadiz St, St. Augustine, FL, 32084
(904) 824-5214
(877) 576-7742
Have a Question?
Find Us on Facebook