Pastime Tours
Meet in front of the Arts and Craft Guild
11 Aviles Street, St. Augustine, FL, 32084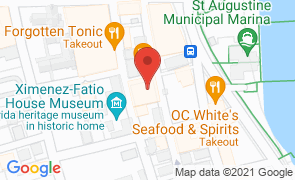 Hours
of Operation
Sun - Mon:
10:00 am - 9:00 pm

Tue - Wed:
Closed

Thu - Sat:
10:00 am - 9:00 pm

Pastime Tours offers tours around the nation's oldest city while driving their guests through the town in a modern, all-electric vehicle modeled after Henry Ford's iconic Model-T.

Dressed in apparel from the 1920's, and often playing big band or ragtime music from that era, Pastime's tour guides drive guests throughout the historic district, relating St. Augustine's rich history. The licensed guides have a great deal of knowledge about St. Augustine and enjoy sharing information about the buildings, and anecdotes about the people who lived here hundreds of years ago. In addition, guests will often feel like stars in their own show, as the unique tour vehicle generates delighted smiles and waves from other tourists.

There is room in each vehicle for four adult guests, who will be able to enjoy all the sites of the city from the open convertible. Each tour takes visitors throughout the city, with stops to allow for some of the longer stories and descriptions of select buildings and streets.

Tours are conducted on Thursdays through Mondays from 10:00 a.m. through 9:00 p.m. All tours have one price and can accommodate one to four adults for that set price. The 45-minute daytime tours begin on the hour from 10:00 a.m. to 3:00 p.m. and costs $80.00 per tour. The 90-minute evening tours can be booked between 6:00 and 9:00 p.m., and costs $149.00.

Guides will gladly provide a charming parasol for the ladies to use while on the tour.

No Reviews Yet...

Be the first to Review Pastime Tours!




Restaurants
Near Pastime Tours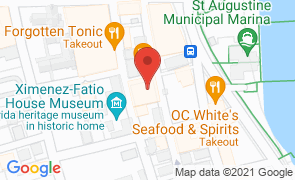 Pastime Tours
Meet in front of the Arts and Craft Guild
11 Aviles Street, St. Augustine, FL, 32084
(904) 584-5417
Hours
of Operation
Sun - Mon:
10:00 am - 9:00 pm

Tue - Wed:
Closed

Thu - Sat:
10:00 am - 9:00 pm

Admission
| Ticket Prices
| Daytime 45-Minute Tours | Evening 90-Minute Tours |
| --- | --- |
| $80.00 for 1-4 Adults | $149.00 for 1-4 Adults |
Find Us on Facebook