Lost Art Gallery
Across from Trinity Parish Church
210 St. George Street, Suite C-1, St. Augustine, FL, 32084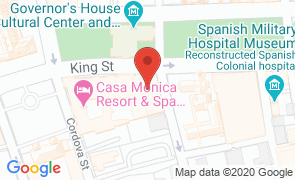 Hours
of Operation
Sun - Mon:
10:00 am - 6:00 pm

Tue:
10:30 am - 6:00 pm

Wed:
Closed

Thu:
10:00 am - 6:00 pm

Fri - Sat:
10:00 am - 7:00 pm

*First Friday Artwalk Participant*
The Lost Art Gallery, a unique consignment gallery, offers  artwork from local collections and from around the world. These are pieces that have been much loved for many years and are now ready to find a new home.

Gallery owner, Victoria Golden, a Fine Art Appraiser with the International Society of Appraisers, keeps the gallery collection fresh, but always varied, with a selection that ranges from antiquities to 19th- and 20th-century art and contemporary paintings.

Located in the Lyons Building (just around the corner from the Casa Monica Hotel), the Lost Art Gallery houses a one-of-a-kind collection of European, Latin American, and regional art at affordable prices.

The Lost Art Gallery is proud to participate in St. Augustine's First Friday Art Walk.
Restaurants
Near Lost Art Gallery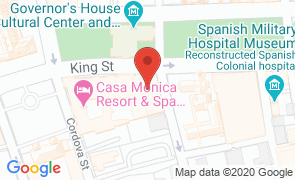 Lost Art Gallery
Across from Trinity Parish Church
210 St. George Street, Suite C-1, St. Augustine, FL, 32084
(904) 827-9800
Hours
of Operation
Sun - Mon:
10:00 am - 6:00 pm

Tue:
10:30 am - 6:00 pm

Wed:
Closed

Thu:
10:00 am - 6:00 pm

Fri - Sat:
10:00 am - 7:00 pm