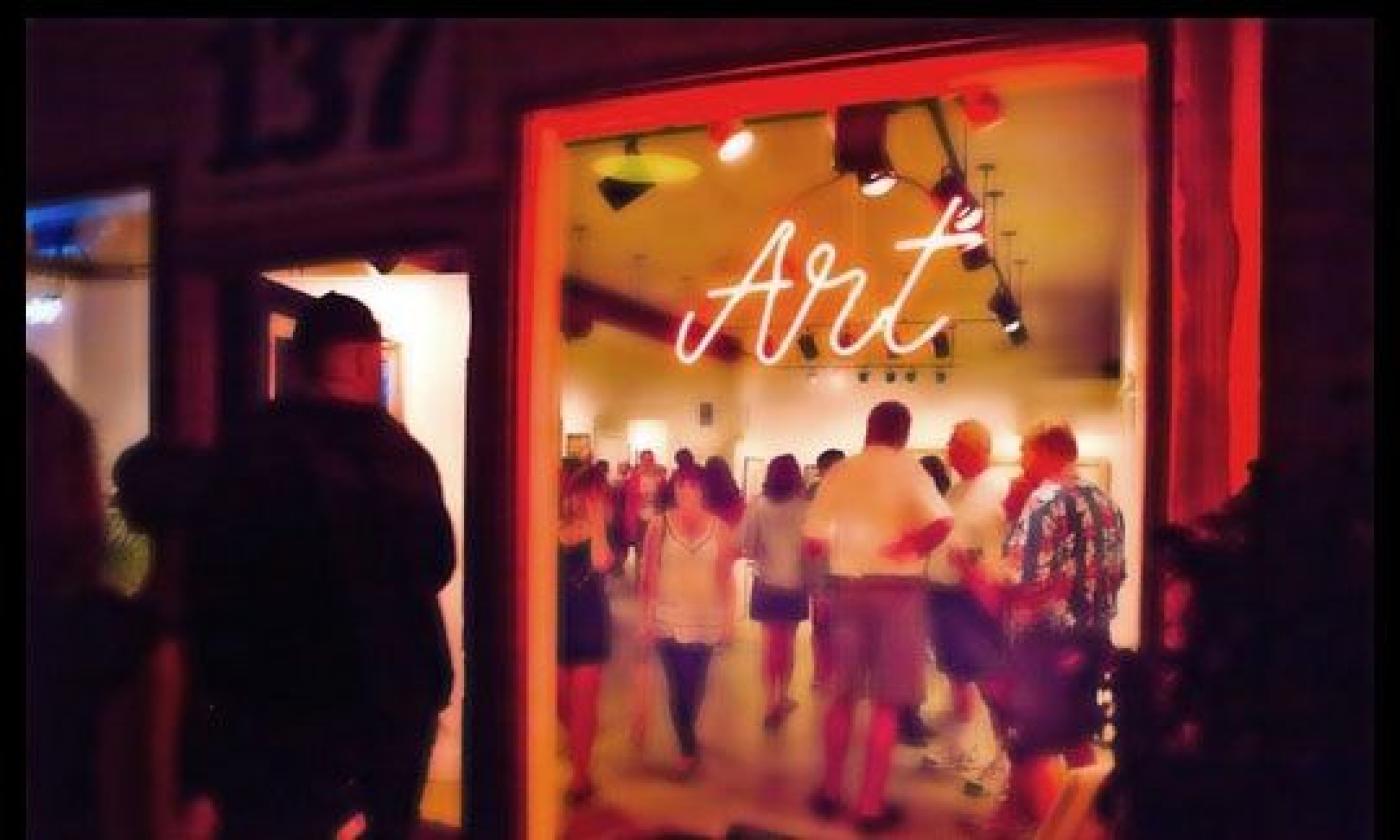 First Friday of each month, 5 - 9 p.m.
The next First Friday is on April 7, 2023. 
On the first Friday of every month, St. Augustine's renowned art galleries open their doors and welcome visitors to browse the latest art exhibits at more than 30 participating galleries.
This cooperative open house showcases the amazing variety of artwork represented in St. Augustine's fine art galleries. From contemporary to traditional and everything in between, pieces are created by local and national artists working in oils, pastels, photography, ceramics, wood, textiles and metal.
Many of the featured artists are on hand to answer questions about their work. The monthly event takes place on the first Friday of every month from 5 to 9 p.m., rain or shine, throughout St. Augustine's historic downtown area, from Aviles to King streets, St. George Street and others — even over the Bridge of Lions onto Anastasia Island and the beach.
This event is sponsored by The Art Galleries of St. Augustine, which is an artistic association of the diverse and eclectic art galleries located in the nation's oldest city. To see an interactive map of the event, go here.
During April's First Friday Art Walk:
St. Augustine Art Association presents their annual Spring Members Show from April 7 thorugh April 30. In addition, they will present the 13th annual All-County Middle School Art Show.
Professional Artists of St. Augustine (P.A.St.A.)  features plein air artist, Pamela Geiger, known for her oil paintings of St. Augustine.
Sea Spirits Gallery welcomes coastal wildlife artist, Lorraine Millspaugh, who will paint at the gallery during first Friday. She welcomes conversation and questions and will present a new line of gliclée prints.
Other galleries will open new exhibits during 1st Friday. Most new exhibits will remain up throughout the month.
The monthly First Friday Concert at the Cathedral Basilica begins at 6:00 p.m. 
Admission: Free
When: 5 to 9 p.m. on the first Friday of every month. (Not every gallery stays open until 9:00 p.m.)
Where: All through historic downtown and on Anastasia Island.
Go here to download the Art Galleries of St. Augustine's map.
Art Walk Shuttle: Old Town Trolley provides free shuttle service from 6 to 9 p.m. during the First Friday Art Walk for the February through November events. To use the service, shuttle stickers can be picked up at any art gallery. The shuttle stops are on King Street, Aviles Street, Cathedral Place and Hypolita Street. There is no shuttle service during the December and January First Friday events.
Parking: Parking for the art walk is free downtown after 5 p.m., and additional parking is available at the San Sebastian Winery and the City Parking Garage. Parking at the City Parking Garage is $15 per vehicle, per entry for non-residents, and $3 for St. Johns County residents with a ParkNow card.
Art Galleries of St. Augustine - Member Galleries
Midtown
ZORA BORA GALLERY 
28 Cuna Street | 904.417.0474
The BOLD ART GALLERY 
51 Cordova Street, Ste. C | 904.436.5723
Uptown
NEFF JEWELRY & GALLERY 
7 Rodhe Ave. | 904.829-5003
FIRST LOOK, THE ARTISAN'S & MARKET 
162 San Marco Ave. | 904.217.7250
St. George District
LOST ART GALLERY 
210 St. George Street C-1 | 904.827.9800
SEA SPIRITS GALLERY & GIFTS 
210 St. George Street, C-2 | 904.679.3811
CUTTER & CUTTER FINE ART - ST. AUGUSTINE 
25 King Street - "On the Plaza" | 904.810.0460
Historic Art District
ST. AUGUSTINE ART ASSOCIATION 
22 Marine Street | 904.824.2310
PLUM GALLERY 
10 Aviles Street | 904.825.0069
GEORGIA NICK GALLERY 
11A Aviles Street | 904.342.2186
AVILES STREET GALLERY 
11C Aviles Street | 904.823.8608
JOEL BAGNAL GOLDSMITH 
11C Aviles Street | 904.614.4706
ANCIENT CITY ART GALLERY 
11E Aviles Street | 
P.A.St.A. Gallery 
214 Charlotte Street | 904.824.0251
TRIPP HARRISON 
22 Cathedral Place | 904.824.3662
U.S. 1 District
COCONUT BARREL 
3175 US 1 South #3 | 904.484.8729
San Sebastian District
BUTTERFIELD GARAGE ART GALLERY 
137A King Street | 904.825.4577
ARTBOX 
137 King Street | 386.986.0368
MARIA REYES JONES STUDIO GALLERY 
134 Riberia Street Unit-103 | 407.619.1338
GALLERY ONE FORTY-FOUR 
144 King Street | 904-466-8305
Flagler District
GRAND BOHEMIAN 
49 King Street | 904.829.6880
LIGHTNER MUSEUM 
75 King Street | 904.824.2874
CRISP-ELLERT ART MUSEUM 
48 Sevilla Street | 904.826.8530
SWEETWATER COFFEE BAR & GALLERY 
8 Granada Street  | 904.615.1653
THE COURTYARD GALLERY 
75 King Street, Ste. 123 | 904.599.8522
Anastasia Island District
HIGH TIDE GALLERY 
850 Anastasia Blvd. | 904.315.6690
ST, AUGUSTINE BEACH ART STUDIO AND GALLERY  
370-A A1A Beach Blvd. | 904.295.4428
Upcoming Live Music