Sweet Weddings Cake Designs
144 King Street, Suite 2, St. Augustine, FL, 32084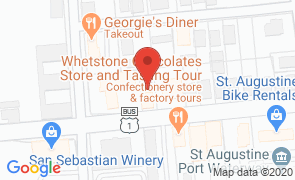 Hours
of Operation
Sun - Mon:
Closed

Tue - Fri:
10:00 am - 4:00 pm

Sat:
Closed

Call for more information.
Sweet Weddings Cake Designs in historic Saint Augustine is located off King Street and offers custom decorated wedding cakes for your special day. The bakery also specializes in cakes for birthdays, retirements, and other notable events. No matter what you are celebrating Sweet Weddings Cake Designs has a cake for it.

Arlene and Paolo, the two bakers and decorators at Sweet Weddings Cakes, have been gracing St. Augustine weddings with their designs for more than ten years. The two can take any idea or theme you have and display it on your cake. Either share a color palette or flower preference, or request a custom cake design to wow guests. Past projects of theirs have included impressive pieces like a cake in the shape of a cooler with drinks, military cakes, a cake shaped like a bottle of Tobasco, and a cake shaped like the TARDIS from Doctor Who.

In their mission statement and purpose, Arlene and Paolo spell out that their desire is to exceed the expectations of their customers.

Sweet Weddings Cake Designs offers many different types of cakes and fillings. Choose from Chocolate, Marble, Cheesecake, White, and Carrot cake flavors along with their numerous filling choices, including, Passion Fruit Cream, Chocolate Fudge, Marzipan, Vanilla Custard and more.

Sweet Weddings Cake Designs is located on King Street across from the Whetstone Chocolate Factory chocolate tour building. 

No Reviews Yet...

Be the first to Review Sweet Weddings Cake Designs!




Restaurants
Near Sweet Weddings Cake Designs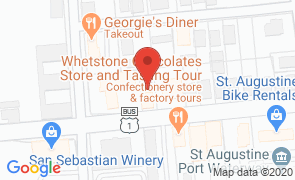 Sweet Weddings Cake Designs
144 King Street, Suite 2, St. Augustine, FL, 32084
(904) 824-2420
Hours
of Operation
Sun - Mon:
Closed

Tue - Fri:
10:00 am - 4:00 pm

Sat:
Closed