Georgie's Diner
100 Malaga Street, St. Augustine, 32084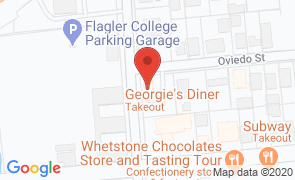 Hours
of Operation
Sun - Sat:
7:00 am - 9:00 pm

Georgie's Diner is open from 7:00 a.m. to 9:00 p.m., seven days a week.
Georgie's Diner specializes in authentic Greek cuisine and is a local favorite for breakfast, lunch, and dinner. Located in the historic district of Saint Augustine, this is a great place for the whole family to enjoy a meal.

Georgie's has the look of a real diner of the early 1960s, with streamlined aluminum accents and booths in red leather. Georgie's offers outside dining as well, making it an ideal spot to relax and enjoy a delicious meal, either inside or out on the patio.

Georgie's prides itself on offering healthy food, using only authentic Frixa Olive Oil (never transfats) in the preparation of its dishes.

Georgie's is situated on Malaga Street, next door to Carmelo's and the Florida East Coast Railroad buildings, now home to Flagler College offices and dorms.  Georgie's knowledgeable, friendly servers make it easy for both guests and locals alike to enjoy the atmosphere and the wonderful Greek food.
Things to Do
Near Georgie's Diner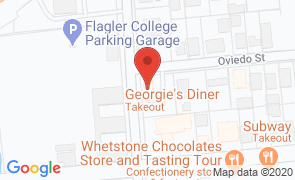 Georgie's Diner
100 Malaga Street, St. Augustine, 32084
Hours
of Operation
Sun - Sat:
7:00 am - 9:00 pm