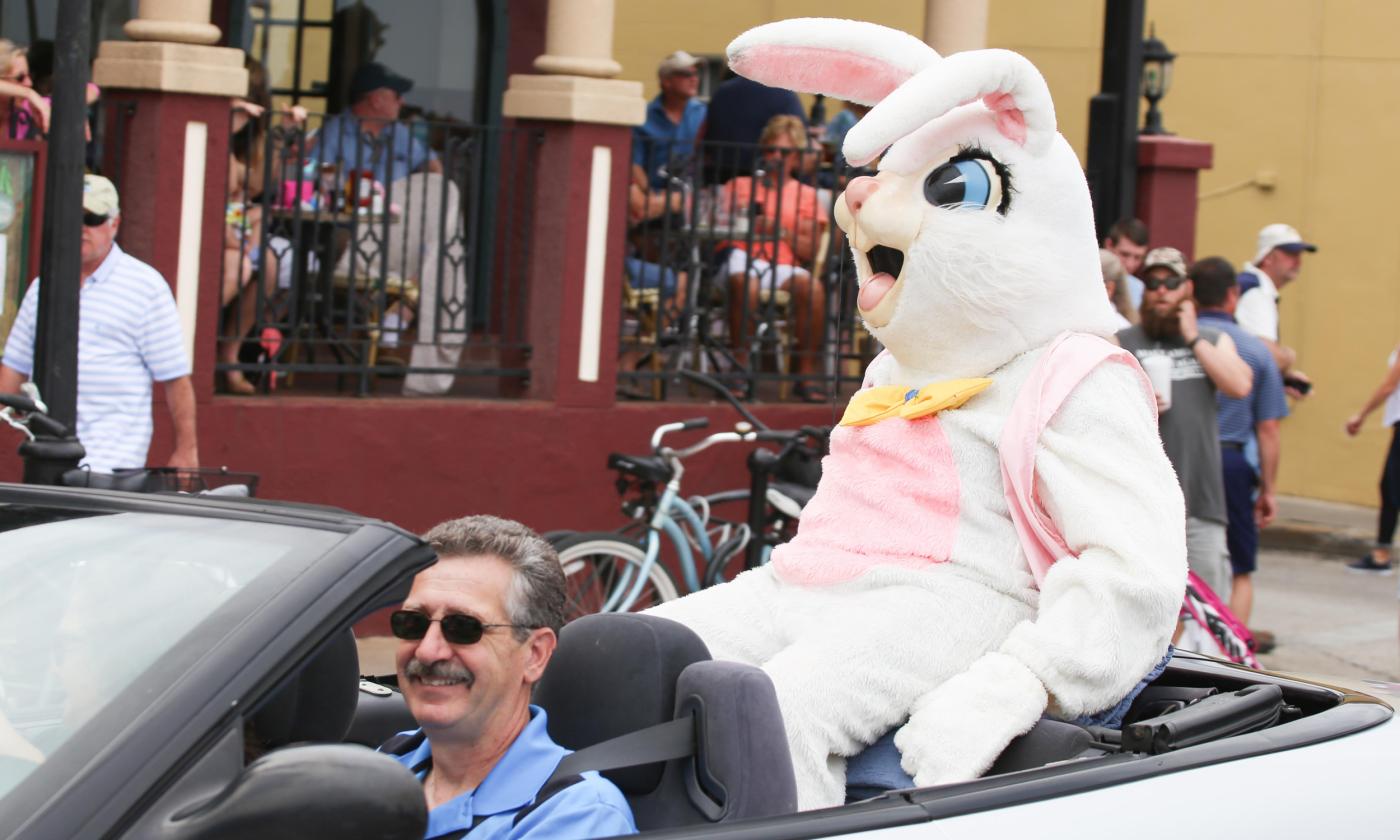 Easter Parade 2024
An annual tradition that dates back to the 1950s in St. Augustine, the annual Easter Parade is held the Saturday before Easter each year.
Saturday, March 30, 2024| 9 to 10:30 a.m.
St. Augustine's Easter Parade, is the nation's second oldest Easter Parade. The Parada de los Caballos y Coches (Parade of Horses and Carriages) has commemorated the Easter holiday every year since 1956 in the Nation's Oldest City.
Spectators line the streets to watch the marching bands, floats, and drill teams as well as clowns, the Royal Family, Imperial Storm Troopers, the Easter Bunny, and the city's carriage horses wearing their Easter hats. Trophies are presented to winners in four categories.
Each year, the Easter Parade is held on the Saturday of Easter weekend, beginning at 9 a.m. On Saturday, March 30, 2024, the parade steps off at the Old Jail Museum and heads south on San Marco Avenue and along the bayfront on Avenida Menendez, finishing at the Plaza de la Constitución.
Photos by Jackie Hird Photography in St. Augustine.
The St. Augustine Royal Family will lead the parade followed by their entourage, bands, locally made parade floats, pirates, and festival representatives along with the Easter Bunny to round out the parade.
When:9 to 10:30 a.m. Saturday, March 30, 2024.
Where: The parade begins at the Old Jail Museum (167 San Marco Ave. in St. Augustine, FL 32084) and heads south along the bayfront to finish at the Plaza de la Constitución.
Click here for more info on all the Easter Week festivities in our Calendar of Events.
Parking and Free Park and Ride Shuttle Service
Parking is available for a fee at the downtown parking facility right next to Francis Field.
The City of St. Augustine offers free shuttles for downtown events on March 30, 2024
All shuttles will drop people off and pick them up at the Visitor Information Center, at 10 S. Castillo Drive, from 11:00 a.m. to 10:00 p.m.
Parking will be available at three parking locations outside of the downtown area:
198 & 212 West King Street, at the intersection of U.S. 1 and King Street
200 San Sebastian View, at the St. Johns County Health Department
301 San Marco Lot, 301 San Marco Avenue