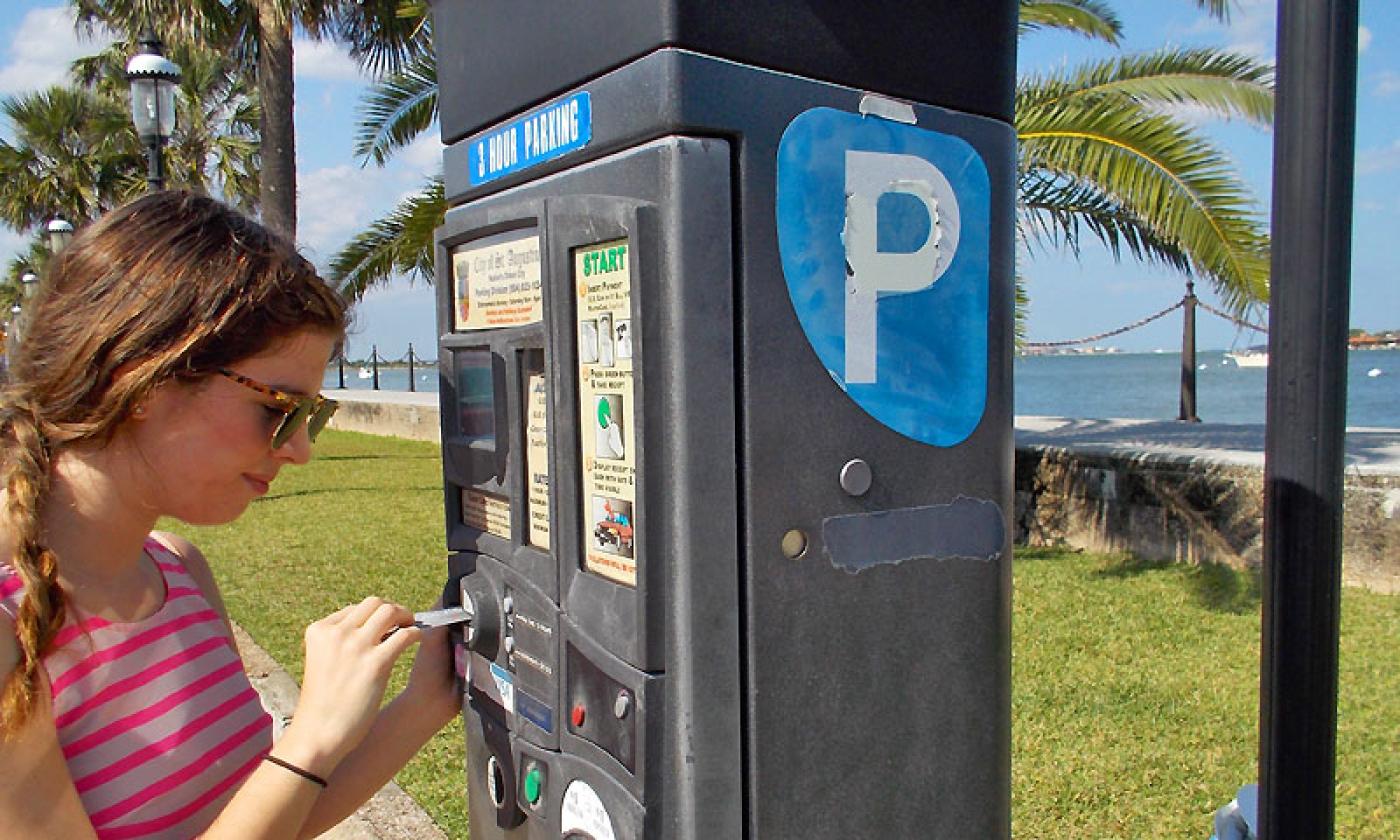 Parking in St. Augustine
Save time with this insider guide and spend more time enjoying the city.
It's easy to love St. Augustine's historic architecture and old-town vibe. Yet, the picturesque streets and charmingly close buildings leave little room for parking. Lucky for you, we have insider tips and interactive maps. Here's everything you need to know about parking in the nation's oldest city.
When it comes down to it, St. Augustine's charm is in the details. So however you get from one place to another, be sure to take your time once you're there and savor the atmosphere of this fantastic city — you'll feel like you've traveled to Europe without ever leaving the country!
Public Parking
City Parking Garage
St. Augustine's Historic Downtown Parking Facility is your best bet for day parking. There's plenty of room (1,200 vehicles), and it's open every day of the year. Parking here costs $15.00 per vehicle per day.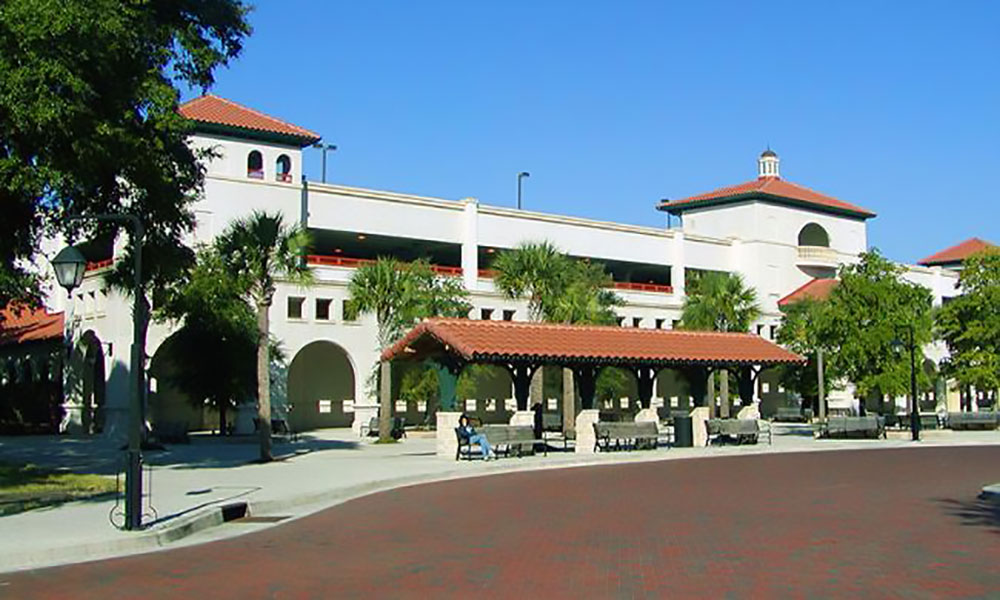 The parking garage is at 1 Cordova Street, across from the Visitor Information Center, giving visitors quick access to the historic St. George Street. 
Handicap spaces are available in the garage and are free of charge for those with proper plates or placards. 
City Street and Lot Parking
The City of St. Augustine provides a mix of street and lot parking that utilize pay stations - the rate is $2.50 an hour. The city crest makes official city parking zones easily recognizable. 
Below is a map that shows official city parking locations. Street parking locations appear with orange P icons, while lots appear with blue P icons: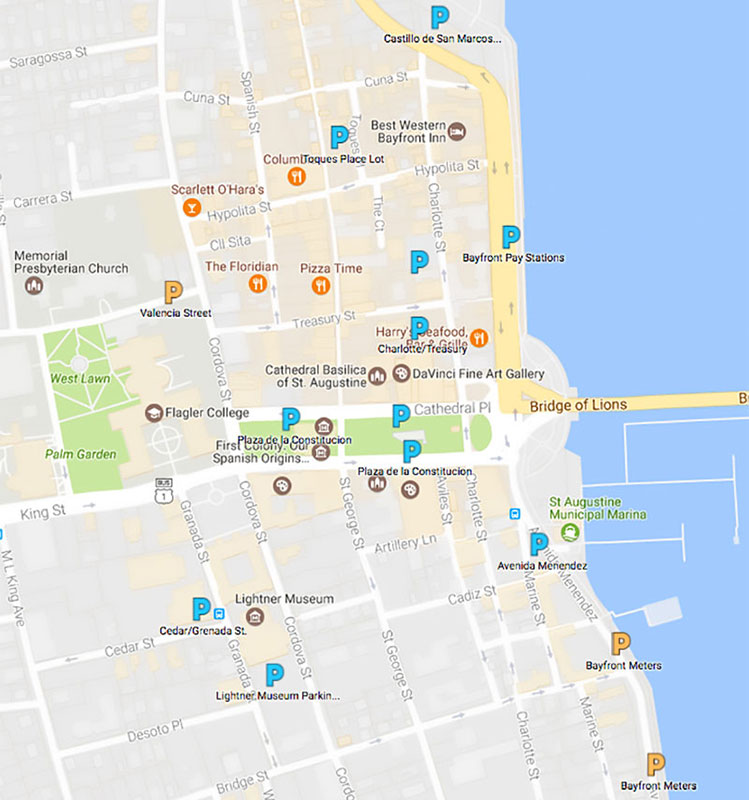 Additional Parking Options
Castillo de San Marcos - The Castillo offers paid parking from 8:00 a.m. to 9:00 p.m. Parking is free from 9:00 p.m. to 8:00 a.m.
The Bass Lot - 30 Grenada Street - This lot across from the Lightner Museum offers paid parking 24 hours a day.
Private lots around town offer paid parking, but do not offer free parking at any time.
Various churches offer paid parking on weekdays, and a few business offices offer paid parking on weekends. These options have set rates for either evening or all-day parking. Overnight parking is prohibited.
Parking Apps and Services
Parking Apps
The City of St. Augustine provides a parking spot finder on its website. This active link shows if garages and lots are full. It also shows where to find accessible parking spaces and where to look for free spots. Not all free parking spots are shown on the map, and some private parking spots may be missing from the app.
ParkStAug allows visitors to pay for parking in city lots using mobile phones. The app also offers a convenient way to extend parking meter time. Users will need to register for an account. An account requires a license plate number and credit or debit card information. ParkStAug is free on iOS or Android or through a web browser. 
Park Now Cards
ParkNow cards are available for St. Johns County residents. Locals use this preloaded card to pay for parking at downtown meters and the Historic Downtown Parking Facility. Proof of residency and valid I.D. are required to purchase ParkNow cards for a one-time fee of $5.00. They have a maximum load limit of $20.00 at a time. Checking the balance is easy at any pay station. ParkNow cards are available for purchase at the Financial Services Center.
Special Parking Considerations
Limited-Mobility Parking
Parking is free at any city pay station for vehicles with a handicapped placard or plate. This is also true of the Historic Downtown Parking Facility. There, the person who owns the placard must be present. If designated parking spots are full, guests with appropriate placards and plates can park in any open spot free of charge.
Learn more about accessibility in St. Augustine.
Below is a map of limited-mobility parking locations: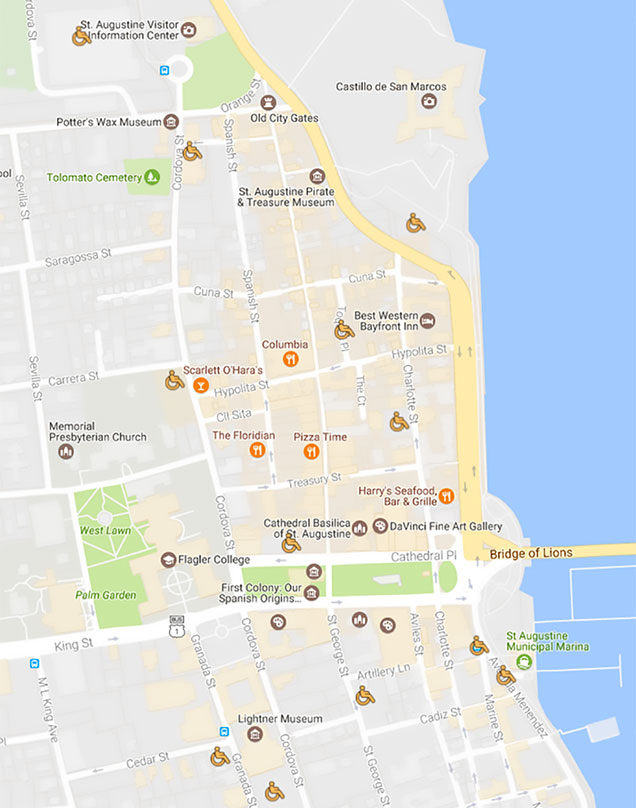 E.V. Charging Stations
Charge Point Charging Stations - (888) 758-4389
150 Malaga St.
36 Granada St. 
4900 US-1
180 San Marco Ave.
Tesla Charging Stations
Parking Your R.V.
When your R.V. is your only vehicle, you can still park in St. Augustine for a day visit. The city offers free parking for recreational vehicles at 3 Riberia Street. That's near the parking garage, four blocks from St. George Street and the City Gate. The city allows overnight R.V. parking at that lot for $35.00 per night, but does not allow overnight camping. In other words, you may park your R.V. overnight but cannot sleep there. The overnight pass is available at the City parking garage, one block east of the R.V. lot.
Hotel Parking
Staying in a downtown hotel may be the best way to tackle the parking problem in St. Augustine. The city is walkable and is yours to enjoy if you're willing to stroll from your accommodation to a nearby shop or restaurant. Traveling by foot is one of the best ways to see the city. On foot, visitors discover more courtyards, quaint alleys, shops, and street art. Visit here to choose a downtown hotel, bed and breakfast, or inn.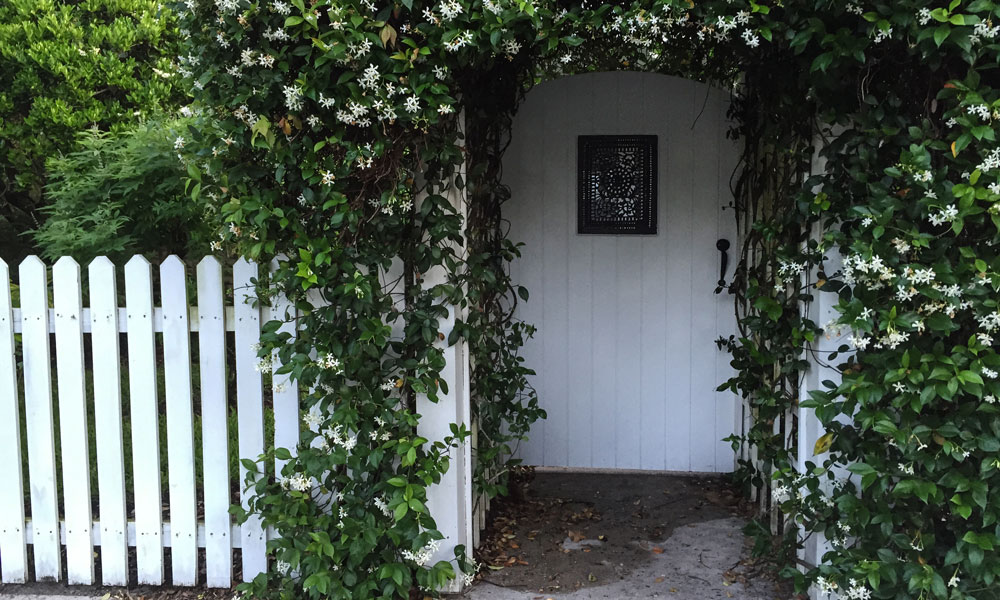 Insider Tips
Free Parking
Parking in any city spot is free on Sundays and national holidays.
Parking in any city spot is free every day from 5:00 p.m. until 8:00 a.m.
Parking at the city spots around the Plaza de la Constitución, on King and Cathedral Streets, is free from 5:00 p.m. until 10:00 a.m.
Alternative Transportation
Whether you want to rent a bike to ride along St. Augustine Beach or take guided tours on a downtown trolley, St. Augustine has plenty of options for alternative transportation. 
Learn more about alternative transport in St. Augustine.
This article was updated in 2023.