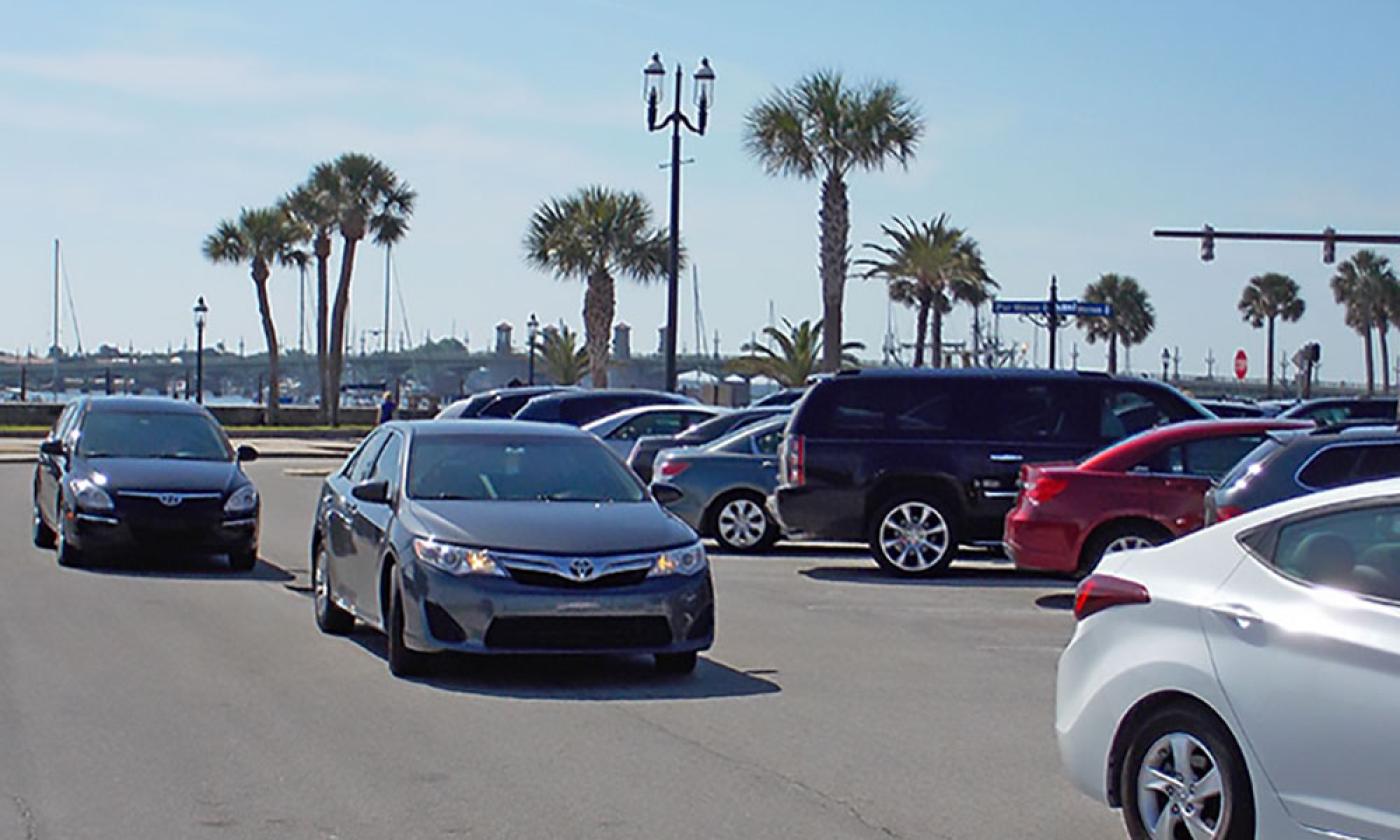 Parking in St. Augustine
Everything you need to know about parking and getting around town in St. Augustine during Nights of Lights and all year long.
It's easy to love visiting St. Augustine, for its charming old buildings and narrow brick streets, its beautiful beaches, its art galleries, and unique shopping, and its position as a destination to hear live music, eat fine food, and dive into more than 450 years of history.
What's not easy to love is trying to find a parking space here. Unfortunately, it's the very age of the city that makes this so difficult. Those same picturesque narrow brick streets don't leave much room for parking spaces, and the downtown buildings, built so charmingly close together in an age when that was essential for a colonial town, leave no room for parking lots. So all those things that make up its considerable charm also make getting around downtown St. Augustine a bit of a nuisance, especially during busy times such as Nights of Lights and Spring Festival Season.
Here's everything you need to know about parking year round in the nation's oldest city, along with maps that are linked to the corresponding Google maps. Just tap on the map to see it as an interactive version.
Before we tell you about city parking spots and lots, here are secrets the locals know that visitors miss:
If you park in a valid city spot along the street, parking is free on Sundays and national holidays.
Parking is also free in any city spot after 5:00 p.m. until 8:00 a.m.
The city spots around the Plaza de la Constitución, on King and Cathedral Streets, is free from 5:00 p.m. until 10:00 a.m.
You will know you are in a city lot because the city logo will be on the pay station signs. If you don't see that, you are in a private lot, which will have their own parking rules, so make sure you see their signs or an attendant.
Private lots and the lot near the Castillo de San Marcos usually do not offer free days or hours. The Castillo has enforced paid parking from 8:00 a.m. to 9:00 p.m., seven days a week.
In addition to the regular private company-owned lots, various churches offer paid parking on weekdays and a few offices offer paid parking on weekends, all at a set fee for all day or evening and all prohibit overnight parking.
City Parking Garage
If you're coming into town for the day, your best bet is definitely St. Augustine's Historic Downtown Parking Facility. There's plenty of room (spaces for 1,200 vehicles) and it's open every day of the year. Visitors can park here for $15 per vehicle for the whole day. Motorcycle parking is available for the same $15 fee.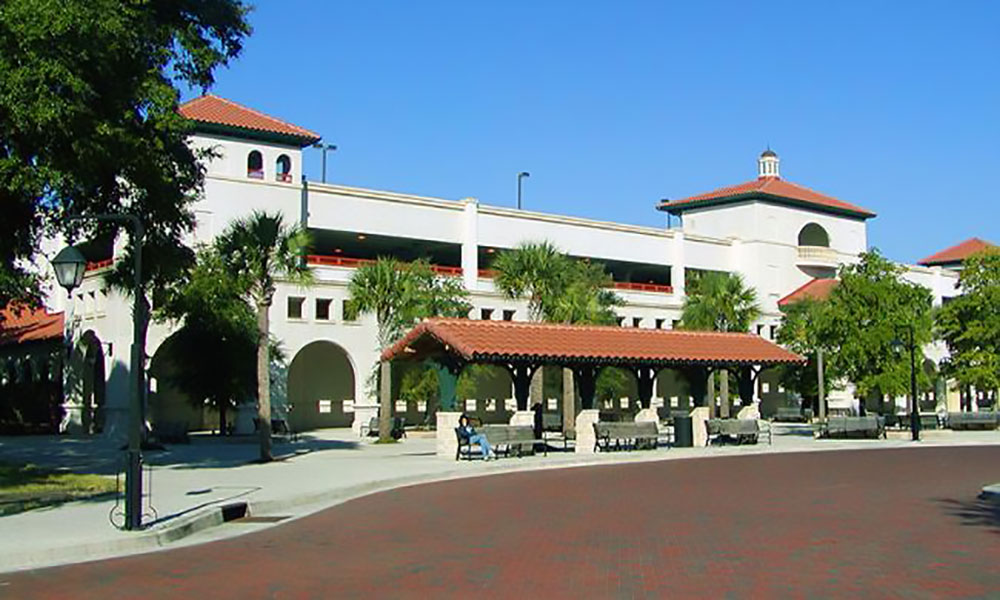 The parking garage is conveniently located at 1 Cordova Street, just across the courtyard from the Visitor Information Center (10 W. Castillo Drive). This convenient location gives visitors access to St. George Street, the pedestrian walkway in the heart of the downtown district, and most of the museums, attractions, shops, and restaurants in town.
Handicapped spaces are available in the garage, and you do not have to pay a fee to park in a handicapped space as long as you have a valid handicapped plate or placard.
City Street and Lot Parking
We all know people who pride themselves on always being able to find a parking spot within a few steps of their destination. The annoying thing about those people is that they usually come through on their promise. But for those of us who are still circling the block, there's hope, and some facts you need to know about parking on the street in St. Augustine.
The city of St. Augustine provides a mix of street parking and lot parking with pay stations. The parking meters have been phased out and consolidated into area pay stations quite close to any parking spot. All official city parking areas are designated with the city crest on the individual parking zone signage or on the pay station.
A new parking app, ParkStAug, is available for free download for iOS or Android and is also accessible online through a web browser. It allows visitors to establish their own account (including license plate number and credit or debit card) and then simply key in the zone (which is clearly indicated by signage) where the vehicle is parked. It offers residents a discount parking plan. The advantages of using the app include the ability to set up your account before joining in the hunt for a parking space and also being able to extend the amount of parking time right from your phone (no rushing back to the parking meter). The new units require your license plate number, so if you don't use the app, make sure you know the number before starting the process at the pay station. The rate for parking on the street, or in city-owned lots, is $2.50 per hour. 
Here is a map that shows all the locations where parking is offered by the city of St. Augustine, with the street parking locations showing an orange P and the lots showing a blue P.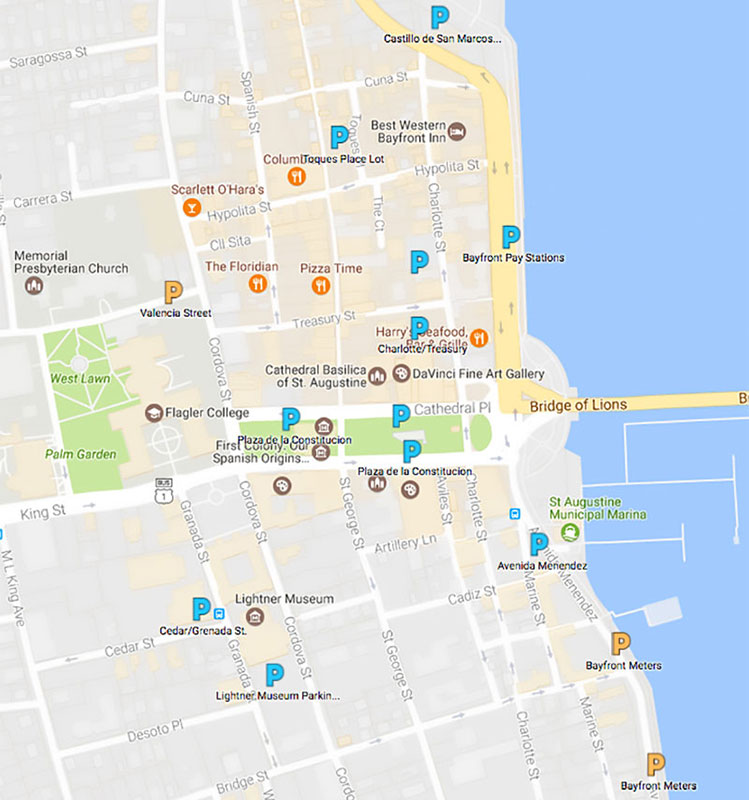 Remember, on street parking is free after 5:00 p.m. every day and all day on Sundays and federal holidays. The parking lot south of the Castillo de San Marcos is NOT free on Sundays.
Park Now Cards
Another option for residents of St. Johns County are ParkNow cards. These are preloaded cards that can be used at any downtown meter or pay station including the Historic Downtown Parking Facility. With proof of residency, i.e. a valid I.D., and located at the Financial Services Center on Monday through Friday from 7:30 a.m. to 4: 30 p.m., cards are available for purchase. These preloaded cards allot for a maximum of $20.00 with a one-time cost of the card, which is $5.00 dollars. Checking the balance is doable at any pay station and reloading the card is accomplished at the Financial Services Center, located at 50 Bridge Street. 
 
Handicapped Parking
Parking with a handicapped placard or handicapped license plate is free at any city-owned meter or pay-station and at the Historic Downtown Parking Facility. When entering the Historic Downtown Parking Facility the person who owns the placard must be with you. Here are the handicapped parking locations: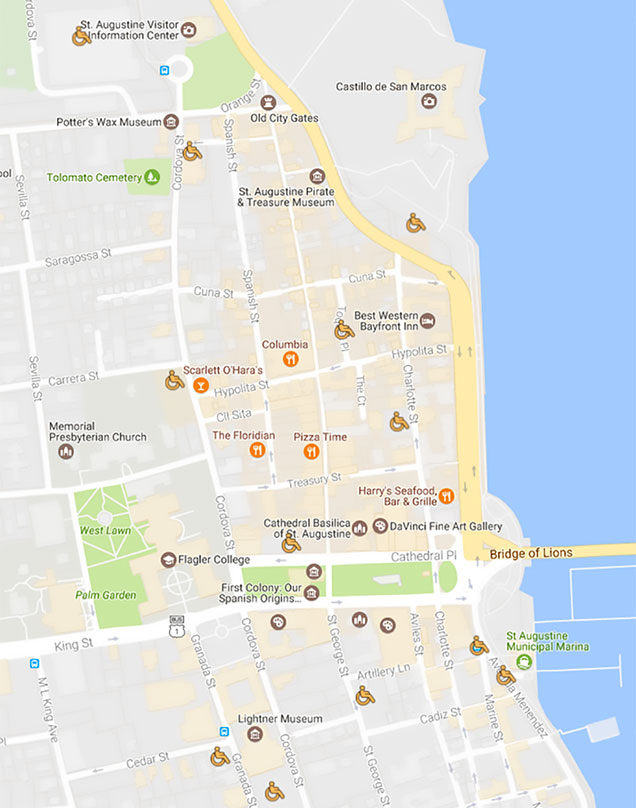 Bicycle Parking (and Borrowing)
In an effort to encourage and facilitate greater use of bicycles around town, the city of St. Augustine has expanded its bicycle parking areas. You can download a map of bicycle rack locations here.
If you didn't BYO bike, and, you don't want to rent one, you can borrow one. Gotcha Bike Sharing hosts 110 GPS-enabled e-bikes across 13 hubs in St. Augustine.
Free Park and Ride Shuttles (peak visitation periods only)
During the very busiest times of the year — on select dates during the annual Nights of Lights and during the spring Festival season — the city provides a free park and ride shuttle service where visitors can park in lots just outside the historic area and ride a shuttle into town.
Parking Your RV
When your RV is your only vehicle, you can still park in St. Augustine for a day visit. During the day, the City offers free parking for recreational vehicles at 3 Riberia Street. That's near the Parking Garage and just four blocks from St. George Street and the City Gates. The city allows overnight RV parking at that lot for $35.00 per night, but does not allow overnight "camping." In other words, you may park your RV overnight, but you may not sleep there. This is a great option if you want a day or two of pampering in one of St. Augustine's bed and breakfast lodgings. The overnight pass can be purchased at the City parking garage, just one block east of the RV lot.
Alternative Ways of Getting Around
Trolleys and trains are not just sightseeing tours, but they offer one of the most convenient ways to get around town during the day, with multiple stops at strategic locations downtown.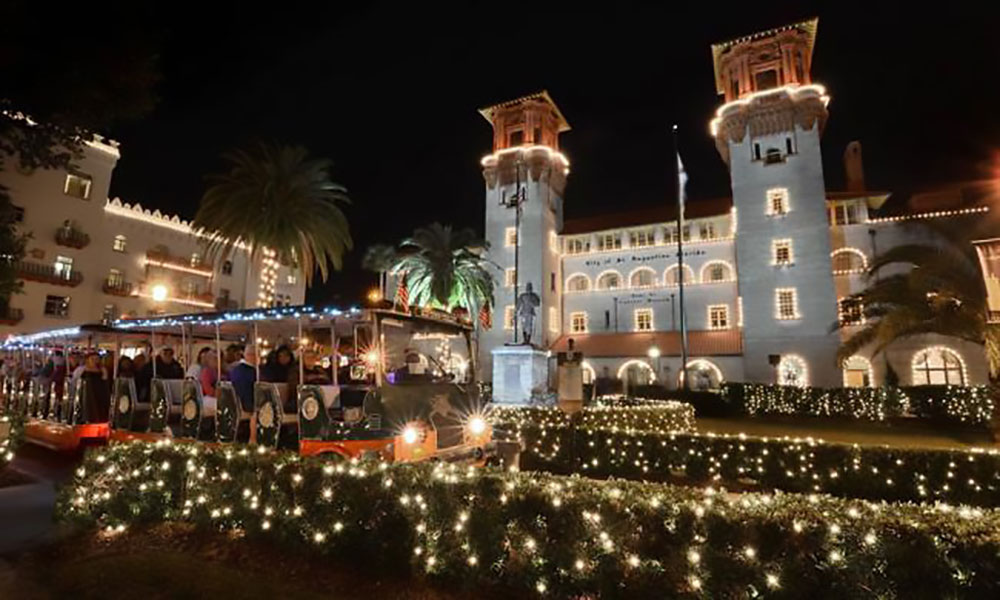 Ripley's Red Trains now has an Express tour, a one-hour guided tour around the Historic Downtown, with no jump-off points, and guests can park for free at Ripley's for the tour. Old Town Trolleys offer tickets for one or more days, allowing you to take a guided tour and hop on and off at many different locations in the Historic Downtown. They also offer free shuttles from and to downtown hotels, some on Anastasia, and along the State Road 16/I-95 Corridor. Both Old Town Trolleys and Ripley's Red Trains have Nights of Lights tours and offer pickup and drop-off service at most local hotels, so you don't have to even start your car.
At night, when the trains and trolleys don't run, you'll probably need to get the car out of the hotel lot. Remember, the good news is that parking on the street is FREE after 5 p.m., so if you're lucky enough to find a curbside spot in the evenings, you don't have to feed the meter. That's true for all day Sunday and federal holidays as well. The Parking Garage and privately-owned parking lots still charge for parking at those times.
Consider taxis, pedicabs, and even a horse and carriage ride to take you around town at any time of the day. It's a great way to get to know the city, with a local doing the driving for you. You will find taxis parked at the East end of the Plaza de la Constitucion (along Avenida Menendez), as well as the north side driveway of the Visitor Information Center on S. Castillo Dr. The best way to locate a taxi service is to Google "taxi companies near me," or try a taxi service app from your mobile device.
There are so many customized tours in St. Augustine, and many of them are walking tours, but there are also a large number of tours that offer transportation as well. From a small group tour on a minibus or a ghost pub crawl on a hearse to a golf cart tour around town or bike and scooter rentals, there are a ton of ways to cover more ground than you can just by walking, with the added benefit of a tour guide!
Stay Downtown and Walk
Staying in a downtown hotel may be the best way to tackle the parking problem in St. Augustine. The city is eminently walkable, and it's yours to enjoy if you're willing to take a stroll from your accommodation to a nearby shop or restaurant. By foot is probably the best way to see the city — that's when you notice things such as a secret courtyard tucked away behind a coquina wall or a bubbling fountain nestled in between buildings. Visit here to choose a downtown hotel, bed and breakfast, or inn.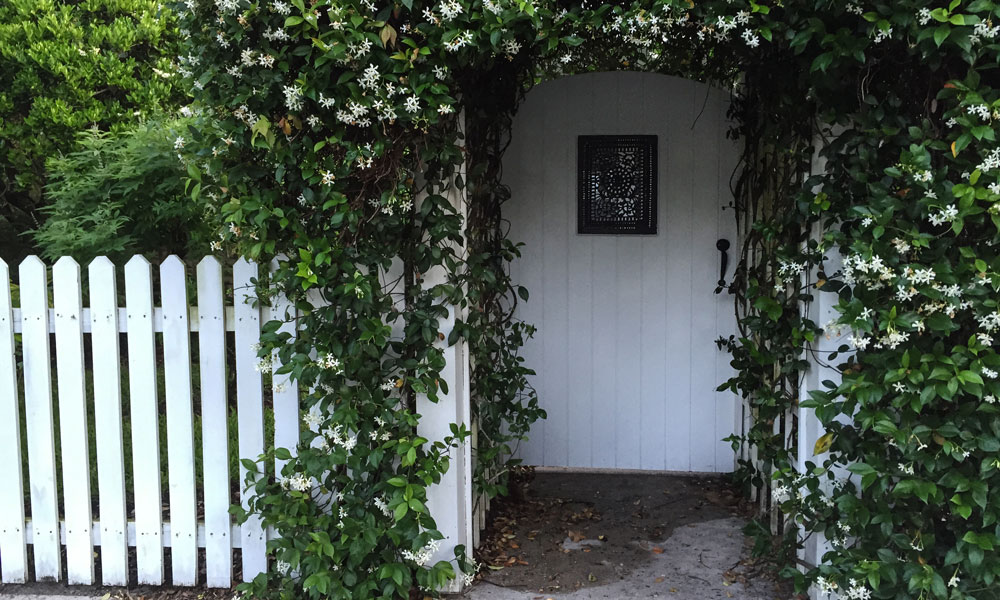 When it comes down to it, St. Augustine's real charm is in the details. So however you get from one place to another, be sure to take your time once you're there and really savor the atmosphere of this amazing city — you'll feel like you've traveled to Europe without ever leaving the country!
This article was updated in 2022.