Santiago's Florida Kitchen and Craft Bar
Inside the Guy Harvey Resort
860 A1A Beach Blvd., Suite B, St. Augustine Beach, 32080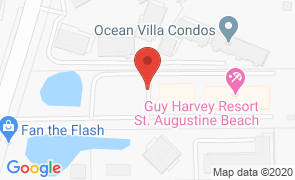 Hours
of Operation
Sun - Sat:
7:30 am - 9:00 pm

Breakfast is served daily from 7:30 a.m. to 11:00 a.m.; Dinner is served from 4:00 p.m. until close.
A contemporary Floridian dining experience, Santiago's Florida Kitchen offers a melding of culinary influences including the Spanish heritage of St. Augustine with Latin American and Southern cuisines. Located in the Guy Harvey Resort on St. Augustine Beach, Santiago's Florida Kitchen and Craft Bar is a full-service restaurant offering breakfast and dinner daily. This restaurant is open to the public -- not only to guests at this St. Augustine Beach resort. 

Specializing in fresh seafood, burgers, and handmade cocktails, Santiago's has something to satisfy every taste. The fresh seafood poke bowls are a popular dish at Santiago's. Guests will also enjoy Santiago's selection of salads, sandwiches, and shareable appetizers and empanadas.

The outdoor deck at Santiago's is also pet-friendly, as long as dogs are leashed. Every Monday, weather permitting, there is Pups on the Patio Happy Hour from 4-7 p.m. where patrons can enjoy a $1 off all drinks when they bring their pup. 




Upcoming Events

No Reviews Yet...

Be the first to Review Santiago's Florida Kitchen and Craft Bar!




Things to Do
Near Santiago's Florida Kitchen and Craft Bar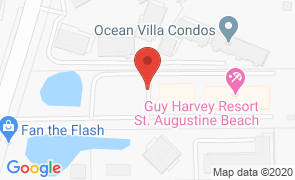 Santiago's Florida Kitchen and Craft Bar
Inside the Guy Harvey Resort
860 A1A Beach Blvd., Suite B, St. Augustine Beach, 32080
Hours
of Operation
Sun - Sat:
7:30 am - 9:00 pm