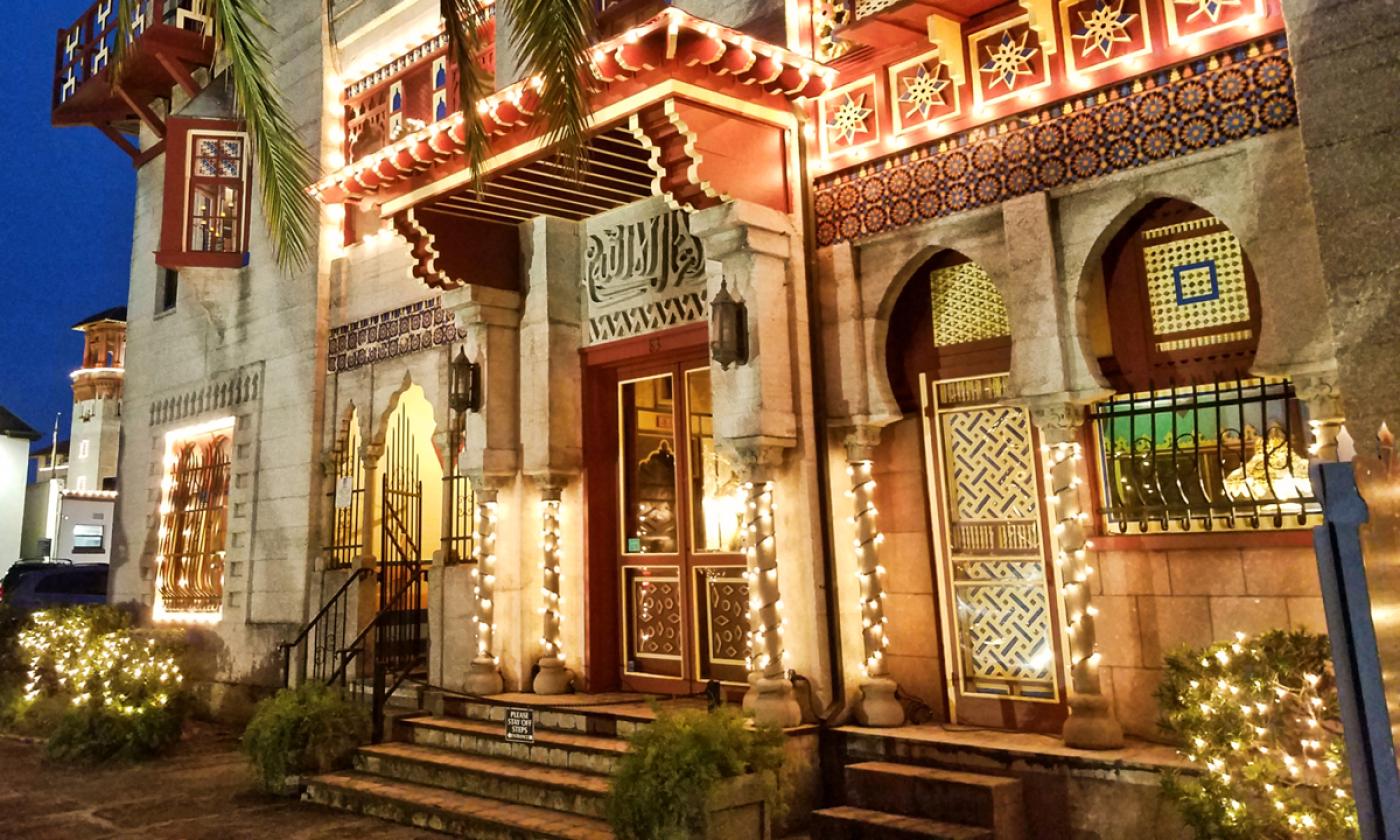 Select dates from Sat., Nov. 26 - Fri., Dec. 30, 2022 | 5:30 & 7:15 p.m.
For their 13th annual Candlelight Tours, The Villa Zorayda Museum offers a special Christmas experience featuring a huge lighted tree in the Court of Lions.
Visitors will enjoy an audio guided tour, before stopping at the appropriate time to gather in one of the special spaces near the Court of Lions. The museum will go dark and then the spectacular Christmas tree will be lit, as each floor of the museum is gradually brought back to holiday splendor.  
The whole Villa is beautifully decorated for the holidays, with the Court of Lions serving as center stage for the spectacular Christmas tree festooned in the red and gold signature colors of the Zorayda. Victorian and traditional decorations are found in every room of the Museum for visitors to enjoy. Over 100 candles are aglow throughout the Museum as you take a state-of-the art audio guided tour of this historic former home.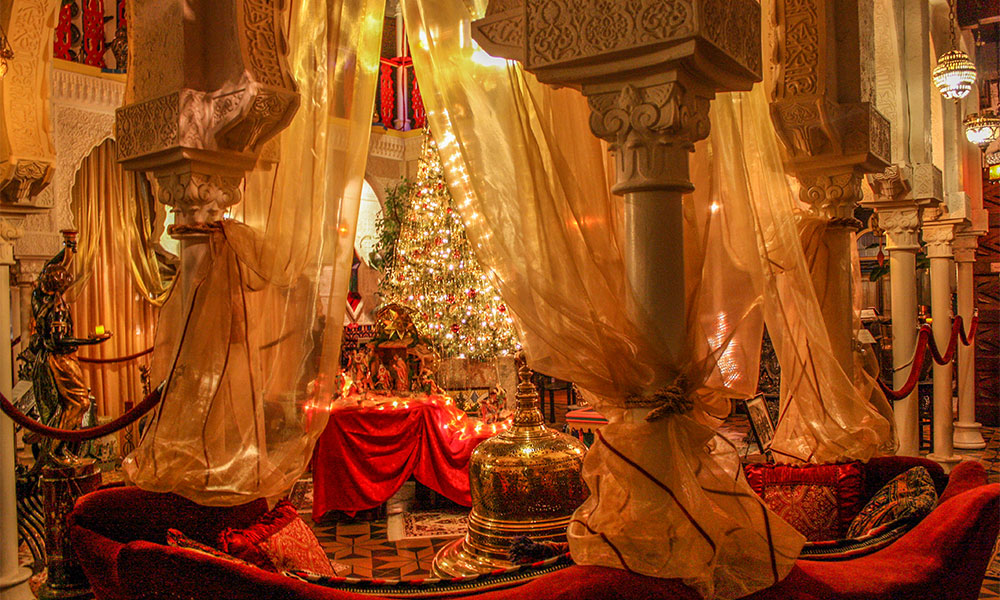 These special tours will take place on select evenings during St. Augustine's Nights of Lights. Tours start at 5:30 and 7:15 most nights and reservations are suggested. Guests may tour at their own pace, using the audio guided tour at any time.
During each tour, guests will be asked to gather in certain spots  prior to the evening's grand event. The museum will darken, and guests will experience the dramatic lighting of the Christmas Tree, floor by floor, until it's fully lit in spectacular fashion. The celebration includes a complimentary serving of Christmas punch and a cookie. Afterward, guests are invited to continue with their audio tour until the Museum closes at 7:00 pm.
This tour does require standing and walking for its duration and there isn't an elevator available at this historic old building. This tour takes approximately 60 minutes and includes an overview of the history of the Villa Zorayda, its previous owners, and the art and antique collection inside.
Each guest is served a cookie and non-alcoholic beverage at the conclusion of the tour.
Reservations are suggested, but not required. Go here to make reservations; if you have questions, call the Museum at (904)-829-9887.
Admission:Tickets are $22.99 for adults and $12.99 for children ages 6 to 12. The audio guide, included in the ticket, is available in English, Spanish, and French. The tour is not recommended for children 5 and under.
When: Beginning on Saturday, November 26, and continuing throughout December, on select days. Most days will have two tours available, one at 5:30 p.m. and one at 7:15 p.m. Go here to make reservations.
Saturday, November 26th, 2022 at 5:30pm
Saturday, December 3rd, 2022 at 5:30pm and 7:15pm
Friday, December 9th, 2022 at 5:30pm
Saturday, December 17th, 2022 at 5:30pm and 7:15pm
Wednesday, December 21st, 2022 at 5:30pm and 7:15pm
Tuesday, December 27th, 2022 at 5:30pm and 7:15pm
Thursday, December 29th, 2022 at 5:30pm
Friday, December 30th, 2022 at 5:30pm
Where: The Villa Zorayda is located at 83 King St., across from Flagler College, in St. Augustine.
About the Villa Zorayda
The Villa Zorayda had its heyday as a popular casino in the 1920s. It was built in 1883 by Franklin Smith, utilizing his method of construction of poured concrete and crushed coquina shell, as his winter home. The Zorayda sparked the Moorish Spanish revival style of architecture that is seen throughout the city of St. Augustine today. Visiting the Villa Zorayda Museum is like a quick trip to Spain without leaving St. Augustine, as the Villa Zorayda was built as a scaled-down replica of the Alhambra Palace n Granada, Spain.
Admission | Ticket Prices
| Option | Price |
| --- | --- |
| Adults | $22.99 |
| Children (6 - 12) | $12.99 |
Have a Question?