Beachcomber on Vilano
Towards the ocean from A1A, at the end of the road.
10 Beachcomber Way, St. Augustine, FL, 32084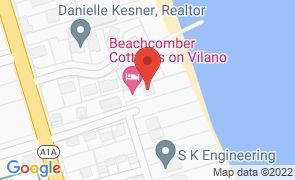 Slightly off the picturesque route of the A1A, the Beachcomber on Vilano invites its guests to indulge in a romantic, calming, and adventurous experience. Individuals can choose from five different cottages with one or two bedrooms, unforgettable ocean views, and comfy queen or king-sized beds with cheerful and welcoming decor. Amenities include a fine kitchen with appliances, WIFI, air conditioning, large high definition television, and a smoke-free environment. A signature breakfast and deep tissue massage are available for an additional fee. Downtown parking passes are available and can be used during the duration of a guest's stay. 

Cleanliness is the establishment's top priority so the friendly and professional staff ensure that each room is well maintained. Guests can enjoy easy accessibility to the beach and rectangular or roman shaped pool. The Beachcomber on Vilano is conveniently located near the Historic District and places guests near shopping areas, museums, and exciting attractions. The comfort of a cozy cottage, hospitality from the staff, and a spark of love is in reach at the Beachcomber on Vilano. 

 

 

No Reviews Yet...

Be the first to Review Beachcomber on Vilano!




Restaurants
Near Beachcomber on Vilano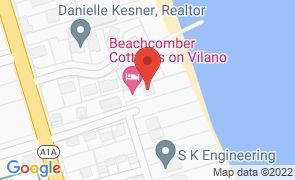 Beachcomber on Vilano
Towards the ocean from A1A, at the end of the road.
10 Beachcomber Way, St. Augustine, FL, 32084
Find Us on Facebook