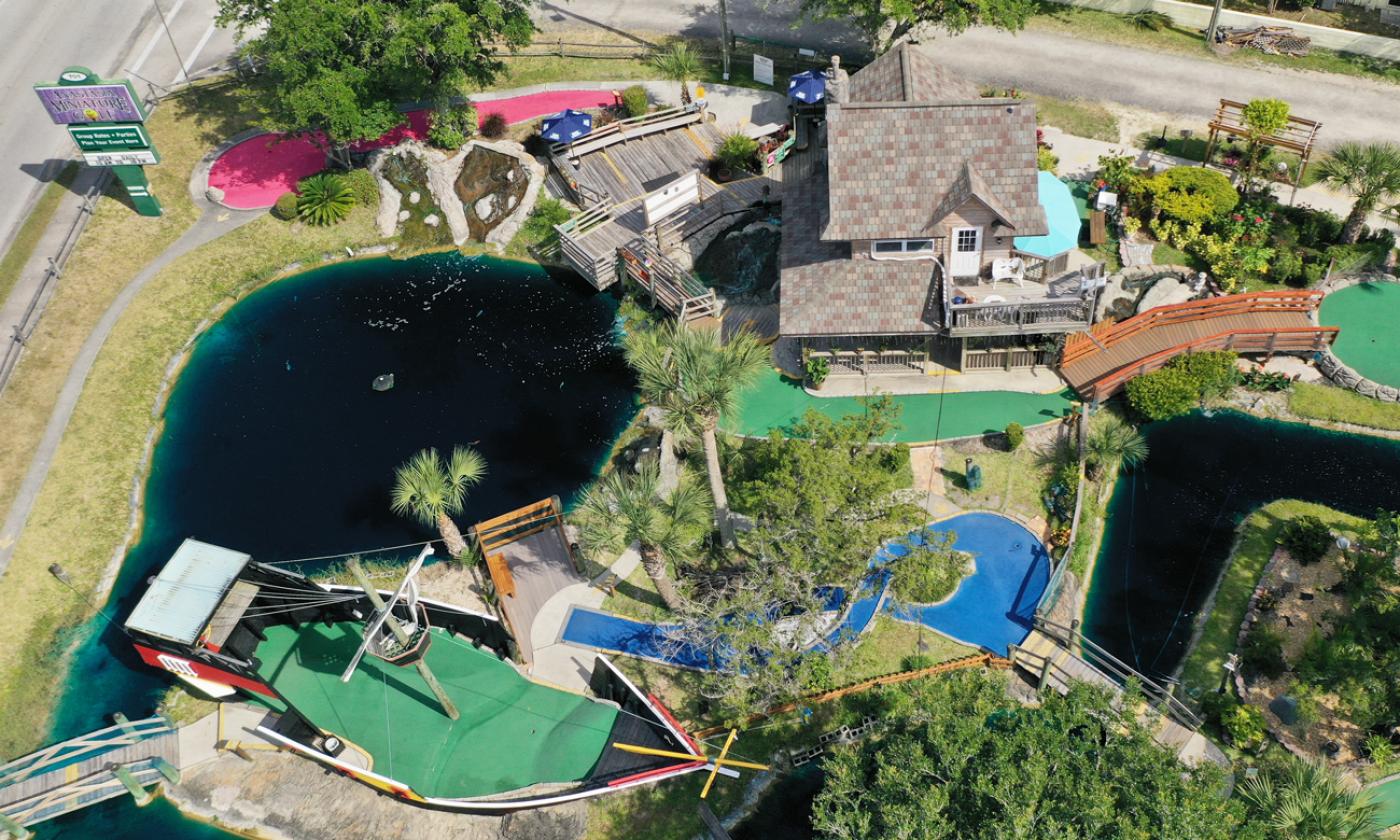 Currently closed.
Sun - Sat:
10:00 am - 10:00 pm
Holiday times will vary.
Anastasia Miniature Golf has been entertaining St. Augustine visitors since 1978. They offer a full 18-hole miniature golf course that features a pirate ship, a tunnel, and several challenging holes.
Anastasia Miniature Golf's creative and entertaining course winds through lush tropical landscaping, intersecting with waterways (stocked with Japanese koi) and fun diversions all along the way. The pirate theme includes "spooky" tunnels, waterfalls, and a pirate's humorous tips for each hole.
The price for a round of mini-golf is $12.00 for adults and youth (ages 10 and up) and $10.00 for seniors (over 65) and kids (ages 4 to 9), and $3.50 for kids under 4. Guests can play an immediate second round of golf for just $6.00, and there is an all-day unlimited pass available for $18.00. There's also a group rate (12 or more people) for $8.00 per person. The prices do not include sales tax. No refunds, but rain checks will be given if the weather isn't cooperative.
Snacks, water, and sodas are available in the office. Beer and wine are available for those with a photo ID.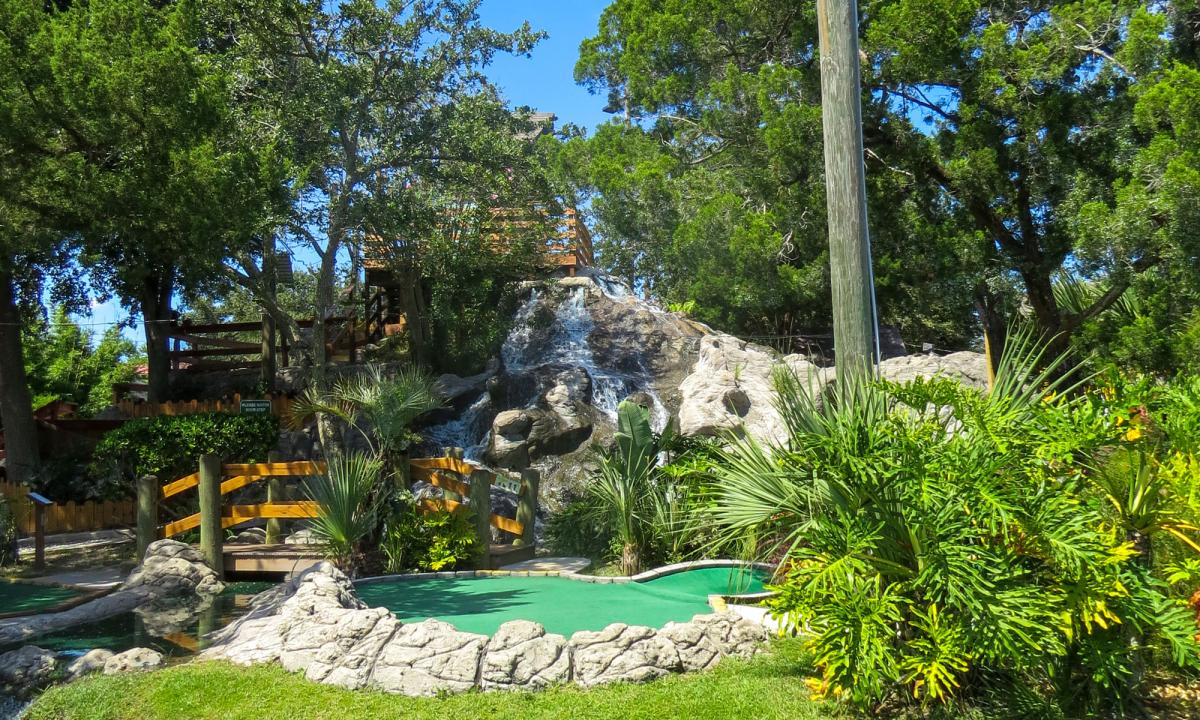 Anastasia Miniature Golf is happy to host birthday parties, school group outings, fundraisers, and corporate functions between the hours of 10:00 a.m. and 4:00 p.m. Their 1,500-square-foot deck can be rented for $100.00 for a two-hour block to groups with at least 8 people paying for admission to the golf course. Additional hours are available at $30.00 each. Golf tickets for parties of 15 or more can be purchased at the special rate of $9.00 per person. 
The deck and has power and lighting, sun shade, and chairs and tables. Customers may bring their own food; Anastasia Golf will serve beer and wine at the customer's request. To learn more or to reserve the space, go here.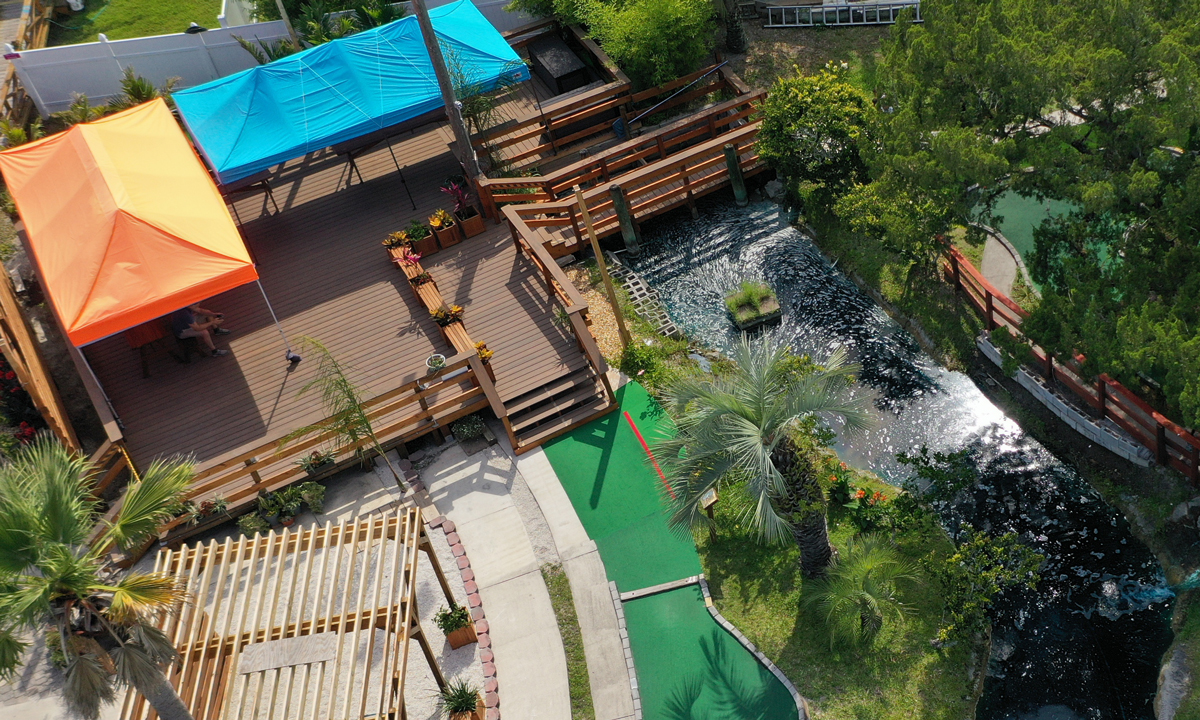 Hours of operation: Open 7 days a week, from 9:00 a.m. to 10:30 p.m. during March through April, and from 10:00 a.m. to 10:00 p.m. during September through February. Operation hours of the outdoor sections of this attraction may vary based on the weather.
Currently closed.
Sun - Sat:
10:00 am - 10:00 pm
Holiday times will vary.
Admission | Ticket Prices
These prices do not include sales tax.

| Guest | Price |
| --- | --- |
| Adults and youth (10 and up) | $12.00 |
| Seniors over 65 | $10.00 |
| Kids (4-9) | $10.00 |
| Kids (under 3) | $3.50 |
| Second Round - Immediate | $6.00 |
| All Day Unlimited Pass | $18.00 |
| | |
Have a Question?