Anastasia Mini-Golf Event Space
1 mile south of the Bridge of Lions
701 Anastasia Blvd., St. Augustine, FL, 32080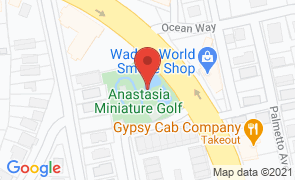 Hours
of Operation
Sun - Sat:
10:00 am - 10:30 pm

From October through February they close at 10:00 p.m.
Anastasia Miniature Golf, one of the area's favorite places for family fun, now has an event deck so that families and friends can gather for special celebrations.

Their 1500 square-foot deck provides a great space for any casual event, including school and youth groups, corporate retreats, reunions, or that day before your wedding when those who've arrived early want to gather and have fun.

The deck has power outlets, lighting, tables, and benches, and one section is covered by an attractive awning. Additional chairs and tables can be rented, and Anastasia Miniature Golf invites celebrants to bring food and decorations with them. While mini-golf tickets are not included in the rental price, Anastasia will offer a special group discount price for the people invited to the party.

From first birthdays to graduations to 50th anniversaries, the party deck at Anastasia Miniature Golf will provide the opportunity for fun and a space where everyone can enjoy an important celebration in a casual environment.

 

No Reviews Yet...

Be the first to Review Anastasia Mini-Golf Event Space!




Restaurants
Near Anastasia Mini-Golf Event Space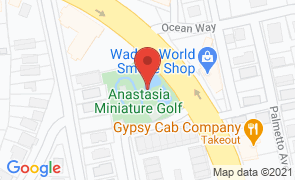 Anastasia Mini-Golf Event Space
1 mile south of the Bridge of Lions
701 Anastasia Blvd., St. Augustine, FL, 32080
(904) 825-0101
Hours
of Operation
Sun - Sat:
10:00 am - 10:30 pm

Have a Question?
Find Us on Facebook