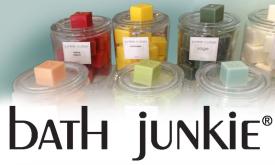 Currently open.
Mon - Thu:
11:00 am - 6:00 pm
Fri - Sat:
11:00 am - 8:00 pm
Bath Junkie offers soaps, body washes, lotions, and bath scrubs. Visitors have the opportunity to customize scents and colors. The shop features more than 200 scents and 18 colors for visitors to mix and match making customizable bath luxuries for souvenirs or gifts.
Bath Junkie also provides gifts for celebrations such as girls night out, birthday parties, and bridal showers.
The Bath Junkie has a little gathering spot inside called The Tipsy Duck. Here, guests can sip and shop in the parlor that features a bar with bubbles running through it, couches made from bath tubs, duck themed bar stools, bath tubs filled with rubber duckies, and, themed cocktails.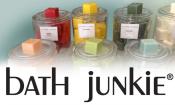 Currently open.
Mon - Thu:
11:00 am - 6:00 pm
Fri - Sat:
11:00 am - 8:00 pm