Collage Restaurant
On Hypolita Street, next to MetalArtz
60 Hypolita Street, St. Augustine, 32084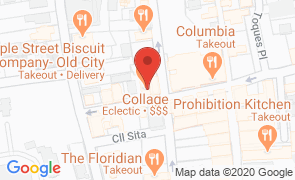 Hours
of Operation
Sun:
5:00 pm - 9:00 pm

Mon:
Closed

Tue - Thu:
5:00 pm - 9:00 pm

Fri - Sat:
5:00 pm - 10:00 pm

Serving dinner seven nights a week beginning at 5:30 p.m.
Collage Restaurant offers guests a taste of international cuisine, perfectly prepared, and artfully presented with impeccable service. Rated as one of the most romantic restaurants in the city, owners, Mike Hyatt and Cindy Stangby and Executive Chef Matthew Brown consistently provide a quality fine dining experience. The menu at Collage has an eclectic flavor with an emphasis on fresh local seafood and steaks.

Two of their popular entrees are the lobster ravioli and the rack of New Zealand lamb. They source their fresh seafood in St. Augustine and strive to offer the freshest ingredients available locally.

 
Things to Do
Near Collage Restaurant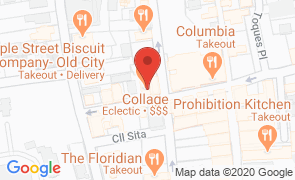 Collage Restaurant
On Hypolita Street, next to MetalArtz
60 Hypolita Street, St. Augustine, 32084
Hours
of Operation
Sun:
5:00 pm - 9:00 pm

Mon:
Closed

Tue - Thu:
5:00 pm - 9:00 pm

Fri - Sat:
5:00 pm - 10:00 pm