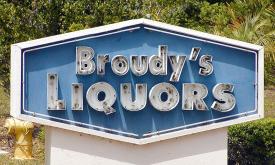 Currently closed.
Mon - Thu:
9:00 am - 9:00 pm
Fri - Sat:
9:00 am - 11:00 pm
Broudy's Fine Wine and Spirits offers a wide selection of spirits, beer, and wine. They offer popular brands like Smirnoff, Bicardi, and more. A large selection of different types of wine is also available.
At this Broudy's location in St. Augustine's Cobblestone Plaza, patrons can find imported and domestic beer, microbrewery brands, such as Hoppin' Frog Wild Frog Wheat and Shock Top Raspberry Wheat, and kegs. 
This location offers a drive-thru to make shopping easier. The staff is always willing to share tips and recommendations, such as cocktail recipes and advice on how to store wine.
Broudy's Fine Wine and Spirits is located in the Cobblestone Shopping Plaza off  St. Rd. 312 in St. Augustine.
Currently closed.
Mon - Thu:
9:00 am - 9:00 pm
Fri - Sat:
9:00 am - 11:00 pm