Free Entry
Cathedral Basilica of St. Augustine
Across from the North side of the Plaza
38 Cathedral Place, St. Augustine, FL, 32084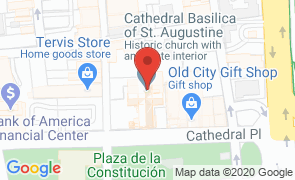 This is the oldest Catholic Church in the city, and the seat of the Bishop of the Diocese of St. Augustine. The architecture of the Cathedral is inspired by the city's Spanish roots.

The cathedral walls are adorned with exquisite murals that depict scenes from the history of the Catholic Church in the development of the New World. There are also stained glass windows showing scenes from the life of Saint Augustine of Hippo, for whom the city was named.

Guided tours are offered throughout the day, and visitors are welcome to light candles for loved ones at any time. Mass is celebrated at 7:00 a.m. Monday through Saturday.

The Cathedral gift shop offers an array of religious items: rosaries, prayer books, bibles, medals, saint prayer cards, CDs, scapulars, and crucifixes. Tours of the Cathedral are offered daily. Please call (904) 829-0620 to reserve a spot for you or your group.

The Cathedral offers the sacraments, including marriage, to practicing Catholics who go through the appropriate pre-cana courses and are eligible for marriage. Contact the Cathedral for more information about weddings. 

For more information, visit thefirstparish(dot)org.
Restaurants
Near Cathedral Basilica of St. Augustine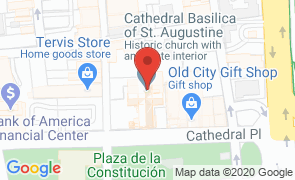 Cathedral Basilica of St. Augustine
Across from the North side of the Plaza
38 Cathedral Place, St. Augustine, FL, 32084
(904) 824-2806