Jade Violet Wedding Floral
950 Anastasia Boulevard, St. Augustine, FL, 32137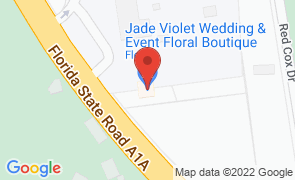 Hours
of Operation
Sun - Mon:
Closed

Tue - Thu:
10:01 am - 4:00 pm

Fri:
11:00 am - 2:00 pm

Sat:
11:00 am - 1:00 pm

Consultations by appointment only.
Jade Violet Wedding Floral offers vibrant arrangements of flowers, bouquets, corsages and more. The master behind the floral arrangements, Nulita Loder, has over 20 years experience creating floral arrangements for weddings and events.

Jade Violet Wedding Floral works closely with clients to help create the perfect display for an event or wedding — including bridal bouquets, table centerpieces, and corsages. They will work to help couples decide on a floral theme and create arrangements for the rehearsal dinner as well as the wedding day.
Restaurants
Near Jade Violet Wedding Floral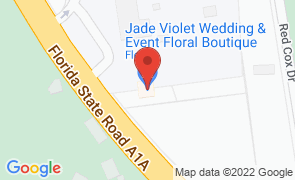 Jade Violet Wedding Floral
950 Anastasia Boulevard, St. Augustine, FL, 32137
(904) 415-2480
Hours
of Operation
Sun - Mon:
Closed

Tue - Thu:
10:01 am - 4:00 pm

Fri:
11:00 am - 2:00 pm

Sat:
11:00 am - 1:00 pm