Free Entry
San Sebastian Winery
157 King Street, St. Augustine, FL, 32084
(904) 826-1594
(888) 352-9463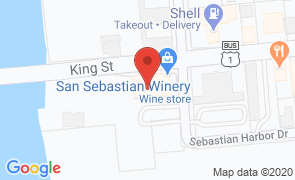 Hours
of Operation
Sun:
11:00 am - 6:00 pm

Mon - Sat:
10:00 am - 6:00 pm

San Sebastian Winery was founded in 1996 by Gary Cox, who always dreamed of owning a winery. Located just a few blocks from the heart of historic downtown St. Augustine in one of Henry Flagler's old East Coast Railway buildings, this winery has a very rich history.

Cox's family-run business welcomes guests every day of the week for tours of the 18,000-square-foot facilities and a detailed overview of the exciting wine-making process, complete with a short audio-visual presentation in the upstairs theater. After the tour, guests are given a chance to sample a wide variety of delicious San Sebastian premium wines.

Tours and Tastings: Mondays – Saturdays from 10 a.m. to 6 p.m. and Sundays from 11 a.m. to 6 p.m., with the last tours offered at 5:00 p.m.

San Sebastian Winery also has a wine and jazz bar called "The Cellar Upstairs," which is located on the rooftop of the winery building. This bar offers live music on the weekends, excellent wine and light appetizers. The Winery also features a gift shop, where guests can browse the wine selection or choose a special gift or unique gift basket. San Sebastian Winery in St. Augustine is one of the premier wineries in the country, a pioneer in their unique development of table, sparkling, and dessert wines from hybrid and Muscadine grapes.
Restaurants
Near San Sebastian Winery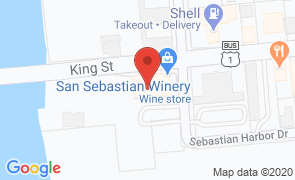 San Sebastian Winery
157 King Street, St. Augustine, FL, 32084
(904) 826-1594 (888) 352-9463
Hours
of Operation
Sun:
11:00 am - 6:00 pm

Mon - Sat:
10:00 am - 6:00 pm

Find Us on Facebook