Coconut Barrel, Artisan Market
3175 US 1 South, Unit 3, St. Augustine, FL, 32086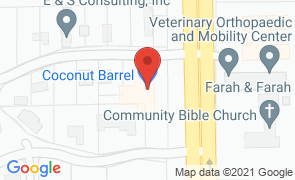 Hours
of Operation
Sun:
12:00 pm - 5:00 pm

Mon:
Closed

Tue - Wed:
10:00 am - 6:00 pm

Thu:
10:00 am - 8:00 pm

Fri - Sat:
10:00 am - 6:00 pm

Coconut Barrel can be thought of as a brick-and-mortar Etsy store, which features the work of over 200 local artisans and makes it the perfect place to shop for gifts and décor.

Their mission is to offer customers an exclusive selection of handcrafted products and to inspire people to buy from local artists and businesses. Because there are so many artisans selling their work here there is also a wide variety of products available such as hand painted gifts, furniture, outdoor décor, handmade jewelry and more. Visit Coconut Barrel to support local artisans, crafters and designers. 

Every Thursday, from 5 - 8 p.m., Coconut Barrel hosts a local farmers market in their parking lot. The shops all inside all stay open until 8:00 p.m. as well.
Restaurants
Near Coconut Barrel, Artisan Market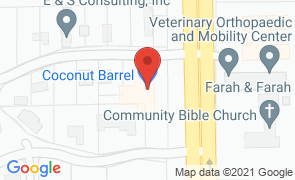 Coconut Barrel, Artisan Market
3175 US 1 South, Unit 3, St. Augustine, FL, 32086
(904) 484-8729
Hours
of Operation
Sun:
12:00 pm - 5:00 pm

Mon:
Closed

Tue - Wed:
10:00 am - 6:00 pm

Thu:
10:00 am - 8:00 pm

Fri - Sat:
10:00 am - 6:00 pm