Fountain of Youth
North of Mission Nombre de Dios
11 Magnolia Avenue, St. Augustine, FL, 32084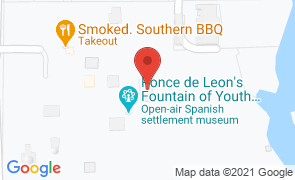 Hours
of Operation
Sun - Sat:
9:00 am - 6:00 pm

Open from 9 am - 6 pm daily; last tickets sold one hour before closing.
The Fountain of Youth Archaeological Park, a 15-acre waterfront historical attraction, allows visitors to learn about the first Spanish settlers who came here in the 1600s and the native Timucuans who were here to greet them. With a working archeological dig on-site, as well as several re-created Spanish and Timucuan buildings and dwellings, the park is bursting with history.

It's also just a beautiful spot to relax, enjoy the views over the water from the 600-foot Founders Riverwalk or from the Observation Tower, sample the waters from the natural spring (Ponce de Leon's legendary Fountain of Youth?), and let the kids feed the roaming peacocks.

The Fountain of Youth offers a variety of shows and living history reenactments designed to entertain and educate visitors -- the Planetarium, the two-story Discovery Globe mapping the routes of the early explorers, the Timucuan Village, and the reconstructed First Mission of Nombre de Dios.

The Fountain of Youth Archeological Park is the site of the first Spanish settlement in the new world. Founded by Spanish explorer Pedro Menéndez de Avilés in 1565, this is the oldest continuously occupied European settlement in North America. Long before the Spanish came to La Florida, the Timucuan Indian village was established at this site for nearly 3,000 years. In 1513, Juan Ponce De Leon claimed Florida for the Spanish crown, though no colonies were successful here until Menéndez arrived in 1565.

The large grounds of the Fountain of Youth attraction make a great space for family gatherings, weddings, or other special occasions. Here is a link to their weddings and events listing. The beautiful waterfront location offers views of the bayfront and St. Augustine Inlet. With its deep sense of history and the natural beauty of the site, the Fountain of Youth is a magical place.

There is ample free parking at the Fountain of Youth, and the park is known for being pet-friendly. Ponce de Leon's Fountain of Youth Archaeological Park is located just north of the Mission Nombre de Dios, and just south of the Vilano Bridge. They offer special pricing for adult groups, St. Johns County Residents, and annual passes. Here is a link to their ticket page. 
Restaurants
Near Fountain of Youth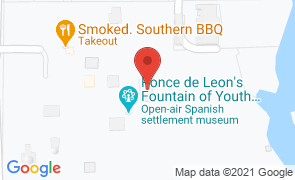 Fountain of Youth
North of Mission Nombre de Dios
11 Magnolia Avenue, St. Augustine, FL, 32084
(904) 829-3168
Hours
of Operation
Sun - Sat:
9:00 am - 6:00 pm

Admission | Ticket Prices
| | |
| --- | --- |
| Adults | $19.95 |
| Seniors (60+) | $17.95 |
| Children (ages 6 – 12) | $9.95 |
| Toddlers (5 and under) | FREE |
| | |
Have a Question?
Find Us on Facebook