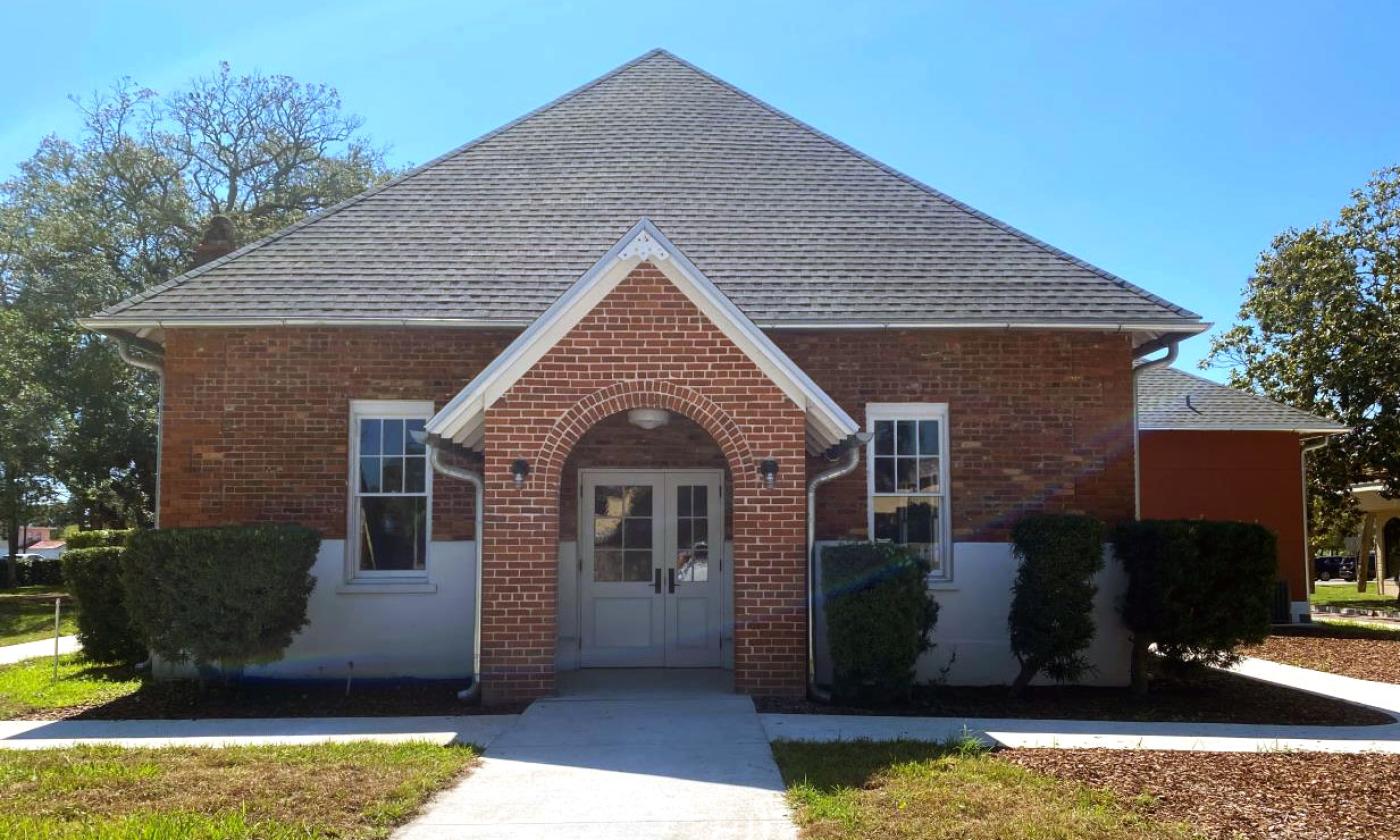 Built in 1898, the Waterworks is significant for its association with the Flagler Era, a period dating from the arrival of developer, Henry Flagler, in St. Augustine until his death in 1913. Once a public utility facility, the former pumping station is further significant at the local level for its association with Jo Conn Guild, a nationally known engineer, and F.A. Hollingsworth, one of St. Augustine's most prominent architects.
The 1928 conversion of the water works to a community center was one of the earliest adaptive use projects in the history of St. Augustine. During this period it became the Little Theatre of St. Augustine and the St. Augustine Garden Center. Site improvements included converting the aerating basin to a wading pool for children and constructing a low coquina concrete wall along the San Marco side of the property.
The brick building was closed in 2005 out of safety concerns and since then the city has secured grant funding to have the building stabilized and then continue with its restoration. The Waterworks was listed on the National Register of Historic Places in 2014.
Upcoming Live Music
Saturday, February 18th, 2023
7:30 pm - 9:30 pm
Saturday, February 18th, 2023
7:30 pm - 10:00 pm
Saturday, February 25th, 2023
6:00 pm - 8:00 pm
Upcoming Events
| Event | Date | Time |
| --- | --- | --- |
| Live from the Waterworks: A Gamble Rogers Concert Series | Saturday, February 18th, 2023 | 7:30 pm - 9:30 pm |
| Live from the Waterworks: A Gamble Rogers Concert Series | Saturday, March 18th, 2023 | 7:30 pm - 9:30 pm |
| Live from the Waterworks: A Gamble Rogers Concert Series | Saturday, April 15th, 2023 | 7:30 pm - 9:30 pm |
| Terrence McNally's Mothers and Sons at A Classic Theatre | Friday, May 5th, 2023 | 7:30 pm - 9:30 pm |
| Terrence McNally's Mothers and Sons at A Classic Theatre | Saturday, May 6th, 2023 | 7:30 pm - 9:30 pm |
| Terrence McNally's Mothers and Sons at A Classic Theatre | Sunday, May 7th, 2023 | 2:00 pm - 4:00 pm |
| Terrence McNally's Mothers and Sons at A Classic Theatre | Friday, May 12th, 2023 | 7:30 pm - 9:30 pm |
| Terrence McNally's Mothers and Sons at A Classic Theatre | Saturday, May 13th, 2023 | 7:30 pm - 9:30 pm |
| Terrence McNally's Mothers and Sons at A Classic Theatre | Sunday, May 14th, 2023 | 2:00 pm - 4:00 pm |
| Live from the Waterworks: A Gamble Rogers Concert Series | Saturday, May 20th, 2023 | 7:30 pm - 9:30 pm |