Mon - Sun:
5:00 am - 9:00 pm
This Dunkin' Donuts, located at 171 San Marcos Avenue, allows customers to dine in or do delivery. The breakfast assortment includes their signature brewed coffee, donuts, and breakfast sandwiches.
In addition to their staple food and beverage items mentioned above, they also serve muffins, bagels, and wraps that are perfect for on-the-go. A varied selection of teas and refreshers are on the menu as well.
There is no drive-thru at this location. They are open from 5:00 a.m. to 9:00 p.m. every day.
There are six other Dunkin' locations in St. Johns County:
Dunkin' Donuts — Bartram Market
Dunkin' Donuts — Ponce de Leon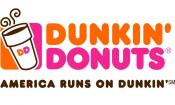 Mon - Sun:
5:00 am - 9:00 pm