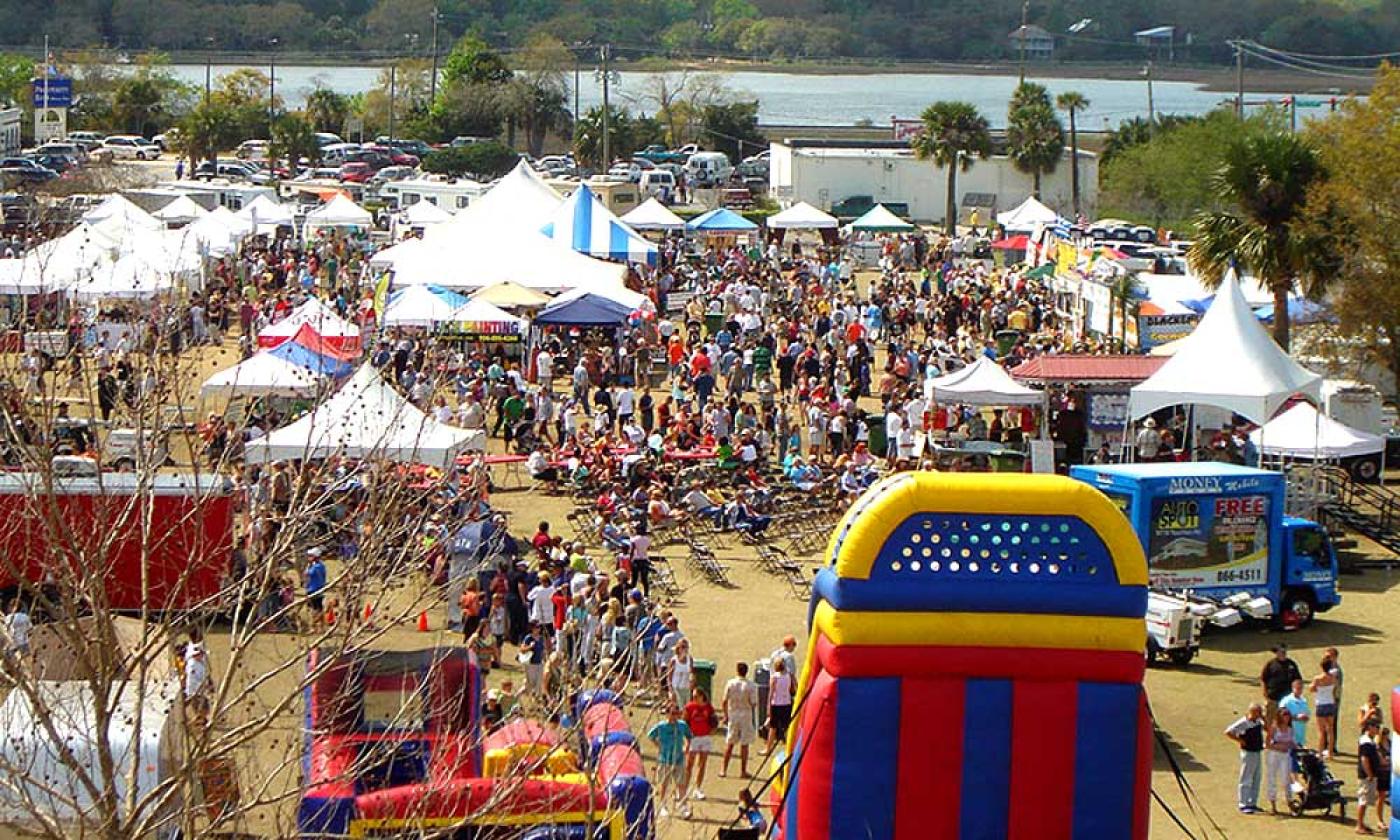 Francis Field is the hub of St. Augustine's special events activities, with many of the city's major festivals held in this large open space on West Castillo Drive.
Located next to the City of St. Augustine's Downtown Parking Facility, Francis Field was originally home to the amateur baseball team, the St. Augustine Saints. It was named after Frederick G. Francis, a co-owner of the team and an accomplished athlete himself.
In addition to baseball, Francis was a tennis and football star, and in 1928 he was an announcer for the New York Giants at the Polo Grounds. His family moved to St. Augustine when Francis was a child, and he later worked as a tennis instructor at the Alcazar Hotel. In 1931, he married Louise Wise Lewis, a niece of Henry Flagler's third wife and an heiress to the Flagler fortune.
Francis was at the helm when the St. Augustine Saints won the Northeast Florida Championship in 1933. The next year, St. Augustine Mayor E.J. Wishard Sr. proclaimed September 11,1934, as Fred Francis Day. Following a game between the Saints and the Palatka Azaleas that day, an elaborate dinner was held in his honor at the Monson Hotel. Francis Field was officially named after Frederick Francis on June 23,1938.
During World War II, Francis Field was used for military training. In 1952, the St. Augustine Saints played their last game on the field.
With the addition of the City of St. Augustine's Downtown Parking Facility right next door in 2006, Francis Field's convenient location and wide open areas have made it an ideal venue for festivals and special events of all kinds - from art shows to food and ethnic festivals, from fairgrounds to concerts.
Upcoming Events
| Event | Date | Time |
| --- | --- | --- |
| 44th Annual Matanzas 5000 | Saturday, January 20th, 2024 | 8:00 am - 10:30 am |
| The Florida Man Games | Saturday, February 24th, 2024 | 10:00 am - 7:00 pm |
| Celtic Music and Heritage Festival | Friday, March 8th, 2024 | 7:00 pm - 9:00 pm |
| 2024 St. Patrick's Day Parade | Saturday, March 9th, 2024 | 10:00 am - 11:30 am |
| St. Augustine Lions Seafood Festival | Saturday, April 6th, 2024 | 10:00 am - 9:00 pm |
| Unidos en la Música (United in Music): A Latin American Festival | Saturday, May 4th, 2024 | 10:00 am - 10:00 pm |
| As If! The '90s Fest | Saturday, May 18th, 2024 | 1:00 pm - 9:30 pm |