Georgia Nick Gallery
11 Aviles Street, Suite A, St. Augustine, FL, 32084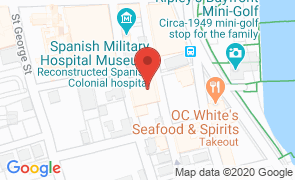 Hours
of Operation
Sun - Mon:
11:00 am - 6:00 pm

Tue:
Closed

Wed - Sat:
11:00 am - 6:00 pm

Georgia Nick Gallery displays the work of numerous local artists, including the fine art photography of the gallery's owner, Georgia Gayle Nick.

Located in the historic "Hamblen-Holiday" house, Georgia Nick Gallery is a rambling shop with a number of rooms filled with photography, paintings, wooden pieces, leather goods, and jewelry. One of the premier galleries on Aviles Street, Georgia Nick Gallery is nestled along the narrow, brick-paved historic street among other quaint shops and sidewalk cafes. This historic area is now the heart of St. Augustine's arts district.

Artists presented by Georgia Nick Gallery include the husband and wife painters, Roger and Sarah Bansemer; Mexican native and former ballerina, Adriana Cabezas de Lulkoski; M.G. Ferguson, painter in oils and watercolors and a graduate of Flagler College; and Claudio Ruanova, a watercolor artist from originally from Mexico City.

Each month, Georgia Nick Gallery stays open late for St. Augustine's First Friday Art Walk, when visitors can enjoy listening to guitarist John Alison.

The shop is closed on Tuesdays unless there's a class going on. 
Restaurants
Near Georgia Nick Gallery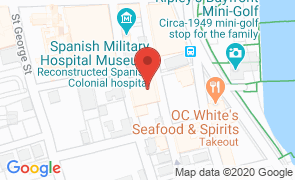 Georgia Nick Gallery
11 Aviles Street, Suite A, St. Augustine, FL, 32084
(904) 342-2186
Hours
of Operation
Sun - Mon:
11:00 am - 6:00 pm

Tue:
Closed

Wed - Sat:
11:00 am - 6:00 pm