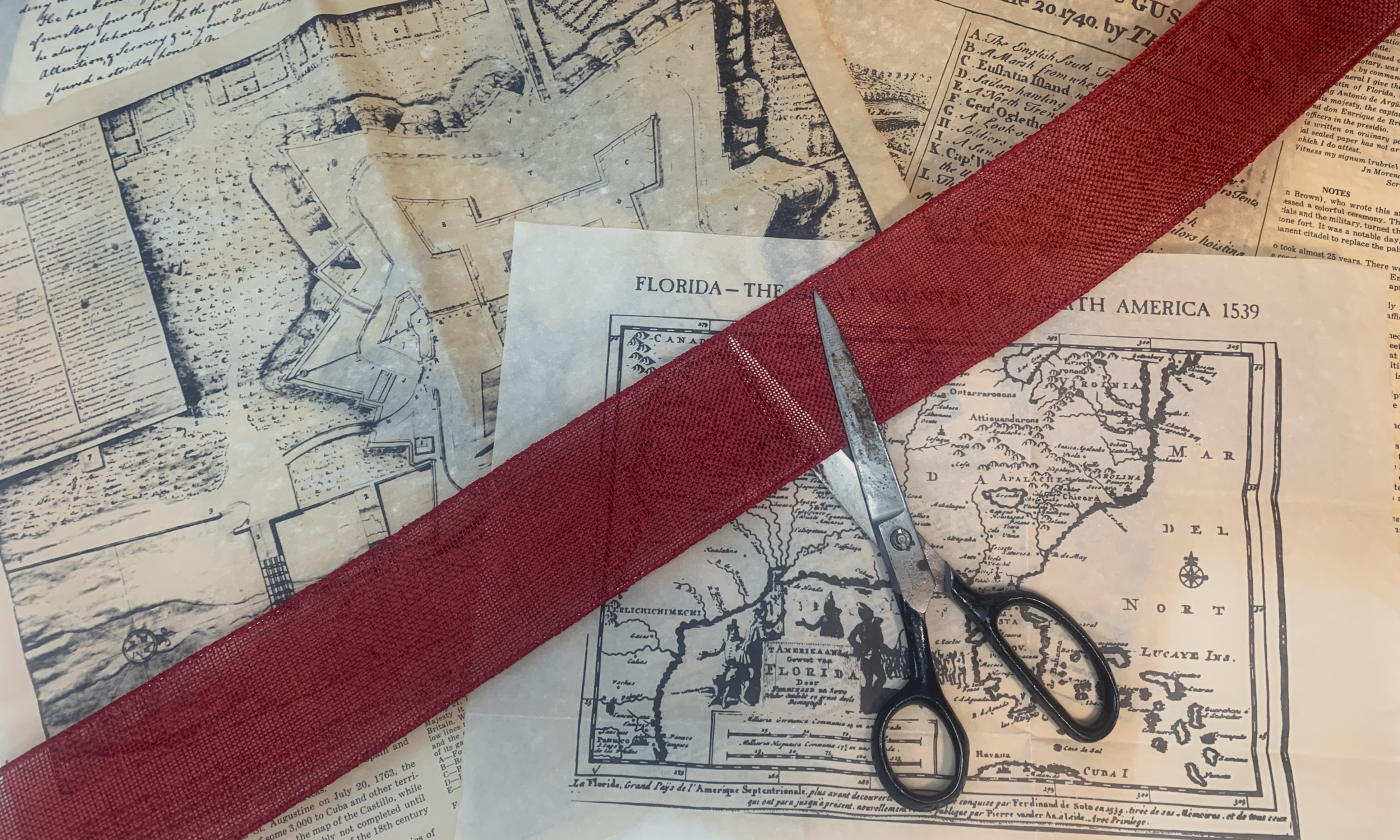 Moving to St. Augustine
Cutting through the relocation red tape.
If you're here for a list of the most important things to do when moving to St. Johns County, Florida, welcome. I get it. When I moved here, my online search for a moving list specific to St. Johns always ended with me watching videos of dogs eating ice cream. Yes, there's red tape, to slice and dice, but hopefully, this article gives you the information you need to breeze through the finish line with ease. So, here's a list beginning with what must be done first to don't cringe, DMV specifics.
If you're here for a specific topic, below are links to article topics. Please feel free to jump to the information you need.
Change of Address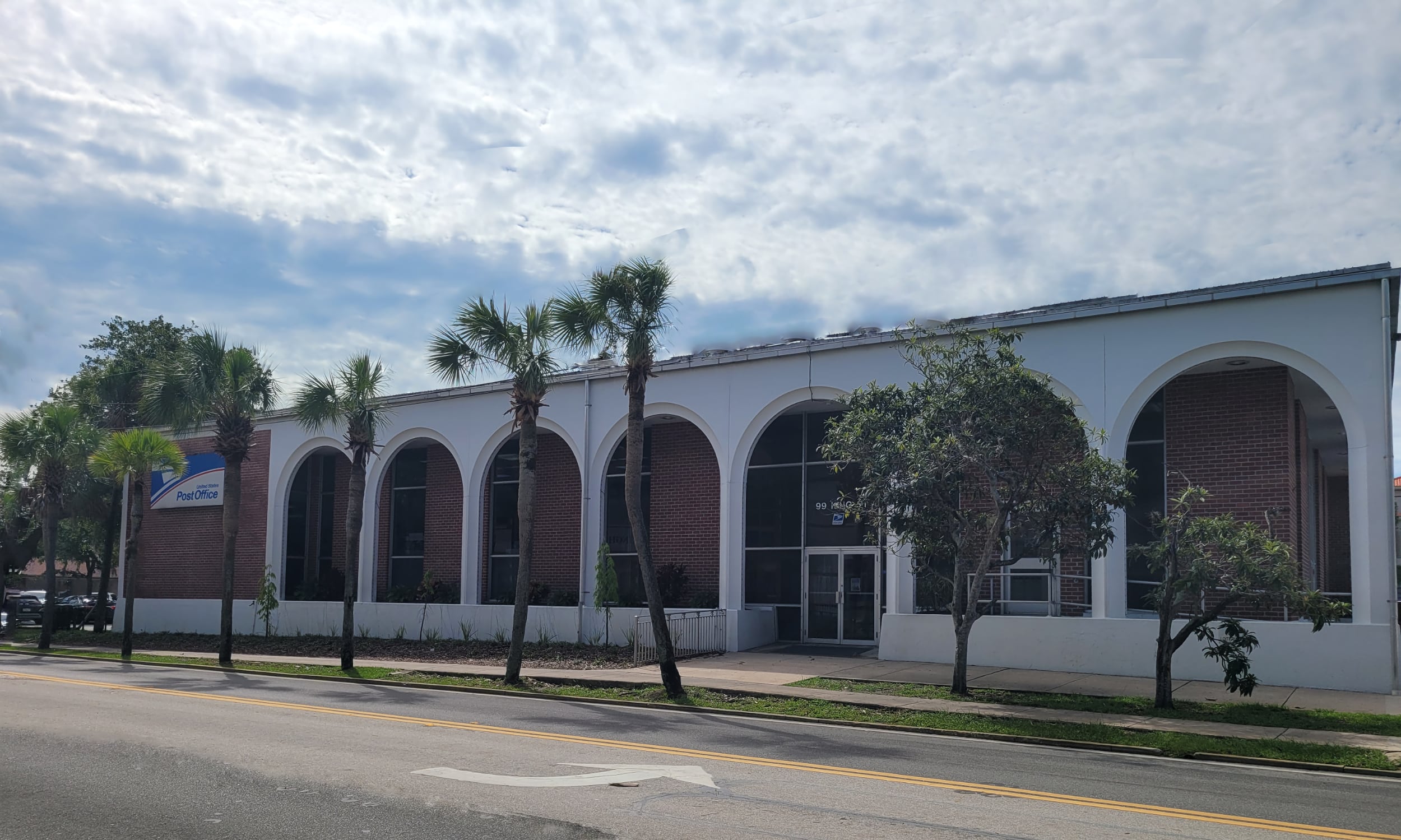 Change of address lands at the top of the list because if you forget to do it your credit score can be negatively impacted. Plus, you won't receive invitations and holiday cards, and that notice of an unexpected inheritance. And, although it's a simple item, it's often an afterthought remembered weeks after a move or when you discover the towels you ordered from Amazon are sitting at your former address. Final bills from your former address need a homing device, and a change of address form from the USPS is the beacon. If you do it online, you'll pay $1.10 or for no cost get a form at any USPS station. The post office suggests doing a Permanent Change of Address and informing individual senders/anyone you receive mail from of your new address.
IRS
Albert Einstein said, "The hardest thing to understand in the world is the income tax." Luckily, changing your address with them is a no-brainer. Their website provides an easy way to change your address with the IRS. Keep in mind, it can take up to six weeks.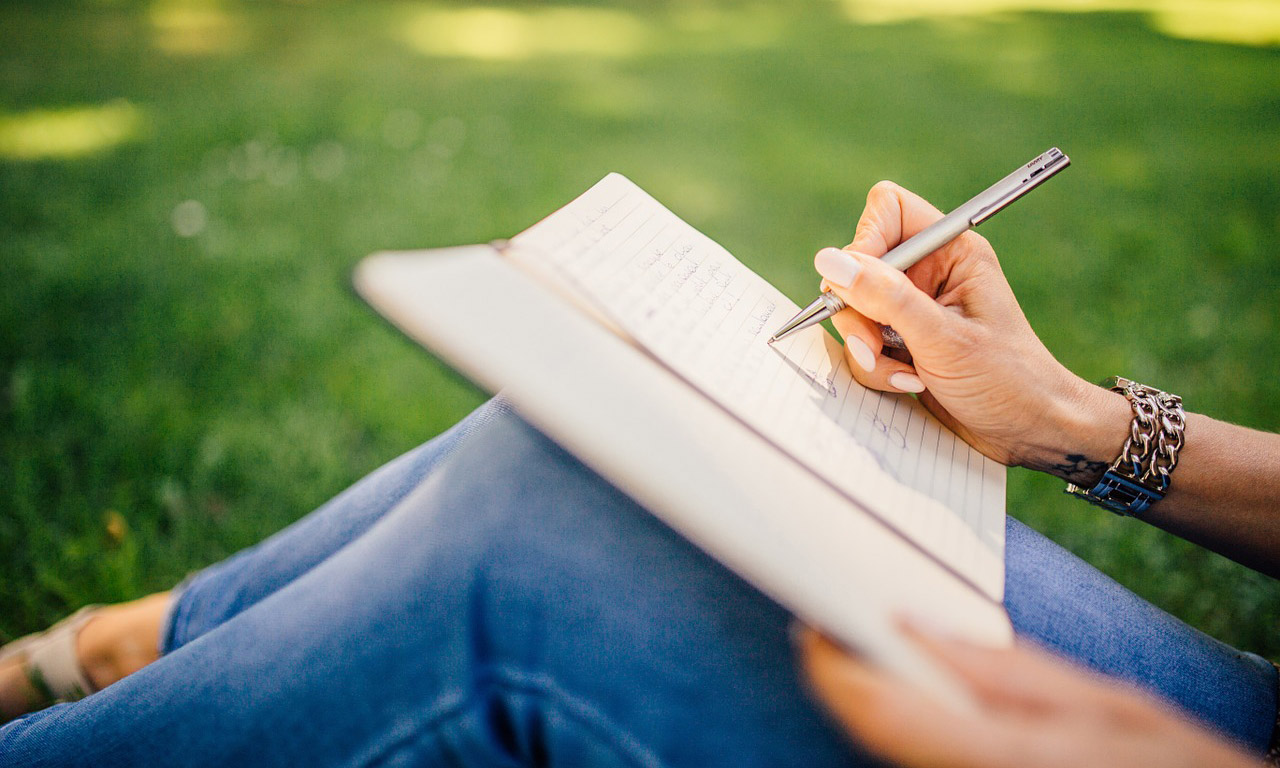 Credit Cards & Online Subscriptions
If you get it at your doorstep or by mail you need a change of address. Credit cards and bills can also be changed via phone, online, or when you receive a statement. Online accounts like Amazon, other subscription sites, and mail order prescriptions all require address action. Some companies require verification documents, so visit each website for their address change terms.
For those with a mailbox service like UPS or PostNet there are three types of boxes: individual, family, or business box. Address changes are done online or in person. It's important to note when doing a family change of address, everyone with the same last name will have their mail forwarded to the new address. If you cancel a mailbox, you must do a change of address form with the USPS to have mail forwarded.
Travel Documents
For international travelers who use Trusted Travel Programs (Global Entry, TSA PreCheck®, SENTRI, NEXUS, and FAST)through the Department of Homeland Security(DHS), address verification is a strict requirement. To stay in the fast lane, the Transportation Security Administration makes changing your address simple. Finally, your passport doesn't require an address change, but if it is in the application process  you can still make this change.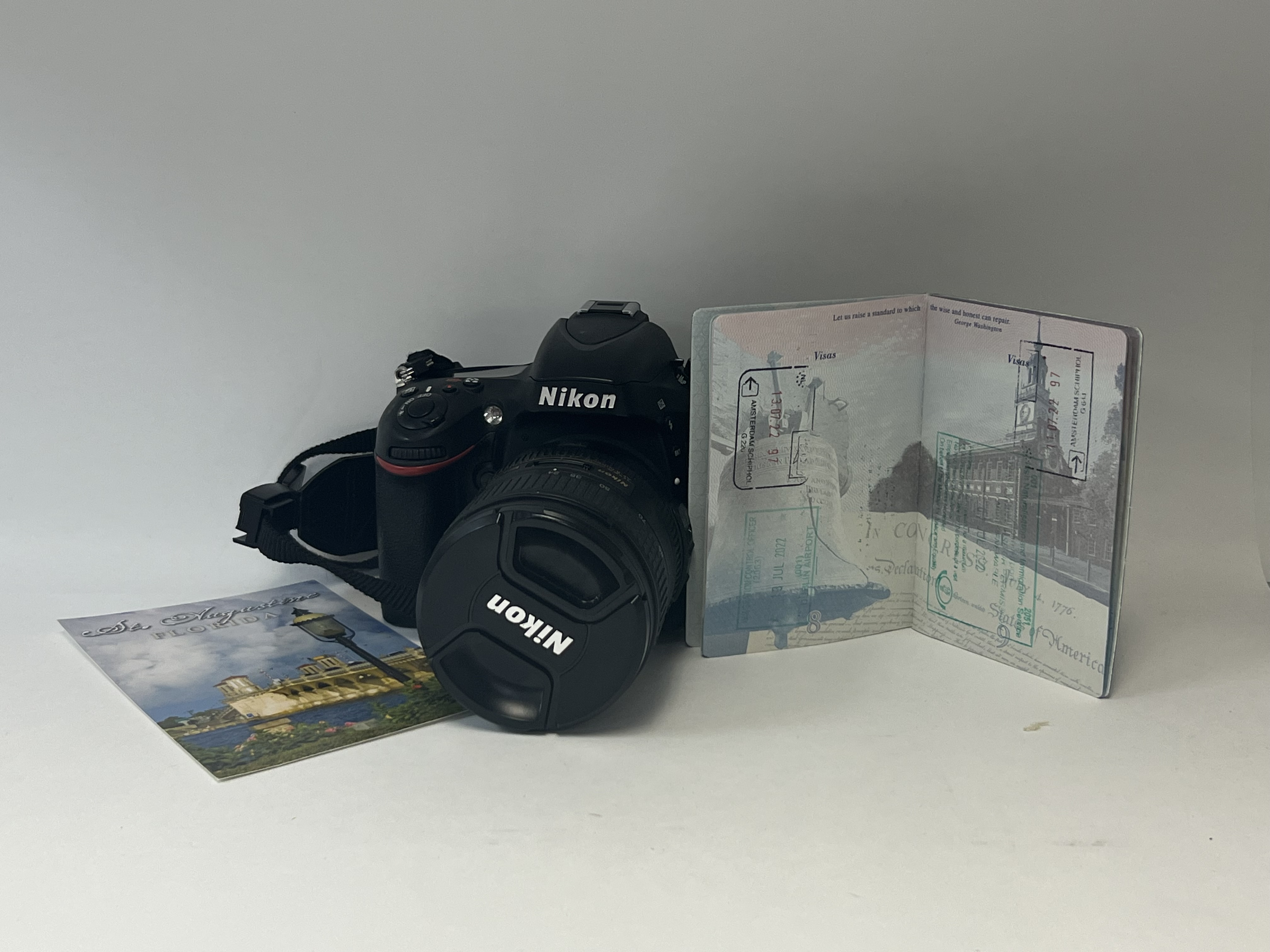 Insurance
Fun fact: The origin of the word Insurance comes from the Latin securus, "free from care."
Health Insurance
If you keep your private health insurance provider or have insurance through the Affordable Care Act, let them know about your new address. If you are moving here from another state and have insurance through the Affordable Care Act and you want to update coverage, you can do it outside the Open Enrollment period because the law considers relocating a "Qualifying Event."But, keep in mind, for both private and government insurance, you can't update the address until after you move.
Renters and Homeowners Insurance
For peace of mind and because most landlords and rental properties require renters insurance, and it's mandatory for a mortgage in Florida, it's on the list. If you currently have a policy you will need to update your address on your policy or switch to a new provider. A perk: (and believe me I look for any perks when moving) ask about discounts for moving into a home with an alarm system, security devices, or a gated community.
Utilities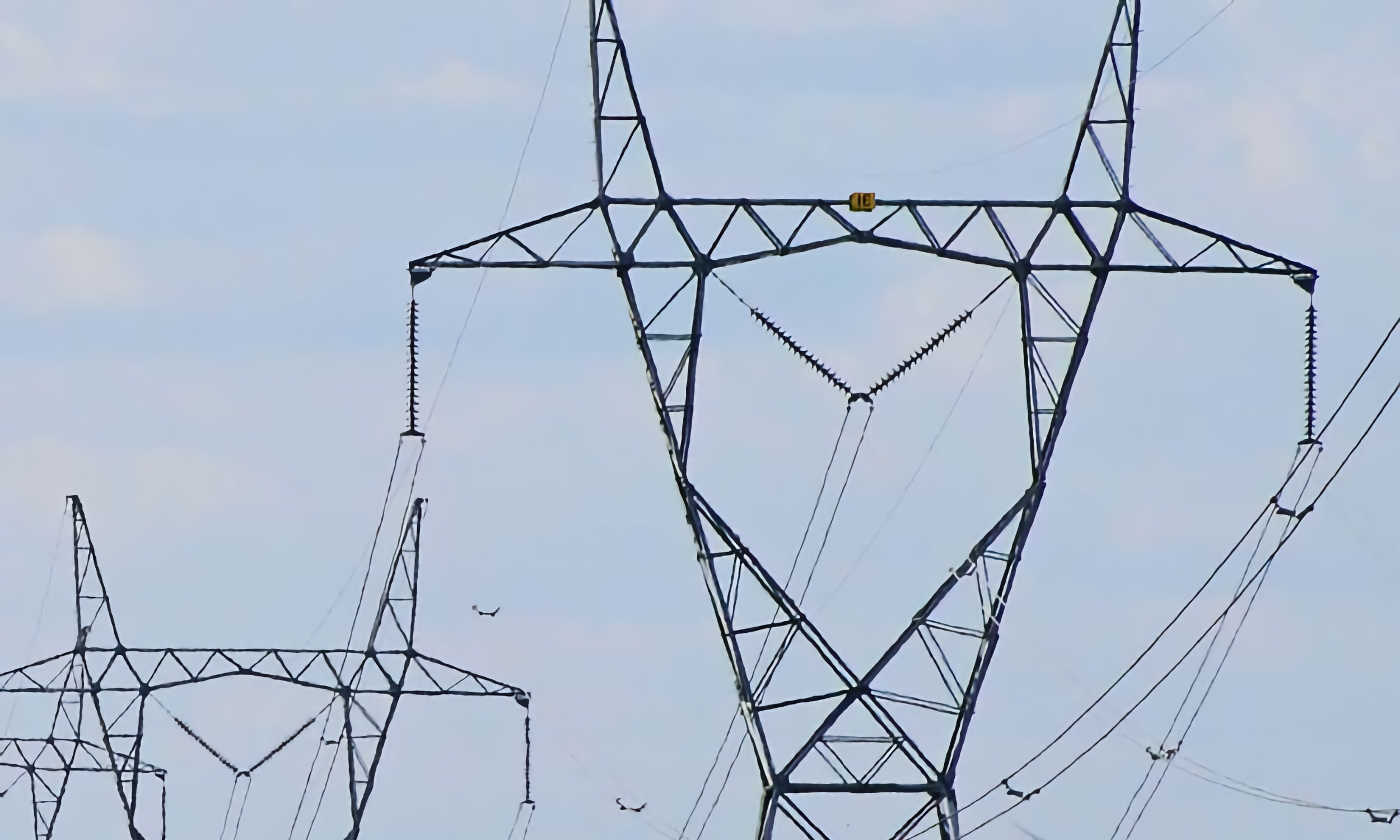 Electricity
St. Johns County residents receive their electricity from FPL (Florida Power and Light.) If you search for their location and drive there to start services or pay your bill, you'll land in front of a power station with trucks parked around it.(Yes, I know someone who did this.) In other words, you must do everything online. FPL makes turning on your electricity easy. When you visit their site go to Services tab and there's a Start, Stop, Move option.
Water
St. Johns County website is gushing with information. Most importantly, see their recommendations for a new service. They give you many options for paying your bill including, by phone, online, AutoPay Online, check via mail, or at five drop box locations.
Internet Providers
St. Johns County makes getting connected easy. Choosing an internet provider typically means considering cost, type of connection, speed, plan modifications, hidden costs, data rollover/pause connection rates, plan incentives, and customer support ratings. Also, many in the links below, offer streaming bundles. 
Municipal Tax Agency
Fun Fact: In 1705, Russian Emperor Peter the Great placed a tax on beards.
If you're moving to Florida from another state or another county in Florida, most municipalities require that you send paperwork verifying you no longer live in their district. You may be required to pay taxes on the months you're still in your former home. St. Johns County's website is helpful in understanding tax structures. And, to learn more about the Homestead Act exemption the Florida Department of Revenue offers an informational pdf file on the law.
Medical and Dental Records
The Health Insurance Portability and Accountability Act  of 1996 (HIPPA) laws protect your rights when requesting records. Healthcare providers are required by law to release your records via a verbal or written request. Many may ask that you complete a Medical Records Transfer for Records form to ensure your privacy is protected.
Most recipient providers want to receive your records through the internet or by mail. Often the best way to get your medical records is to simply pick them up, or have them mailed/emailed to you. Tip from my lessons learned file: Keep a copy of all your medical records in the event you move again or need a consult. Frequently, for legal reasons, primary physicians and specialists only share records from their office. 
Public Schools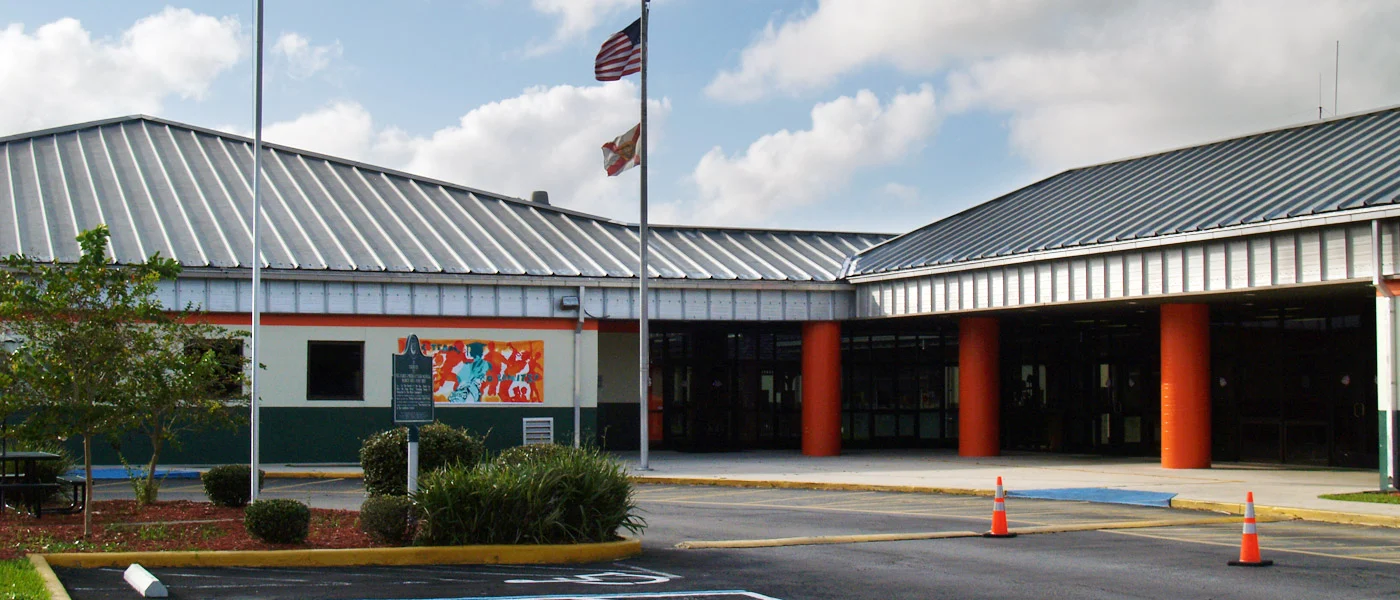 The St. Johns County School District has maintained an A grade since 2010. So, it's no surprise that many families move here for our excellent public schools. To enroll a child in a St. Johns school and learn about requirements and special programs, the district provides everything you need to know on their website.
Programs of Choice is an excellent resource for families with children entering middle school or high school. These nationally recognized study programs include everything from ROTC, career academies, International Baccalaureate schools, art and technical programs, and dual enrollment at St. Johns River State College.
Registering to Vote
Fun Fact: Cartoonist Thomas Nash created both the Republican's elephant and Democrat's donkey to satirize both parties.
There are only a few conditions you must meet when you register to vote in Florida. And, you can fill two needs with one deed at the DMV, which offers to register you when you get a license or do any license change. To vote in Florida you must:
Be a United States citizen.
Be a Florida resident.
Be at least 18 years old.
Not currently judicially declared mentally incapacitated in Florida, or another state.
Not convicted of a felony in Florida without your civil rights having been restored.
Not maintain voter rights in another state.
The state closes voter registration 28 days prior to each election, causing registration deadlines to vary. The state provides a Guide to Registration and Voting on their website.
Department of Motor Vehicles
Driver's License, Car and Motorcycle Registration
If going into the DMV conjures up images of the Neitherworld waiting room from the movie "Beetlejuice," then you're going to love St. Johns County. They raise the bar on customer service excellence. There are four DMV locations: Julington Creek, Ponte Vedra, St. Augustine, and Dupont Center. Some offices require an appointment, while others accept walk-ins.
The County doesn't give an average wait time because each location is unique. However, they recommend the middle of the week and avoiding times before and after holidays. Add a website that's easy to navigate and provides up-to-date information, and you're set.
Motorcycles
Riders must present the same documentation as vehicles to get a license. In addition, a motorcycle endorsement is also required. To obtain the endorsement, the FHSMV and authorized sponsors offer Motorcycle Safety Foundation courses. 
Getting a New Florida Driver's License or Identification
New Florida residents must go into a Florida Highway Safety and Motor Vehicles (FHSMV) location, within 30 days of establishing residency, and take a glamor shot and a vision test. For the proactive person, you can renew 12 months in advance of the expiration date. There are various categories and fees. You are considered a resident when you:
Start employment.
Enroll your children in school.
Register to vote.
File for homestead tax exemption on property.
Live In Florida for six consecutive months.
You will need to bring:
1 proof of identification.
1 proof of social security number.
2 proofs of address.
Proof of insurance.
The list of accepted documents is long, but keep in mind immigrants, non-immigrants, and those who hail from Canada, will need additional documents. The Florida Driver's Handbook gives you all the information you need to get your Florida driver's license or identification card.
Updating Your Driver's License or Identification
Florida requires that you renew your license every eight years. You can renew online, but you are required to go into the DMV every 12 years for a new head shot and vision test. 
Established Florida Residents Change of Address
Like new Florida residents, you have 30 days to update your license or identification. To validate your change of address, you must present two proofs of address. There are 24 document choices, everything from a utility bill, to your rental agreement is accepted. The only caveat is that documents must have your name on them.
Vehicle Insurance
Florida law states that anyone who owns a motor vehicle with four or more wheels must have $10,000 in property damage liability coverage and $10,000 in personal injury protection.
Motorcycle Insurance Requirements
Florida's insurance requirements for a motorcycle are specific and because motorcycles don't have four wheels, you are not required to have insurance if you use a helmet when you ride. Insurance is highly recommended, but keep in mind you cannot insure a motorcycle and vehicle on the same policy.
Important Particulars
Driver's license or ID card name changes require you to first update the change with the Social Security Administration.
You're required to present an original or certified court order or a marriage certificate.
For those certified as legally blind, a special sight-impaired designation ID is available.
Drivers over 80 years of age must take the vision test at a DMV, or submit a Vision Examination form, completed by a Florida licensed physician.
License Plates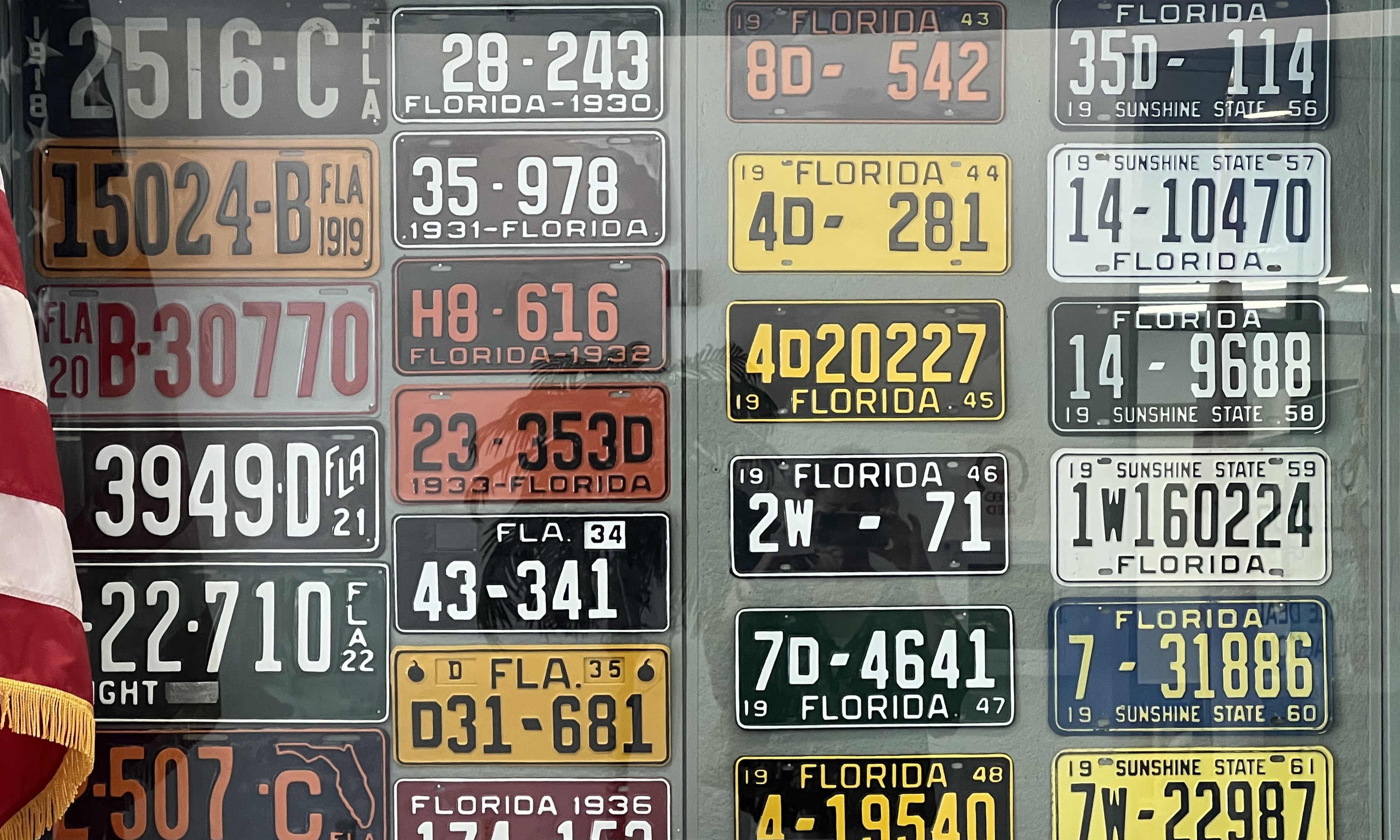 New Florida Residents
Florida requires you register all modes of transportation at a DMV location within 10 days of:
Being employed.
Children attending a public school.
Establishing residency.
This list includes all your vehicles, vessels, motorcycles, and mobile homes. Florida issues only one plate that's placed on the back of the vehicle.
There is an initial $225.00 fee for a Florida plate, you must show proof of insurance from a licensed Florida agent, and you must complete an Application for Certificate of Title. A plate registration decal is provided with your registration certificate. This yellow sticker designates the month and year the tag expires and is placed on the upper right-hand corner of the plate.
Plates with Messages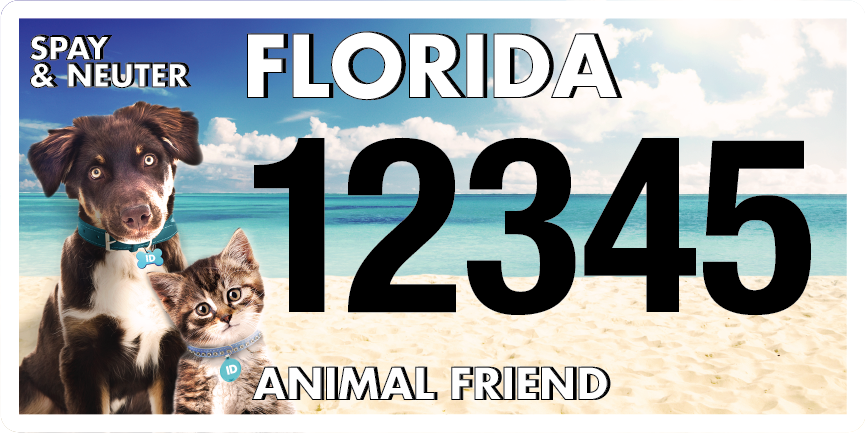 Fun fact, The first specialty plate issued in Florida was in 1987 to honor the Challenger astronauts. For those who want to ride with the herd there are three standard plate choices and for additional fees, vanity plate options.
Armed Forces Members and Veterans
Florida honors military service members and veterans offering no fees for service-connected disabilities. If you are a service member or veteran, thank you, and check out all the unique allowances, options, and choices Florida offers.
Established Florida Residents
Florida requires that you buy a new license plate every 10 years.
Motorcycles
The same document requirements for a vehicle license plate applies when you register a motorcycle. The DMV website provides everything you ever wanted to know about riding and owning a motorcycle in Florida.
Tag Your It
For tag renewals, you can get one or two year tags, and these can be done online, or at the DMV.
Disabled Person Parking Permits
Florida issues long-term and short-term mobility impairment tags. There are many options available to you and specific requirements for each designation.
Research moving and you'll discover many psychologists and stress scales place relocating as one of life's most stressful events. However, these experts add, you can reduce moving stress with the right amount of planning and information. With this in mind, VisitStAugustine.com—Relocation is here to help. It's our sincere hope that this and other relocation articles provide you with valuable information and breathing space in your transition to St. Johns County. Welcome.