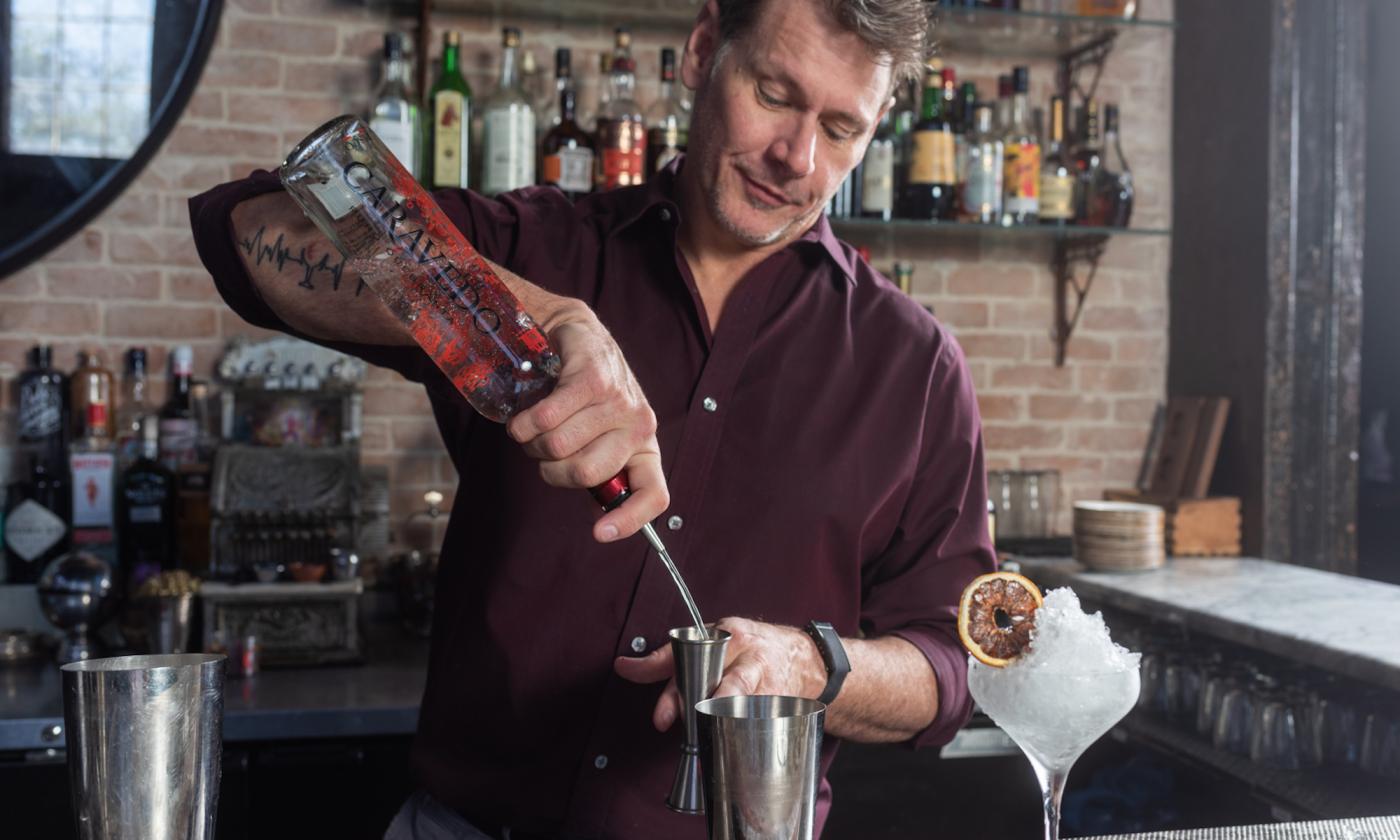 Wine and Dine this Holiday Season
Learn more about restaurants to wine and dine in during the holiday season!
Regardless of whether you've never stepped foot in St. Augustine, are a seasoned visitor, or maybe just recently moved here (like me), the holiday season is a magical time to experience the nation's oldest city.
Bright white lights in abundance, illuminating the night sky and casting a world famous sparkling sheen on every downtown street corner. What more could you ask for? And what better way to experience the city in all of its glitz and glory this holiday season, than by wining and dining?
What exactly do I mean by "wining and dining?" Although wining and dining can certainly be done lavishly, I like to think of it as simply eating, drinking, and being merry, all while partaking in the spirit of the season.
Here is a rundown of where to wine and dine in St. Augustine this holiday season. While the majority of these mentions are watering holes and eateries that have quickly been added to my own list of personal favorites, some are establishments I'm eager to visit for the very first time.
Sit & Sip
Looking for a place to sit and sip? The following locales invite you to do just that, and make great places to start (or finish) your evening out and about in St. Augustine. Each boasts its own unique appeal and represents a different part of the city, yet none are more than a short drive (or long walk) apart.
Downtown Bayfront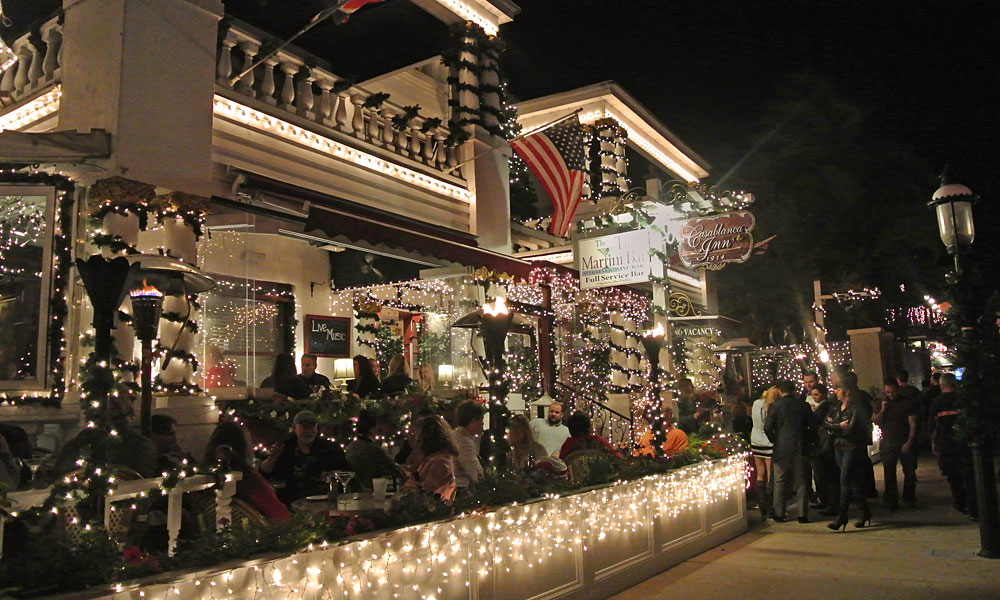 Tini Martini Bar: Because I'm a sucker for any place that has festive lights and holiday decor year-round, plus a water view, the Tini Martini Bar at the Casablanca Inn immediately caught my attention. Sitting on the charming porch of this historic inn, while sipping a Noveltini or Classy Tini makes you feel a little bit fancy. No matter which martini you choose, it will be shaken just right, and just for you. My first visit to the Tini was on a Saturday evening, which meant I got to enjoy live music while sipping on my cocktail. Not only is this spot suitable for a dressy date night, it's a great spot to take your family. Just ask my mom.
Uptown
DOS Coffee and Wine Bar: If you're in the mood to relax and chat over a sizable glass of wine, in a locale that's removed from the downtown bustle, make a stop by DOS. Although regularly frequented for coffee by locals and tourists alike during the daytime hours, come the evening, DOS acts as a wine bar. My first wine sipping experience at DOS was during an Art Walk event. DOS was offering their specialty Sangria in a glass so large I felt I needed both hands. Along with coffee and wine selections, DOS is known for opening its doors to community events.
Historic Lincolnville
Ice Plant: I've been a fan of the Ice Plant since before moving to St. Augustine. Although still pretty new to town, I run into at least one person I know (if not five or six) whenever I go, which just makes me feel right at home. Adjoined to the St. Augustine Distillery, at the Ice Plant, not only do you feel like you've traveled back in time, you can take advantage of trying out local flavors in the form of signature cocktails and grub. Or, you can always do what I do and go later in the evening and order a Horse & Buggy (shot of whiskey plus PBR, although I usually pass on the shot). Before you select a table to plant yourself at for the duration of the eve, stay put by the bar long enough, take a look at the fine-tuned methodology that goes into the making of your cocktail, all the way down to the ice. (What's so special about the ice? Just watch and you'll see).
Anastasia Island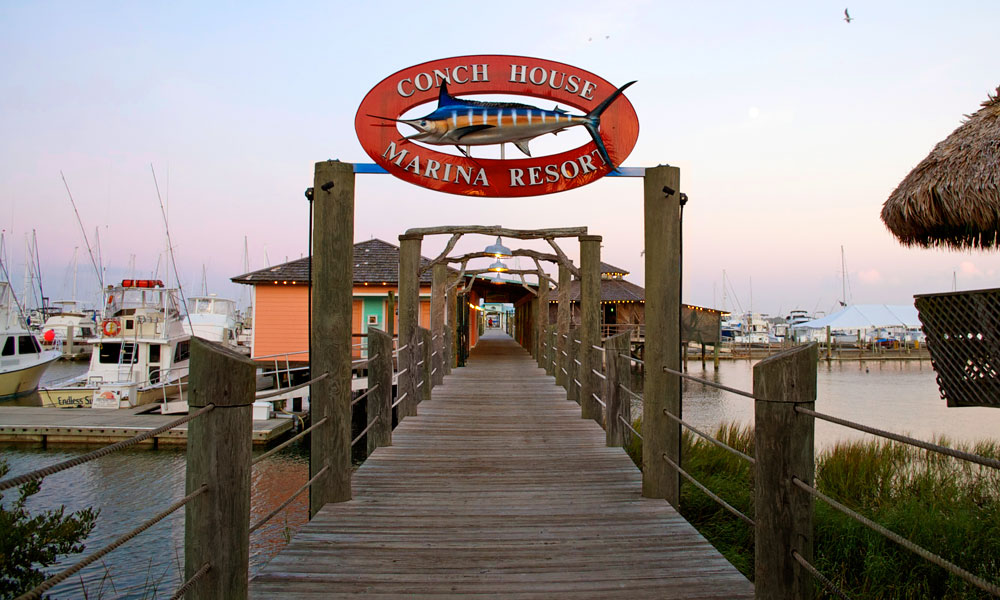 The Conch House: Situated just minutes from downtown St. Augustine, over the Bridge of Lions on Anastasia Island is the Conch House. The Conch House lounge has quickly become my own post-work day island oasis on weekdays, thanks to happy hour from 4:00-7:00 p.m. If you walk all the way to the end of the dock, you'll find a quiet and removed place to sit, sip, and see the sunset. If you have your stomach set on oysters or a full plate of seafood, back on land, the Conch House restaurant has an expansive dining deck with Tiki Hut booths suspended over the marshland, leaving little separation between you and nature.
Taste & Tour
There's something to be said for getting to taste and sightsee while moving about. Whether you prefer exploring on your own two feet or an open air ride, the following tour options provide you the opportunity to salute your taste buds while experiencing the holiday ambiance.
San Sebastian Winery: I don't know about your family, but my family's favorite type of group outing is the kind that involves generous amounts of wine. Thanks to San Sebastian, you don't have to pay a visit to the countryside for an authentic winery experience at what some consider to be the birthplace of American wine. San Sebastian Winery offers complimentary tours seven days a week. The best part of any winery visit (second only to the free samples), are the bottles you can purchase to take home and share with your friends, or keep to yourself and drink later while reminiscing about your trip. If you've ever been to town and driven by the winery on a weekend evening, you may have seen and heard the live music performances up on the roof at "The Cellar Upstairs," wine, jazz & blues bar.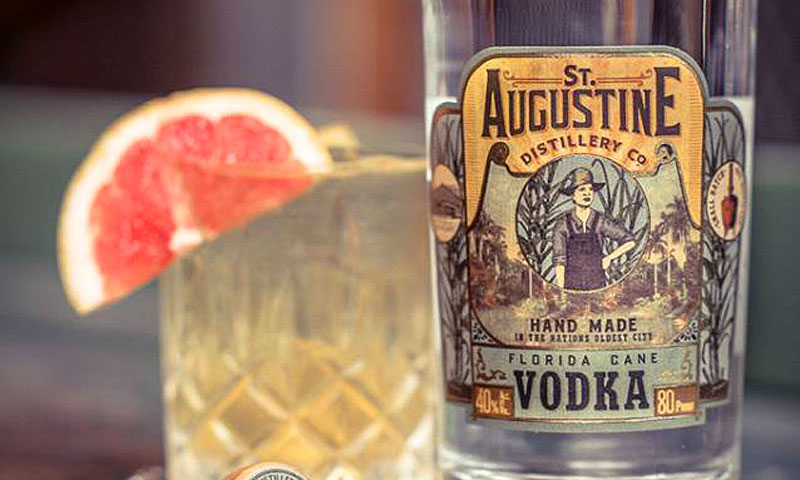 St. Augustine Distillery: When I first stepped through the doors of the St. Augustine Distillery, I was pleased to learn the tours are free. Not only do you learn about the history of ice and distilling in Florida while touring this historic renovated ice manufacturing plant from 1917, you also do some tasting in the process. The only reason I didn't go ahead and take a tour right then, is because I knew after sampling small batch spirits, I would never get my work done the rest of the day. Needless to say, this tour is at the top of my list this holiday season, on a day I don't have anything else planned.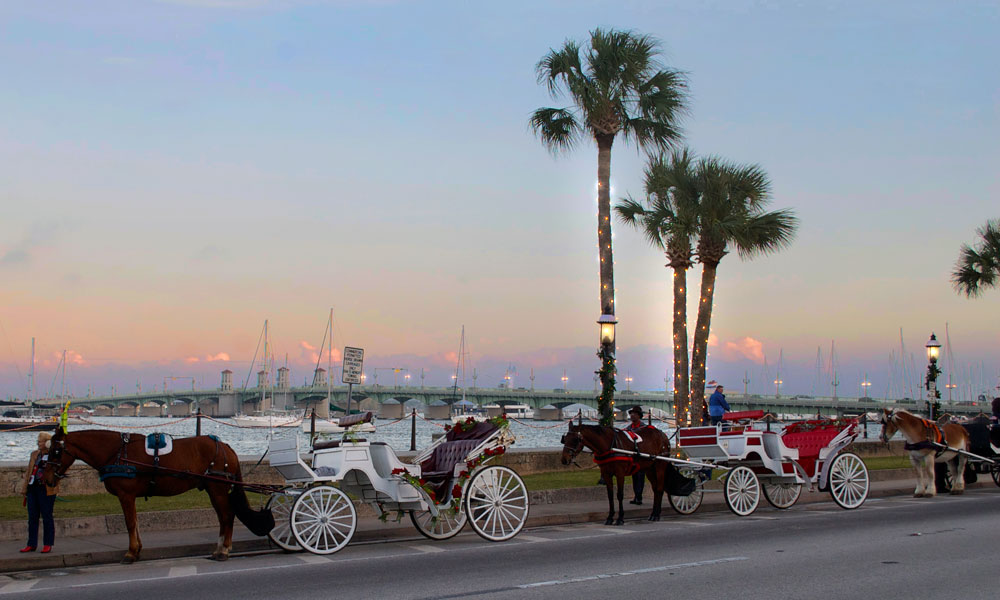 "Nights of Lights" Wine and Carriage Tour: If you'd prefer to ride around the old fashioned way (horse and buggy) there's a festive wine and carriage option, just for you. During a 45-minute group tour, guests ride along in a horse-drawn carriage, taking in the historic sights and white lights, while sharing a bottle of wine (for two). Tours are $69.00 per person, and depart from the Tasting Tours Lounge. Other Tasting Tours include: Corks and Forks Tour (Food and Wine Tasting Experience), Wine About Town Tour (Wine Lovers Tour), and Beer About Town (Beer Lovers Tour). Personally, I've got my sights on the Wine About Town Tour. For a full listing of upcoming tasting tours, visit the Tasting Tours Nights of Lights page for all the options.
Set Sail
Nights of Lights Sunset Sail: I must admit, I've been looking for an excuse to treat myself to a sailing excursion all season, and think I've finally found one—getting to experience Nights of Light from the water via Schooner Freedom Charters. Nightly sailing outings depart from the City Marina at 4:15 p.m. and last two hours. $65.00 includes complimentary soda, water, beer, wine and hot chocolate.
Regatta of Lights: If there's one event I've heard locals (and tourists) say they are sorry to have missed in years past, it's the Regatta of Lights. For this reason, it's written in Sharpie on my calendar so I have no excuse to miss it. The Regatta of Lights is a fancy name for a parade of boats of all shapes and sizes adorned in lights, cruising through the bay and competing for awards. This year's regatta takes place Saturday, December 9 and kicks off at 6:00 p.m. It's recommended to arrive well in advance if you're hoping to take a seat along the bayfront for a view from one of downtown's eateries. You could always take in the experience with a martini in hand while sitting and sipping at the Tini Martini Bar.
Inventive Dining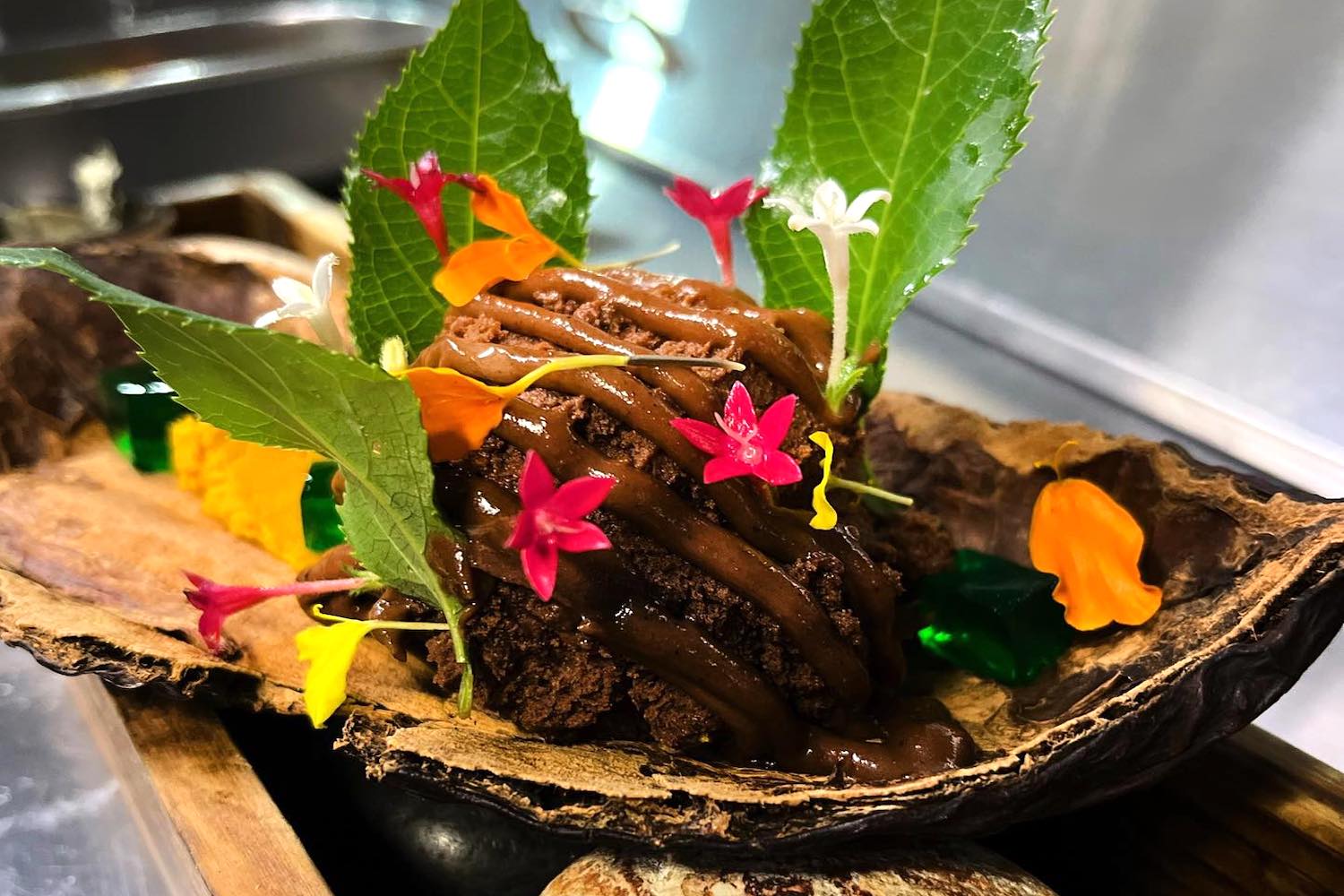 A beautiful dessert prepared by Chef Marcel at Llama Restaurant.
Winner of Open Table's 2022 Diners' Choice award, Llama Restaurant has been named one of the top 100 restaurants in the country. Occupying a tiny, unassuming spot on Anastasia Boulevard just over the Bridge of Lions, Llama only seats 28 guests. And those guests are lucky, indeed! From the moment you step into Llama you're immersed into a fine dining experience that enables you to explore Peru's rich culture, ingredients, and tastes. The culinary experience reaches beyond Llama's four walls as each dish is crafted using authentic ingredients that tell a story rich in Peruvian cultural. You can taste the recipes inspired by Chef Marcel's family table, his Japanese training, and his LeCordon Bleu education. A visit to Llama satisfies your curiosity for the unexpected. It's like having a mini adventure in South America without leaving St. Augustine! 
Sweet Detours
I'm pretty sure it's been proven, no wining and dining experience is complete without dessert. Although I typically stick to cupcakes from the Floridian, the following downtown establishments are dedicated to sweet treats that are sure to make any mouth water. The fact that these dessert stops are in walking distance of each other means you can double up if you're feeling up to some extra indulging.
ChocoLattes: Every time I'm walking to dine at the Floridian, I am distracted by the overwhelming aroma of something I love—chocolate. The ChocoLattes dessert bar's menu includes cakes piled high, tortes for the sharing, mousse cups, s'mores, brownies, and more. Plus, you get to wash your selection down with coffee, wine, beer or even some chocolate specialty drinks if you're not chocolate-ed out.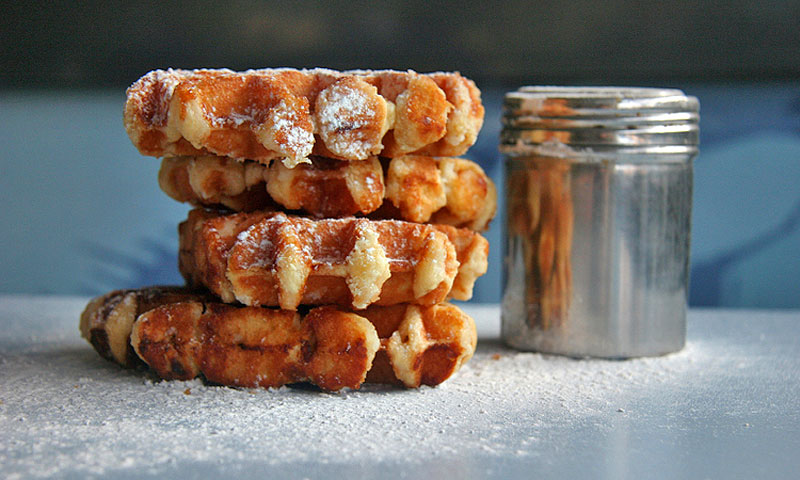 Cousteau's Waffle & Milkshake Bar: Just a short walk from the bayfront on Hypolita Street is Cousteau's dessert novelty waffle and milkshake bar. As an alternative to ordering an entire milkshake or waffle, If you happen to have a red beanie with you, wear it inside. Not only will you match the employees, you'll receive 10% off.
Pop Quiz! What do "Matching Pajamas," "Life on Mars" and "Jaguar Shark" have in common? Not only are they menu items at Cousteau's, they are references to movies by a certain film director and screenwriter. Who is it?  
Answer: Although I'm the worst when it comes to pop culture reference, even I could figure this one out.  
Hint: His first name is three letters and rhymes with, "guess." (Give up? The answer is Wes Anderson).
Stay the Night
After all of your wining and dining, you'll need a place to sleep. And there's something inviting about resting your head in a place that feels like home. Perhaps that's why I've always been drawn to Bed and Breakfasts.
If you're seeking to stay somewhere that is festive, quaint and intimate, consider one of St. Augustine's many Bed and Breakfast options. Not sure which one to pick? What if I told you there was an event taking place this month that allows you to experience not just one, but countless bed and breakfasts and sample some original menu items in the process?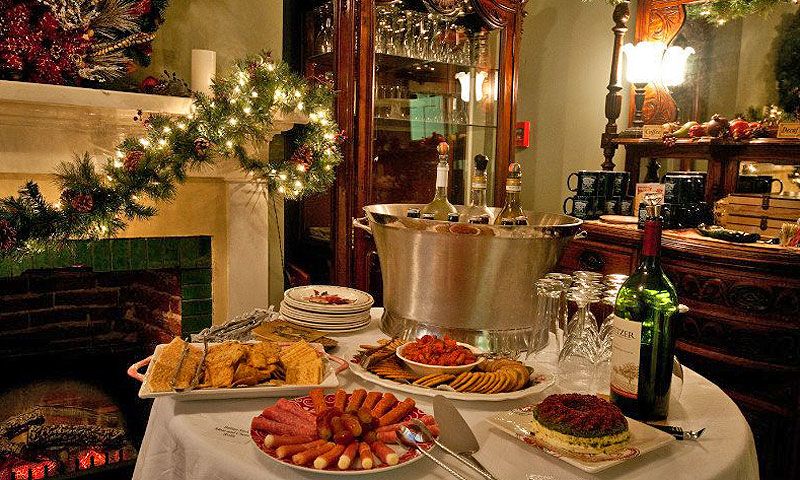 Photo courtesy of Bayfront Westcott House
For a full list of St. Augustine Bed and Breakfast accommodations, check out our Bed & Breakfast Listings.
Looking for somewhere to stay last minute, or planning in advance but not sure where to begin your search? Take a look at our "Places to Stay" section for a full listing of area condos, hotels, motels, pet-friendly options and more.
Wine & Dine into the New Year
Not sure you'll be able to make it in town before the New Year? Fear not. Nights of Lights continues all the way to the beginning of February and there are nonstop events to experience between now and then. If you ask me, this sounds like the perfect excuse to extend your wining and dining well into the new year.