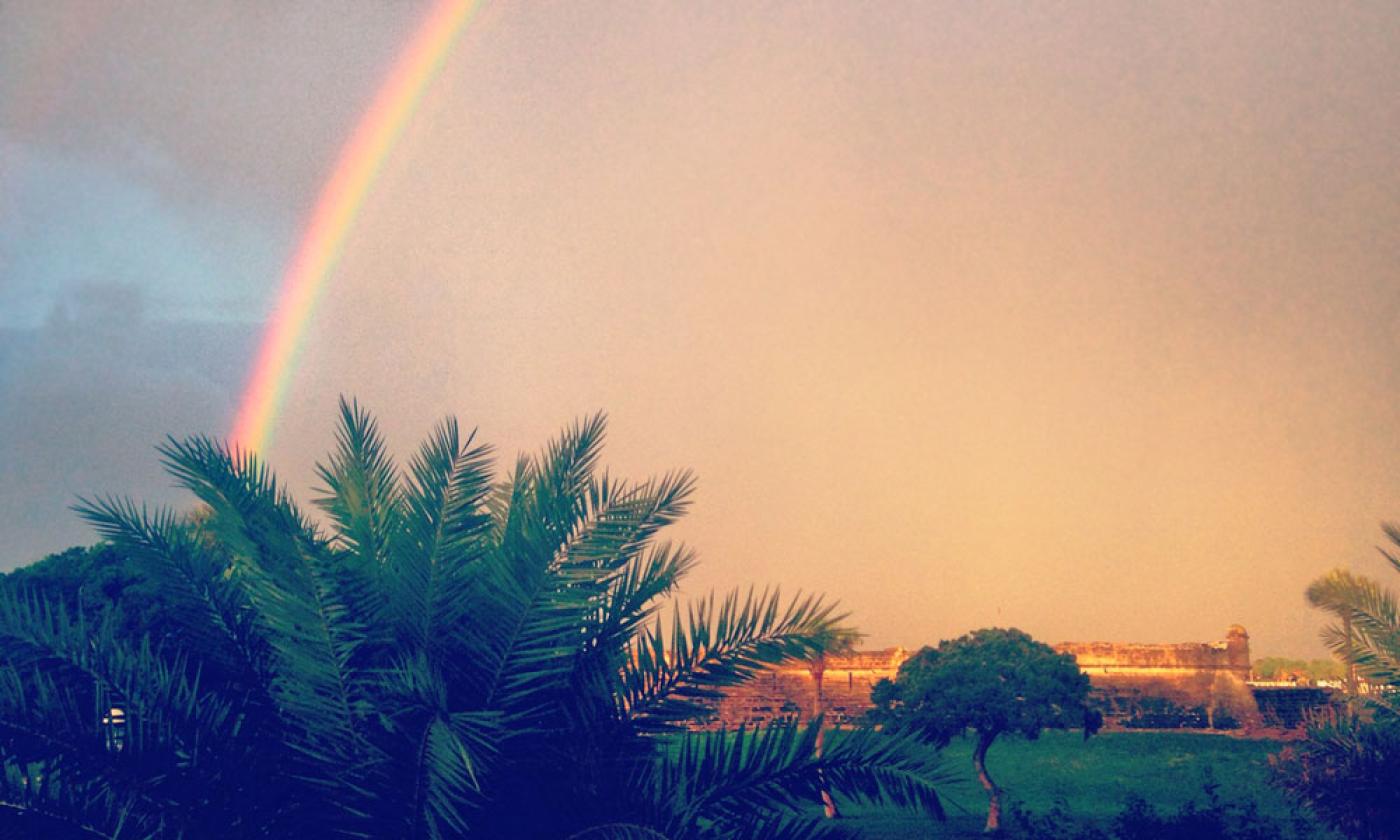 Ultimate Guide to St. Augustine Weather
The weather in St. Augustine changes from season to season. Learn about the different climate patterns you can expect so you know what to pack for your vacation.
Planning a vacation to St. Augustine, Florida is super fun, but now it's time to start figuring out what to pack and filling up that suitcase. If you're wondering if the Sunshine State's weather is as temperate as its name suggests, the answer is a resounding "Yes." The Sunshine State gets an average of 2,900 hours annually of beautiful sunny weather and is considered by many Northerners to be a paradise escape from the frozen hellfire that is winter.
On the one hand, Florida can have some beautiful clear days year-round that are great for lounging by the pool and cooling off in the ocean water. But on the other hand, it's good to know what specifics you should be packing -- rain boots, sunscreen, or heck, even a coat (crazy, right?)! Regardless, St. Augustine's coastal climate is always beautiful, but before you pack and start planning your itinerary, read on to find out all about St. Augustine's weather so you know exactly what clothes and accessories to bring.
Climate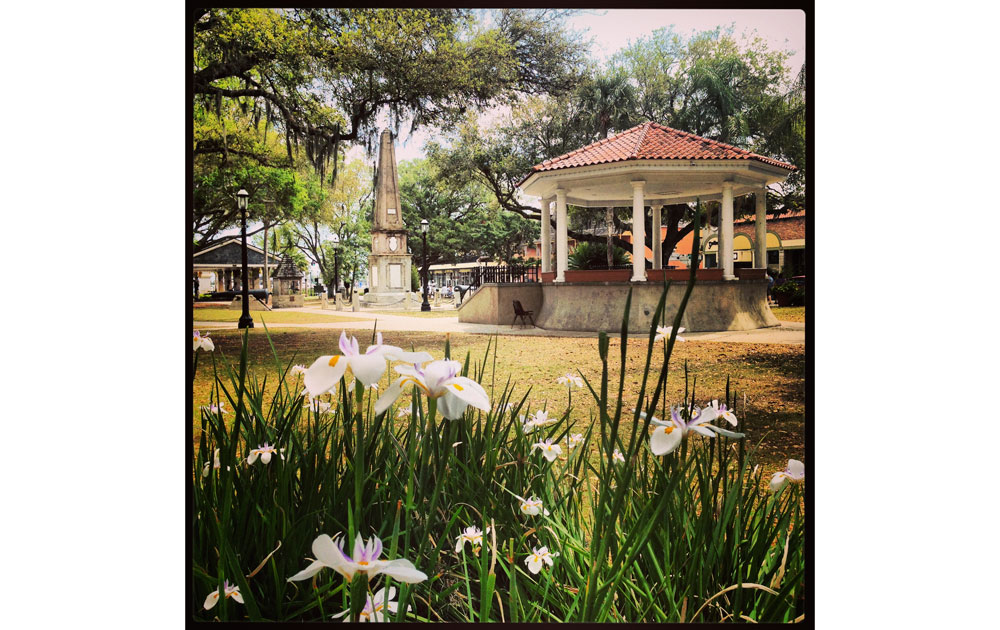 Yes, when it comes to climate, Florida is certainly a tropical paradise for most of the year. St. Augustine in particular is in a humid subtropical region, which means that most of the year it is warm and dewy. In this historic town and along the beaches, we experience plenty of precipitation throughout the year (although not rainforest level) as well as plenty of warm, sunny weather (although not desert level weather), making St. Augustine pretty perfect. St. Augustine is also a coastal city, which means we get a lovely dose of breezes through all four seasons. This is nice for the weather, but nicer because you can pull one of these on the seawall.
The average high temperature for St. Augustine over the year is 79°F (26°C), while the average low temperature is 61°F (16°C). Generally, the summers get fairly hot, with temperatures generally peaking in July. People cool off and enjoy the sunny weather by hitting beaches and pools. In the winter, the weather gets very cool by Florida standards, getting only as high as the 60s during the day, and hovering in the upper 30s at night. Yes, when it comes to climate, Florida (even in winter) is a tropical, snowless paradise for many.
Precipitation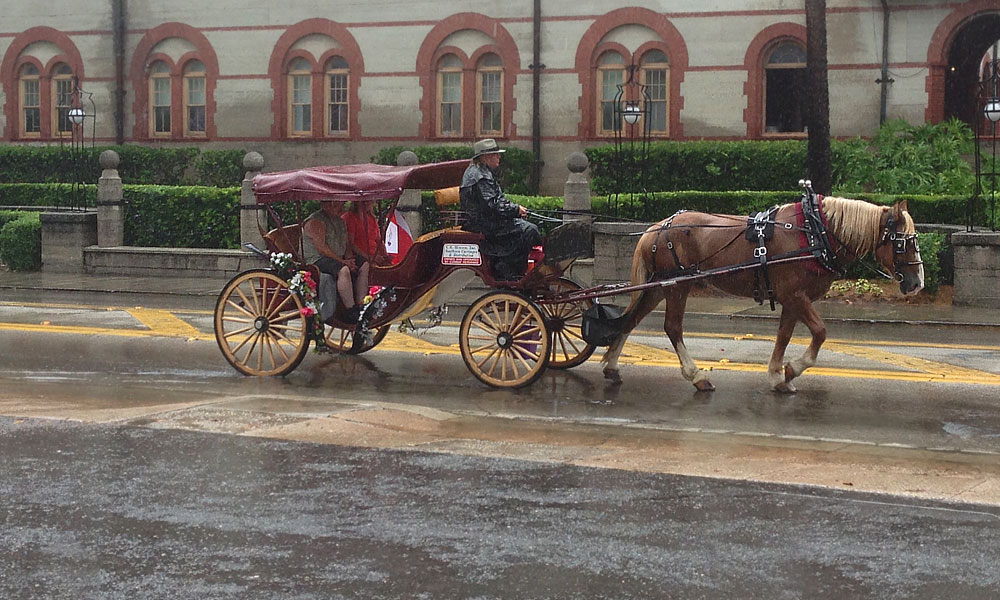 As we've mentioned, St. Augustine is a humid subtropical climate zone, and as a result, it enjoys all the wondrous forms of precipitation that aren't hail or snow: rain, fog, mist, a hanging humidity in the air, etc. We call it liquid sunshine because water brings life, and that's never truer than in St. Augustine.
The rainy or wet season in St. Augustine runs from May to October, while the dry season runs from November to April. While even famously rainy places such as Seattle get 39 inches of rainfall a year, St. Augustine gets around 50 inches. The reason we're still called the Sunshine State in spite of this is that our rains are short-lived. When it rains, it'll be like a torrential downpour for anywhere from 20 minutes to a few hours. And the downpours are often preceded and followed by more sunshine. You can check out the MinuteCast at Accuweather which has proven to be a useful resource for me personally in determining down to the second when it's going to rain and when it's going to stop.
It's always a good idea for visitors to bring a rain jacket, umbrella, and waterproof sandals if visiting in the summertime; not necessarily because it's guaranteed to rain throughout your entire vacation, but afternoon showers are common, and it's better to be prepared when out walking around town than not.
Luckily, there are plenty of attractions to be enjoyed indoors in St. Augustine, allowing visitors to enter an attraction while a storm rages outside, and exit just in time for the sun to come out.
What about Hurricanes?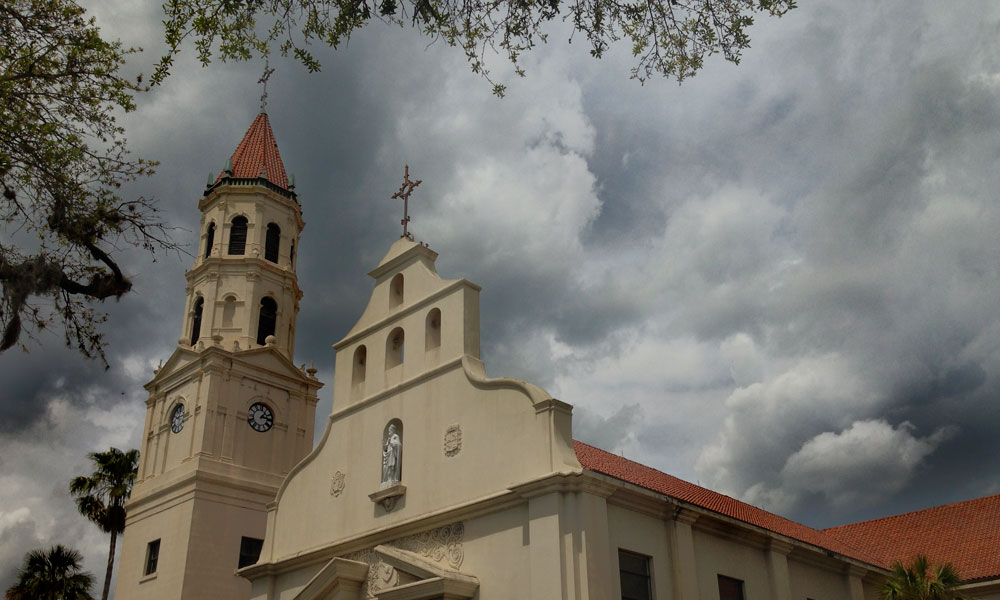 If you don't know already, hurricanes or tropical cyclones are characterized by a low-pressure center and usually build up in areas like the Atlantic Ocean. As a result, the Southeast United States can become a major pathway that hurricanes pass through. Historically, relatively fewer hurricanes have impacted St. Augustine than other parts of the state, but that doesn't mean we're in the clear. (Darn it!) While Hurricane Season officially begins on June 1 and lasts until November 30, our peak time is from late August through early October. Three hurricanes impacted St. Augustine in this century, Charlie in August of 2004, Matthew in October of 2016, and Irma in September of 2017. That's relatively few and none landed in St. Augustine at their full force.
We suggest you plan accordingly because, in late summer and early fall, there's a slight chance of having your plans spoiled by a hurricane. On the other hand, September is one of the best months for deals on places to stay, dining, things to do, and more. Still, who wants to experience a hurricane on vacation? (Put your hand down. No, you don't.) I suggest you make your plans and then keep an eye on the weather. The odds are that you'll have an excellent vacation. Just don't leave home before checking the tropical forecast with a reliable source. (I like Weather Underground because they don't clutter our minds with maybe storms.) And please, if you're on your way to St. Augustine and a hurricane is destined to meet you here in town, give us a day or two to deal with the storm clean up. We're getting good at it.
UV Index
If you're from the North, you may be somewhat unfamiliar with a UV Index, and you in fact may be unfamiliar with it even as a Florida native. The UV index measures the intensity of the sun's radiation, and Florida is referred to as a "Very High Risk Area," in big bold red letters. While the average UV index will usually be a "Moderate" (in yellow regular typeface letters) three to four in the winter months, the UV index will go up to 12 in June and July (keep in mind that anything above an 11 is considered "Extreme" in big bold purple letters). Why purple? I don't know, what am I? A color expert?
The UV Index isn't meant to scare you, and if you read the descriptions on the UV Index Report, you'll see that this measurement is designed to inform you of when to wear sunscreen and sunglasses. That's it. Check the UV index for St. Augustine here.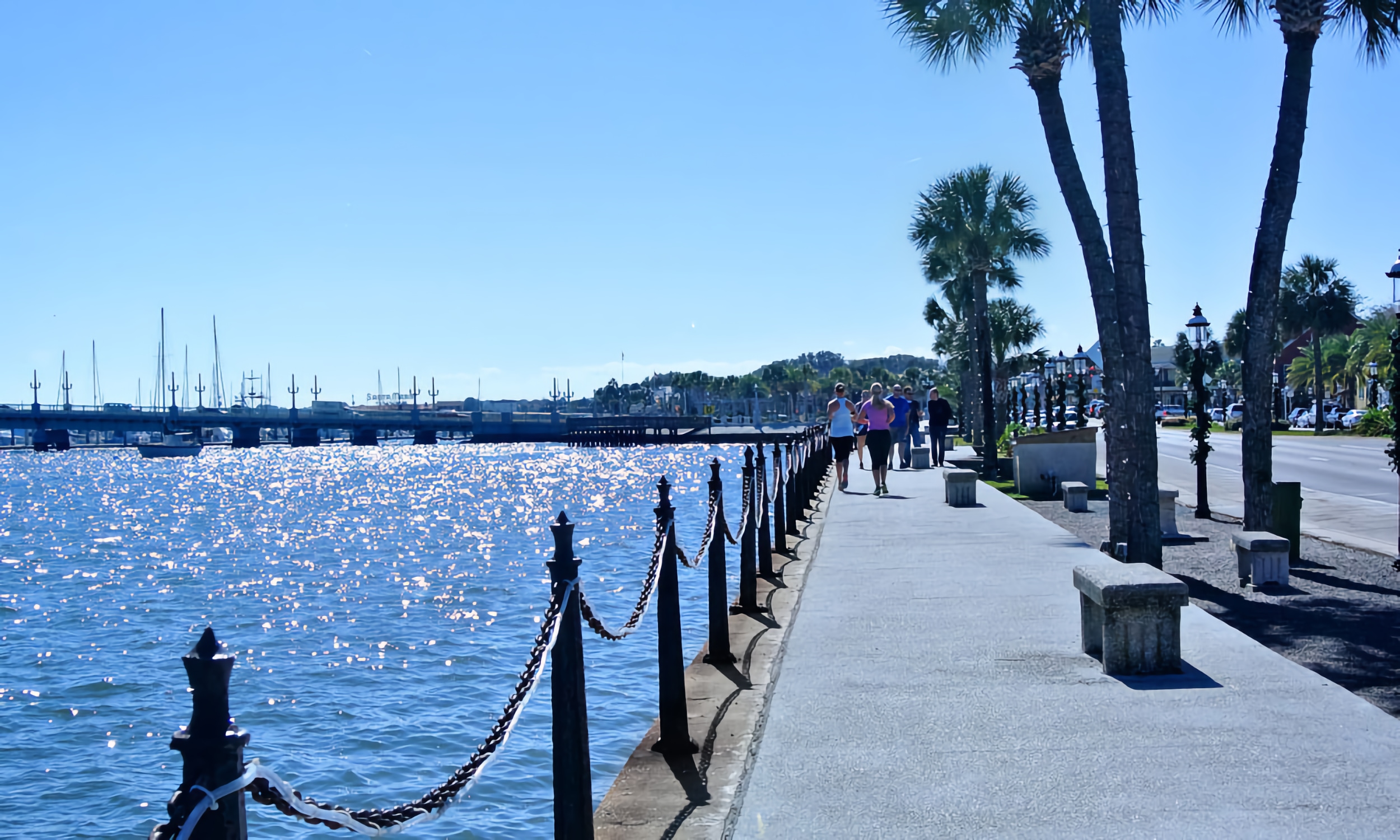 Wear Sunscreen: SPF 30+ suits most people, especially a waterproof sunscreen that won't wipe off from the rain, sweat, or from taking a dip in the ocean.
Wear a Hat: Why not? I wear hats. Hats are cool, and they keep your face cool.[KG6] 
Wear Sunglasses: The sun is bright and if you stare at it, or at the beautiful coastal waters that reflect its magnificence, it won't be a sensation you enjoy. Sunglasses will make it enjoyable, but I still don't advocate ever staring at the sun for any reason. I do, however, advocate facing the sun with your eyes closed for a few minutes to just enjoy the heat because if you're weird like me, there's nothing better than direct sunlight, except maybe getting into a hot car on a summer day in Florida.
Reapply Sunscreen: Every two hours, to every part of your body where you applied it before. Otherwise you will burn. One coat is never enough. Not even if it's SPF 95.
Spring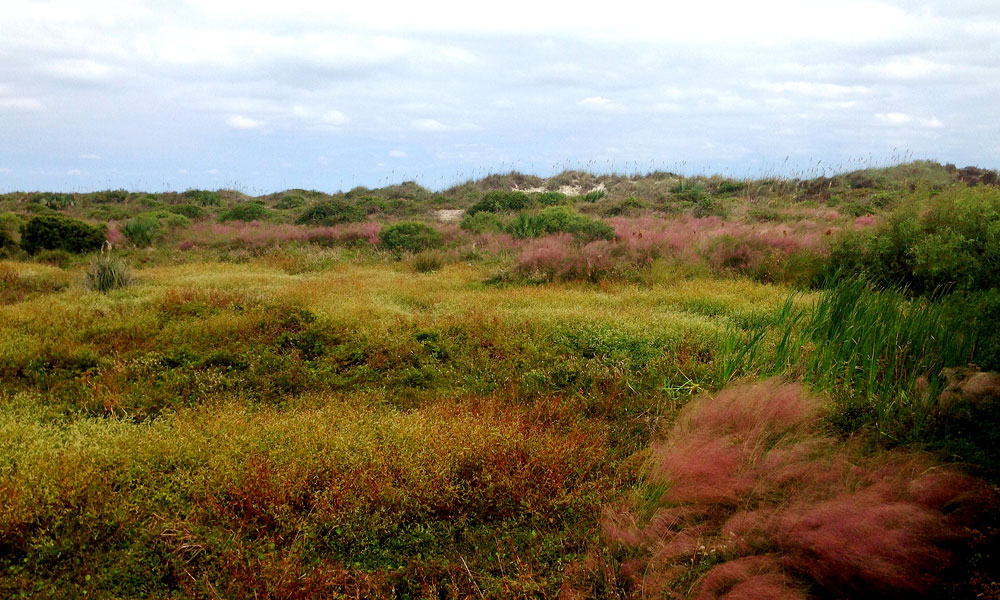 Spring is a beautiful time in Florida, and a historic time. After all, Florida was discovered on Easter and named la florida for its "flowery" beauty. The spring months are made up of March, April, and May. The average highs for St. Augustine's spring tend to be around the 70s and mid-80s, with low levels of precipitation. In the spring, visitors can see beautiful blooms and flowers, even around downtown, and if it gets hot, the Atlantic Ocean and pools are still cool from winter.
Packing List
T-Shirts—While people will spring for the sleeveless shirts in summer, spring is great for tees.
Flip Flops—The official footwear of Florida, giving your feet some fresh air keeps you cool.
Bathing Suit—The weather may be warm, but the water is still cool from winter.
Summer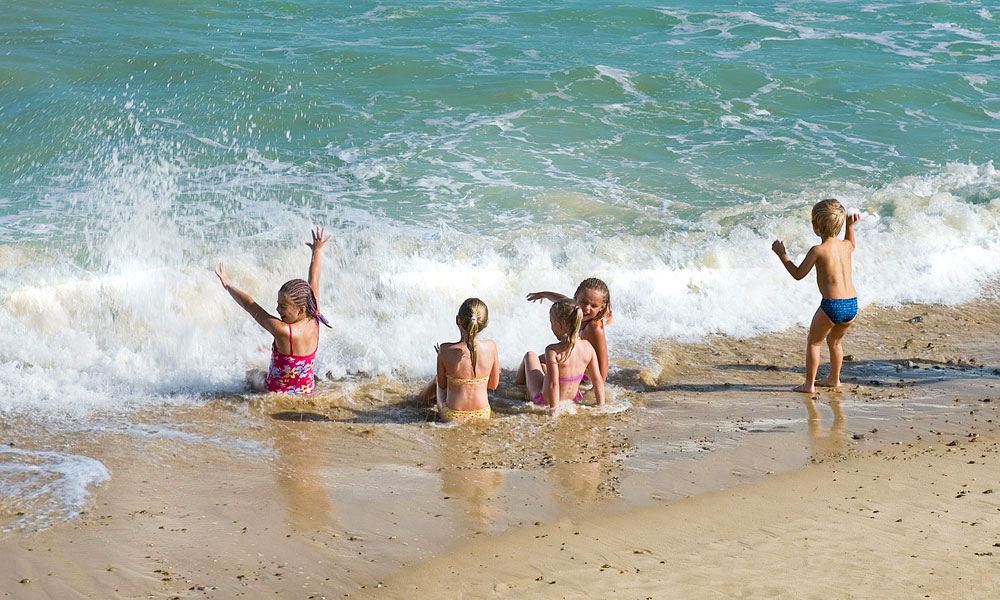 Summer may be hot, but it's a great time of year to enjoy the beach, pool, and all forms of water recreation. Summer months include June, July, and August. The average highs in summer for St. Augustine tend to be the warmest of the year, in the upper 80s and low 90s. Summer also has more rainfall than the Spring months, but storms are usually isolated for a short period of time, often in the afternoon. The sun sets later in summer, sometimes not until after 8 p.m., giving vacationers and locals extended evenings to plan lots of fun things to do. You can check sunset/sunrise times in St. Augustine to plan for your daily activities.
Packing List
Hat—Prevents ugly sunglasses tans, and keeps the sensitive skin on your face from burning.
Rain Boots—For afternoon thunderstorms and the resulting puddles.
Bathing Suit—Cool off from the hot sunny heat, the water is great!
Fall
If you thought summer was rainy, you ain't seen nothin' yet. On average, St. Augustine's wettest month has been September, with an average of 7.5 inches of rain. While many may not want to travel during a wet season, it's also a great time to score deals on hotels. The fall months include September, October, and November. Since many families are returning to school, September tends to be a great month for retirees, young couples, and non-families to vacation. The average high temperatures in Fall are in the 80s and mid-70s.
Packing List
Rain Boots—St. Augustine turns into Seattle in the fall, with more rainbows after the storm.
Mixture of Lengths—(shorts with long sleeve tops, t-shirts with jeans)
Bathing Suit—On clear days, the water is still warm from summer and the temps are perfect.
Winter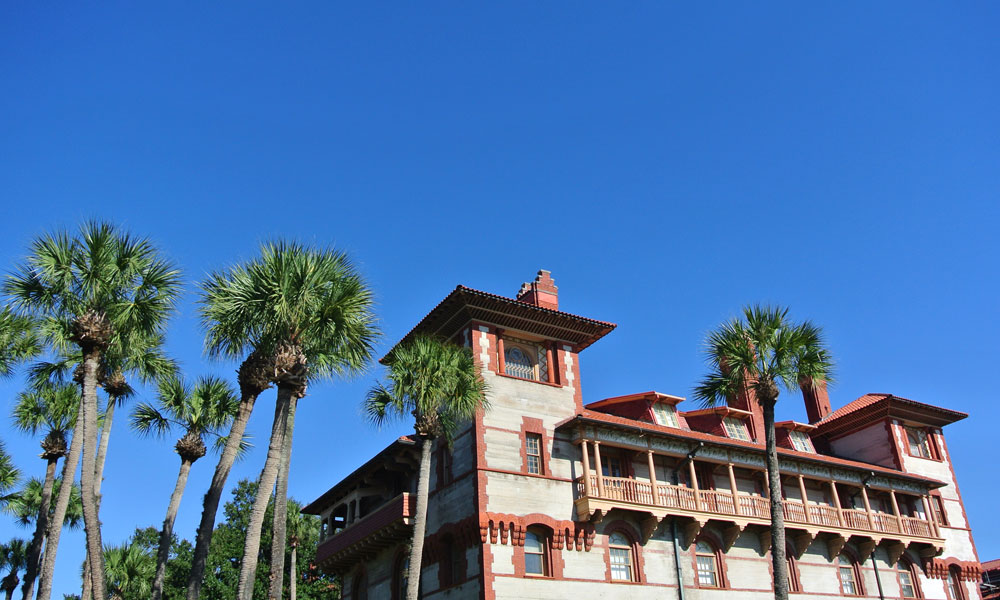 Winter time is the driest time of the year, and often the nicest; especially for Northerners looking to escape the arctic tundra. Snowbirds (or Northern visitors) often migrate down to St. Augustine, Florida for months at a time in order to escape the cold up North. The winter months are December, January, and February. Skies are clear and cloudless, the temperature in the middle of the day is in the low 70s or high 60s. Yes, it's utterly gorgeous. In fact, winter is my favorite time to just lay out at the beach or by the pool for hours, reading a book or flipping through a magazine.
Packing List
Jacket—If you think Florida doesn't get cold, you're wrong. Bring a jacket for night.
Layers—It can be 30 degrees F in the morning and 74 degrees by midday.
Bathing Suit—The water may be cold, but winter is the time for clear skies and laying out.
OTHER WEATHER RESOURCES
Places to Dine Outside When the Weather is Gorgeous
Harry's Seafood: Their outdoor patio is nestled under the shade of trees with a cool, relaxed atmosphere to dine on Cajun food.
Sunset Grille: Guests can enjoy ocean breezes and beautiful sunsets with their meal at this St. Augustine Beach restaurant.
O.C. White's: The outside dining area at O.C.'s lies right near the bayfront with picturesque views of the Matanzas River.