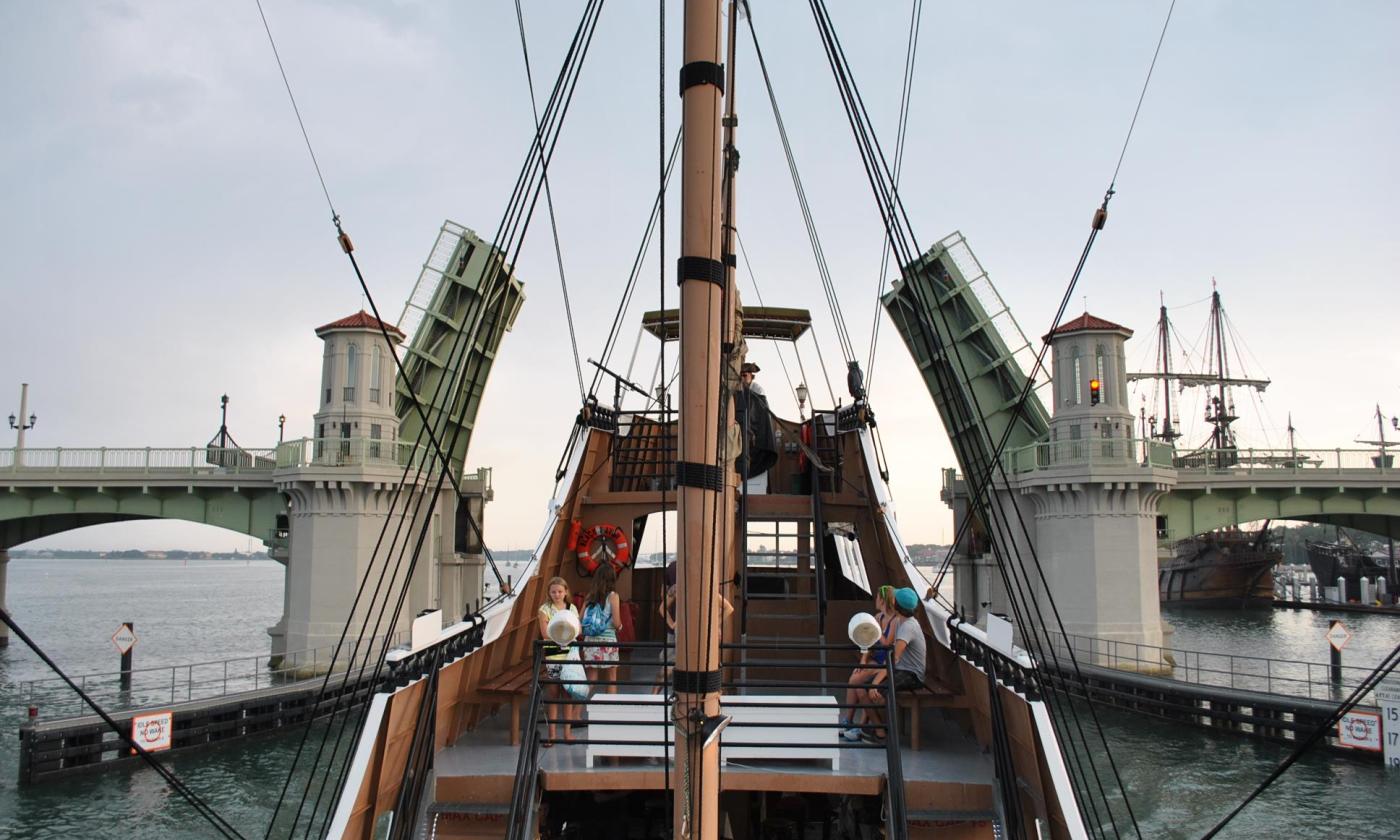 Have an Arrg-some time aboard the Black Raven Pirate Ship!
Ahoy! Scallywags, lads 'n lasses be all welcome on th' poop deck th' Black Raven.
Our adventure getting to the Black Raven began with thunder, lightning and hoping the little car in front of us did not drown on King Street. This was one of those days when I wished I owned these Flagler College rain boots. Once we parked (I stepped in multiple puddles), made our way to the St. Augustine Marina, and boarded the big Black Raven pirate ship, we were able to weigh anchor and head out to sea. Luckily we were able to hide out from the last of the rain in the covered area below deck.
The Black Raven pirate ship is a full-on theatrical show. The pirates are constantly in character, cracking jokes, singing songs, and telling stories. The humor is mostly geared towards kids but there were some times when I got a good belly laugh in too. The bar on board is open during the Treasure Hunt Trips so you will have the opportunity to splice the mainbrace (that's sailor talk for 'drink').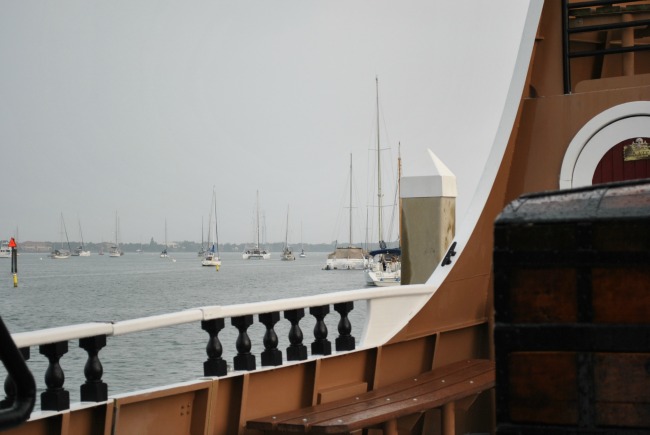 Sitting under cover from the rain and looking out to "sea" while the treasure chest is waiting to be stolen by Captain Hook.
This tour out to sea (or just the bay actually) is an interactive show. The pirate performers encouraged everyone in the audience to contribute a piratey phrase then combined them together to make up our battle cry. In a town this obsessed with pirates, ours was weak! "Arrg" was of course the first phrase shouted out, followed by a rather long pause. Apparently our pirate vocabulary wasn't very expansive. A few people (who were clearly Pirates of the Caribbean fans) chimed in with some more phrases including my favorite: "where's the rum?" We ended up with something like "Where's the rum? Walk the plank. Arrg!" If you are going on a trip with Black Raven Adventures be sure to brush up on your pirate slang—these pirates will call you out.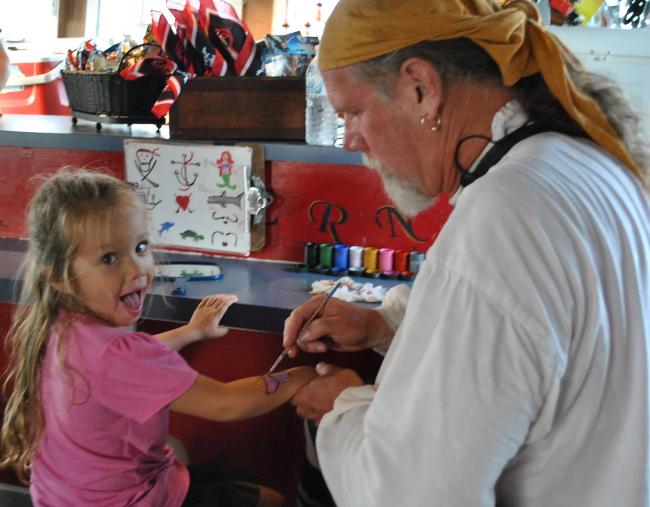 This little pirate in training is excited to get a butterfly "tattoo."
Once the clouds cleared up and the rain subsided, we were able to go up on to the deck for a better view. Thankfully these pirates were pretty well mannered and they wiped the benches down with towels so no one had wet bums. I just love being on the water, especially in St. Augustine with such beautiful elements all the way around. While I was enjoying some relaxation, the lads, lasses and pirates all started yelling a jumbled up "Walk the plank, where's the rum, arrg!" Captain Hook and Blackbeard had come into sight with our pillage and plunder. After a little parley the pirates came to an agreement and a trade was made. A bottle of rum for the chest of treasure. Aye aye!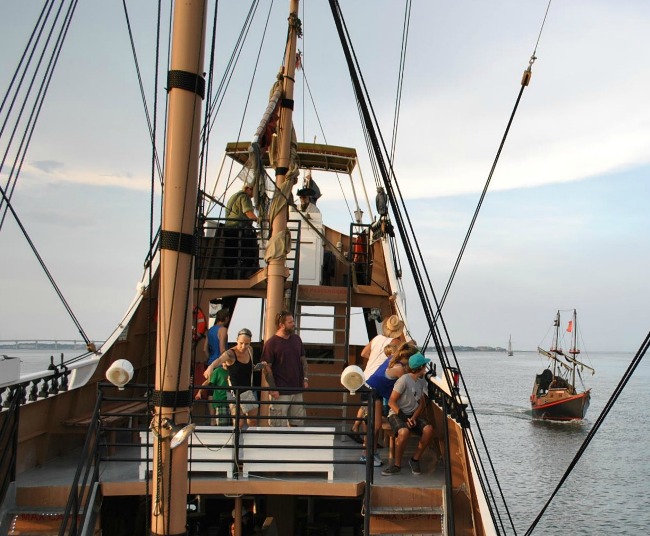 Incoming! The thieves, Captain Hook and Blackbeard, coming in on us quickly with stolen treasure.
All the kids seemed to have a wonderful time. With sword fights, tattoos (face painting), and treasure to take home -- what kid wouldn't have an awesome time giggling at the silly pirates?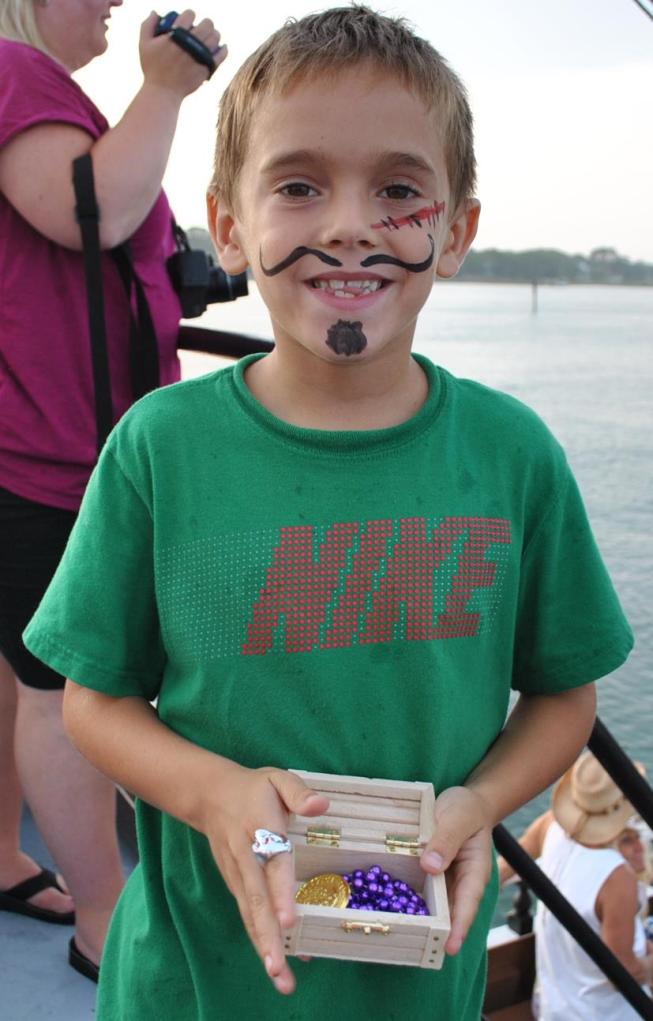 A happy pirate in training with his box of booty.
If I were a little kid I would be begging my Mom to take me on this trip. I am already trying to plan an outing with some friends for their 21+ tour held Friday and Saturday evenings. It sounds like another awesome time to be had with the pirates!
Spend your afternoon on St. Augustine's historic bayfront at these other attractions and eateries:
Local St. Augustine blogger Meaghan Alvarado is a Flagler College graduate who writes on many topics ranging from fashion and food to crafts and local St. Augustine happenings. Check back here at Augustine.com regularly to see the great events and activities Meaghan will be writing about next, and check out her personal blog at http://justmeaghan.com/.