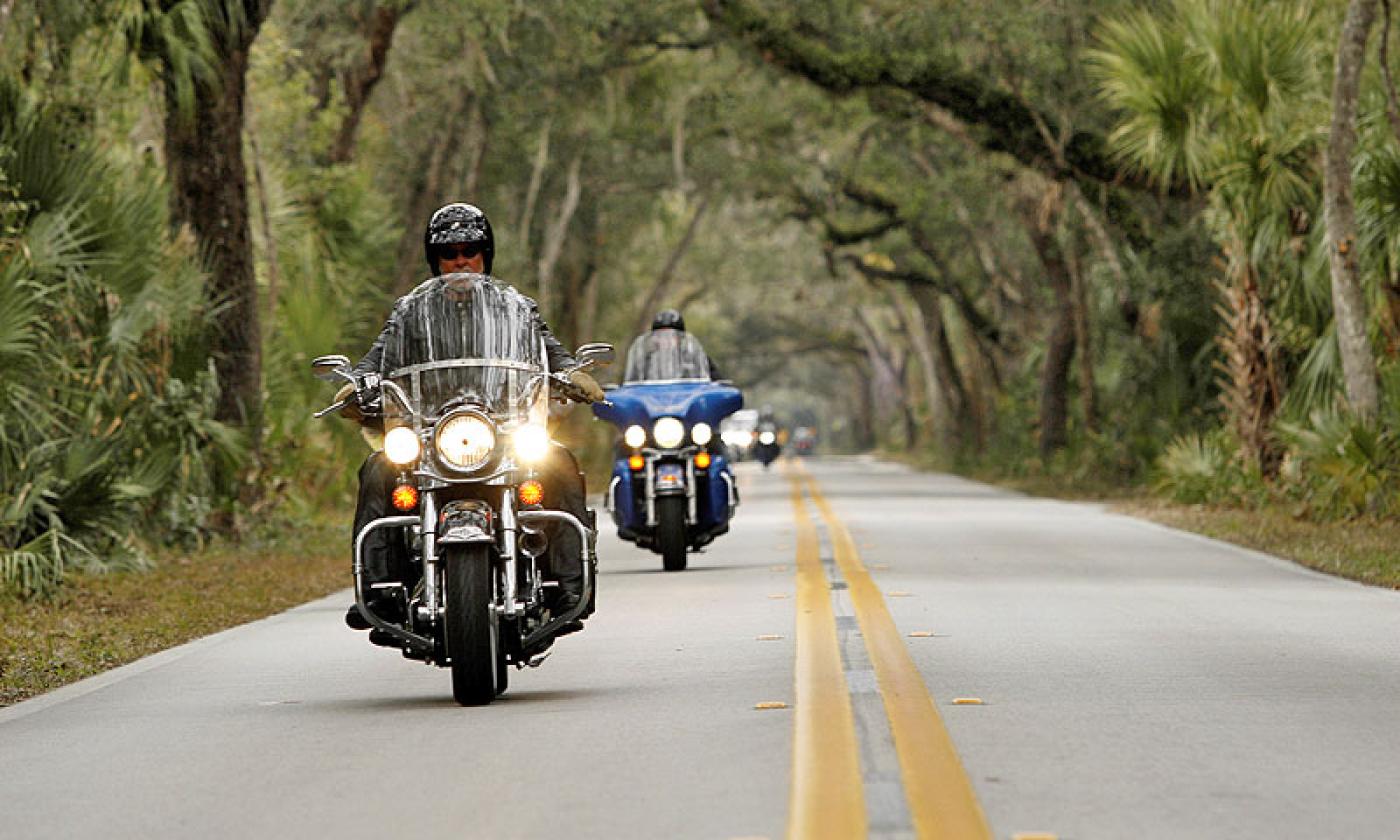 NASCAR and Bike Week Fans: Fuel Up in St. Augustine
Cruise up the coast and stay a while in the nation's oldest city for a short break from Bike Week or Daytona Speedweeks.
Do you like loud motors and have a need for speed?
Speedweeks is from February 16 - 19, 2023 in Daytona Beach and Bike Week is from March 3 - 12, 2023. You'll be pleased to know there are great bike-friendly towns to stay in nearby. Consider making a stop in St. Augustine - there's a lot to do here for a visitor who loves the purr of an engine and the smell of burning rubber. 
All you have to do is drive around town to see that many hotels and businesses are excited to welcome bike enthusiasts and NASCAR fans to St. Augustine for an iconic detour on their way to Daytona Beach. You'll find art and gifts for the race fan, mouth-watering burgers for foodies on the go, and a total rush with high-adrenaline activities and experiences.
Get into Gear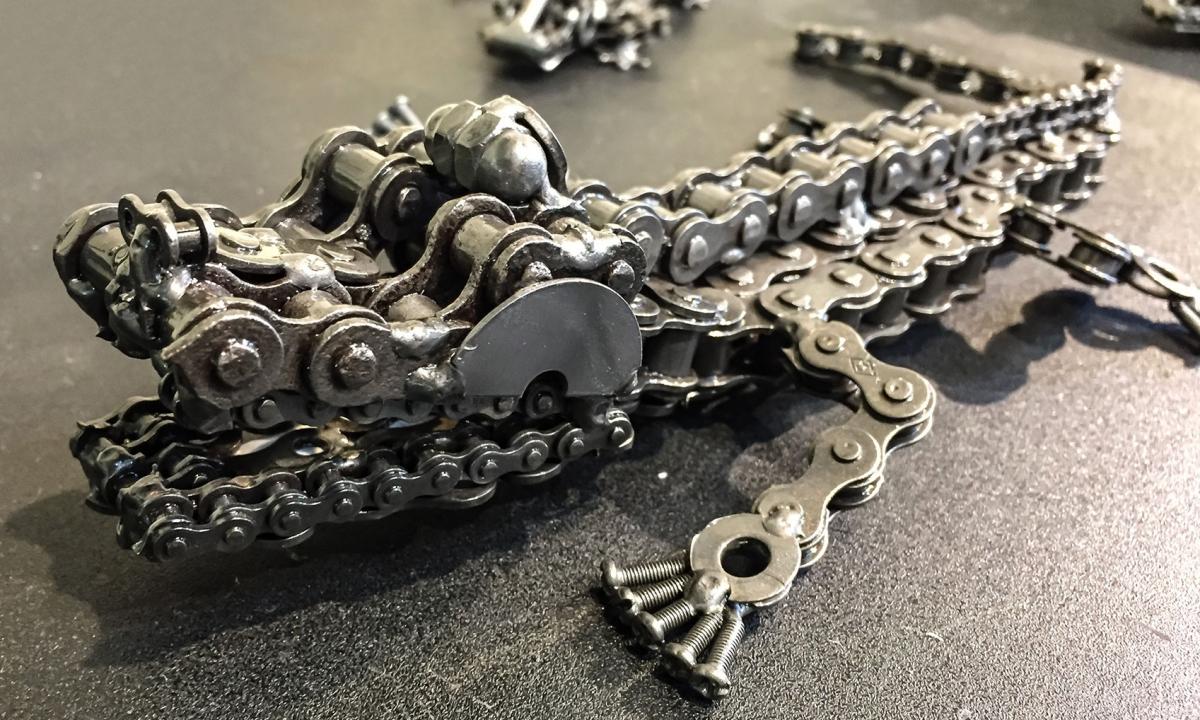 While perusing the different wares along St. George Street, I came upon some very cool chain creatures and statues at Bear Mountain. The gators especially make a unique souvenir for bikers and racers looking to remember their trip down to Daytona, Florida.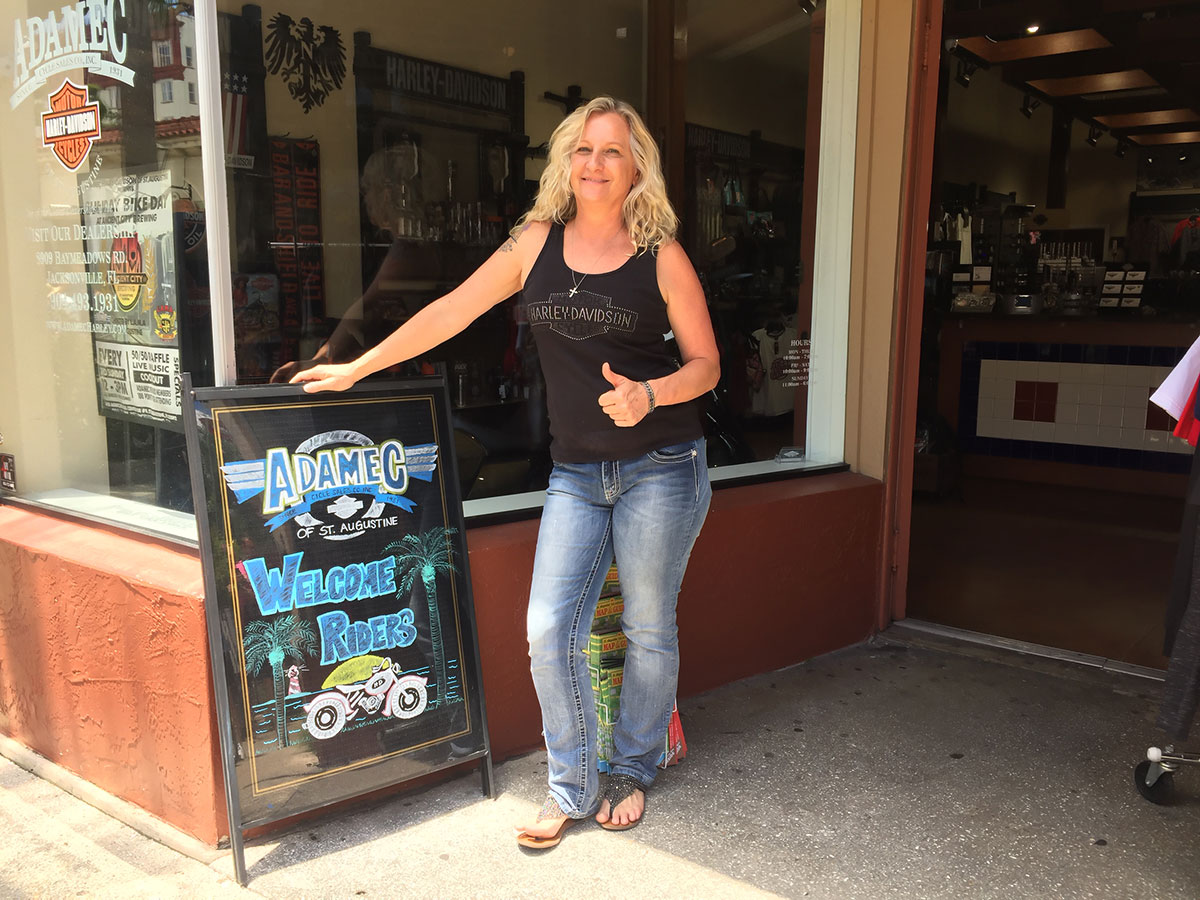 Adamec Harley-Davidson is conveniently located on St. George Street. For Bike Week, they are stocked with t-shirts and many other items that attendees love. All you have to do is park your bike in the reserved motorcycle spots on the plaza, and head down the street next to the Cathedral Basilica of St. Augustine. The shop will be on the left side of St. George Street and is home to apparel, collectibles, and all sorts of Harley-Davidson gear for Bike Week.
Adrenaline Rush
If an adrenaline rush is what you crave, how about a biplane or helicopter ride over St. Augustine? Or you could go by the Alligator Farm for a close encounter with various sharp-toothed reptiles. They even have a zip line tour that soars right over the alligators. If you take the traditional route and walk through the zoo you might even get a chance to touch a baby albino alligator.
Bars and Diners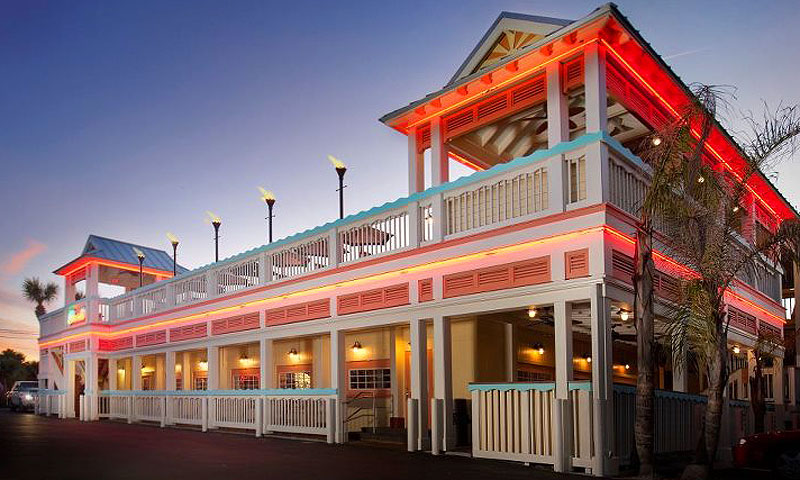 When it comes to bars and restaurants, St. Augustine is known as "a quaint little drinking town with a fishing problem." 
You'll find an abundance of nightlife and many biker bars around town: Tradewinds, The Oasis Deck & Restaurant, Bar None, and the SandBar Pub in Crescent Beach. The Conch House and Sunset Grille both offer special motorcycle parking during Bike Week. You can expect delicious food at many of these bars and eateries.
Plus, would you believe we have two auto-themed restaurants in town? And both provide all the fuel you'll need for the festivities waiting for you in Daytona.
Gas Restaurant
Gas is a full service restaurant that says "Thank you for not passing" it. They've been featured on Diners, Drive Ins, and Dives with Guy Fieri highlighting their famous Jalapeno Popper Burger, as well as Guilty Pleasures on Food Network with Bobby Deen.
Obi's Fillin' Station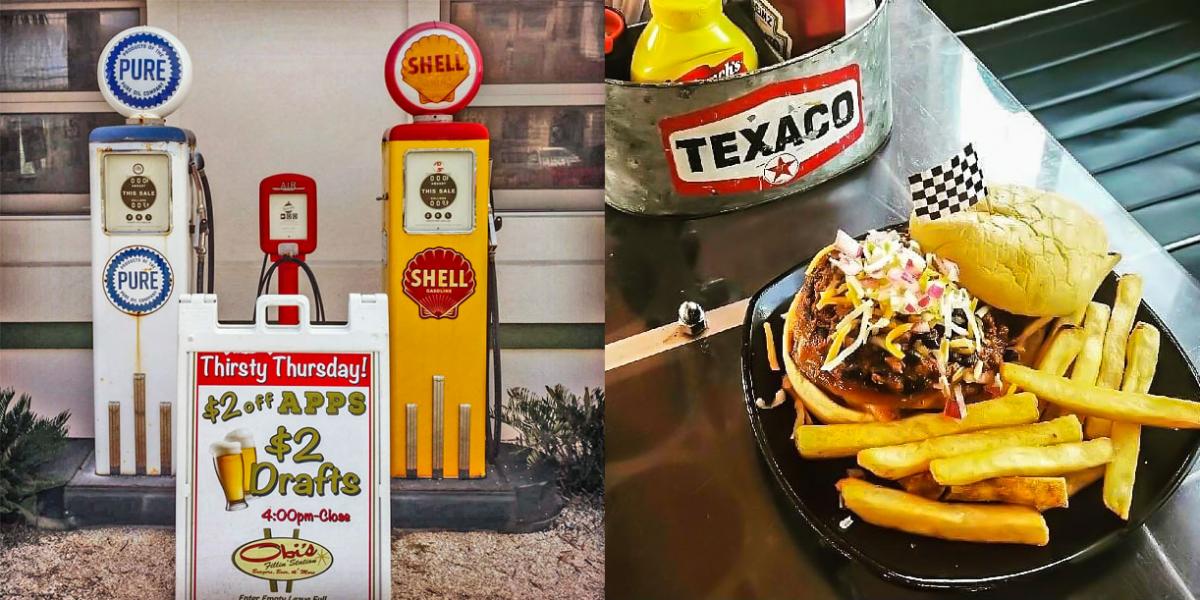 If Gas doesn't fill your tank, there's also Obi's Fillin' Station in St. Augustine Beach. Along with your regular freshly grilled burgers and dineresque appetizers, they also have their Spare Tire Burger featuring a half-pound prime beef patty served between two Krispy Kreme glazed donuts.
Experiences Worth Braking For
St. Augustine is home to its very own Classic Car Museum. The museum features private cars and fire trucks as well as other service vehicles. All are restored and on display along with antique gas parts, gas pumps, and other period pieces.
The 30,000 square-foot facility is located on the south side of St. Augustine on US 1.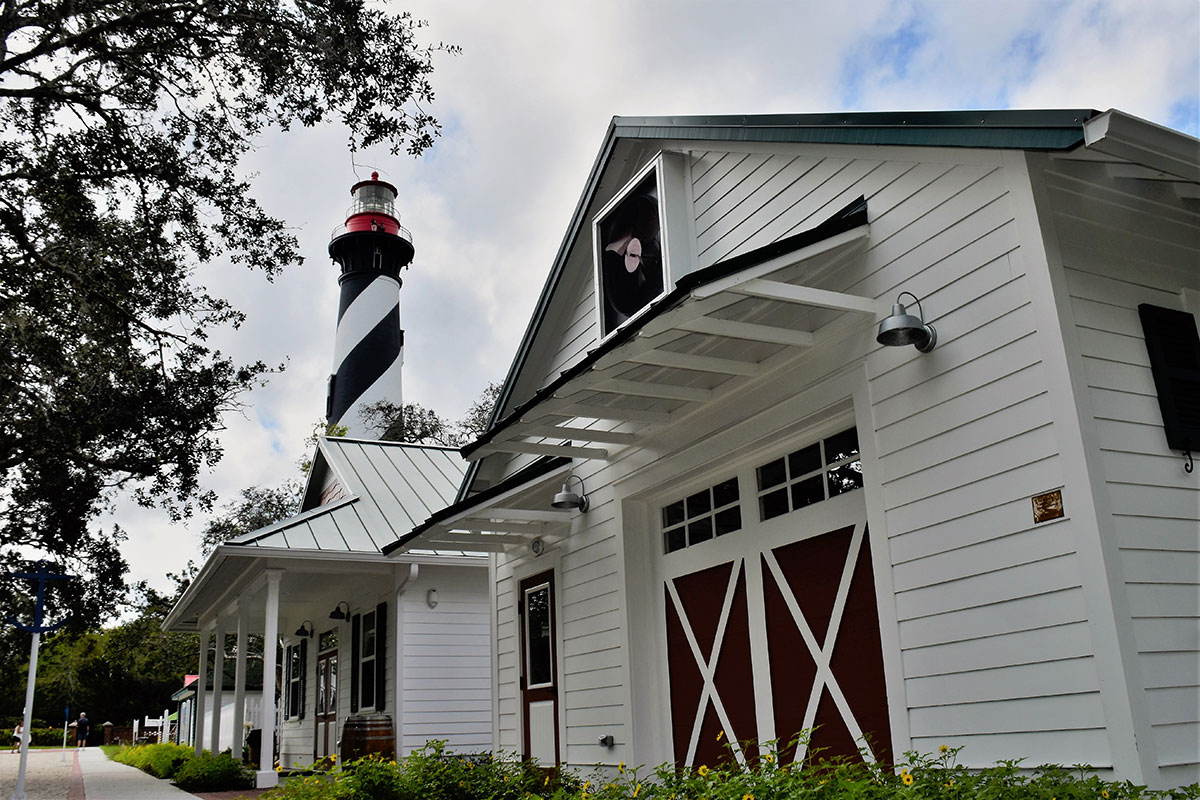 For those that love the beautiful views seen when cruising on a motorcycle or going out for a drive, you won't want to miss the view at the top of the St. Augustine Lighthouse. The lighthouse has an exhilarating climb to the top. It's one of the few lighthouses with grated steps, so you can see through to the bottom every step you take. It's kind of scary, but feeling the wind against your skin once you make it to the top is totally worth it. The 360 degree aerial view that you get of St. Augustine is one to remember.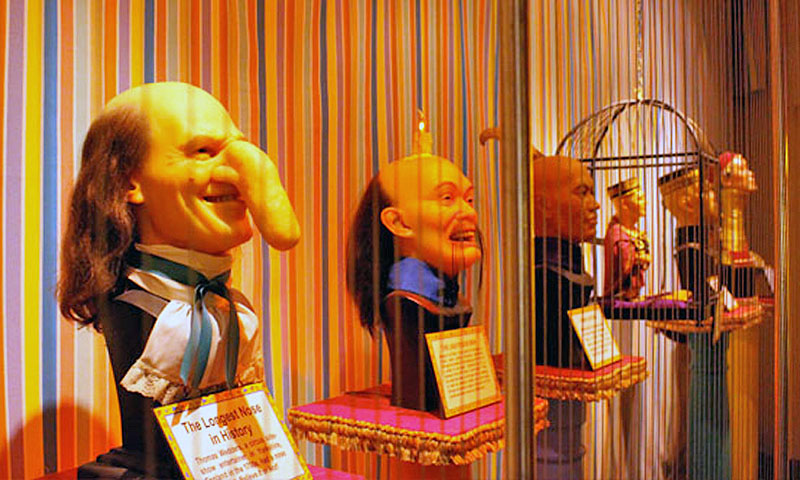 If you enjoy the thrill of motorcycles and fast cars you're probably used to living on the wild side. A stop into Ripley's Believe It or Not! Museum may be right up your alley. Housed in a concrete castle from 1880, the Odditorium is packed with weird displays including real shrunken heads and more than 800 other exhibits.
There's also plenty to fuel your imagination with the strange and eerie at the Medieval Torture Museum on St. George Street.
At more than 450 years old, St. Augustine has a lot of ghost stories to tell fearless visitors, and there are more than a few ways to learn about St. Augustine's haunted spirits. You can try a walking tour, a ghost train, or even go on a ride in a hearse to get all the ghostly facts about this historic town. A ghost tour is one thing you really should make time for, and it's a great way to start a night on the town.
Detour by the Seashore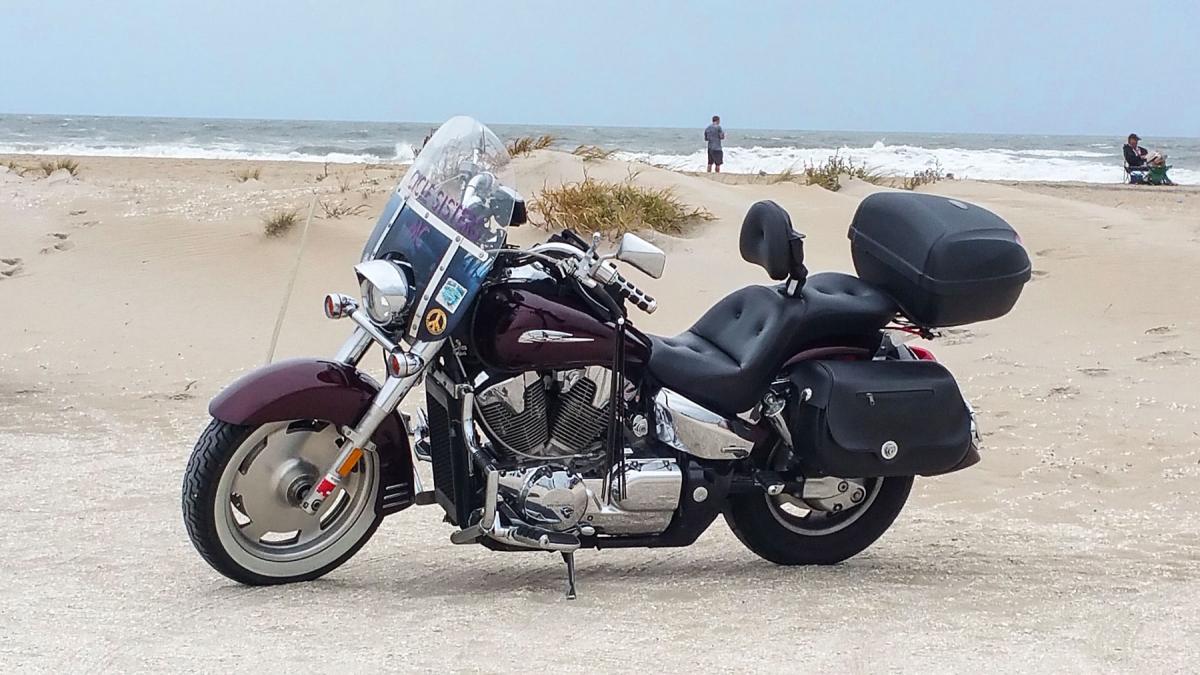 If you're just looking for a tropical escape from the craziness of Bike Week or Speedweeks, you should check out our beaches. You can bring a car on a portion of St. Augustine's beach, making it a welcoming spot for automotive enthusiasts. NASCAR fans can take their cars for a ride on the beach if the sand is packed down hard enough. Just be wary of the 4x4 only signs - they are serious and you can get stuck! Not willing to get your "baby" sandy? Take a walk, rent a bicycle, or try a Segway tour.
There are also many places to stay in St. Augustine that welcome visitors for the Daytona 500 and Bike Week. There are quiet bed & breakfasts and comfortable hotels in historic downtown and at the beach. These accommodations put you close to the action of Speedweeks and Bike Week, but with a more relaxed atmosphere and in some cases a less expensive price. For last-minute travelers, you might find more vacancies here in the oldest city.
When you're ready for a break from all the madness that is Daytona Beach, take the short trip up to St. Augustine. Whether you are coming from north or south, the ride to St. Augustine on A1A is a beautiful oceanfront cruise. Once you get here, you'll enjoy the change of pace.
Local St. Augustine blogger Meaghan Alvarado is a Flagler College graduate who writes on many topics ranging from fashion and food to crafts and local St. Augustine happenings. Check back here at Augustine.com regularly to see the great events and activities Meaghan will be writing about next, and check out her personal blog at http://justmeaghan.com/.