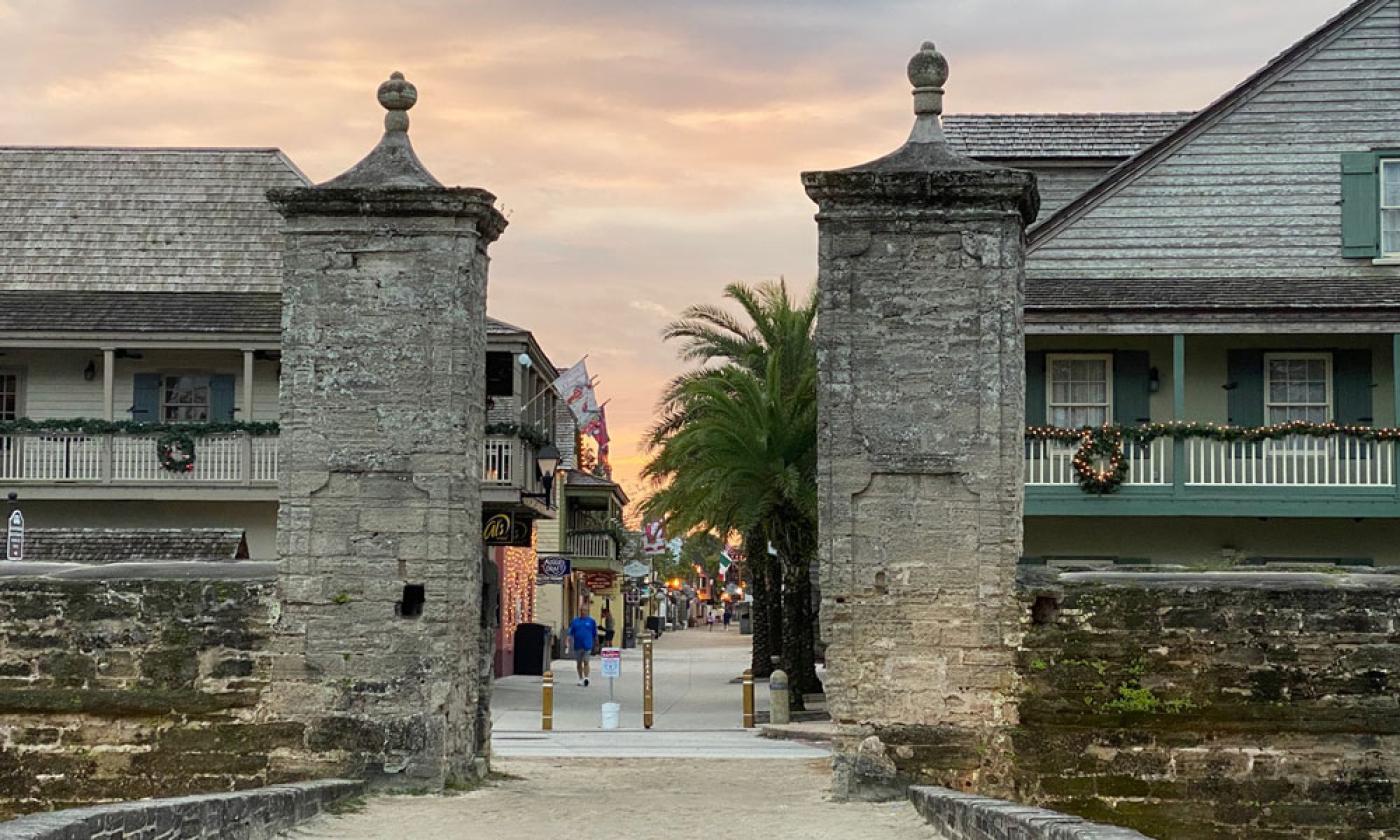 5 Ways To Get to St. Augustine ...
.... and how to get around once you've arrived.
People have been traveling to St. Augustine since long before Pedro Menéndez arrived offshore in 1565. The photo above shows the City Gate, once part of a redoubt to prevent hostile parties from entering the walled city, but now a reminder of the city's history and a favorite photo spot for visitors. More than 450 years later, St. Augustine continues to entice visitors with its idiosyncratic appeal as a great place to visit for a day, a weekend, or even a few months. St. Augustine has always been a "sticky" town—one to which visitors return again and again, with some eventually moving here, just like the Spanish, Minorcans, and British did.
When those visitors contact us while making plans, they usually have two questions: "What's the best way to get to St. Augustine?" and "How can we get around once we're there?"
Let's start with the first question. In short, visitors generally arrive one of these five ways:
(Feel free to jump to the section that interests you.)
If you're more concerned about getting around once you're in St. Augustine, jump to this section.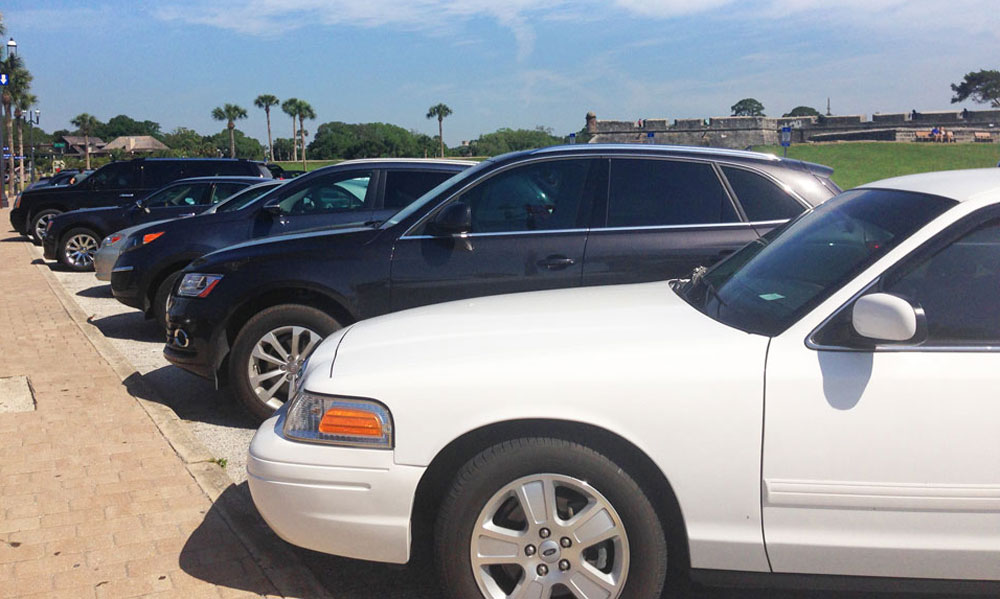 The metered parking lot at the Castillo allows visitors to park there and visit the city.
Five Ways Visitors Get to St. Augustine
1. Can I easily drive to St. Augustine?
Absolutely.
In an informal survey, the vast majority of travelers to St. Augustine arrived by car from other points in Florida, other states in the Southeast, all over the country, and even Canada. For proof, walk down King Street and check the license plates.
By looking at a road map, you'll see that it's easy to get to St. Augustine from the north or south using either I-95 or U.S. 1. Driving from Tampa or Tallahassee can be a bit trickier as there are fewer direct highways, though those who take the roads less traveled may enjoy the small towns, rivers, and wooded areas along the way.
Once all those folks drive to St. Augustine, they usually get around using the same trusty vehicle, which is one reason why parking is such an issue. See our article about parking — which includes where RV-ers can park while sightseeing. For those of you who are either sick of driving or don't want to play the parking game, your options will depend on where you choose to stay and how you plan to spend your time in St. Augustine.
Keep reading for your enjoyment and edification, or jump down to this point in the article to learn about those local options for getting around.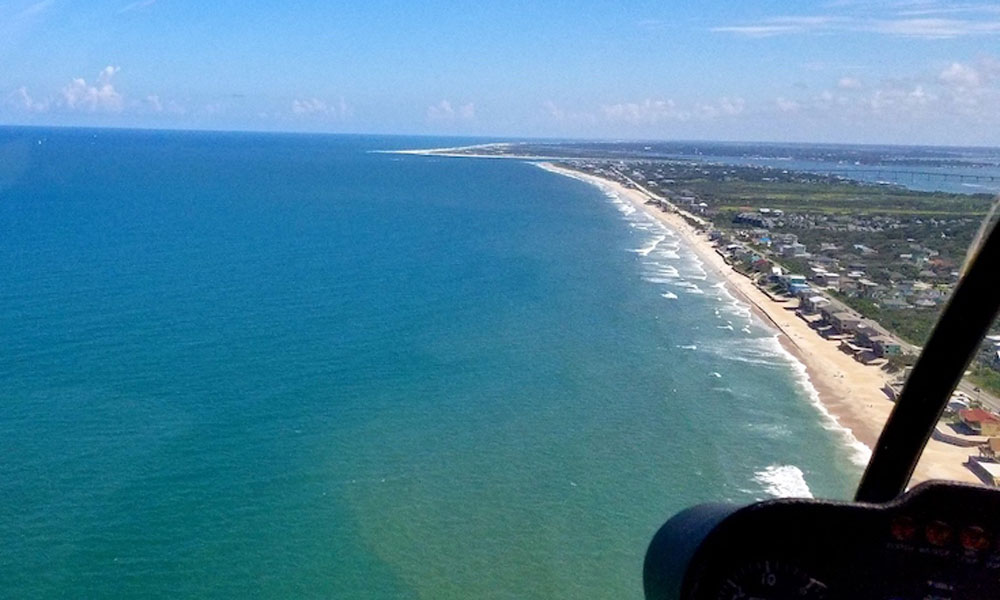 The view from the air was taken from First City Helicopters, which offers visitors a bird's-eye view of St. Augustine.
2. Can I fly directly to St. Augustine?
If you have a private plane you can, but we have hope. News reports in the spring of 2023 show that some folks are "cautiously optimistic" that the airport will be able to contract with a carrier who flies to a number of locations in the Eastern United States. We will update this as soon as it's announced.
In the meantime, the Northeast Florida Regional Airport in St. Augustine always serves private aircrafts, those people who fly on their own "wheels up" schedule. The rest of us usually land in Jacksonville, Daytona, or Orlando.  
Most visitors who travel by air on the way to St. Augustine land in Jacksonville. The quickest route is 56 miles from the Jacksonville International Airport and takes about an hour to get to the Plaza de la Constitución, while taking the scenic route south on A1A would take at least an extra 45 minutes. Daytona is also about 56 miles from the plaza, with travel time ranging from 1 hour to 1.5 hours depending on whether you drive up the highway or meander up Route A1A along the Atlantic Ocean. (This is a lovely drive that includes driving the length of St. Augustine's Anastasia Island.) Finally, the straightest shot from Orlando is 124 miles and takes about 2 hours.
To get from any of these airports to our fair city requires a wheeled road vehicle, such as taxi, ride-sharing, phone-a-friend, rental car, or car service. (To learn more about some of those options, check out our Transportation Directory.) If you rent a car, see that parking article. If you're ready to learn how to get around in St. Augustine without driving as much — or at all — jump here. Of course, if you find this fascinating and enlightening, please do keep reading about how folks travel to St. Augustine. One of them may surprise you.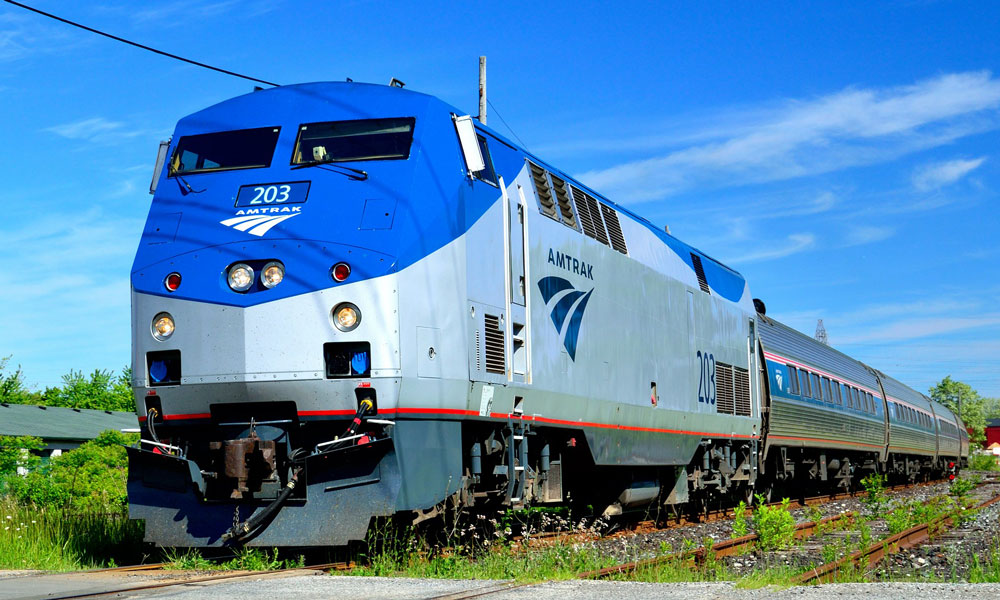 Amtrak train heading south. Photo by Ray Miller.
3. Does Amtrak stop at St. Augustine?
No, but it does stop at both Jacksonville and Palatka, and you can drive (rent a car or lean on a local friend) into St. Augustine from there.
Amtrak's Silver Service line stops in Palatka, a mere 29 miles and 43 minutes from St. Augustine, as well as in Jacksonville. In Jacksonville, the Amtrak Station is at 3570 Clifford Lane, and the closest auto rental service is over four miles away. This Amtrak Station is nearly 50 miles from St. Augustine's Plaza de la Constitución, so someone will have to drive to St. Augustine.
If you disembark in Palatka, a popular car rental firm is just a half-mile from the depot. Otherwise, it's back to finding someone to transport you, such as the the ubiquitous ride-hailing, or a friend. If your schedule allows you to opt for the bus, it will let you off in St. Augustine at their stop at the city parking garage. (More on that, coming up.)
Let's go back to Amtrak for a moment. Did you know that you can take the Auto Train from the Washington, D.C. area to near Orlando, arrive there in 17 hours with your car or motorcycle, without driving, and then simply meander up to St. Augustine? This may be an option for those who would rather relax on the train than drive for ten hours on I-95.
4. Can I take the bus to St. Augustine?
Well, darn. As of March of 2023, you cannot.
In 2023, the City of St. Augustine cancelled their agreement for Greyhound Bus services to stop outside the City's parking garage. Greyhound Bus will drop you at Palatka or Palm Coast or Jacksonville. Getting here from those locations is, at this point in time, up to the individual.  If you plan to arrive by bus and won't have access to a wheeled motorized vehicle, you can skip to this section on getting around in St. Augustine, or you can keep reading to learn about one more way people without a vehicle of their own can get around.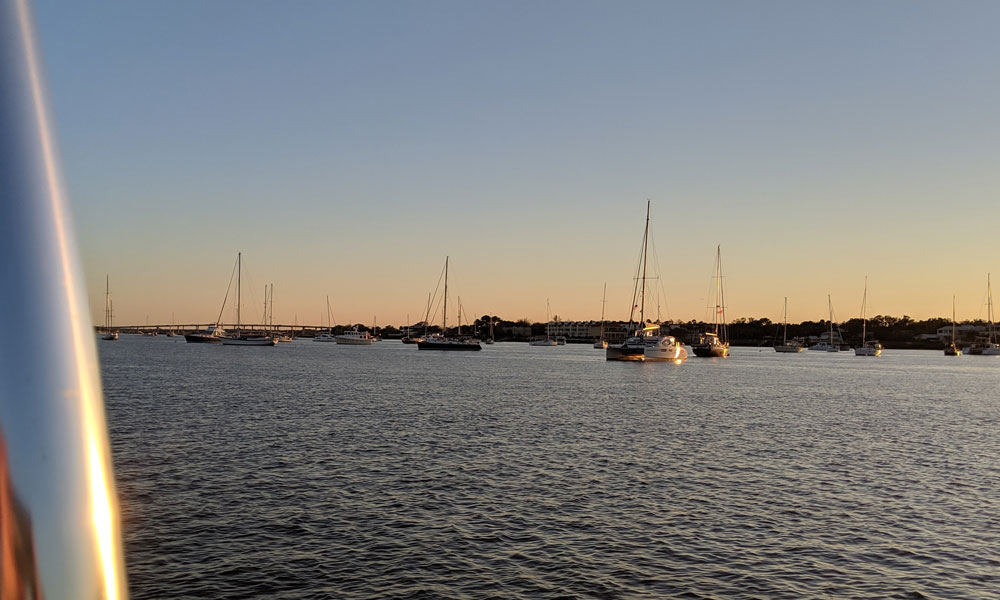 Boats on their mooring at sunset in St. Augustine.
5. Can I take a cruise to St. Augustine?
Yes, American Cruise Lines offers an eight-night river cruise that leaves Jacksonville twice a month from November through March, allowing passengers one day and night in St. Augustine. You salty types who want to stay longer can arrive aboard your own or a friend's power or sailing vessel, 365 days a year.
Arriving by personal vessel allows visitors to take the historic route to St. Augustine. Boaters navigating the Intracoastal Waterway travel along rivers used thousands of years ago by Native Americans in dugout canoes. Today's oceangoing sail and power vessels arrive at St. Augustine from the north, south, or east — just as Ponce de Leon did in 1513.
Thanks to dredging and the U.S. Coast Guard navigation buoys, today's oceangoing vessels find the navigation easier and can sail right into the harbor. All told, well over 3,500 live-aboard and cruising boaters arrive in St. Augustine each year between the months of November and May.
Surprised? This is my story. In 2015, my husband and I sailed here from Miami on the last leg of our five-year cruise. We left Panama in November, sailed to Isla Mujeres, Key West, and Miami, and arrived at the St. Augustine Inlet just after dawn on December 15. As I write this, it's 2021, and we have sold the boat and settled happily in St. Augustine. (For us, St. Augustine has proven to be very sticky.)
Once they secure their boat, cruisers must navigate St. Augustine using various means of transportation, which brings me to Part Two.
How can we get around in St. Augustine once we arrive?
No matter how you arrived in our fair and ancient city, you still have to figure out the most enjoyable way to see the sights.
1.Walking.
We are frequently asked, "Where can I walk to from where we're staying?"
That depends on where you're staying and on how much you like to walk. Our article, The Ultimate Guide to Where to Stay in St. Augustine, will help you find the accommodations that suit your travel style. If you're staying in our Historic Downtown region, you'll find that the area you'll frequent most is a bit less than 640 acres (or one square mile.) I've provided that 640-acre thing because it seems like a much bigger number than one square mile. While you can easily amble for a half hour or less to get from one corner of Historic Downtown to another, please understand that there are many little streets full of shops, restaurants, historic sites, and attractions along the way. It's possible to walk many enjoyable miles during one weekend in St. Augustine. Reasonably fit people who are staying downtown will find they don't need a vehicle for much of their stay.
If the beach is your thing and you've reserved a place to stay along the 40+ miles of beaches, you'll be able to walk to some nearby shops and restaurants — only in the small communities of Vilano Beach and St. Augustine Beach. Please note that, depending on the beach, there may not be a sidewalk along A1A, so consider that when you make your plans. Frankly, if you're staying near most of our beaches, you'll probably need motorized transportation to get around for food, fun, and to visit historic downtown.
A note about accessibility: if a member of your party cannot walk these distances but is game to see the sights, see this article on Accessibility in St. Augustine, which will let you know where you can rent wheelchairs — including fat-tired wheelchairs for beach use.  Mobility scooters can be rented from Solano Cycle and Saint City Rentals. Both rent scooters that weigh about 250 pounds and both offer delivery to clients in St. Augustine.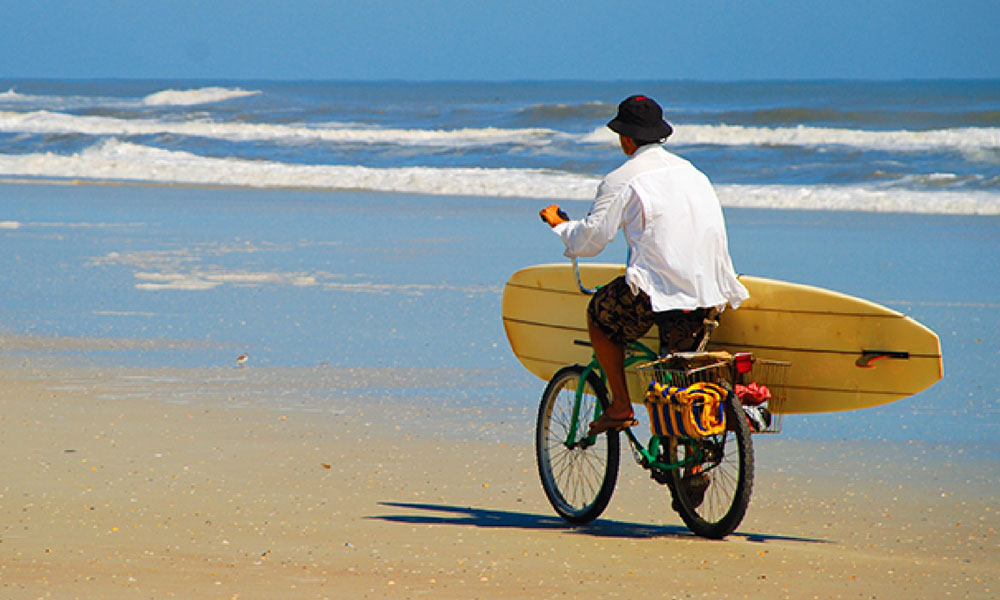 Photo courtesy of FloridasHistoricCoast.com.
2. Biking.
The City of St. Augustine has scattered bike racks (good locks highly recommended) throughout the city, so if you've brought your bike or actually biked to St. Augustine, this is a good city for biking.
Everything I've mentioned about walking pertains to biking, and on a bike, you can expand the size of your circle. Make sure to check out our parks directory for more places to bike and walk.  If you're staying in the historic downtown area, biking to the Lighthouse, the Alligator Farm, or Vilano Beach are all reasonable options.
Here are three important things about biking in St. Augustine: (1) Biking, skateboarding, and driving on Segways are not allowed on St. George Street between Cathedral and Orange Street; (2) Riding a bike on the sidewalk is legal; and 3. Do always use a good cable or chain and lock when leaving your bike.
Didn't bring your bike, but want to enjoy two-wheeling while visiting St. Augustine? There are multiple places to rent bikes, including St. Augustine Bike Rentals on King Street. (They are also one of the places that rent wheelchairs.) Gotcha Bike Sharing is also an option providing e-bikes you can borrow at 13 hubs around St. Augustine.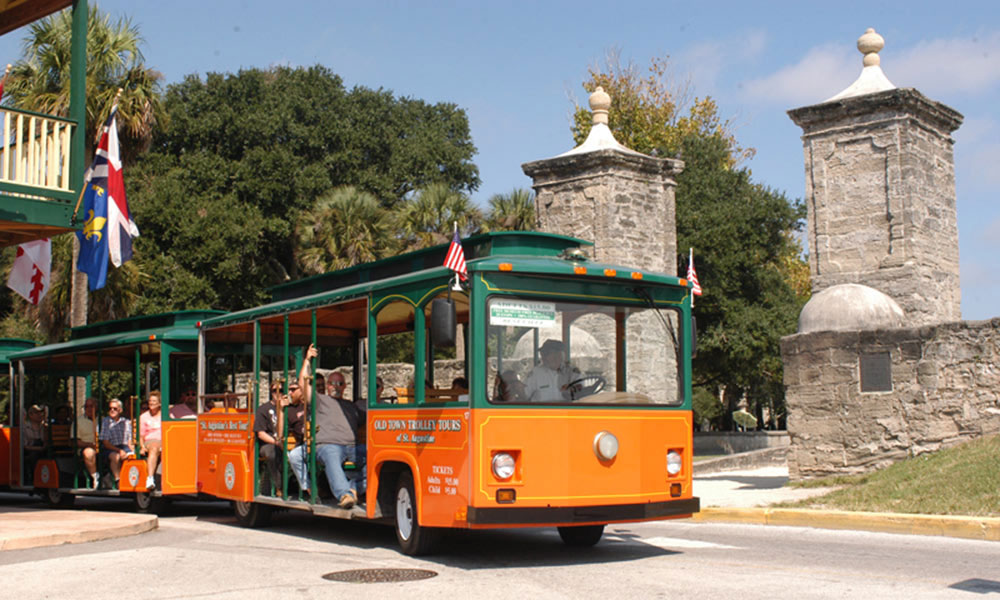 The Old Town Trolley, here at the City Gate, is both a tour service and a mode of transportation in St. Augustine.
3. Other people's cars and vehicles.
As a tourist town, St. Augustine has several taxi services, a host of shuttle services, and a plethora of Lyft and Uber operators, so getting around without a vehicle is possible. In addition, visitors can rent scooters and golf carts, take a carriage or pedicab ride, and ride the Old Town Trolley from attraction to attraction, hopping on or off as it suits their fancy. For those who want to see the sights and hear the history, Ripley's Red Train offers a 90-minute tour of the city, with lively descriptions of her history and attractions. Gold Tours is one of several tour providers in St. Augustine, while other companies offer rides from town to the beaches and back again. For a list of most of these options, check out our Transportation Directory. (Local knowledge: "Gypsy Cab" is a restaurant in town, not a taxi service.)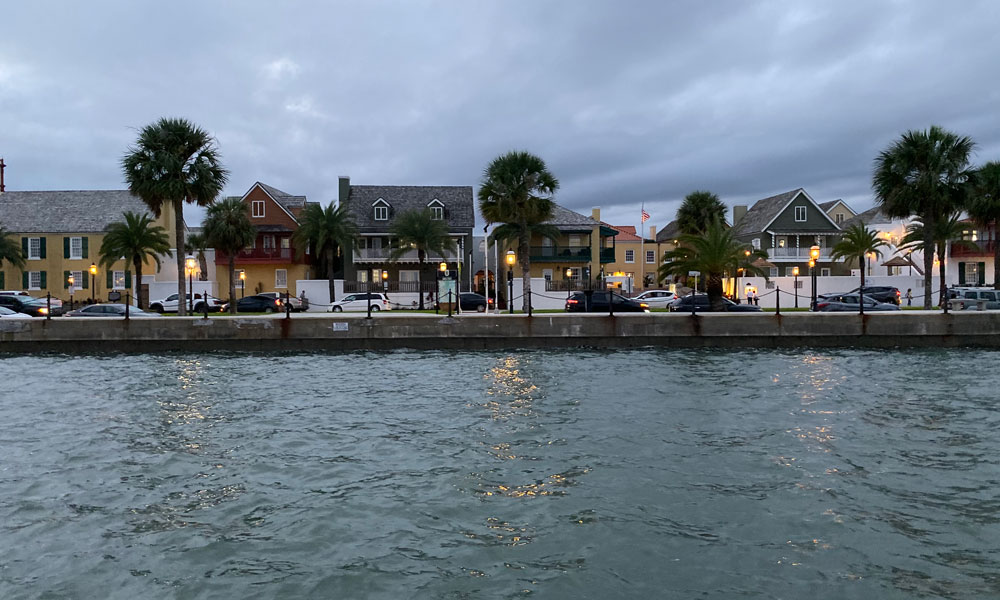 A view of Avenida Menendez from the water. There is metered parking along the bayfront, south of the Bridge of Lions.
4. Your car or a rental car.
If you twitch at the thought of being on vacation without a car parked nearby and keys jingling in your pocket or purse, then you'll likely have driven here or rented a car at the first opportunity. That first opportunity will occur at the airport, near the train stations, and a few miles from the bus stops. Enterprise, Avis, and Budget all have offices in St. Augustine.
Once again, I call your attention to our article on Parking in St. Augustine. If you're staying downtown and your room comes with a place to park your car, and if walking a few or a bunch of blocks is doable, then you would only need your car when you want to check out the wonderful things to do that are outside the city. Leave the car in the lot when you want to take in all that is in the Historic Downtown, Lincolnville, and Uptown areas of St. Augustine, and then drive to the beaches, kayak trips, state and national parks, shopping malls, farther-flung restaurants, and some of the attractions when you want a change of scenery.
Some marinas have parking for those who are renting a slip or mooring, but the St. Augustine Municipal Marina does not. Those of you staying downtown at the municipal marina or where on-site parking is not available will have to use the city lots, parking garage, and street parking. This can be a challenge, especially during Nights of Lights, but it's usually possible to find a place to park somewhere in or near those 640 acres.
5. Buses
Two other bus systems serve St. Augustine. The St. Johns Express is a commuter bus that runs between St. Johns County Government Center at 4010 Lewis Speedway, St. Augustine — not downtown St. Augustine — and the Pavilion at Durbin Park, 480 Durbin Pavilion Drive in St. Johns — also not downtown Jacksonville. The ride costs $3.00 each way.
The Sunshine Bus is the only public transportation offered within the City of St. Augustine. They have multiple routes, and you can hop on the Sunshine Bus and get to grocery stores and pharmacies, Walmart, the Saturday Market at the Amphitheatre, and out on State Road 16 near the Outlet Mall. The cost is $2.00 a person, each way, and they do offer discounts for passes. Understanding their schedule helps to know that this was never meant to be a full-service city bus line. Their primary purpose is to help those without cars, particularly those who are elderly, get to stores and medical appointments. Each route runs every two hours, and they do not operate at night. Still, once you understand the routes and schedule, it's possible to go anywhere along the route, take care of business, and get back to home base. Each bus has room for two bikes on a rack attached to the front bumper. These can be used on a first-come-first-served basis.
Final Notes
And there you have it, 5 Ways to Get to St. Augustine and How to Get Around Once You're Here.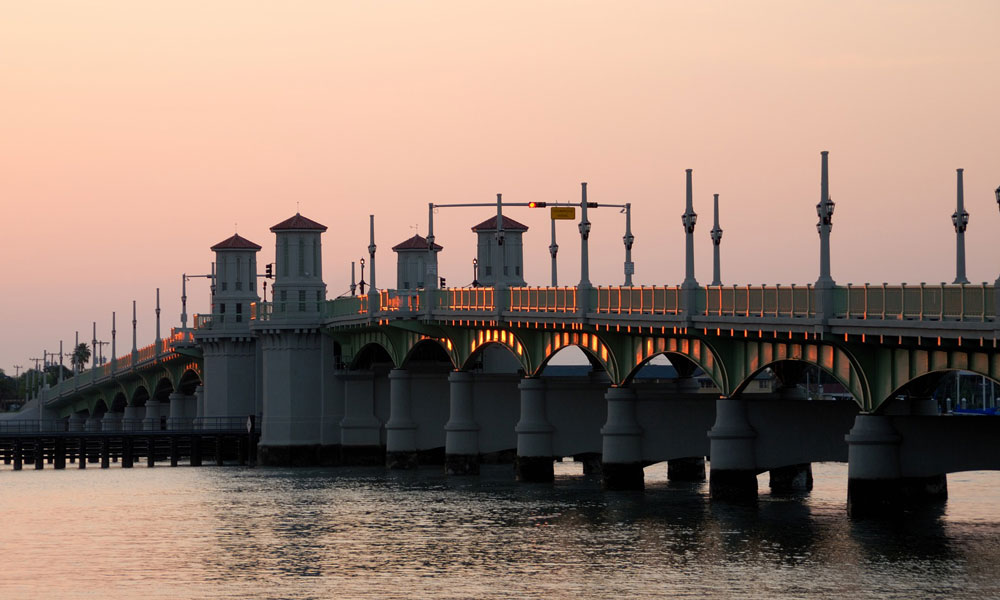 The Bridge of Lions under a red sky in St. Augustine. Photo by Paul Brennan.
What have I missed?
The Bridge of Lions is a drawbridge, which means it's picturesque and cool, and you should add some extra travel time when going between the historic district and Anastasia Island to allow for an opening. For you boaters, the bridge tender monitors Channel 9.
It's fun to just walk around St. Augustine. Take some of the side streets in and around downtown, and you'll find historical markers, neighborhoods, and notable architecture from the 1600s to the 1950s. There are also numerous parks to visit, both in the city and along the waterways.
No matter how you get to St. Augustine, make sure you use our Attractions Directory, Events Calendar, and Live Music Calendar to help plan your visit.
We thank you for visiting St. Augustine; we hope you have a great time on this trip and that you return again. Beware, though — this is a "sticky" town. You could end up moving here.