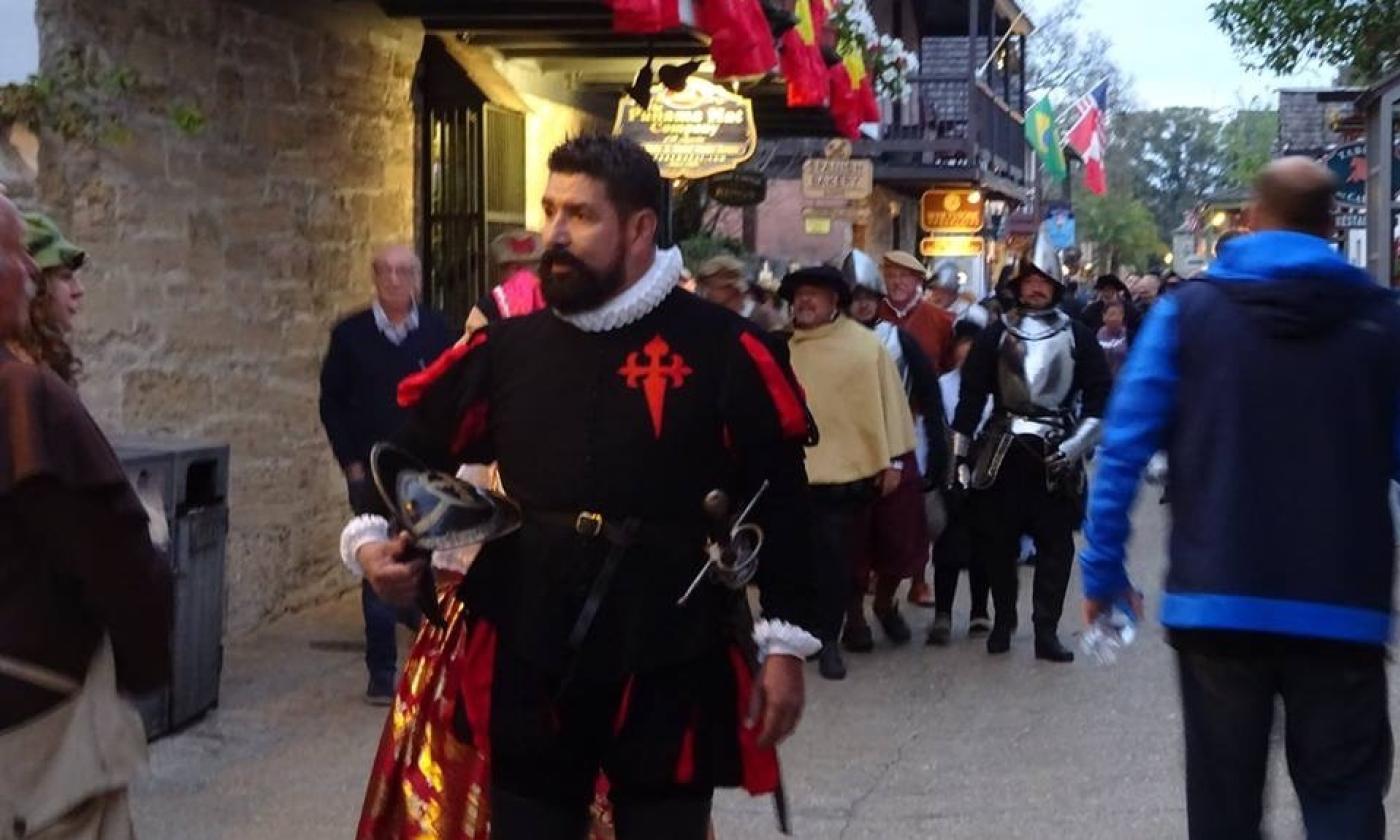 Select Saturdays from January - September 2023 | 5:30 to 8:30 p.m.
The Historic Florida Militia presents a Timeline Saunter on one Saturday afternoon each month through September 2023. The Saunters generally take place on the first or second Saturdays, see below for dates.
During the saunter, those who are interested in history and in how the European settlers and conquerors lived in St. Augustine can watch this knowledgeable and appropriately garbed group as they walk through historic downtown. The saunter begins at the city gates on St. George Street and runs to the Plaza de la Constitucion before heading down Aviles Street, the oldest street in the continental U.S.
The participants will pose for photos all along their route and answer questions about life in the 16th, 17th, and 18th centuries in St. Augustine.
The Historic Florida Militia is a 501(c)3 organization composed of the following historic re-enactor groups: Men of Menéndez, representing the 16th Century Spanish soldados and settlers; Drakes Men, representing the 16th Century British privateers; Searle's Buccaneers, representing 17th Century British privateers; and the St Augustine Garrison, representing 18th century Spanish soldados, settlers, and government officials.
Admission: Free
When: 5:30 to 8:30 p.m. on these days in 2023: Saturday, January 14; Saturday, February 4; Friday, March 3; Saturday, April 1; Saturday, May 6;  Saturday, June 3; Saturday, July 8 ; Saturday, August 12; and Saturday, September 15. 
Where: The saunter begins at the City Gate on St. George and Orange streets, and continues on St. George Street across the Plaza de la Constitución to Aviles Street.