Harvest & Reel
In the Embassy Suites by Hilton Oceanside Resort
300 A1A Beach Blvd, St. Augustine, 32080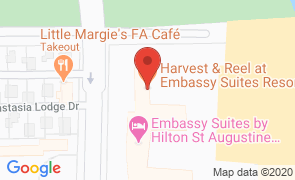 Hours
of Operation
Sun - Sat:
5:00 pm - 10:00 pm

Harvest & Reel is open seven days a week from 5 — 10 p.m.
Harvest & Reel, located at the Embassy Suites by Hilton Oceanside Resort in St. Augustine, presents farm-fresh and shore-to-table cuisine. Harvest & Reel and their companion Rhum Bar are stylish and modern retreats perfect for that special evening — whether dining à deux or enjoying a meal with friends.

The Rhum Bar opens at noon and pours specialty cocktails featuring one of an extensive variety of rums (as well as other distilled spirits), wine, or beer. While in the bar, guests may enjoy any of the sharable appetizers from the Harvest & Reel menu, including Warm Artichoke Dip, Fried Calamari, or Mayport Shrimp Ceviche. Their "On the Other Hand" menu features unique sandwiches such as a Tea-Brined-Chicken BLT, Caprese on Ciabatta, or Harvest and Reel's take on the classic Pulled Pork.

In the sophisticated dining room, the chef of Harvest & Reel serves delicious soups, entrées, salads, and sides using locally sourced ingredients, simply prepared so that the flavor of the premier ingredient is enhanced, not masked. The chef's goal is to serve what is sustainable, organic, artisanal, and local so the menu will change with the seasons and the harvest.

Reservations are required for parties of six or more. Call (904) 461-9004 from 5:00 to 10:00 p.m.

No Reviews Yet...

Be the first to Review Harvest & Reel!




Things to Do
Near Harvest & Reel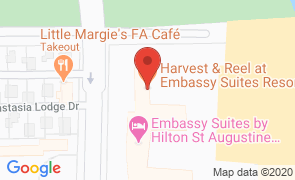 Harvest & Reel
In the Embassy Suites by Hilton Oceanside Resort
300 A1A Beach Blvd, St. Augustine, 32080
Hours
of Operation
Sun - Sat:
5:00 pm - 10:00 pm