King's Head British Pub
4 miles North of the St. Augustine airport
6460 US 1 North, St. Augustine, 32095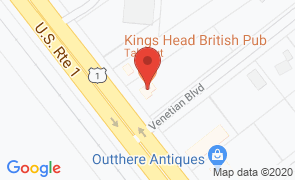 Hours
of Operation
Sun:
11:30 am - 5:00 pm

Mon - Tue:
Closed

Wed - Thu:
11:30 am - 8:00 pm

Fri - Sat:
11:30 am - 9:00 pm

Closing hours may vary.
King's Head British Pub offers authentic British cuisine to visitors. The pub is decorated with vintage England artifacts, and all of the food is made from scratch. As an authentic British pub, King's Head offers a variety of English draft beer and cider.

In addition, King's Head also serves traditional British dishes like bangers and mash, fish and chips, scotch eggs, Lancashire hot pot turnover, and cottage pie. They also offer desserts such as English Bread and Butter Pudding and Custard, and Sticky Toffee Pudding Ginger Sponge Smothered in Toffee Sauce.

King's Head is closed Mondays and Tuesdays, but is open Wednesday through Sunday.
Things to Do
Near King's Head British Pub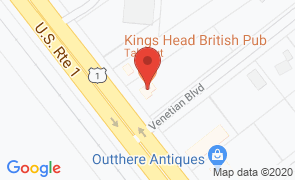 King's Head British Pub
4 miles North of the St. Augustine airport
6460 US 1 North, St. Augustine, 32095
Hours
of Operation
Sun:
11:30 am - 5:00 pm

Mon - Tue:
Closed

Wed - Thu:
11:30 am - 8:00 pm

Fri - Sat:
11:30 am - 9:00 pm