Jensen Pottery
Next to the Georgia Nick and Aviles Galleries.
11 F Aviles Street, St. Augustine, FL, 32084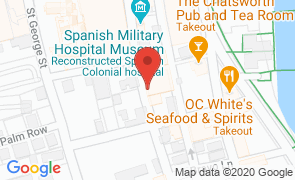 Hours
of Operation
Sun - Mon:
11:00 am - 5:00 pm

Tue:
Closed

Wed - Sat:
11:00 am - 5:00 pm

Stays open later on Frist Friday Art Walk
Jensen Pottery, on Aviles Street in St. Augustine, features works by two artists, Ken Jensen and Donna McCarthy-Jensen.

Ken's work includes his long-standing line of stoneware, including mugs, bowls, plates, and platters that are all microwave and dishwasher safe — art designed to delight in many ways. More recently, Ken has joined his love of music (see the Ken Jenson Blues Ensemble) with his art and created a line of musical instruments made from pottery with the addition of a few other media types. These instruments include guitars, fantastic horns, and maracas. In addition, Ken creates raku pottery.

Donna McCarthy-Jenson, an accomplished artist and a yoga instructor, shows her love and understanding of the human form in her to sculptures of dancers with flowing dresses and of women holding a yoga pose. Donna also uses the raku firing method, creating pieces that celebrate movement and beauty.

Jensen Pottery stays open late on the First Friday of each month for the First Friday Art Walk.

No Reviews Yet...

Be the first to Review Jensen Pottery!




Restaurants
Near Jensen Pottery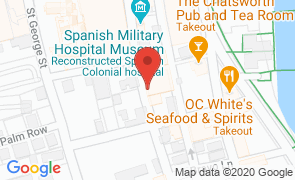 Jensen Pottery
Next to the Georgia Nick and Aviles Galleries.
11 F Aviles Street, St. Augustine, FL, 32084
(904) 806-0031
Hours
of Operation
Sun - Mon:
11:00 am - 5:00 pm

Tue:
Closed

Wed - Sat:
11:00 am - 5:00 pm