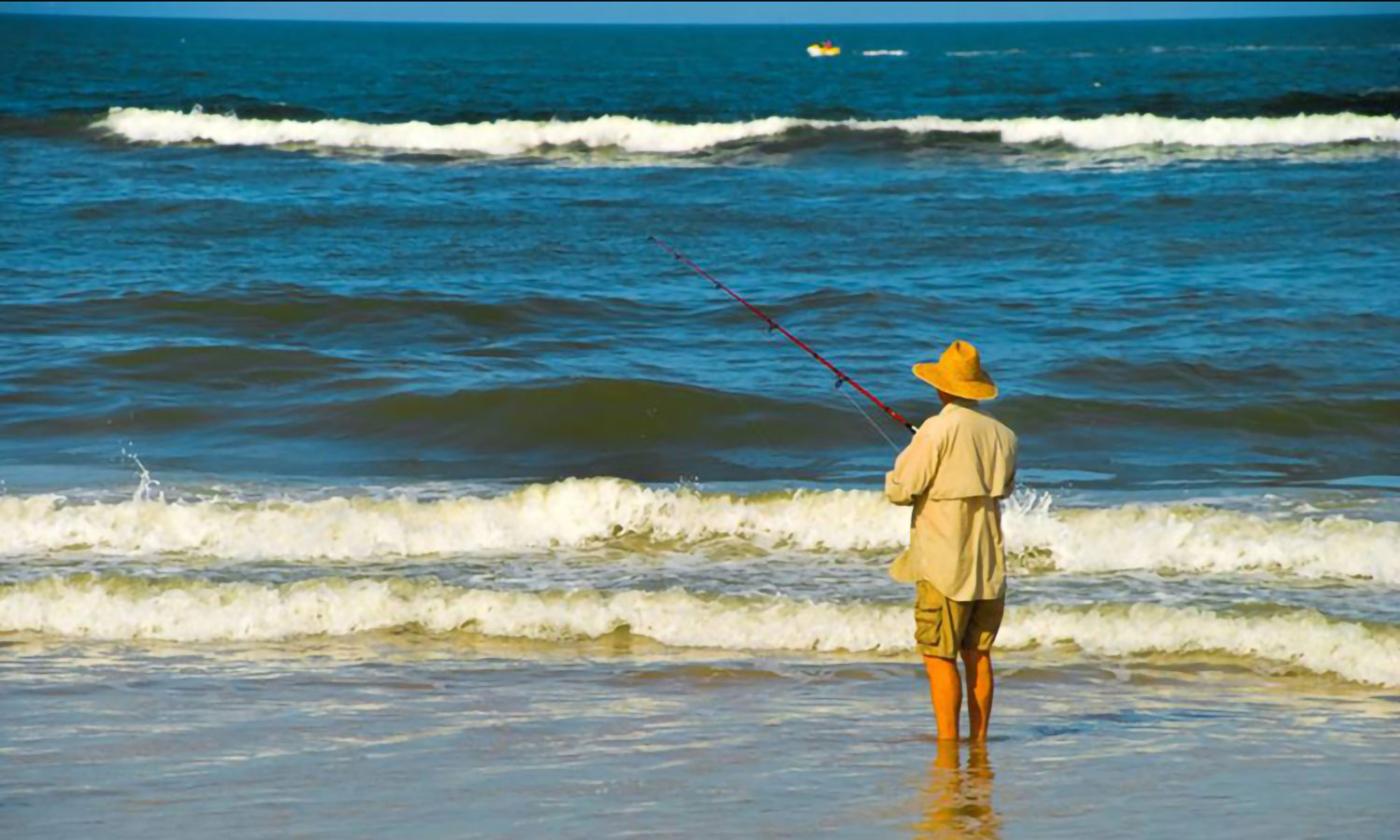 Saltwater & Freshwater Fishing
Experienced anglers consider St. Augustine one of the best fishing destinations in the state.
Whether you're seeking the challenge of game fishing or the more peaceful river or lake fishing, you'll find it in St. Augustine along with everything in between. You can fish from piers and bridges, from skiffs and kayaks, from deep-sea charter boats, or surf fish right from the beach … the range of fishing opportunities along the northeast Florida coast attracts anglers from all over the world.
More than 8,000 miles of shoreline are just part of what makes the Florida the "Fishing Capital of the World." Year-round warm weather and the diversity of recreational species, both freshwater and saltwater, found in the state are huge factors as well. Consistently ranked "No. 1" in number of in-state anglers, angler expenditures, economic impact, and international fishing record catches, Florida's claim to fishing fame is unrivaled.
The quirky little city of St. Augustine has its own claim to fame: its long history as a desirable place to settle, which has a lot to do with the abundance of native wildlife in the area. The city was founded on September 8, 1565, by Pedro Menéndez de Avilés of Spain.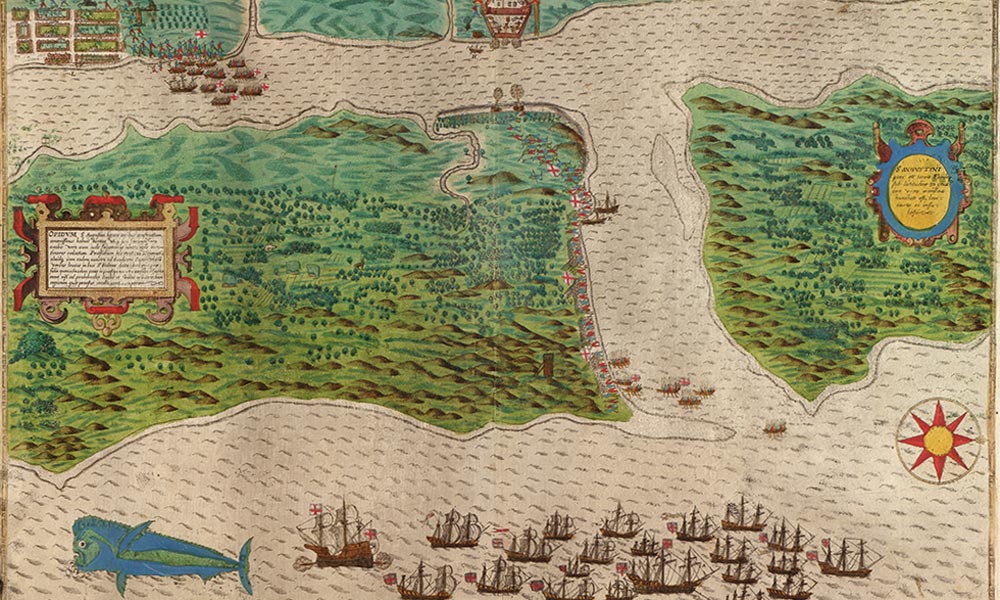 Spain wanted a military outpost on the northeast Florida coast that could protect its treasure ships as they sailed home along the Gulf Stream. Menéndez chose this particular spot because of its secluded and defensible harbor and the rich resources provided by the ocean and inlets that could sustain his people during the early settlement's difficult times.
Even before the Europeans came to the area, the Timucuan Indians lived on the land, fishing and hunting manatee and alligators in the many rivers and bays.
Native American tribes, Spanish conquistadors, Minorcan settlers, pirates, soldiers, Gilded-Age tycoons, and now streams of tourists and history students … the actors on the human stage may change, but the wildlife remains pretty much the same. Redfish, drum and snook still run in the inshore waterways, bass still jump in the lakes and rivers, and amberjack, dolphin, and tarpon still ply the ocean waters. If you want to experience the very best of Florida fishing, you've come to the right place.
Freshwater Fishing
Central Florida is famous for bass fishing, and that reputation extends all the way to the freshwater areas of its eastern counties as well. In fact, one of the most prestigious bass fishing tournaments takes place in Palatka about 26 miles west of St. Augustine.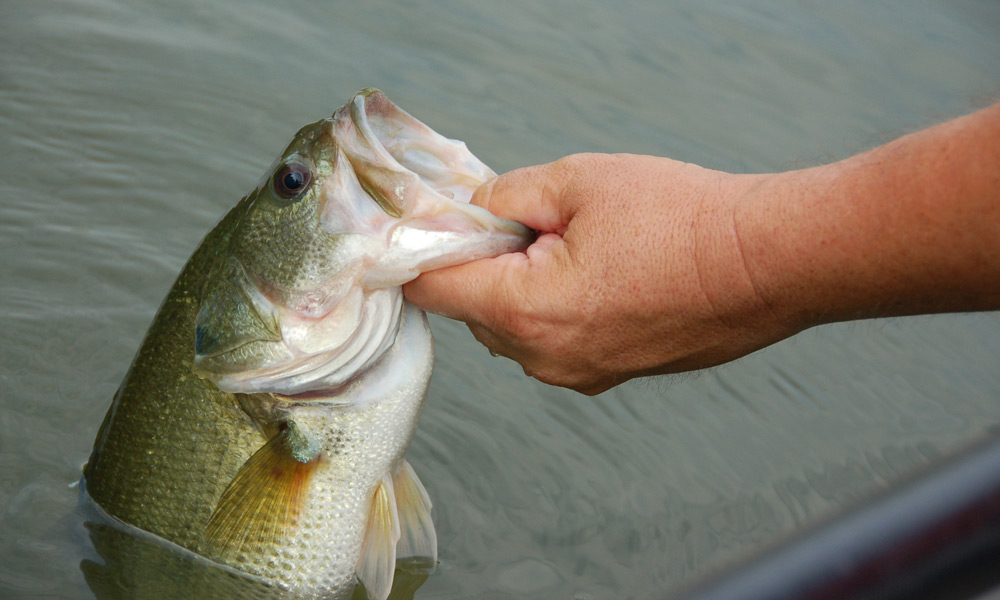 Largemouth bass, black crappie and bluegill are the St. Johns River's major attraction for freshwater fishermen. But several species of saltwater fish can also be found in the upper regions of this north-flowing river, due to the tides which bring brackish water back into the river, creating an estuarine ecosystem that extends south for quite a distance.
The reason the tidal surges travel so far upriver is the St. Johns River's low flow rate (only .3 mph), which is due to the very small drop in elevation from the river's origin (just 30 feet above sea level) and its mouth at sea level in Jacksonville. As a result, the St. Johns River's upper region is a prime area for fish such as sea trout, redfish, and flounder.
There are three fishing piers on the historic Bartram Trail (County Road 13) along the river in St. Johns County—the Alpine Groves Pier in Fruit Cove, the Riverfront Park Pier, and Shands Pier in St. Johns (see the map of fishing piers below).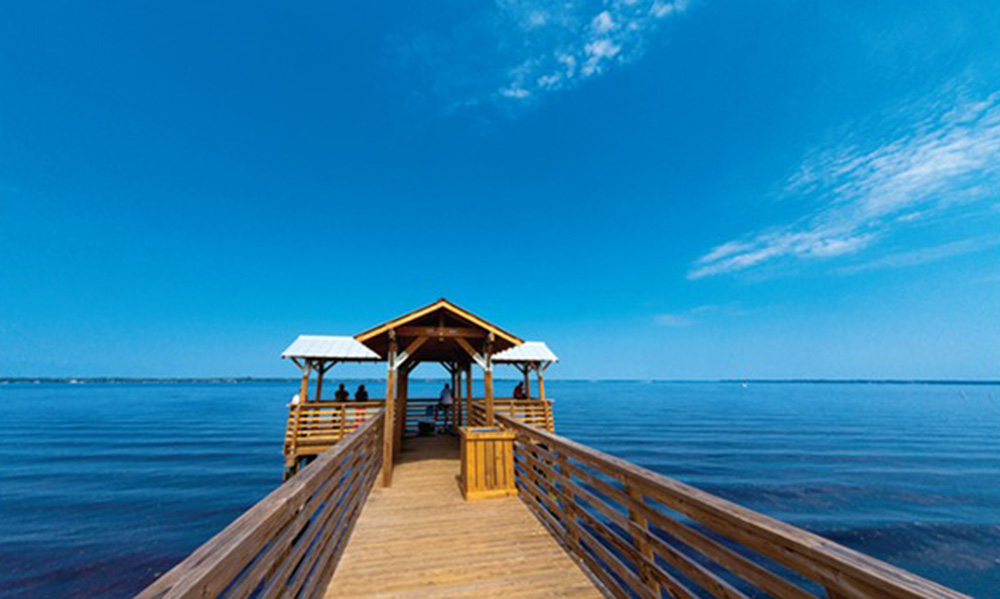 Pier and Bridge Fishing
Fishing piers and bridges can be found throughout the area, from its beaches, inlets, and Intracoastal waterways on the east to the St. Johns River at the western edge. Proper fishing licenses are required at all of them. Fishing licenses can be purchased online here, or by calling 1-888-FISH-FLORIDA (347-4356).
A great spot for visitors to enjoy fishing without a big time or money commitment is the St. Johns County Ocean Pier on St. Augustine Beach. Because the pier maintains a fishing license with the state, it isn't necessary to purchase a separate license when fishing here — the license is included in the fishing fees. Fishermen can bring their own equipment or rent a pole at the bait and tackle shop. Fishing fees for non-residents are $6.00/adults and free for children under six. Call (904) 209-0326 for more information.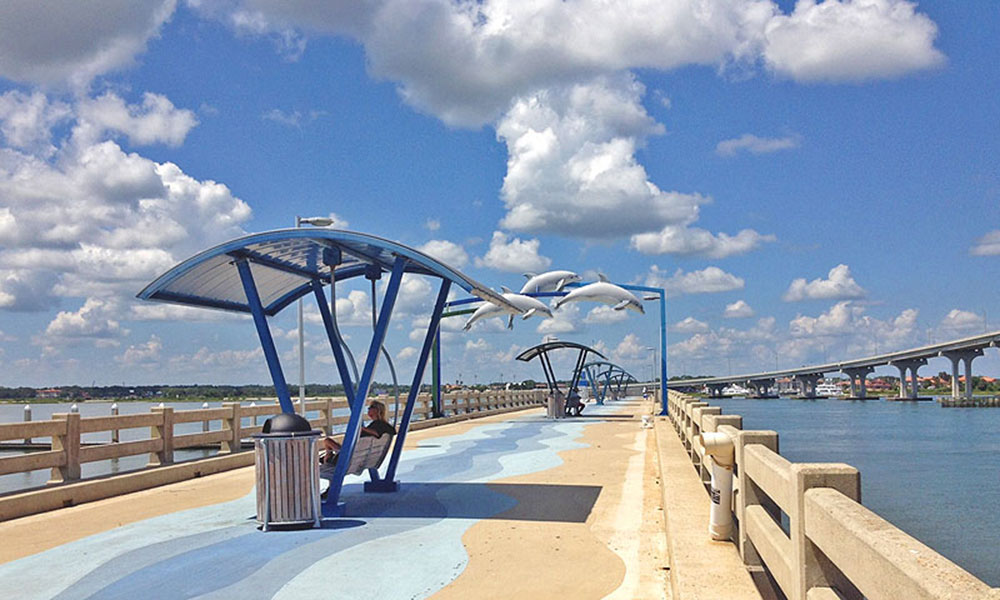 The Vilano Beach Pier (pictured above) is located on the Intracoastal Waterway, facing historic downtown. Vilano Beach feels like it got stuck in time in the 1950s, with a retro design and laid-back attitude that extends to the pier's atmosphere. It would be hard to find a more relaxed or informal spot to do some fishing, soak up the sun, and enjoy the views.
Other fishing piers in the area include Lighthouse Park on Salt Run, the Rose of Sharon Pier just north of the Bridge of Lions on the mainland side, and the Usina Boat Ramp Fishing Pier on the Intracoastal just north of Vilano Beach in North Beach. Some county and state parks also feature fishing piers: Treaty Park's pier is on the lake in the center of the park, Vaill Point Park has a pier along Moultrie Creek, and Faver-Dykes State Park offers a pier for fishing on Pellicer Creek.
A couple of St. Johns County bridges are known as great fishing spots. The May Street Bridge, located on the south side of May St. (A1A) on the east-bound approach to the Vilano Bridge, is an ideal location for inshore fishing.
South of St. Augustine, the Matanzas Inlet Bridge is a productive and popular spot, with lots of fish to be found in the Matanzas Inlet's fast-moving waters.
Inshore Fishing
Matanzas Bay and the Guana and Tolomato Rivers are among the most fertile estuarine waters in the state, which is saying a lot. The oyster beds that can be seen peeking up out of the water at low tide are a big part of that, as they are a key species for the ecosystem. By providing structure for young fish to shelter in and serving as water filtering agents to keep the habitat clean, oysters are the main reason an estuary system is called "the nursery of the sea."
But if you're out on the flats on the Matanzas, Tolomato or Guana River, watch out for the oysters. Their shells are razor-sharp, and can cut right through a flimsy shoe. Only very sturdy shoes can protect your feet, and when fishing with a canine companion, it's important to keep him or her in the boat while poling through the shallow waters of this area.
Fishing the flats can be quite exciting, whether you're fishing for trout with light tackle or sight fishing for redfish during a flood tide when the fish go right up into the grass.
There's a surprising variety of fly fishing in St. Augustine as well, including blind casting for trout and casting for schools of jacks or ladyfish. One of the most popular spots for inshore and fly fishing is Salt Run, which cuts into the northern part of Anastasia Island. This protected inlet is an ideal spot to fly fish for redfish. The adjacent Anastasia State Park provides tons of recreational resources as well, including canoe and kayak rentals.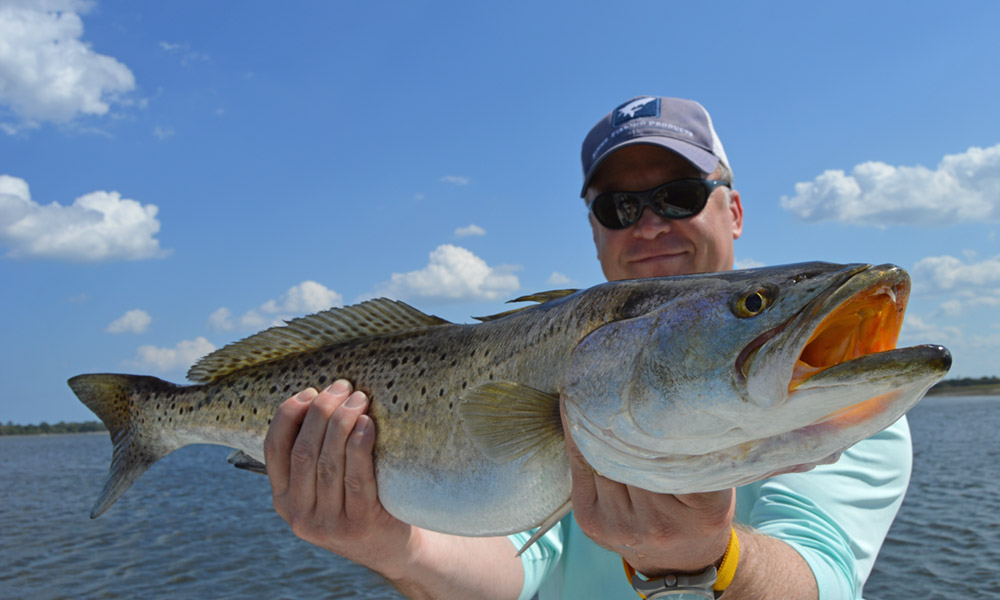 Easily accessible inshore fishing can also be found at the Guana Tolomato Matanzas Estuarine Research Reserve, which is located eight miles north of Vilano Beach. The Guana River Dam Use Area is open daily for fishing. Choose the north side of the dam for freshwater fishing or the tidal waters on the south side to fish for saltwater species. Watch the tides on the tidal side to prevent getting stranded in low-tide conditions.
St. Augustine boasts a large tarpon fishery, especially from June through September. One of the most spectacular fighting fish around, tarpon can be found just outside area inlets and in nearshore waters along the beaches. Live bait is normally used, but in the right conditions, some fishermen can catch tarpon on a lure and even on a fly.
Inshore Charters
Several charter guides are specialists in fishing the flats and creeks off the Intracoastal. They know the hot spots for trout, redfish, snook, and black drum, and they also know when they're biting and what to catch them on. Here are just a few of the many excellent fishing services in the local area.
Fishardy Charters offers private inshore and nearshore fishing charters on a 24-foot Canyon Bay boat. Captain Jacob Hardy is licensed and insured for a variety of different charters including chasing after redfish, trout, flounder, tarpon, sheepshead, or kingfish. (904) 315-4758
One of the most well-respected fishing guides in northeast Florida, Captain James Dumas of Drum Man Charters excels at light tackle fishing on the flats. Depending on the season and the weather, he may also suggest sight fishing or fly fishing, for those who wish to take that challenge! (904) 687-9498
Inshore Adventures offers charter fishing tours from St. Augustine to Palm Coast. Captain Tommy Derringer is a staff writer for Coastal Angler, a redfish tour professional, and an all-round expert in inshore and nearshore fishing. Visit his website and blog here for some great information on fishing in general as well as the daily fishing report. (904) 377-3734
Canoe and Kayak Fishing
The wealth of shallow-water fishing opportunities has made St. Augustine a popular destination for kayak fishing. This wonderfully peaceful and noise-free activity offers a genuine experience in the natural world. Fishing from a kayak can open up new opportunities as well since the kayak can go into the nooks and crannies that other boats can't reach.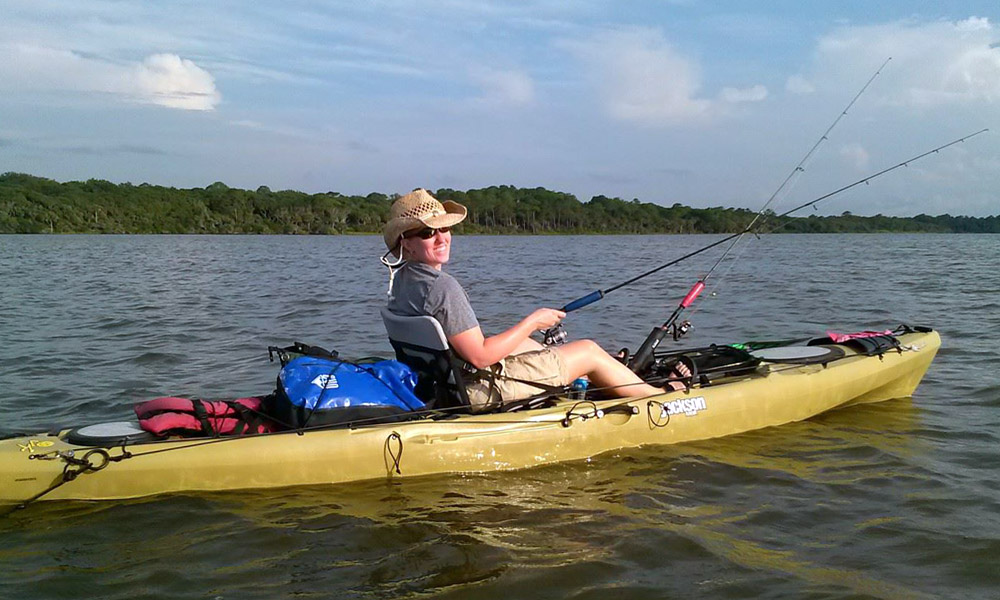 Canoes and kayaks are available for rent from several outfitters around the city (see list of rentals below). Artificial lures and a spinning rod are all a vacationing fisherman needs to bring to be able to hunt redfish like a pro.
At the Guana Tolomato Matanzas Reserve, canoe and kayaks can be rented through Ripple Effects Eco Tours, who also provide guided fishing tours in the Ponte Vedra location as well as the south portion of the Reserve in Marineland. (904) 347-1565
Kayak rentals, lessons and eco and fishing tours of all kinds are available at Kayak St. Augustine located on Salt Run. (904) 315-8442
Native Floridian and Master Naturalist Bart Swab leads his Action Kayak Adventures charters throughout the Intracoastal waters. All the essentials are included on these tours, which can be tailor-made to suit individual skills or adventure level desired. (904) 325-0344
Bring Your Own Boat …
Serious anglers who bring their boats can find a complete list of all St. Johns County boat ramps. Some of the more popular ramps are listed on the map below.
… Or Rent One
If you'd rather rent a boat while you're here, you have many choices throughout the St. Augustine area. Powerboats both large and small, skiffs, canoes, and kayaks are available for rent at local outfitters and marinas. Here's a sampling of some of the best:
A variety of rentals—boats, canoes, single and double kayaks, and fishing tackle—are available at Genung's Fish Camp in Crescent Beach. They also offer boat storage and a bait shop on site. The camp is located about 15 miles south of downtown St. Augustine on the Matanzas River. (904) 471-4144
A favorite place to stay for visiting fishermen, Devil's Elbow Fishing Resort also offers charters and boat rentals, and has a bait shop on property as well. Vacationers can rent skiffs for nosing around in the shallows, pontoon boats for larger groups, and kayaks for nature lovers and kayak fishermen. (904) 471-0398
Located at Camachee Cove Yacht Harbor, Bay Ray Rentals has the largest selection of pontoon boats, deck boats, and fishing boats in the area. They also offer fishing charters, both inshore and offshore. (904) 826-0010
Surf Fishing
Surf fishing requires different equipment and a strong arm to get the cast out beyond the breakers. But with a little knowledge of what's running at that time of year and what bait and rigs to use to catch it, surf fishing can be extremely productive and a whole lot of fun.
A popular spot for knowledgeable surfcasters is around the inlet at Vilano Beach, especially in the area from the jetty on the Atlantic side west to Porpoise Point. (It's best to avoid fishing from the jetty itself — the footing is dangerous and the rocks can be unstable.)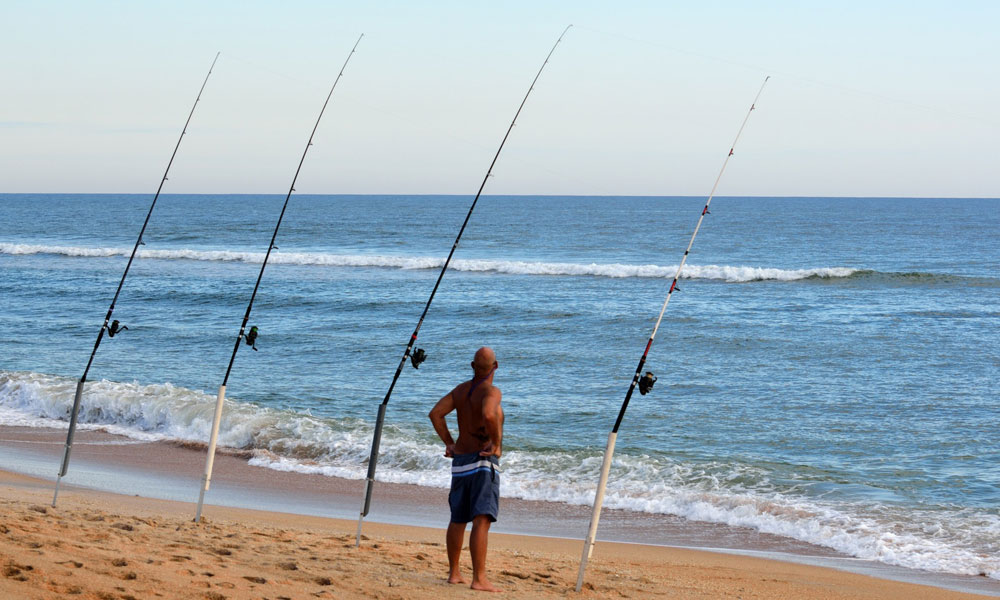 From the pristine beaches of the Guana Tolomato Matanzas Reserve in Ponte Vedra to Anastasia State Park, St. Augustine Beach and south to Crescent Beach, surfcasters will find rich opportunities to catch drum, whiting, pompano and more.
Local bait shops can help visitors decide if it's is a good time to try something new, and some offer surf fishing equipment rentals as well.
St. Augustine Bait and Tackle Shops
In addition to the bait shops located at Devil's Elbow Resort and Genung's Fish Camp listed above, many marinas offer bait and tackle, and there are a couple of retail locations that specialize in fishing services as well.
The Bait Shack at the Vilano Boat Ramp is well stocked with a wide range of live and frozen bait, tackle, and great advice. The Shack is run by Elaine Mussallem, who is very active in the local fishing community. (904) 217-3486
The Avid Angler, at 3101 N. Ponce Blvd. (U.S. 1) offers all tackle needs (rods, reels, hooks, lures, and line), an assortment of live bait and fresh shrimp as well as some good local information. Harry's Curb Market at 201 State Road 16, just west of U.S. 1, usually has live crabs, frozen clams, and dead shrimp. (904) 829-9136
Bob's Bait and Tackle is also on U.S. 1, but farther south, at State Road 206. Close to the Matanzas Inlet, this shop offers fresh and live shrimp and other baits as well. (904) 794-7501
Offshore Fishing
Nearshore and offshore fishing are done in waters between 20 and 100 feet deep, usually 10 to 30 miles offshore in the Atlantic. The nearshore reefs and ledges (including shipwrecks!) nurture a variety of snapper and grouper species year-round, with cobia, amberjack, and black sea bass plentiful depending on the season.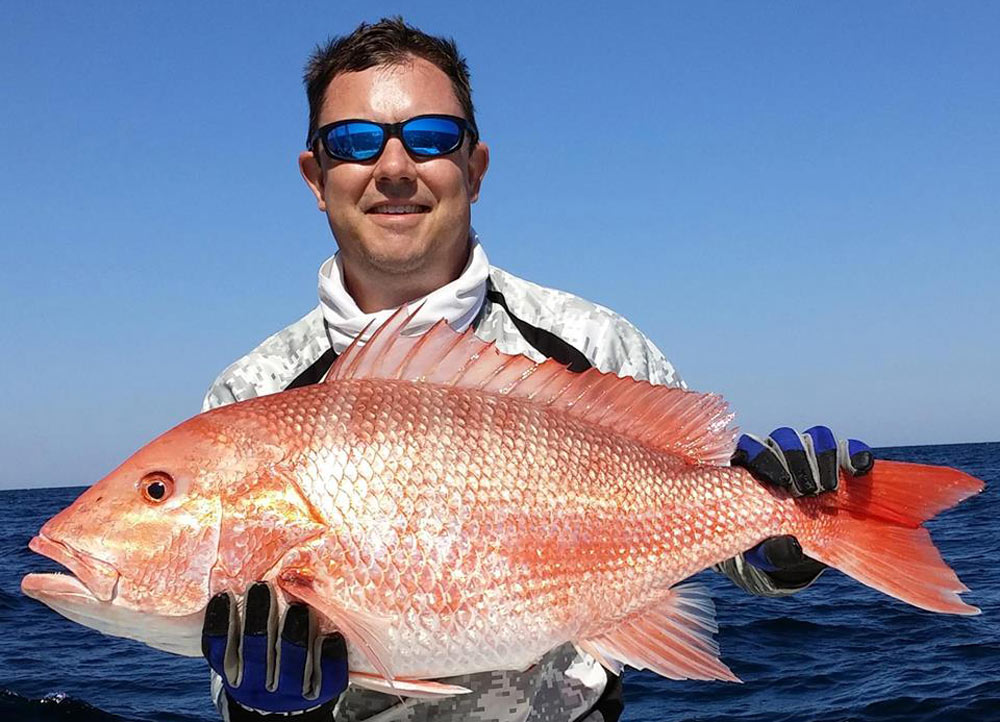 Farther out, fishermen will find more trolling action, especially in the spring, as pelagic species such as blackfin tuna, wahoo, mahi mahi, kingfish, and sailfish come through this area when they migrate.
Game fish such as king mackerel and tarpon are plentiful in the Atlantic waters along the northeast Florida coast, especially in the summer. A couple of significant billfish and game fish tournaments take place in St. Augustine every year, with two big ones in the summer — the Annual Bluewater Tournament at Camachee Cove in late April or early May and the Ancient City Game Fish Challenge in July, also based in Camachee Cove. (For a complete list of both saltwater and freshwater fishing tournaments in the northeast Florida area, visit here.)
For visitors who'd like to try offshore fishing, a professional guide is really a must. Charter fishing captains provide everything, from the boat itself to all the fishing equipment, including bait, and, most importantly, the expertise. It's all in the details—at what speed to troll, whether to use live or artificial bait, what weights to use to keep the lure at the desired depth, and much more—only experience can provide that knowledge.
Offshore Fishing Charters
Here are just a few of the many fine offshore fishing charters in St. Augustine. For a complete list of charters and all things fishing, visit here.
Sea Love Charters offers full and half-day charters, departing daily from the Cat's Paw Marina. Of their three vessels, the largest can accommodate up to 67 passengers. They specialize in Gulf Stream trolling, where guests can catch anything from snapper to wahoo, cobia, amberjack or billfish. (904) 824-3328
Jodie Lynn Sport Fishing Charters' Captain Robert Johnson has more than 30 years of experience in offshore and deep-sea fishing. He and his wife, Jodie Lynn, have been in the fishing charter business since 1990, offering charters for family fishing as well as several options for groups, including overnight trips, all departing from the Conch House Marina. (904) 794-2628
Based at the Camachee Cove Yacht Harbor, Channel Master Sport Fishing Charters specialize in sport fish such as sailfish, king mackerel, and marlin. (904) 825-1968
With three large vessels departing from the Conch House Marina in St. Augustine Beach and expert fishing guides at the helm, Endless Summer Charters offers tours geared for everyone from beginners to experienced anglers. (904) 814-4138
Cooking Your Catch
Once you've caught them, here are a couple of great ways to cook them:
Broiled Fish with Herb Sauce
4 fish filets
1 tablespoon lemon juice
1 teaspoon chopped parsley
¼ teaspoon each of marjoram, savory, basil, thyme and rosemary.
2 teaspoons butter
½ cup water
Melt butter with 2 tablespoons water and lemon juice. Place fish fillets flesh side up on rack of broiling pan so they will be four inches from heat and baste them with butter lemon sauce. Cook 15 minutes, basting every 5 minutes.
Remove fish from broiler, cover to keep hot. Scrape particles clinging to rack into liquid in pan below. Place pan on medium heat on top of the stove and add ½ cup water and herbs. Simmer at low heat for 2 minutes. If desired, thicken sauce with ¼ teaspoon cornstarch dissolved in a little water. Serve sauce on top of fish fillets.
Red Snapper Floridian
2 pounds of red snapper filets cut into serving-size pieces
3 tablespoons butter or oil
2 tablespoons orange juice
2 tablespoons grated orange rind
1 teaspoon salt
Dash of pepper
Dash of nutmeg
Preheat over to 350 degrees. Place red snapper pieces skin-side down in single layer in a well-greased baking dish. Melt the butter or oil and mix with orange juice, orange rind, and seasonings. Pour over fish.
Bake for 25 to 30 minutes or until fish flakes easily when tested with a fork. Garnish with watercress and orange slices.
Cover photo courtesy of Florida's Historic Coast.
This article has been updated in July 2023.