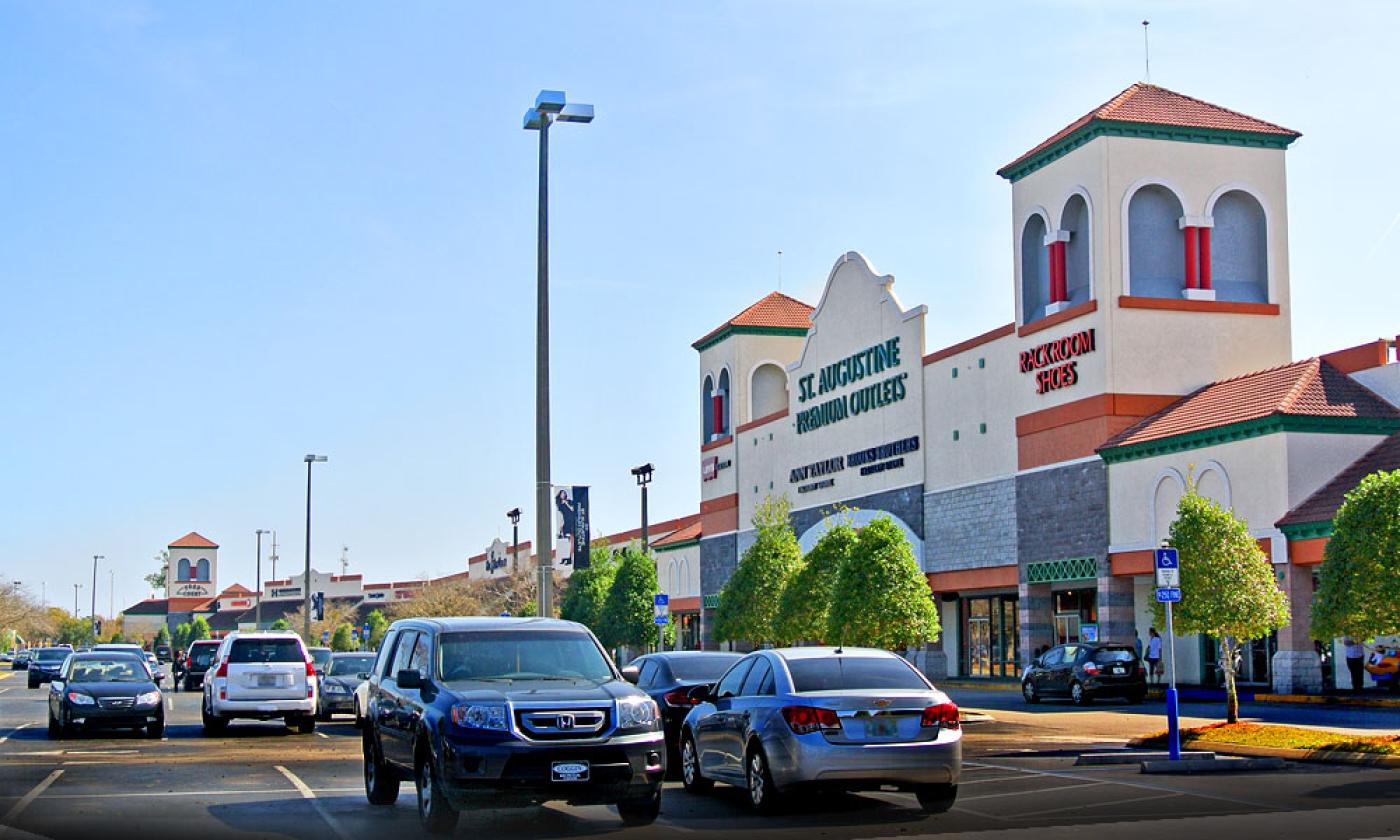 Fill Your Shopping Bag at the Outlets
All you need to know about the St. Augustine Premium Outlets.
What are the Outlets?
The St. Augustine Premium Outlets are where visitors and locals go to buy name brand products in an entire store dedicated to sales, discounts, and clearance prices. It's like a giant "Sale" section for all the places you love to shop. The Premium Outlets are an outdoor shopping strip with a variety of stores. Unlike a mall, which usually only attracts locals, the outlets are much bigger and attract a wider demographic. Visitors to the outlets include St. Augustine locals and vacationers, folks passing through on their way to Disney or back, and even people from across the state. I've heard of people that drive from as far as Tallahassee just to enjoy the deals at the outlets for a day, while others will regularly make the 45-minute commute from Jacksonville.
The Outlets vs. the Regular Stores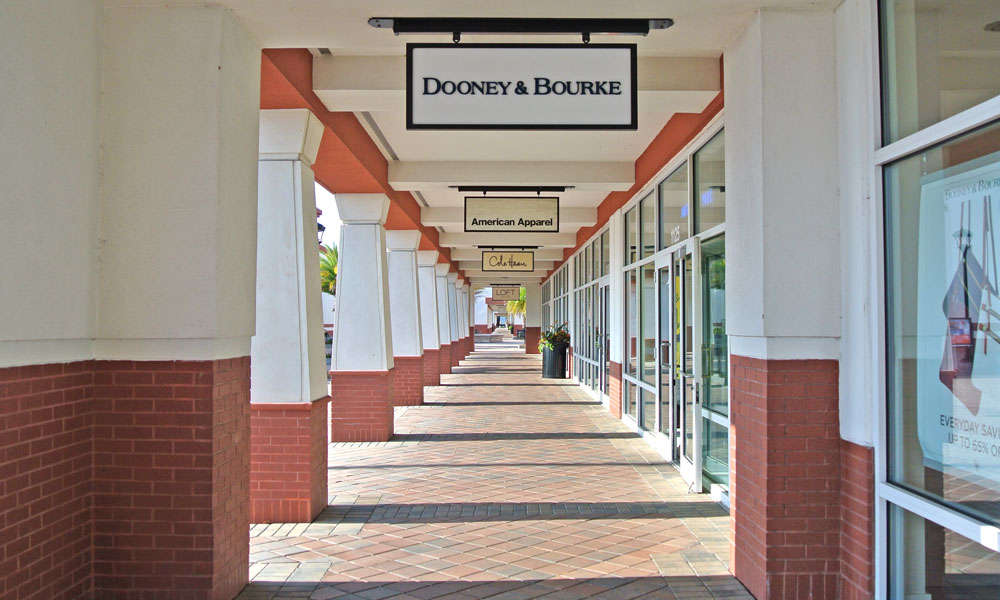 What makes an outlet different from a regular store? Not much. For one, most of the items in outlets are made in the same space that the regular store's items are made. The only difference is that some items are made specifically for the outlets. For example, J. Crew Factory is an outlet line for the J. Crew brand. It's made by the same company, in the same spaces as J. Crew. The only difference is that the prices will be marked down. So if you want to sport a high-end label and save money while doing it, the outlets are the place to accomplish it.
Outlets are also where inline items are sent to die. (Okay, that's putting it a little harshly, but anything that is left after clearance is usually sent to the outlets). That's what makes outlet shopping so awesome. It's the equivalent to a clearance section that takes up an entire store. Sometimes, outlets have their own clearance section, which is usually located where two universes melt into each other.
If it's at the Outlets, is it an Outlet?
Not necessarily. Some stores are just the inline store, and some are independent businesses that operate from a single location that happens to be at the Outlets. When in doubt, ask a manager or a store associate whether their shop is an outlet or not.
Major Outlet Stores (as determined by Alex and Alex alone)
In the Premium Outlets, I consider some of the "majors" to be Aeropostale, American Eagle Outfitters, Banana Republic Factory Store, Coach, Polo Ralph Lauren, and White House Black Market. Clicking on the link for the St. Augustine Premium Outlets will let you see which of your major outlet favorites are there.
Parking at the Outlets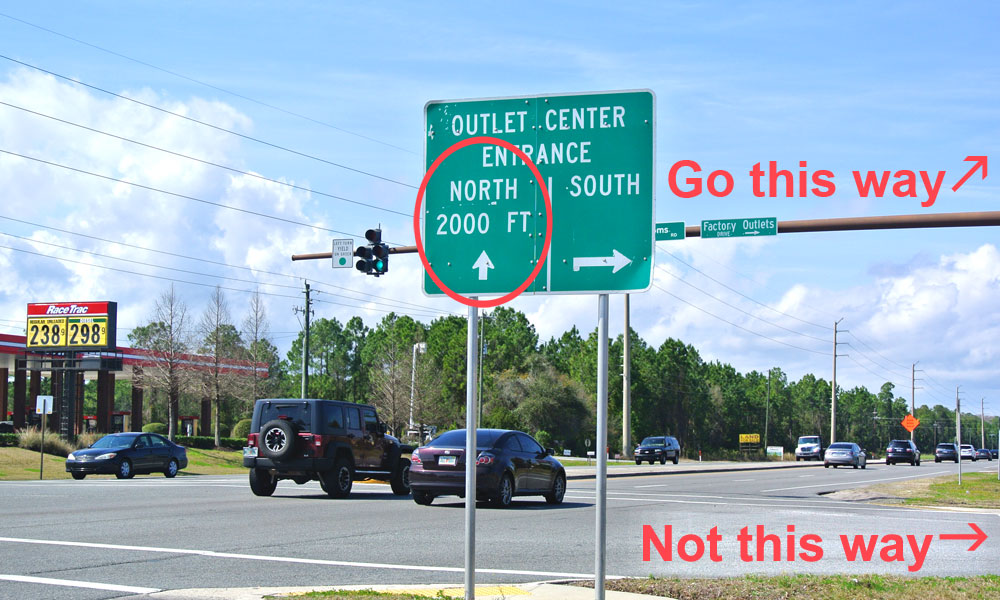 Parking at the outlets can be a little more difficult during the holidays or on weekends. There is parking all along the front of the shopping strip at the Premium Outlets. What some people may not know is that if you keep driving past the first entrance to the Premium Outlets from I-95, there's a back entrance that takes you to the end where the Adidas and Nike stores are. It's a secret path that is unbeknownst (how often do I get to use THAT word) to the average shopper.
Dining at the Outlets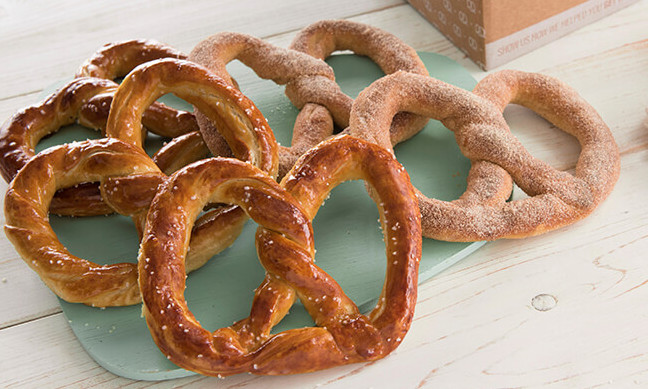 Auntie Anne's Salty and Sweet Pretzels
When in doubt, always head to the center or middle of a mall if you're in search of food. The Premium Outlets have a food court at the heart of their operations. Halfway down the strip at the Premium Outlets, there's an indoor hall with several different food stands to choose from such as Auntie Anne's Pretzels and Smoothies, Colossal Dogs and Burgers, and Rufino's Pizza, if you're really hungry. 
Restroom Locations
Finding the restrooms may be a bit tricky, as they tend to be hidden behind closed doors with little signage. But just as the food courts are always found at the heart of an outlet spread, so are the restrooms. After all, where there is a large cup of Coca-cola, there are people who need to use the restroom very badly.
Biggest Outlet Shopping Days
Black Friday
The Outlets are the ones who invented the idea of opening up at midnight after Thanksgiving Day (not really, but they certainly make it worthwhile for shoppers). All the stores put forward their best sales and promotions, and some even include a free gift with purchase.
Memorial Day Weekend (Weekend before the Last Monday of May)
A day to honor the fallen, this weekend is an American holiday where many escape the stresses and rigors of day-to-day life in order to celebrate our freedom won by those who have fought and died for our prosperity.
Tax-Free Weekend (First Weekend in August)
Practically an official holiday for Florida shoppers, people can get their best prices on clothes and shoes, minus the sales tax, on clothes up to $100. This is to ease back-to-school shopping for Florida families.
Labor Day Weekend (Weekend before First Monday in September)
What better way to take a break from labor than by spending hours on end walking through stores? Okay, so maybe it's not everybody's cup of tea, but let's not pretend that it isn't a constant struggle to avoid online shopping while we're at work (we all do it). All day while we're working, we're dreaming of spending that moolah, and Labor Day is the day to do it without remorse. We've worked hard, and it's good to reward that work once a year.
What's in Store for the Outlets?
No pun intended, but along with having some solid stores that have been around and continue to be around, there's always new places coming and going. Some major players will stay, while others will leave, and then more major players will come to replace them.
Places to Stay at the Outlets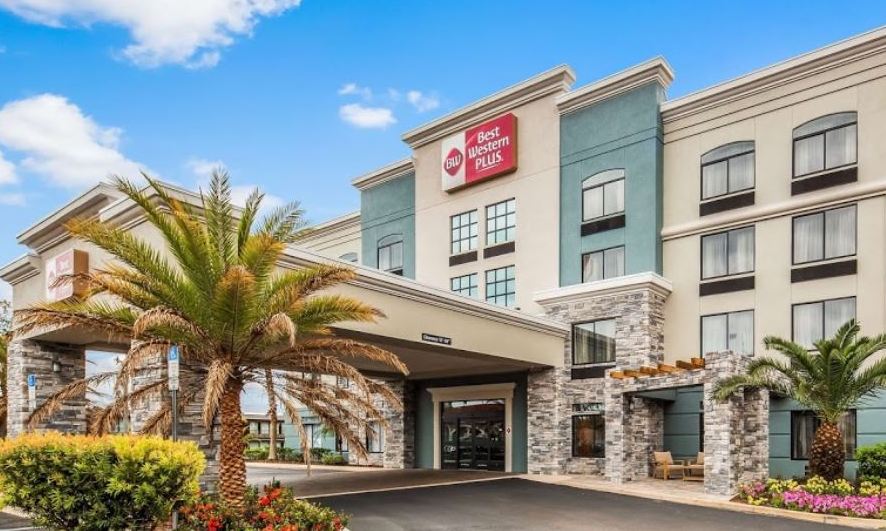 The Best Western Plus Hotel.
There are a ton of great hotels near the outlets for visitors. The hotels tend to be more economic (since they're not located downtown), but are still just a ten-minute drive from the attractions. They're also close to the interstate if you're looking to travel to nearby areas, such as Jacksonville, Daytona Beach, or Orlando.
Best Western Plus: Business travelers will appreciate the various meeting rooms and technology services to accommodate them, with the nearby outlets providing plenty of places to shop for business attire: ties, belts, shoes, suits, handbags—the works.
Comfort Inn & Suites: Guests can get comfortable and soak their feet in the pool after an arduous day of browsing and shopping.
Fairfield Inn & Suites: Located right next to the outlets, these accommodations make a quick shopping trip easy.