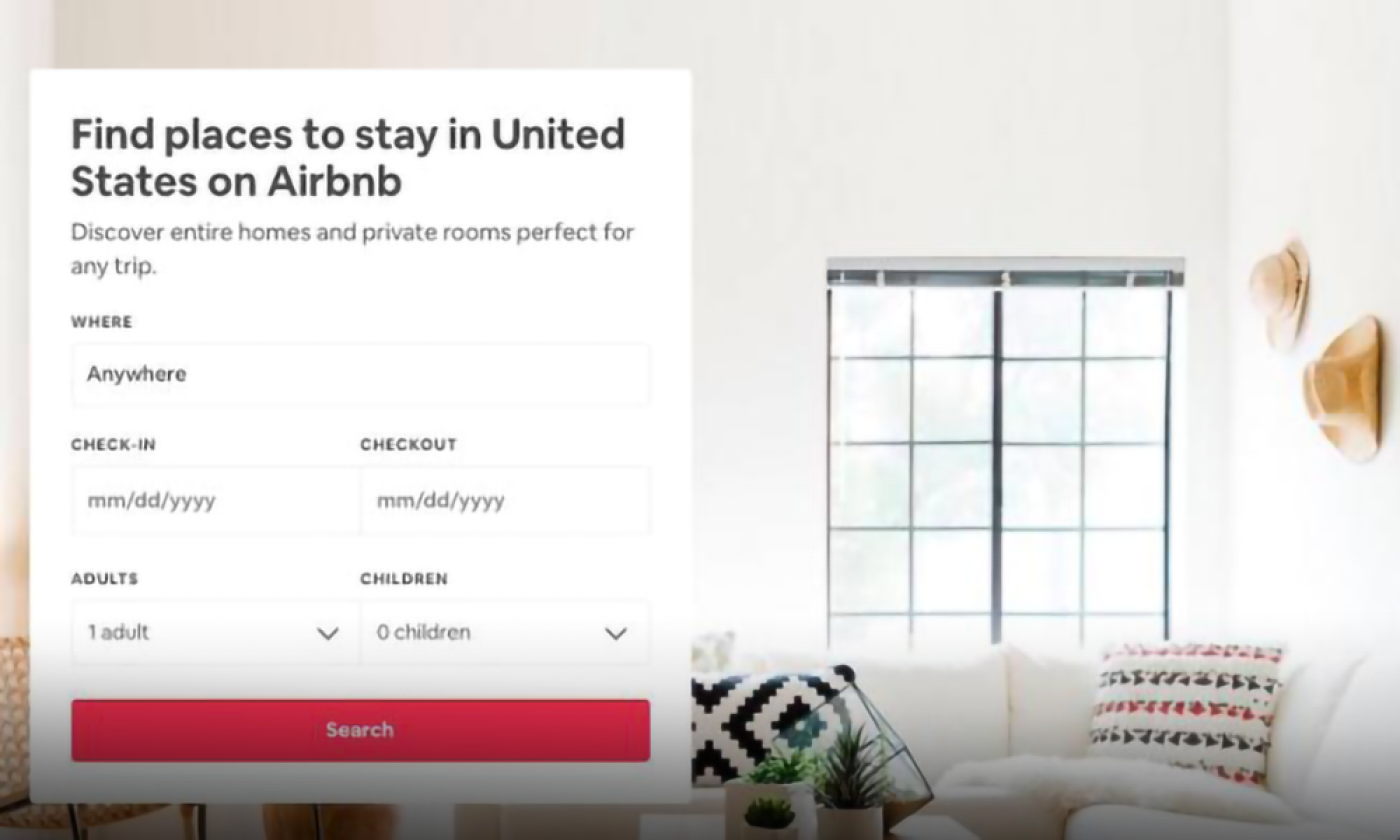 Ultimate Guide to Airbnb Stays
Everything you will need to know about booking an Airbnb stay in St. Augustine.
Are you looking to spend time vacationing as a local? Do you want to experience St. Augustine from a new perspective? Have you been considering using Airbnb but you are not sure how? Here is a step-by-step guide on how to use Airbnb and explore all the lovely homes in the area.
Let's begin
The first thing I recommend doing is getting familiar with Airbnb's website. You do not need to have an account in order to explore and learn about all the features offered. Whether you are seeking a place to stay or an experience, both are available on the site.
Start your search
Use the search bar to select the location you would like to visit. Airbnb has several types of listings: Plus, Superhost, Instant Book, and Traditional.
A Plus listing means that it has been verified for having exceptional quality and design.
A Superhost listing means that the host has had at least 10 customers a year, has a 90% response rate or higher, above an 80% 5-star rating, and has a low host cancellation rate.
Instant Bookings are listings that bypass asking the host for approval before booking, therefore the property is booked immediately.
Traditional booking is when the host has to approve the reservation before it can be confirmed; there is a 24-hour period for approval.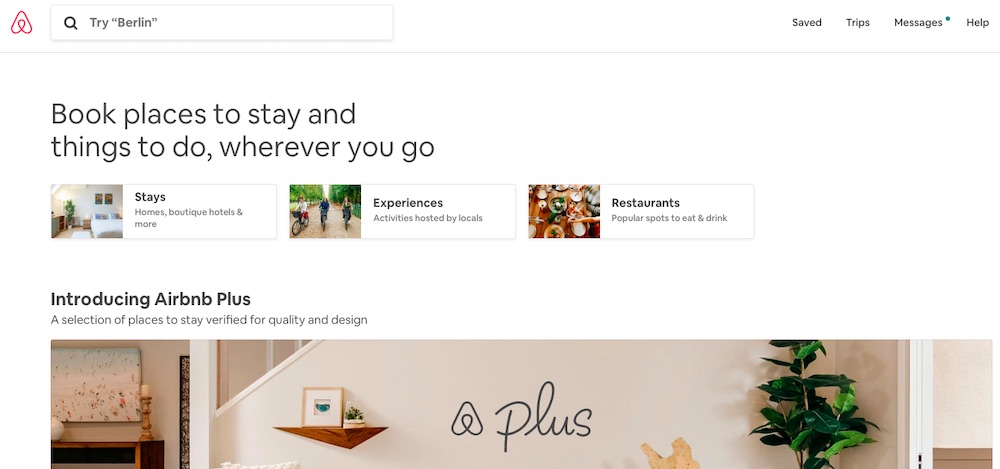 Search filters
Narrow down your search to find the perfect accommodation for your stay. Start with the basic filters -- your available dates, your price range, and the type of place you'd like. It's important to find a listing that suits your travel dates, your budget, and your travel style. Some hosts have a minimum number of nights required and additional cleaning fees, so make sure you check for those before booking.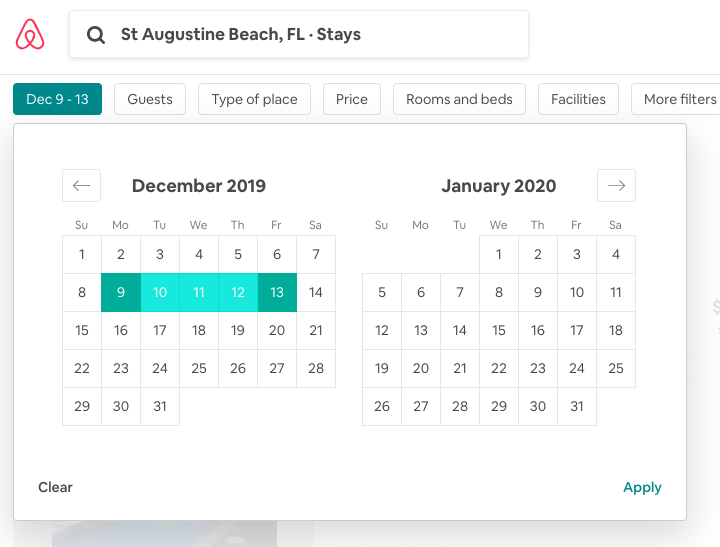 Searching by available dates.
Airbnb can be very affordable in comparison to other lodging options, and sometimes it can be very luxurious. It's important to set the right nightly price for your budget and desires: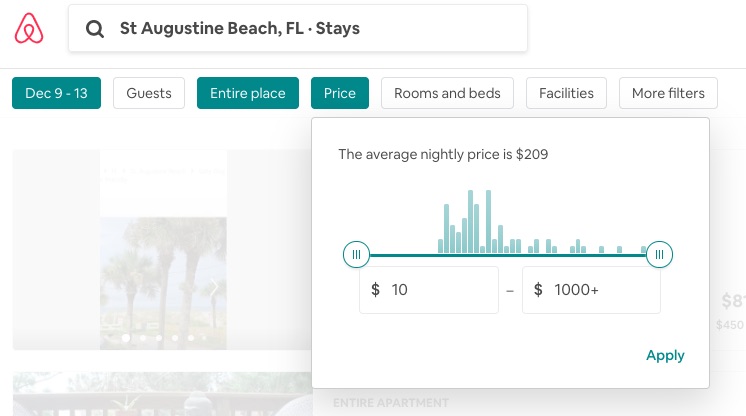 Searching by price range.
There are several home types on Airbnb that can lead to a range of interactions between guests and their hosts. You can control the amount of interaction by filtering home listings by entire place, private room, hotel room, or shared space.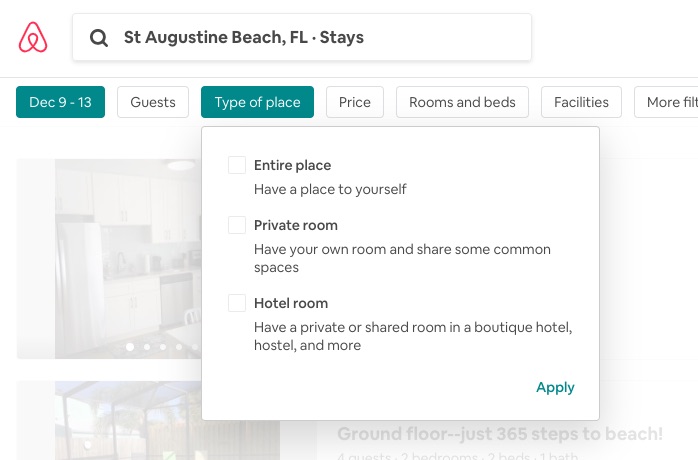 Searching by type of place.
Research listings
The photos are what will draw you in. Browse all the posted photos to get a better feel for the place and what it might be like to stay there.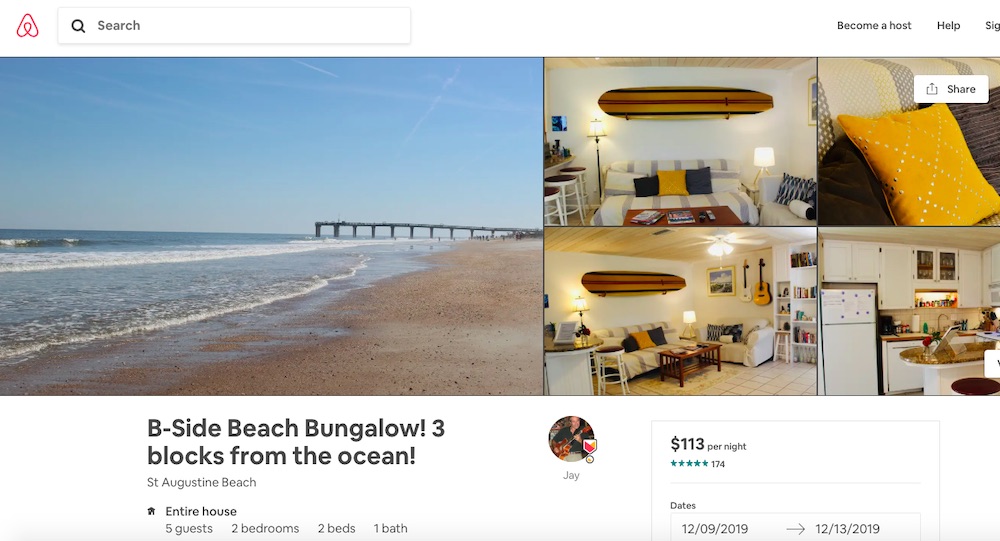 A picture of a local Airbnb listing.
After reviewing all the photos, look at the listing overview. There you can find a host summary, the listing description, and other detailed information.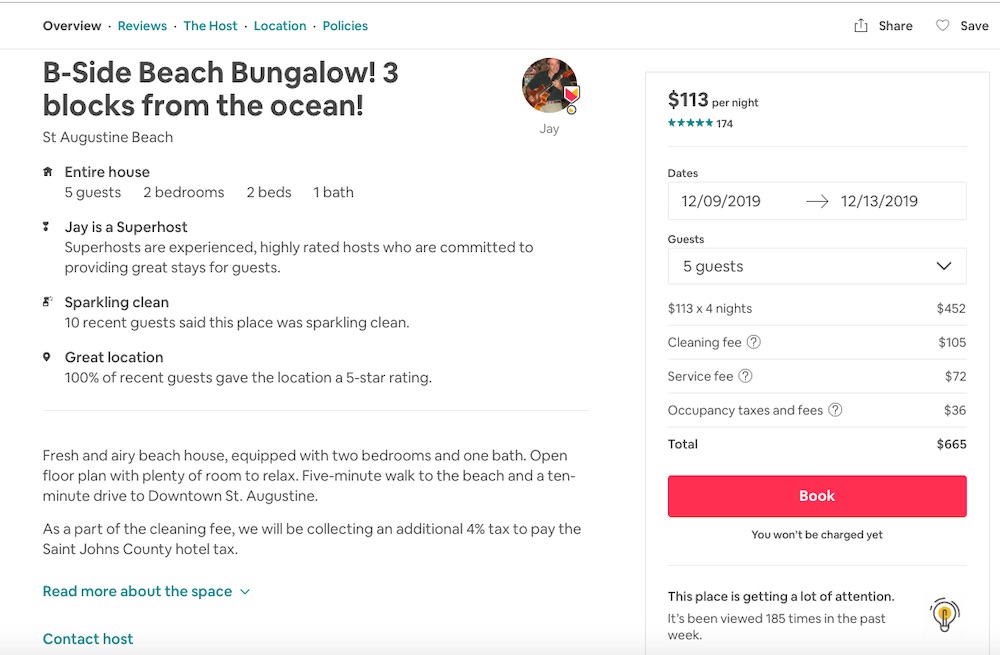 Airbnb host overview.
Guest amenities are also listed here. Amenities can include WIFI, kitchen, cable TV, dryer, smoke detector, and more.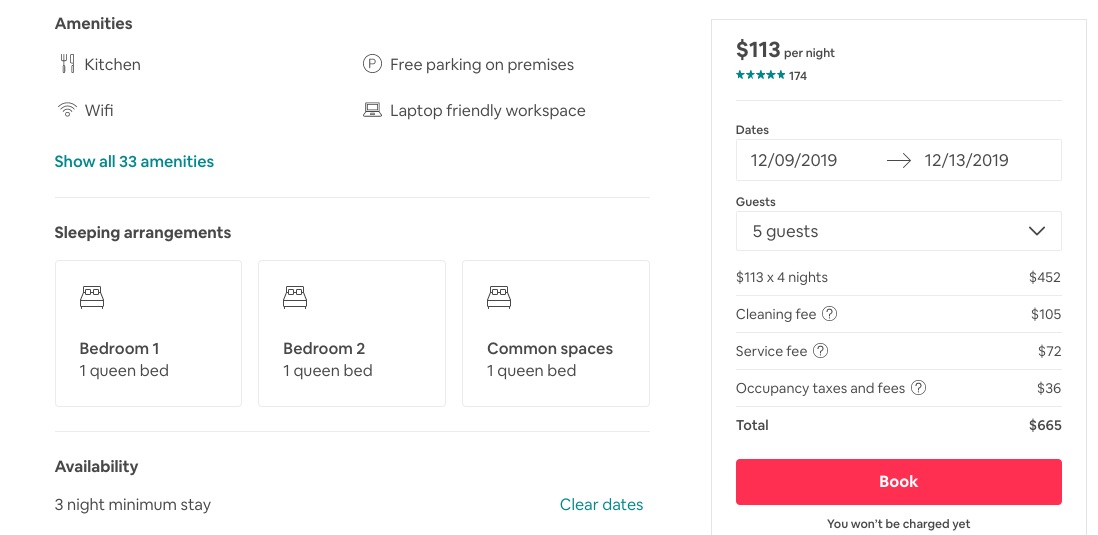 Summary of the amenities offered at this listing.
Another important factor to consider before booking a listing is reviews from other guests. Airbnb allows guests and hosts to give each other star ratings and feedback. Continue reading to learn more about the review process.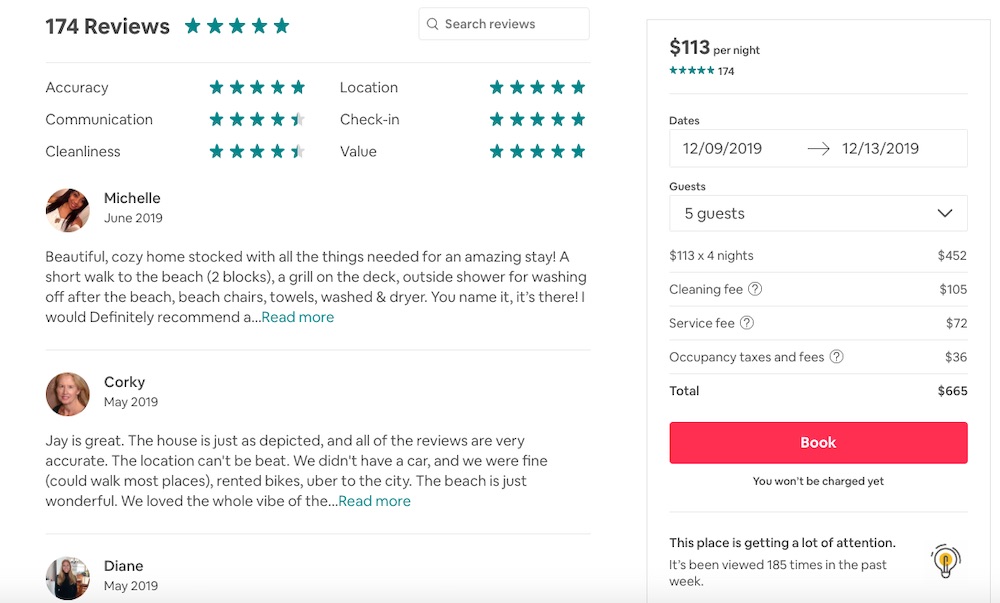 Overview of previous guest's reviews.
Messaging host
Once you decide which place you would prefer, it's nice to message the host and introduce yourself. After all, you'll be staying in someone's home, so it's always polite to say hello and let them know what your intentions are during your stay. Hosts can be very helpful when it comes to trip suggestions and local tips. Upon reservation approval, make sure to ask your host about their check-in procedure, whether they have a lockbox or escort, where to park, and if there is anything additional that you should be aware of during your stay.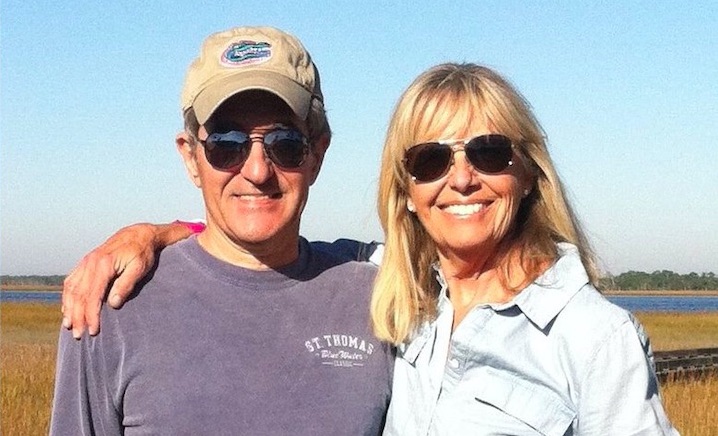 Local Airbnb hosts.
During your stay
Once you get settled in, enjoy your beautiful rental and feel at home as a visitor! If any questions or issues arise during your trip, make sure to notify your host via message, email, and/or phone so they are able to address your needs. They want you to enjoy your stay in their home and city, so keep all forms of communication open in order to have the best stay possible. Remember that you are staying in an Airbnb and not a hotel, which means you are interacting with people, not companies, and each home is unique. Make sure you communicate any concerns in a reasonable and timely fashion.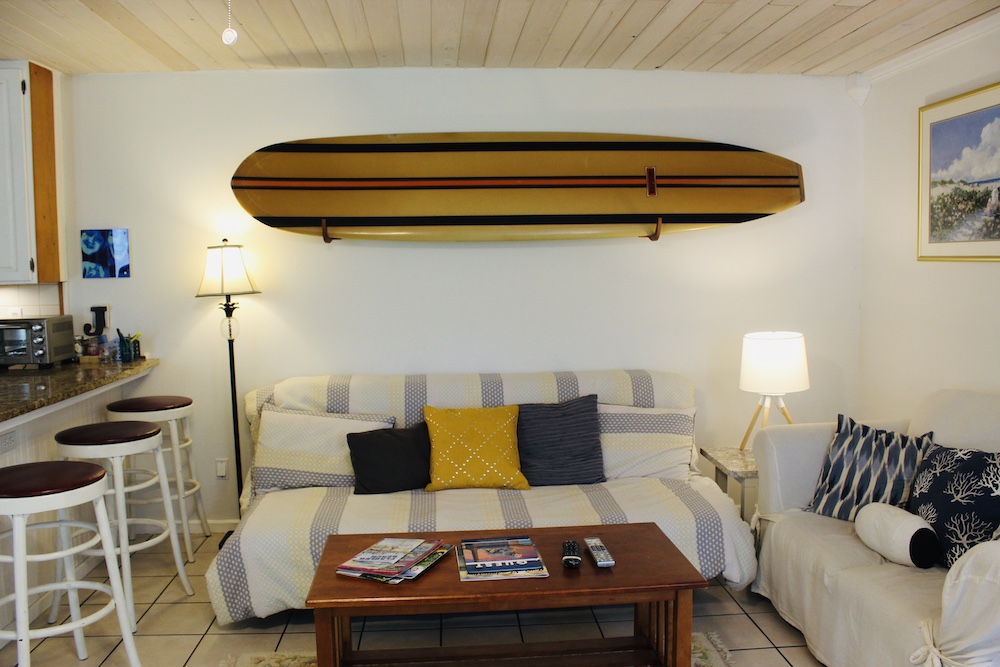 A picture of the B-Side Beach Bungalow listing.
Check out
As you reach the end of your stay, follow up with your host about any check-out procedures. Each host is unique, and has their own expectations; some hosts do their own cleaning, some have professional cleaners, and some might even have guests coming as you're leaving. Before leaving, do your best to look around and make sure that you don't leave anything behind as nothing is worse than losing your favorite things.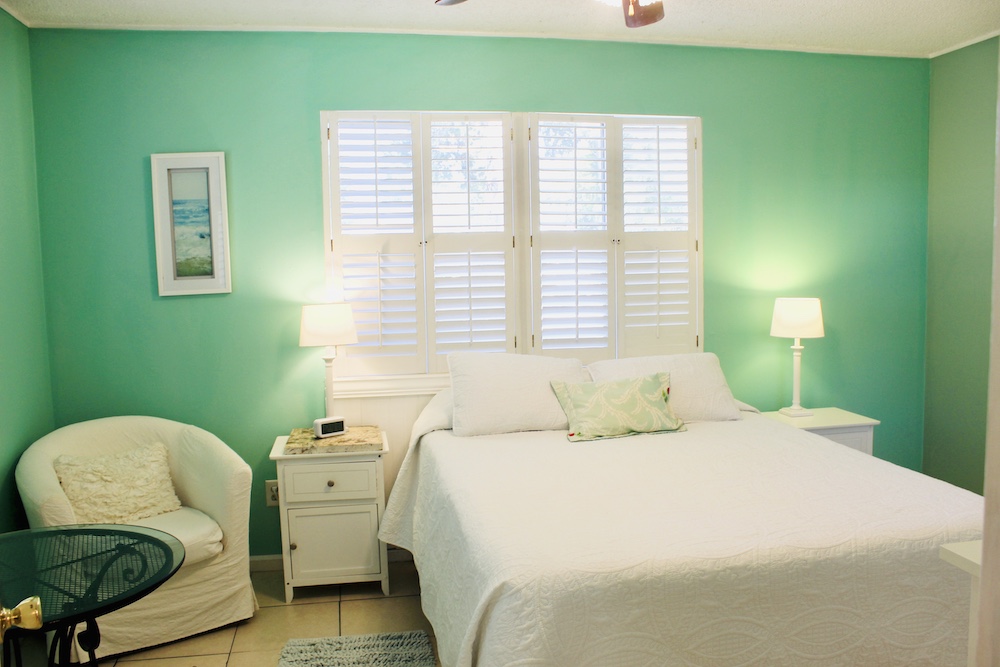 Master bedroom in the B-Side Beach Bungalow listing.
Reviews
Rate your host! Hosts and guests rate one another after their trips so they can provide information to the Airbnb community about one another. In your reviews let your host know how your experience was. Any information is helpful! This is a perfect time to tell your host in the private feedback section anything you might change or update to improve future guests' experience.
Suggested Neighborhoods for Your Airbnb Experience
Historic District
For travelers looking to be in the heart of St. Augustine and to fully experience the history and charm of the nation's oldest city, the historic district is the ideal region. Spanish-inspired buildings, complete with balconies, gardens, and cozy corners, can be found all over historic downtown. Almost anywhere you stay, there will be excellent restaurants, live music, museums, and attractions nearby. Driving can be somewhat difficult at times because of the horse-drawn carriages, pedestrians, and lack of available parking. So either keep your car at your rental or park it in the Historic Downtown Parking Facility and start roaming the brick streets.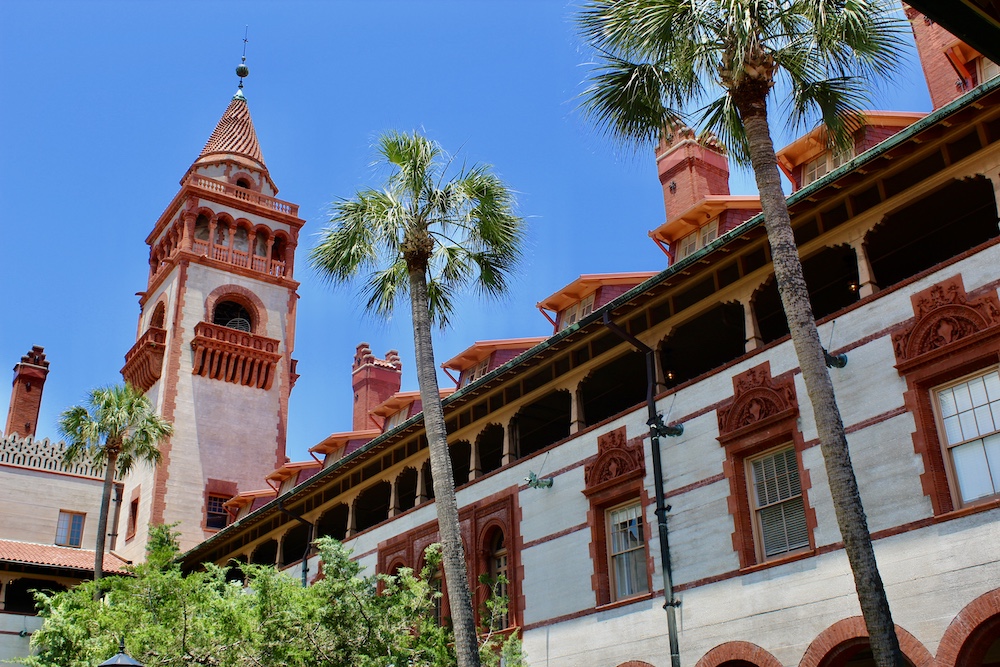 Flagler College is located in historic downtown St. Augustine.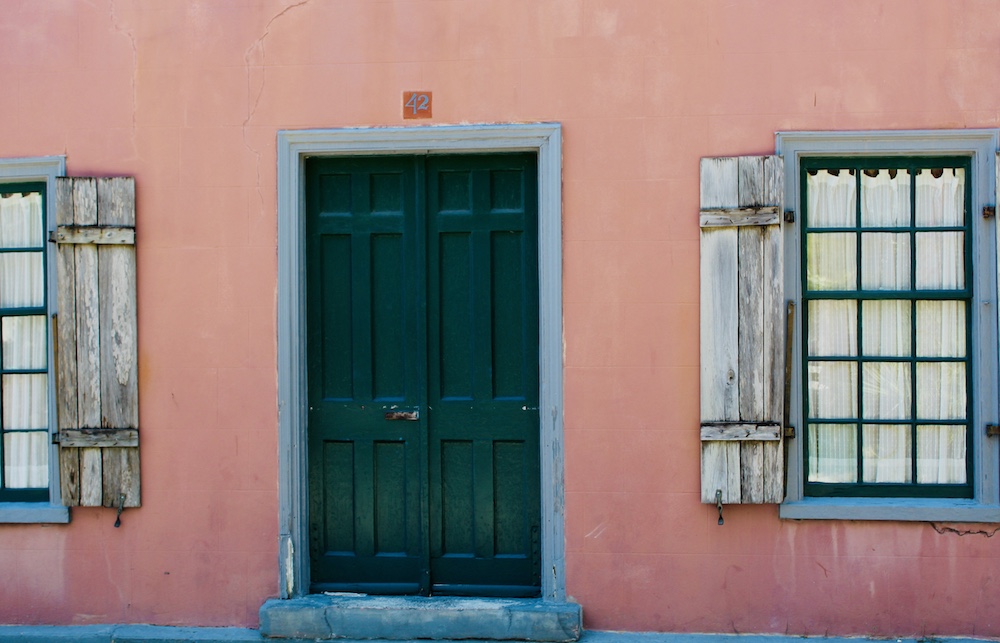 A Spanish style building located on Charlotte's Street.
Vilano Beach
This small beach community that faces the ocean on one side and downtown on the other, is a charming surprise with tiled fountains and a retro Art Deco look. From the Vilano Fishing Pier there are several views of the Castillo De San Marcos, city skyline, and the Bridge of Lions. Once in Vilano you will find a number of excellent restaurants spanning from the ocean to the intracoastal. Heading north on A1A from Vilano Beach will take you to the more secluded beach access points of the Guana Tolomato Reserve, and eventually into Ponte Vedra Beach.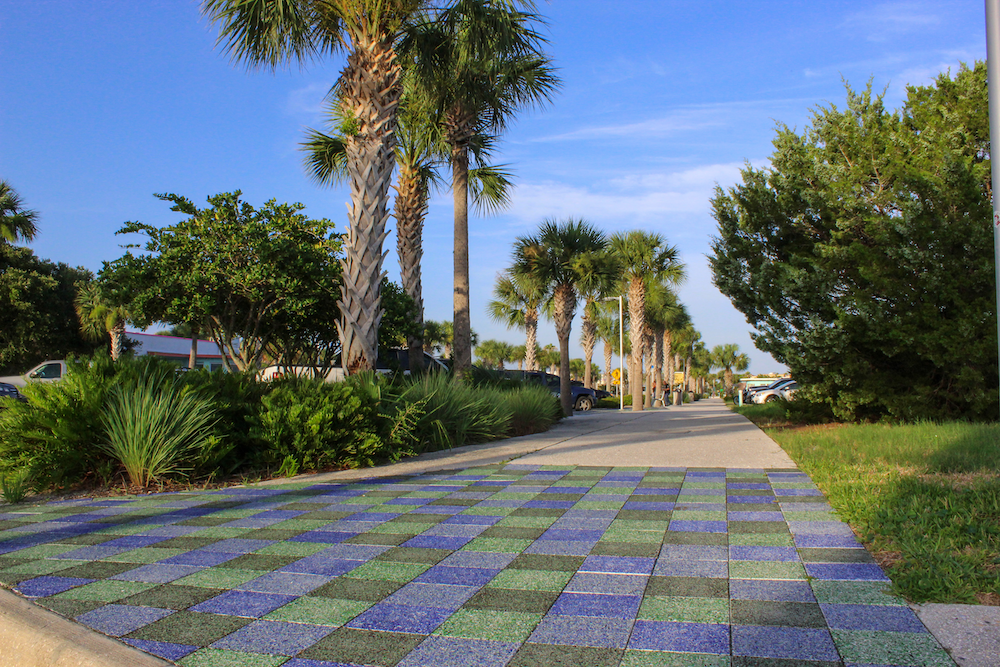 Art Deco sidewalk in Vilano Beach.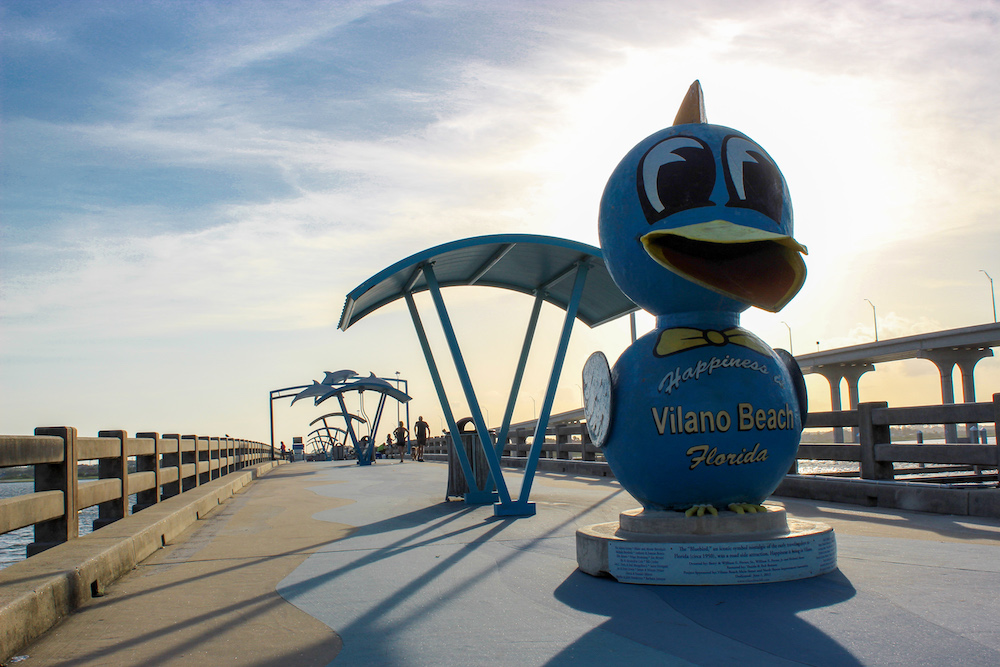 The Vilano Beach Fishing Pier with the famous blue bird.
St. Augustine Beach
This is where you'll find real beach culture, with plenty of activity throughout the day and into the night. It's the land of flip flops and sandy-floored restaurants and bars. Surfers love it here. It's less than ten minutes away from St. Augustine's historic district, and makes for an ideal summer getaway. There's a Splash Park for the kids at the St. Johns County Ocean Pier, and special events regularly occur here throughout the year.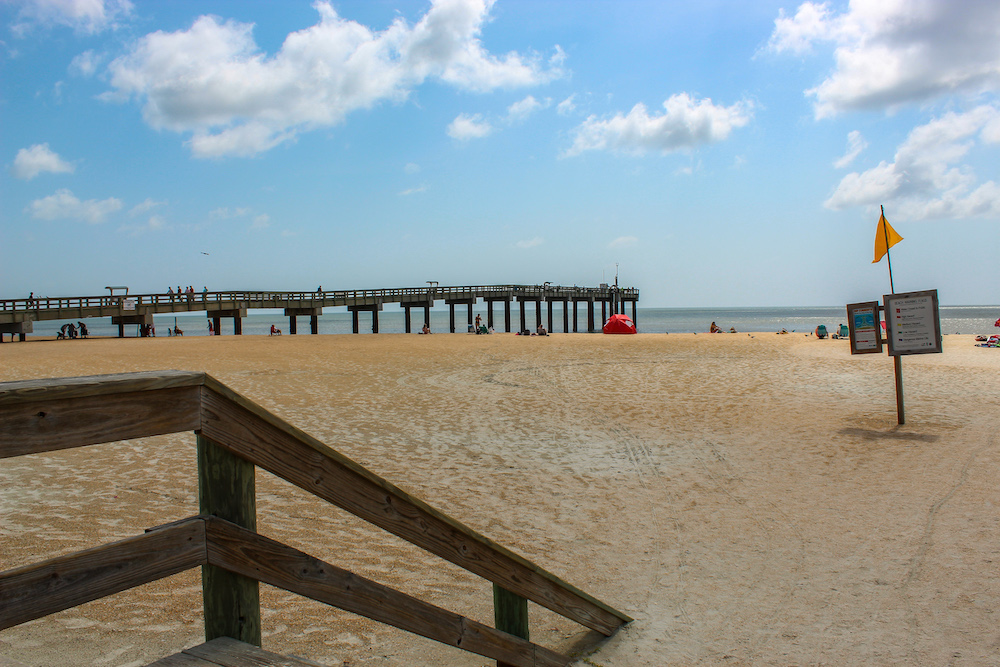 The St. Johns County Ocean Pier in St. Augustine Beach.
The Splash Park at the Pier in St. Augustine Beach.