Aunt Kate's
612 Euclid Avenue, St. Augustine, 32084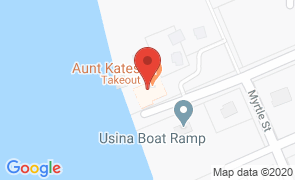 Hours
of Operation
Sun - Sat:
11:00 am - 9:30 pm

Aunt Kate's is a popular seafood restaurant located on the banks of the Tolomato River in St. Augustine, Florida. Continuing a hundred-year tradition of the Usina Family in St. Augustine, Aunt Kate's provides fresh local seafood dishes — many with traditional Minorcan flavors.

Sited in a grove of live oaks, guests can dine on the outside decks under the trees, inside in either the main dining room, at the Victory bar.  Specializing in seafood, this restaurant offers a varied menu that includes steamed oysters, peel 'n eat shrimp, fresh salad, great soups, terrific steak, and blackened chicken. Make sure you try one of their Minorcan specialties such as the traditional rice dish of Pilau (pronounced Perlo) and Minorcan Clam Chowder.

This is one of the few restaurants in St. Augustine accessible by boat. Boaters can tie up at Aunt Kate's floating dock for lunch or dinner.  By car, Aunt Kate's is located near Vilano Beach, inside North Beach Camping Resort. Happy hour is from 5:00 to 6:00 p.m. in the bar.
Things to Do
Near Aunt Kate's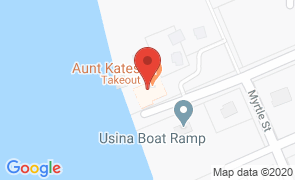 Aunt Kate's
612 Euclid Avenue, St. Augustine, 32084
Hours
of Operation
Sun - Sat:
11:00 am - 9:30 pm