Ben and Jerry's
128 St. George Street, St. Augustine, 32084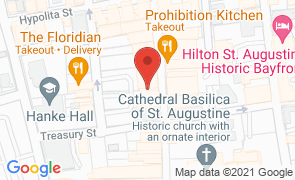 Hours
of Operation
Sun - Thu:
11:00 am - 10:00 pm

Fri - Sat:
11:00 am - 11:00 pm

Located in the heart of St. Augustine's historic district, Ben and Jerry's on St. George Street is a great place for visitors to cool down with a frozen treat. The shop serves some of Ben and Jerry's most popular flavors of ice cream, as well as sundaes, milkshakes, and smoothies.

Ben and Jerry's Ice Cream offers a variety of their beloved flavors, like Cherry Garcia, Chunky Monkey, and Phish Food. Visitors will enjoy the option to have their favorite flavors served with specialty toppings in a sundae, or whipped into a milkshake or smoothie. For ice cream enthusiasts, the shop also offers the "Vermonster Sundae" - a collossal 20-scoop sundae served with brownies, cookies, nuts, chocolate and caramel toppings, whipped cream, and even more toppings if desired (it's great for sharing, assuming you can agree on the flavor combinations).

Catering for special events is also available.

No Reviews Yet...

Be the first to Review Ben and Jerry's!




Things to Do
Near Ben and Jerry's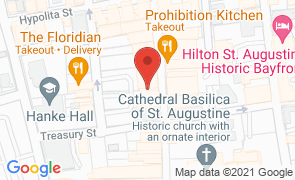 Ben and Jerry's
128 St. George Street, St. Augustine, 32084
Hours
of Operation
Sun - Thu:
11:00 am - 10:00 pm

Fri - Sat:
11:00 am - 11:00 pm