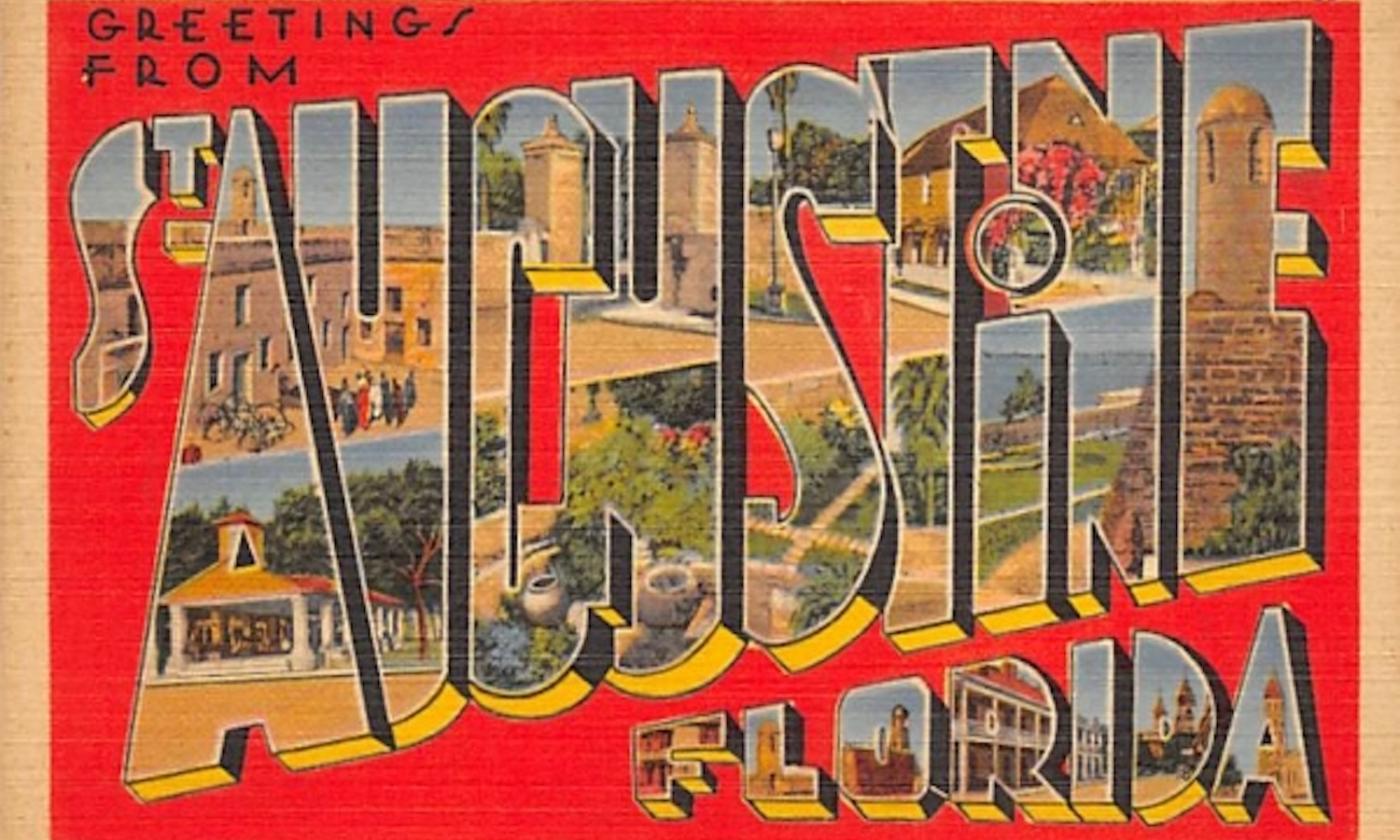 Old Florida is Alive and Well in St. Augustine
There are many examples of vintage St. Augustine in and around town.
St. Augustine became a traveler's paradise in the late 19th and early 20th centuries. Many of those vintage photos, postcards, and scenes can be found on the Vintage St. Augustine Facebook page. A couple of our old time attractions got their start during this heyday and remain hugely popular - and educational - today.
One of my favorite scenic drives is along the A1A Scenic Byway from the Guana Tolomato Research Reserve to Flagler Beach. One of the most fun pit stops along the way is just south of St. Augustine — Marineland Dolphin Adventure.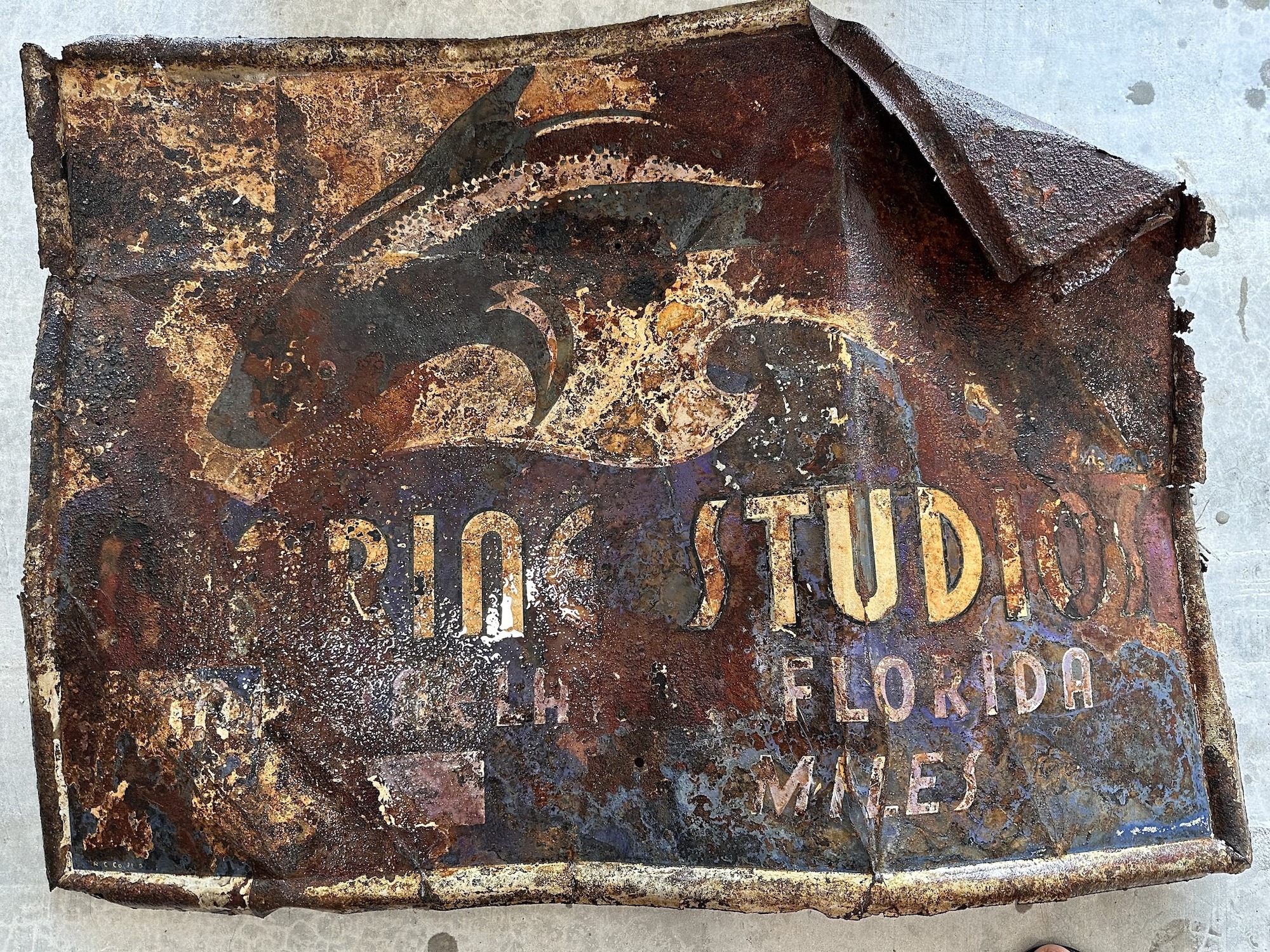 An old Marine Studios sign was uncovered during Hurricane Nicole clean up in November 2022.
Did you know Marineland was the world's first oceanarium? However, Marineland actually got its start as a movie studio. W. Douglas Burden, Cornelius Vanderbilt Whitney, Sherman Pratt and Count Ilya Tolstoy (Leo's grandson) created Marineland to be an oceanarium that could be used to film marine life. In 1938 "Marine Studios" opened and was instantaneously the most popular tourist attraction in Florida hosting more than 30,000 visitors on opening day. During these early years, when Marineland was in its prime, approximately 900,000 people visited annually! In 1940, Marineland was incorporated as a town with a few dozen residents.
Some of the motion pictures filmed partially or fully at Marine Studios include:
*Creature From the Black Lagoon (1954)
*Revenge of the Creature (1955)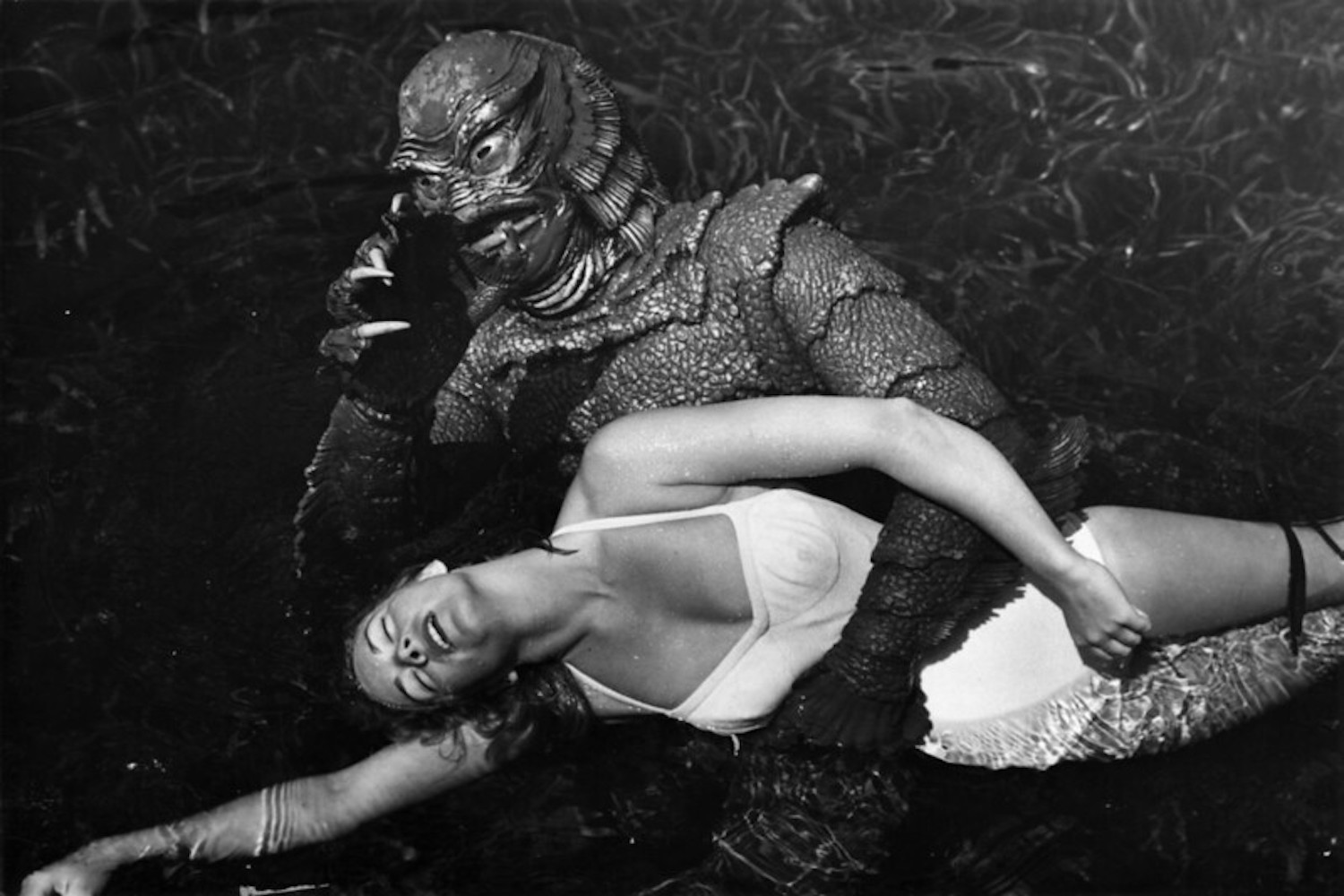 Revenge of the Creature photo courtesy of Florida Memory.
*Zaat (1975)
*Benji Takes a Dive at Marineland (1981)
Marineland's vision was as an underwater film studio that would "bring the sea ashore." The oceanarium was designed with filmmaking in mind which is why there are glass portholes in the tanks — so cameras could film through them.
The facility continued to grow and become a vacation destination, with the addition of the Marine Village Court Motel, the Dolphin Restaurant, and the Moby Dick Lounge, as well as a variety of gift shops and snack bars. In the height of its popularity, Marine Studios attracted big names as well as literary stars, including First Lady Eleanor Roosevelt and Ernest Hemmingway.
The evolution from Marine Studios to Marineland started in the 1940s when the dolphin demonstrations began. Before this point, marine life was unfamiliar to most people except for sailors and fishermen, and no one thought anything living in the sea could be trained. Marineland happened upon this realization because of a diver's happy accident.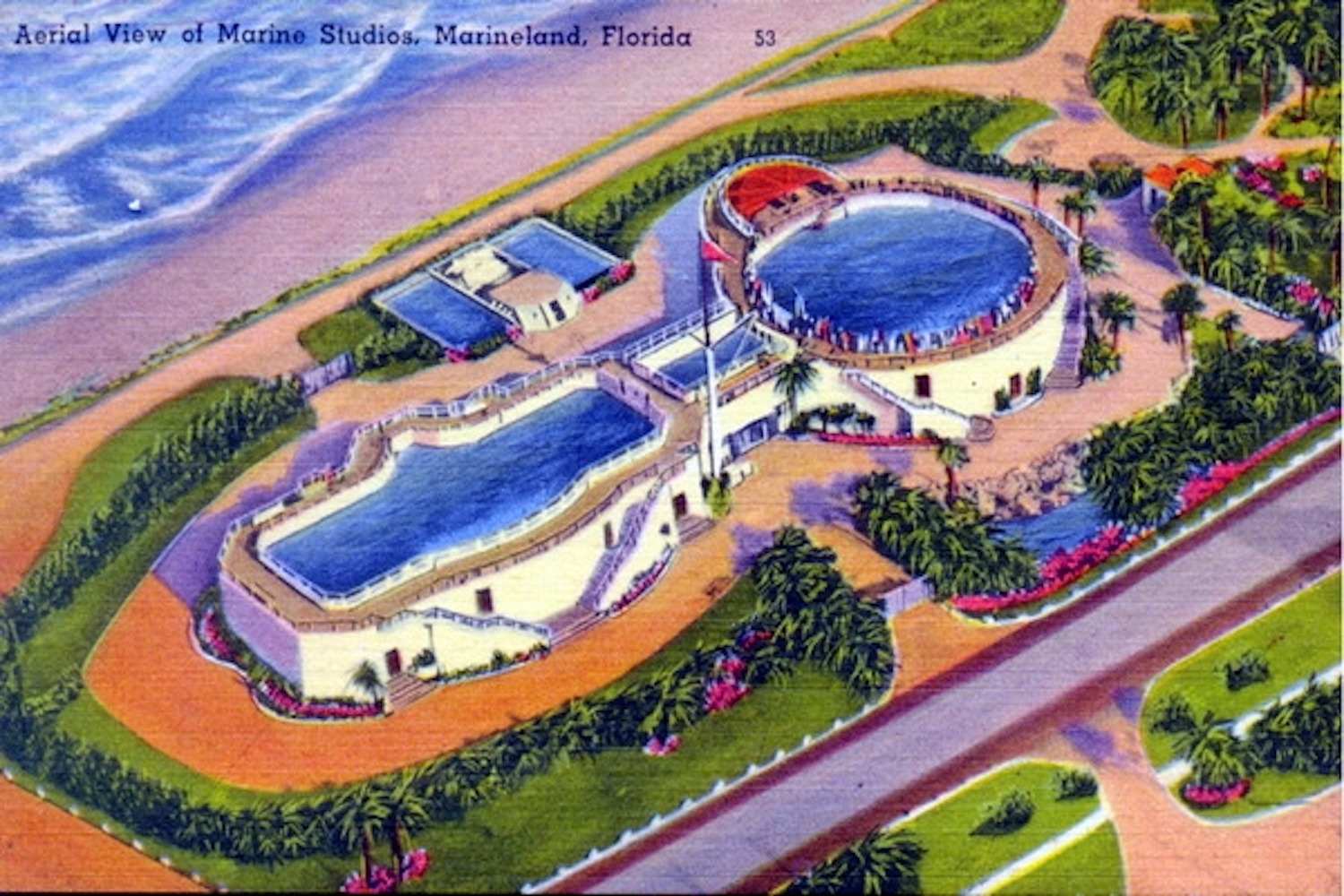 Old school Marineland courtesy of Florida Memory.
At that time, divers would hand feed the dolphins inside their tanks. The dolphins were so intelligent that they knew when to approach the ladder in anticipation of the divers who would descend with food in hand. One diver tried to distract hungry dolphins by throwing a fish into the water and, surprising everyone watching, one of the dolphins leapt up to catch it! The audience cheered in awe, as if this "trick" was planned, and the wheels began turning for Marineland staff members.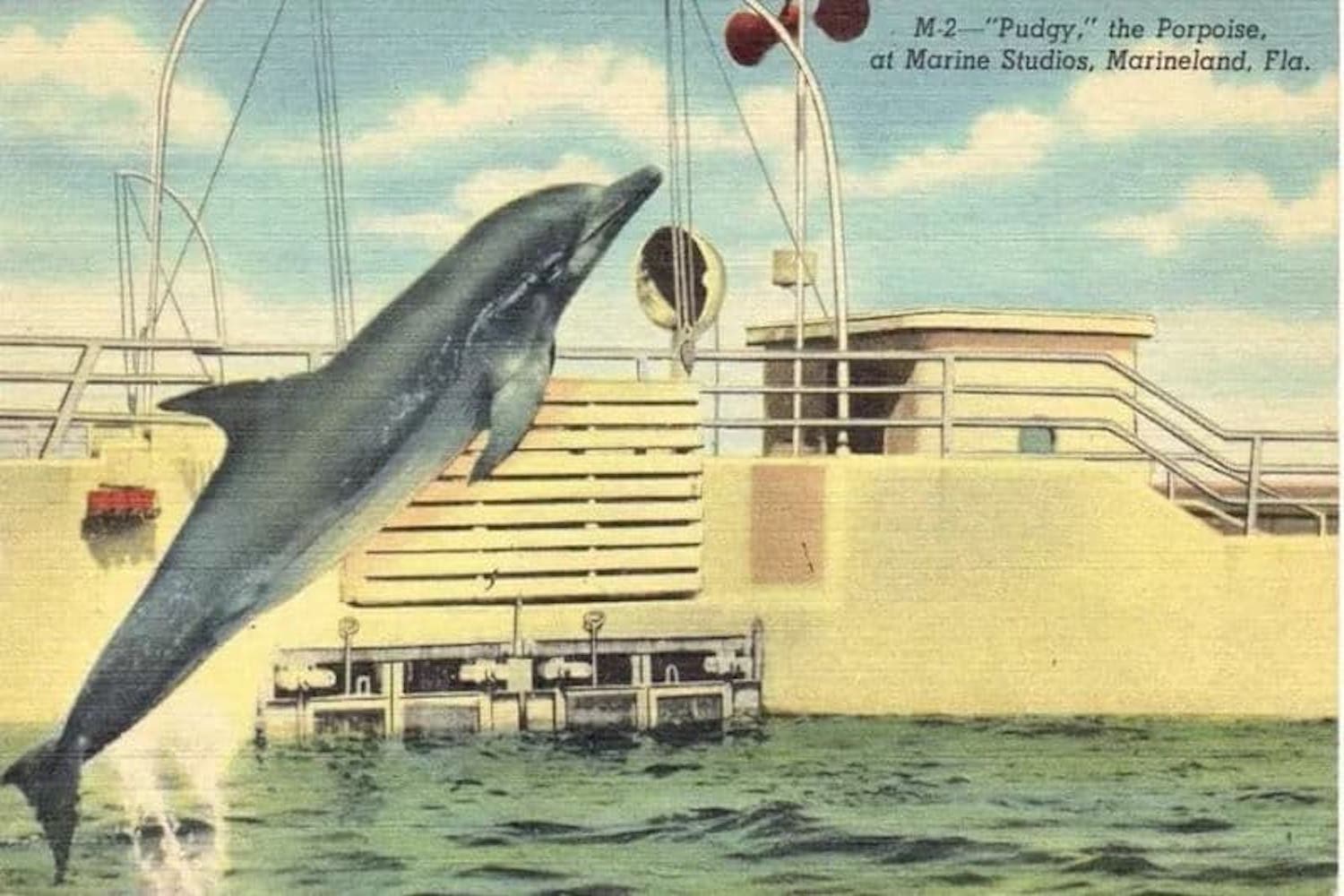 Vintage Marineland postcard courtesy of Florida Memory.
Today there are tributes to Marine Studios heritage at Marineland and passive viewing has turned into marine animal interactions. The emphasis is no longer on performing animals, but on physical and emotional connections so we can understand why we need to protect the natural marine environments. Marineland is a leader in marine conservation, animal care, and community education.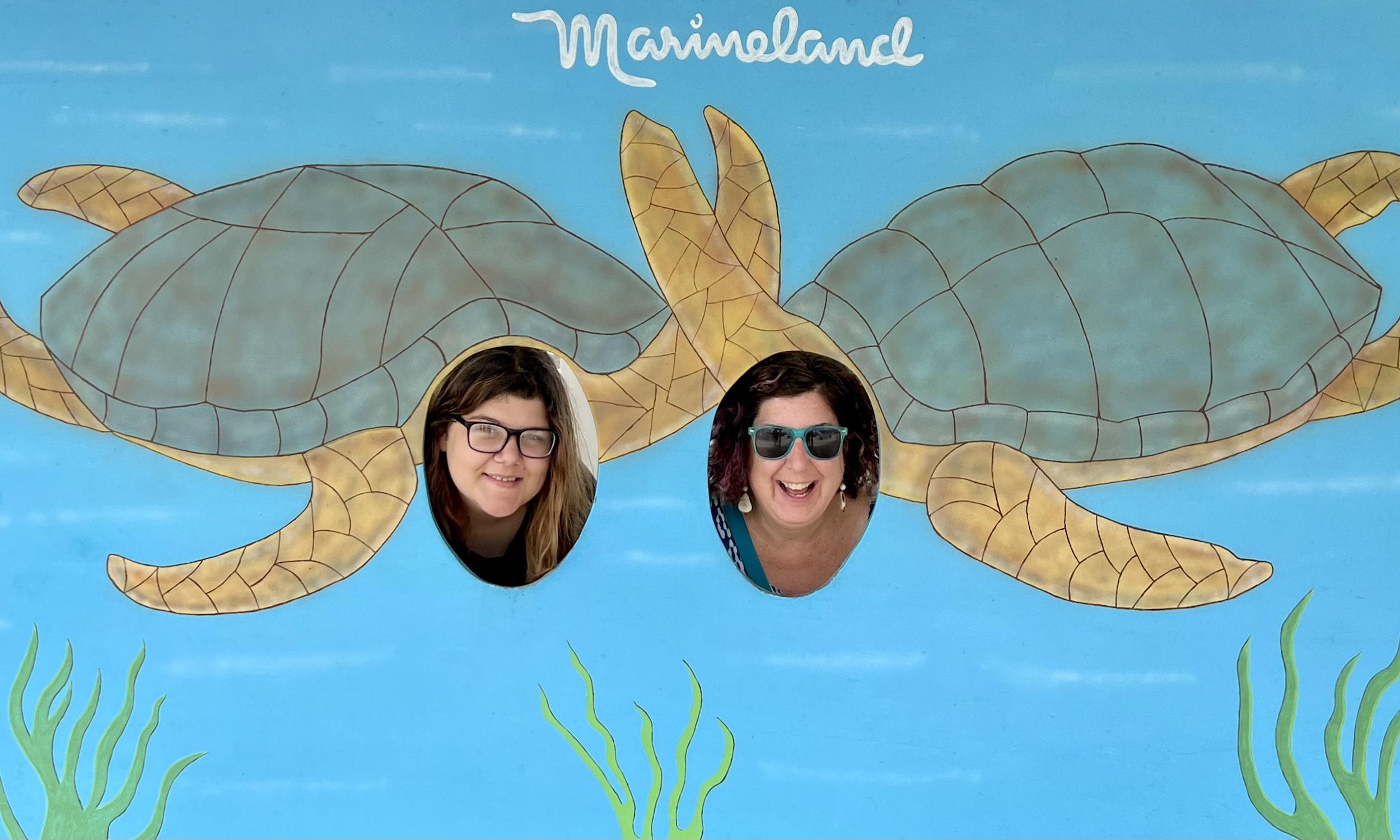 My Little, Camille, and I celebrating the end of the school year at Marineland.
For me personally, I had avoided going to Marineland for many years as I worked in animal welfare for a long time and am against using animals in tourist attractions. Once I learned that Marineland is a leader in marine conservation and education, I spent the day there with my Little from Big Brothers Big Sisters. To say we fell in love was an understatement. It's a really special place and we're lucky to have it as St. Augustine's neighbor to the south.
St. Augustine Alligator Farm is an Old Florida staple as it's been around since 1893 and is listed in the National Registry of Historic Places. It's actually one of Florida's oldest continuously running attractions. George Reddington and Felix Fire — who owned the "alligator collection" — welcomed vacationers via the Anastasia Island Tram that transported people from historic downtown.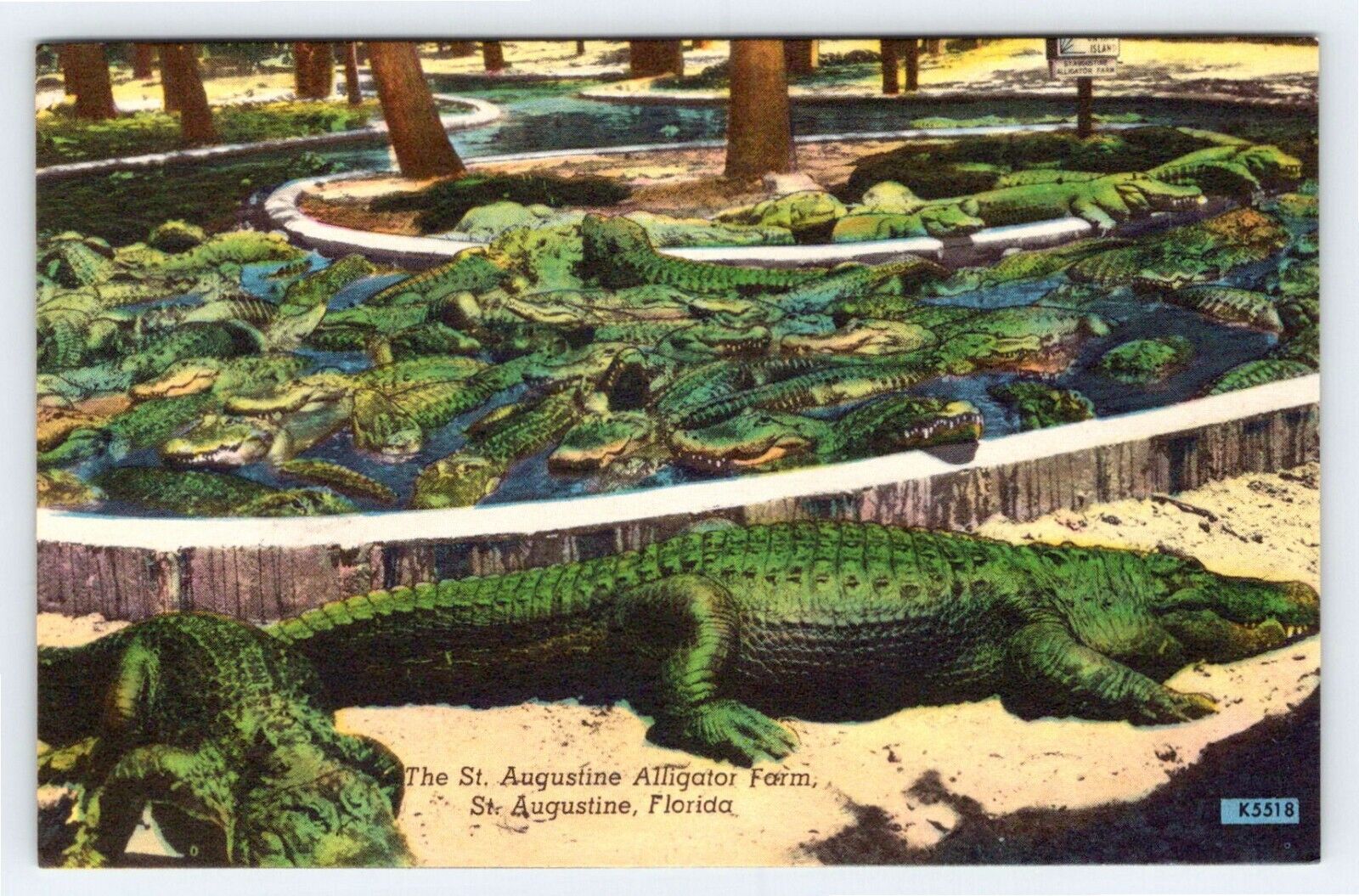 Vintage Alligator Farm courtesy of Florida Memory.
For more than two decades the Alligator Farm flourished earning a reputation as "the world's largest alligator farm." And then a nor'easter ravaged the area in September 1920 ending the tram service and isolating the farm. Three months later a fire destroyed the neighborhood around the Alligator Farm. Although the Alligator Farm survived both tragedies it relocated to its current location — two miles north of the original spot.
The founders continued to operate the park for more than a decade after the move. Reddington purchased Fire's interest in the Alligator Farm by 1934, and in 1937 Reddington sold it to a pair of young community businessmen: W.I. Drysdale and F. Charles Usina. Capitalizing on the public's fascination with alligators, the duo put the park into the national spotlight. Through their efforts, the attraction gained a new reputation as more than just an alligator exhibition with it being home to ostriches, crocodiles, Galapagos tortoises, a variety of monkeys and birds, and many examples of Florida's native wildlife.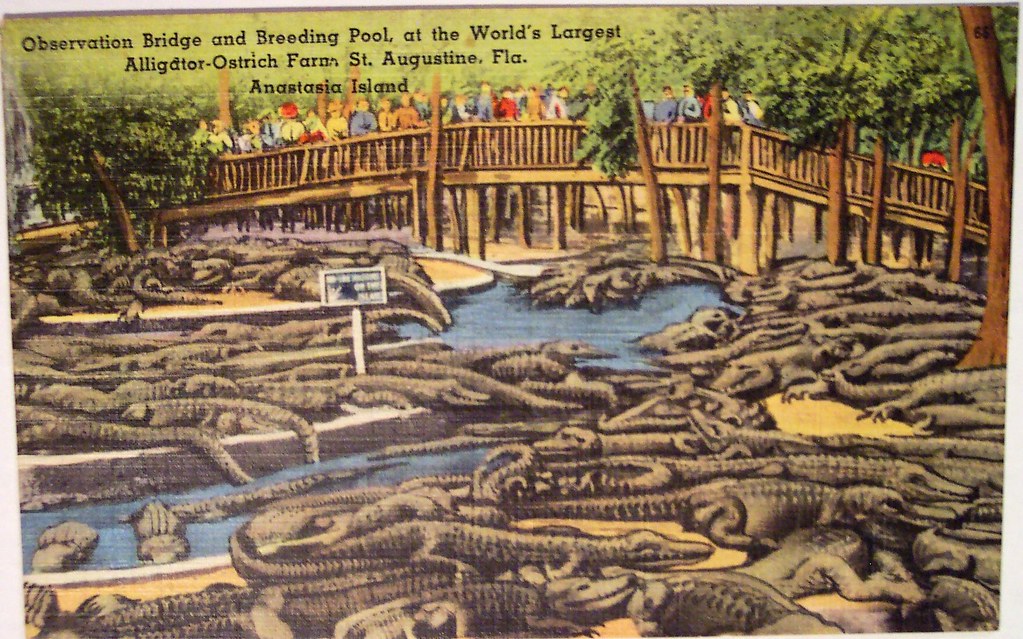 Vintage Alligator (and Ostrich) Farm courtesy of Florida Memory.
The Alligator Farm evolved into a new era beyond its existence as a roadside attraction, becoming a household name through the 1940s and 1950s. The American Weekly, The Saturday Evening Post, The New York Times and the Toronto Star featured articles about the Alligator Farm enabling it to get the word out about the plight of endangered wild alligators, which came close to extinction in the 1960s and 1970s.
Since then, the Alligator Farm continues to be a key proponent of wildlife research and conservation. A nature trail was added to the park in the late 1970s to further appreciate natural Florida. The rookery — home to wild and unconfined herons, ibis, and egrets — operates in cooperation with the Florida Audubon Society. Since 1989, the American Association of Zoos and Aquariums (AZA) has accredited the Alligator Farm, elevating the institution to a select list of zoological facilities throughout the nation recognized for the quality and care of their animals. When the Land of Crocodiles opened in 1993 the Alligator Farm reached a new milestone in reptile keeping. This exhibit features all known species of the world's living crocodilians making the Alligator Farm the only facility in the world exhibiting living examples of all 24 currently recognized species of crocodilian!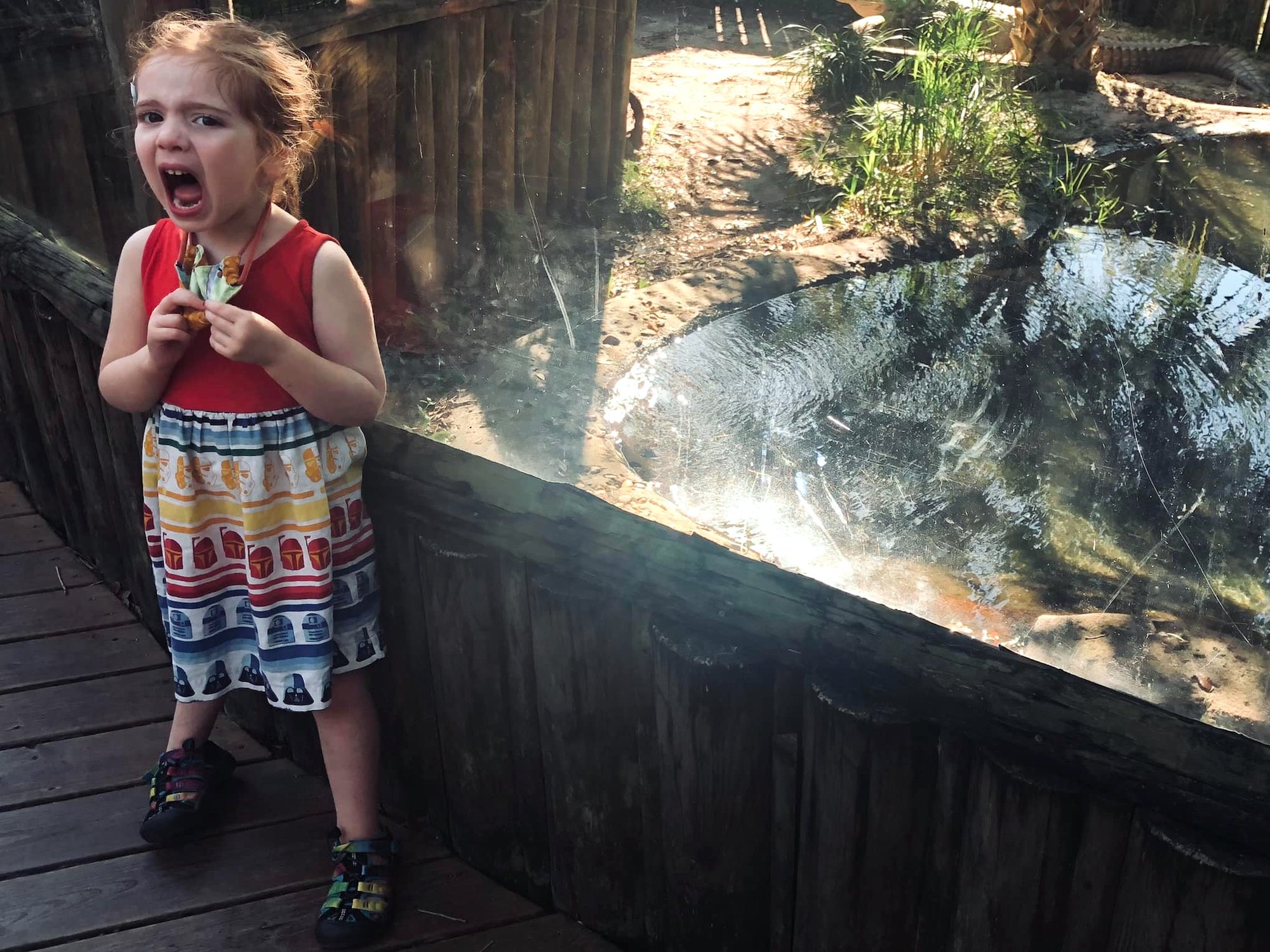 My niece, Raina, screaming at the Alligator Farm because of what lurks behind the glass!
For me personally, I had also avoided going to the Alligator Farm for many years as I worked in animal welfare for a long time and am against using animals in tourist attractions. (Are you detecting a theme here?) Once I learned that the Alligator Farm is a leader in wildlife research and conservation, I spent the day there with my now-four-year-old niece. We both had a great time trying not to fear the alligators and crocodiles while learning a thing or two along the way. And watching the alligators being fed is an absolute hoot!
Other Fun Vintage Spots in St. Augustine
The Fountain of Youth - Visitors began coming to the Fountain of Youth in 1868. In 1900 the property changed hands and was aggressively marketed as the Fountain of Youth. In 1927 the property changed hands again and was maintained as an attraction where people could come to drink from the fountain in order to restore their youth. Today, the site is an archeological park educating the public about the saga of Juan Ponce de Leon and his search for new lands and magical waters as well as the tragedy of the Timucua civilization. (And by the way, I never see anyone getting any younger as a result of drinking that water!)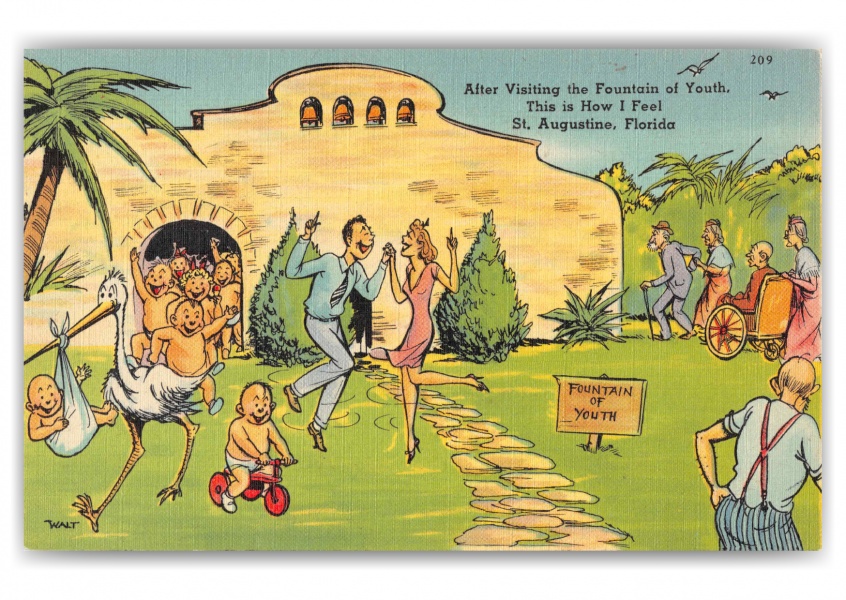 Vintage Fountain of Youth postcard courtesy of Florida Memory.
Flagler College — If you want a taste of vintage fancy living, take the historic tour of Flagler College. Listed as a National Historic Landmark, the former Hotel Ponce de Leon was built by railroad magnate, Henry M. Flagler, in 1888 and was one of the most exclusive resorts of its day. (Sometimes I just walk around campus and pretend to be fancy!)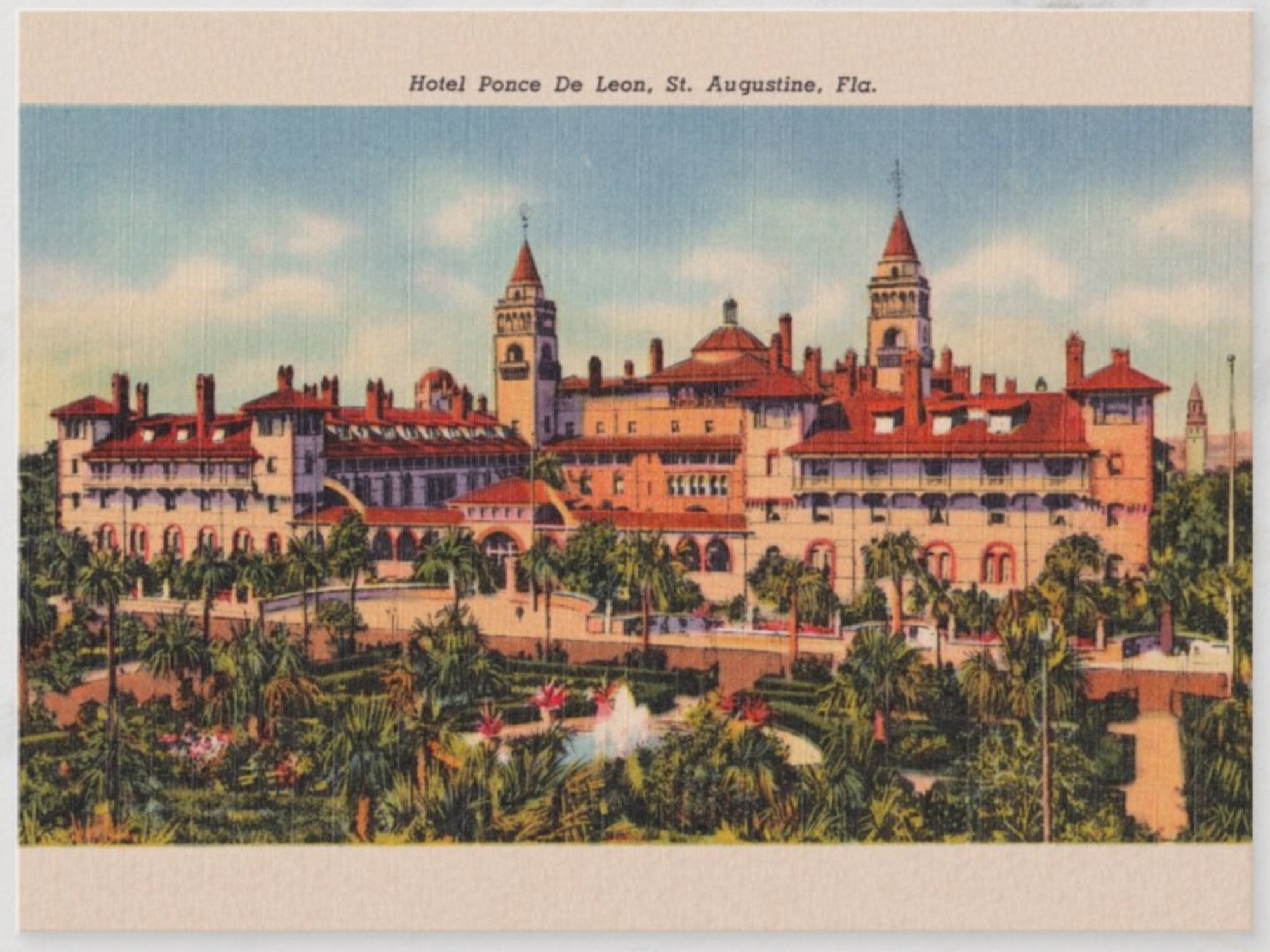 Hotel Ponce de Leon vintage postcard courtesy of Florida Memory.
St. Augustine Lighthouse — Did you know the current lighthouse was built farther inland in 1874 because the original structure was unsafe and too close to the ocean? In fact, the original one fell into the sea six years later due to erosion. The lighthouse is St. Augustine's oldest surviving brick structure. The Keeper's House that sits next to it was built in 1876 to provide living quarters for the lighthouse keepers. Today it serves as the St. Augustine Lighthouse Museum. (I like to visit the Lighthouse to see if I can make contact with the various ghosts that live on the property!)