Costa Brava Restaurant
Historic Downtown
95 Cordova Street, St. Augustine, 32084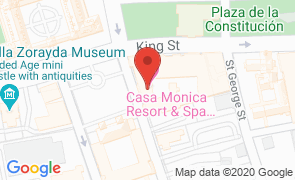 Hours
of Operation
Sun - Thu:
7:00 am - 9:00 pm

Fri - Sat:
7:00 am - 10:00 pm

Open for breakfast, lunch and dinner.
The Costa Brava Restaurant offers world-class Mediterranean coastal cuisine and an elegant atmosphere in St. Augustine's Casa Monica Resort and Spa. The beautiful setting inside this historic hotel combines with the flavorful meze-style menu to create one of the finest dining experiences in a city that is fast becoming an authentic foodie destination.

The menu takes diners on a culinary journey along the Mediterranean, with dishes inspired by North African, Spanish, and coastal cuisine, all prepared with seasonal ingredients and served beautifully. Tapas, platos pequeños (small plates), grilled entrees, and soups, and salads are works of art at Costa Brava.

Signature dishes include the Mediterranean Baked Salmon, Sherry Baked Sea Bass, Lamb Meatballs, Kessler Calamari, Seafood Empanadas, Blue Cheese Beef Tenderloin, and much more.

A winner of Open Table's Diners' Choice award in 2015, Costa Brava also boasts an impressive wine list and a large selection of hand-crafted cocktails.

This restaurant is open for breakfast, lunch, and dinner. Reservations are suggested, but not required.

Costa Brava will gladly host special events like weddings, reunions, group outings, and more. Call  (904) 810-6810 for details and to make arrangements for special occasions.
Things to Do
Near Costa Brava Restaurant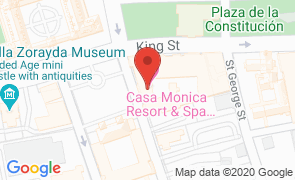 Costa Brava Restaurant
Historic Downtown
95 Cordova Street, St. Augustine, 32084
Hours
of Operation
Sun - Thu:
7:00 am - 9:00 pm

Fri - Sat:
7:00 am - 10:00 pm