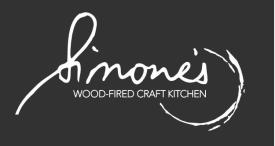 Tue - Sat:
11:00 am - 9:00 pm
Open 11 am - 3 pm and 5 pm - 9 pm Tuesdays - Saturdays
A local family-owned restaurant in the World Golf Village area, Simone's Wood Fired Craft Kitchen is a scratch kitchen with craft beer and a top tier wine list.
All of the pizza dough, bread, and pasta is made from scratch in house by hand every day. Daily specials are featured including paninis, steaks, seafood, and chops from the Neapolitan wood burning ovens and wood grill. A locally influenced list of diverse craft beer from artisan brewers and an extensive list of fine domestic and international wines are always available. And, homemade desserts are also popular items on the Simone's menu.
Online ordering is available from 11 a.m. - 2:30 p.m. for lunch and 6 - 9 p.m. for dinner.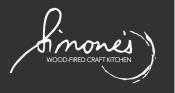 Tue - Sat:
11:00 am - 9:00 pm
Open 11 am - 3 pm and 5 pm - 9 pm Tuesdays - Saturdays