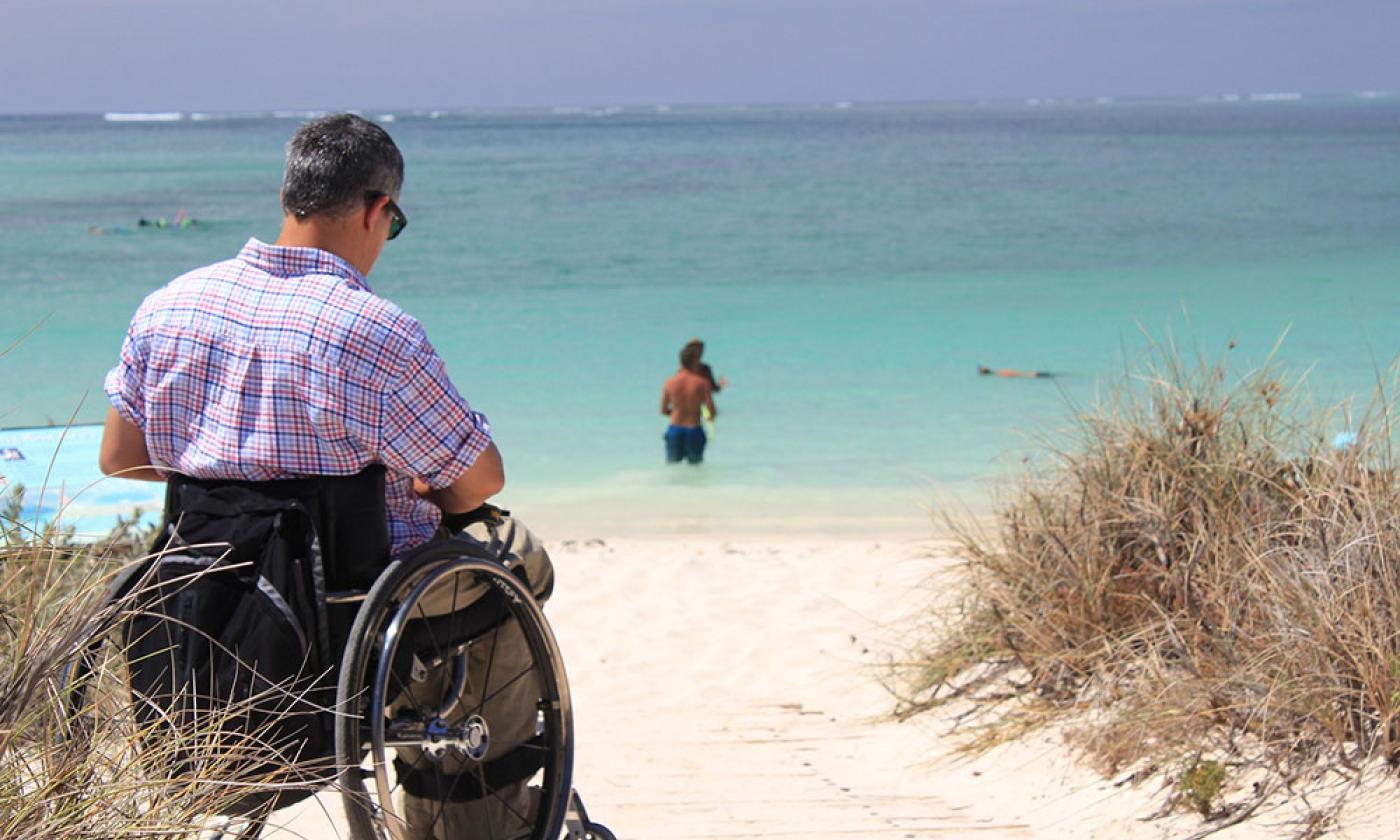 Planning a Visit with Accessibility in Mind
Services are readily available for visitors with accessibility challenges.
Planning a Florida vacation can be both a gift and a challenge, and even more so a challenge for people looking for accessibility. Fortunately, wheelchair users can enjoy the sand, surf, and sun alongside their loved ones with our accessibility resources. St. Augustine is an older town and the well-traveled wheelchair user might be discouraged into thinking that "old town=lack of accessible locations." But that couldn't be further from the truth.
In the same way that other major cities around the world may be old but still offer plenty of accessibility, the same can be said for St. Augustine. With wheelchair accessible hotel suites, attractions, restaurants, streets, and even beaches, there's plenty for families to enjoy. Check out these answers to some of your questions about getting to and around the city of St. Augustine utilizing wheelchair accessible services.
Getting There
There are a few local cities by which visitors may travel to the Ancient City by plane: Jacksonville and Orlando are two of the closest. There is also Northeast Florida Regional Airport that flies locally and is only about 15 minutes from the city center. From each of these airports different options are available to transport wheelchair users and their loved ones to St. Augustine.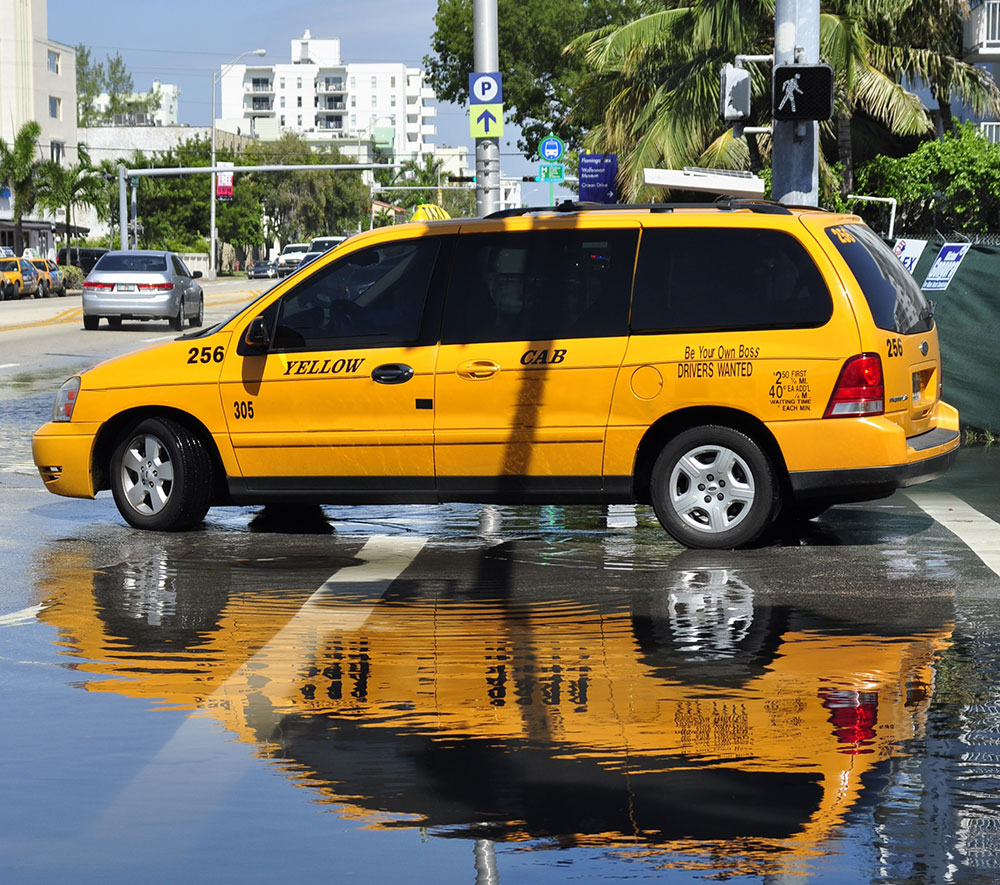 By train, visitors can come to St. Augustine from Palatka which has a wheelchair platform, a chair lift, and an accessible waiting room.
There is a wheelchair accessible taxi offered by Checker Cab Company by calling (904) 829-1111. If you're looking for a wheelchair-accessible ride from the airport in St. Augustine or Jacksonville, or the train station in Palatka, they are available to call 24 hours a day. Calling in advance helps shorten your wait time, and the rate is $2 a mile, making a ride from Palatka or Jacksonville to downtown St. Augustine about $60 and a little over $100 respectively.
If you're staying further away from the downtown area or coming from Orlando, consider renting a wheelchair accessible van for your stay. There are a few companies in Florida available to provide this service: Mobility Works in Jacksonville, Mobility Freedom in Bunnell, and Wheelchair Vans of America are just a few.
Accessible Parking in St. Augustine
There are several lots that service the historic district of downtown St. Augustine, and many of them offer accessible parking spots. The St. Johns County Pier has accessible parking spots and others are dotted on lots along A1A. There are also access points at St. Augustine Beach starting at A Street where vehicles can drive onto beach. This makes it much easier for wheelchair users and their families to enjoy the ocean without the hassle of getting down to the water through the dunes or wooden walkways.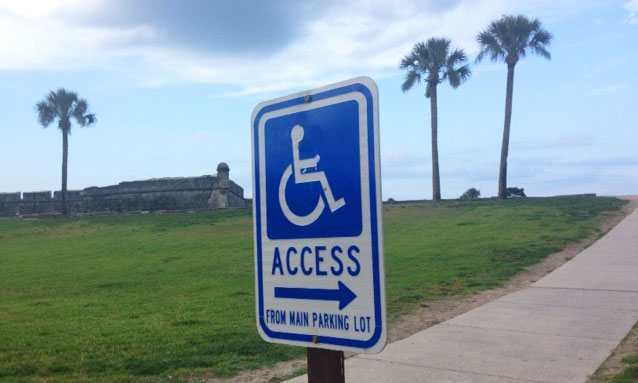 Many local attractions are wheelchair accessible, including the Castillo, Ripley's, and the Lightner Museum.
Wheelchair-Friendly Places to Stay
Although some bed and breakfasts may not be wheelchair accessible due to their age, many surrounding hotels and vacation rentals are able to accommodate guests with reduced mobility. The specialists at Vacation Rental Pros and First Choice Florida Vacation Rentals can help guests find accommodations to suit their needs. Additionally, hotels near downtown St. Augustine including the Southern Oaks Inn and Renaissance Historic Downtown have accessible rooms for visitors, as does some of those near the beaches, such as Ocean Sands Beach Inn, located just north of Vilano Beach. (Their beach access is not accessible, due to the steps required to get over the dunes.)
Getting Around
Now that you're here, strongly consider staying in the downtown area. It may be more expensive, but it will be well worth it to be close to the attractions. Many prominent sights to visit are located in the downtown area within walking distance of hotels. If you really want to see all the sights and attractions without the walk, Old Town Trolley has a half dozen trolleys that are equipped with ramps and lifts to be wheelchair-accessible or scooter-friendly. You can call 1-888-910-8687 to alert the trolley folks 24-hours in advance of your mobility needs to minimize your wait time. If you have a collapsible wheelchair, it can be stored in the vehicle until you are ready to use it.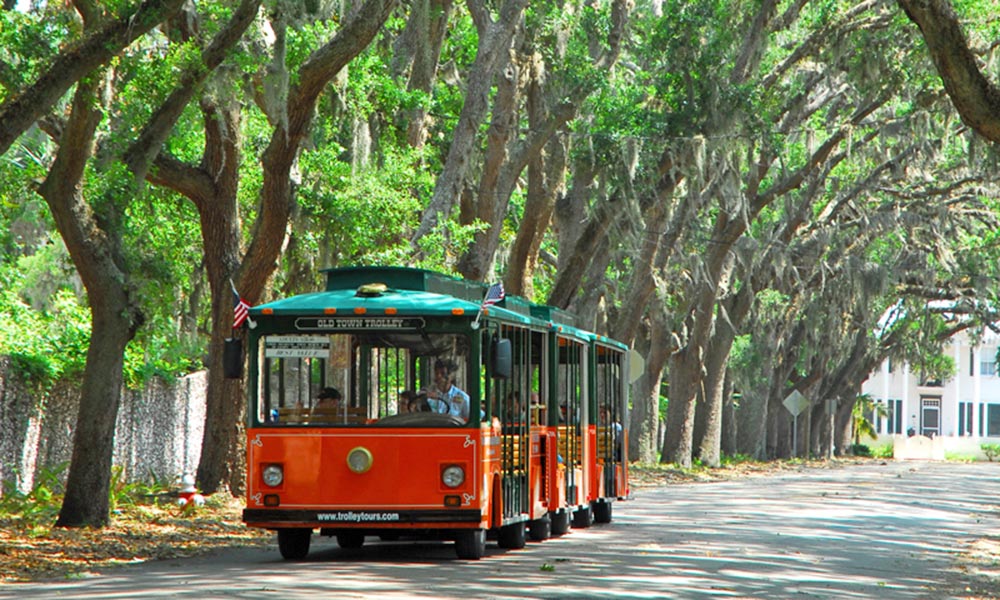 There are five trolley stops that are wheelchair/scooter friendly:
1. Old Town St. Augustine (Stop 1)
2. Potter's Wax Museum (Stop 3)
3. San Sebastian Winery (Stop 12)
4. Plaza de la Constitucion (Stop 14)
5. Old Town Trolley Welcome Center (Stop 19)
To read more about how Old Town Trolley can accommodate your mobility needs, please click here.
Rent Wheelchairs and Mobility Scooters
If you are visiting and need to rent a wheelchair, rentals are available from Solano Cycle. There are also beach-accessible wheelchairs available to rent for free on a first come first serve basis. Call St. Johns County at (904) 209-0331 to reserve one. They have bigger wheels that can roll through sand and are able to sit in a few inches of water. 
Mobility scooters can be rented from Solano Cycle and Saint City Rentals. Both rent scooters that weigh about 250 pounds and both offer delivery to clients in St. Augustine.
Public Transportation
For public transportation during the day, The Sunshine Bus Company runs routes from 7 a.m. to 6 p.m. with one-way fares at $1 for passengers and $.50 for persons with disabilities. The Sunshine Bus makes stops at all the major areas of town including the Bridge of Lions, the Outlets, St. Augustine Beach, and much more.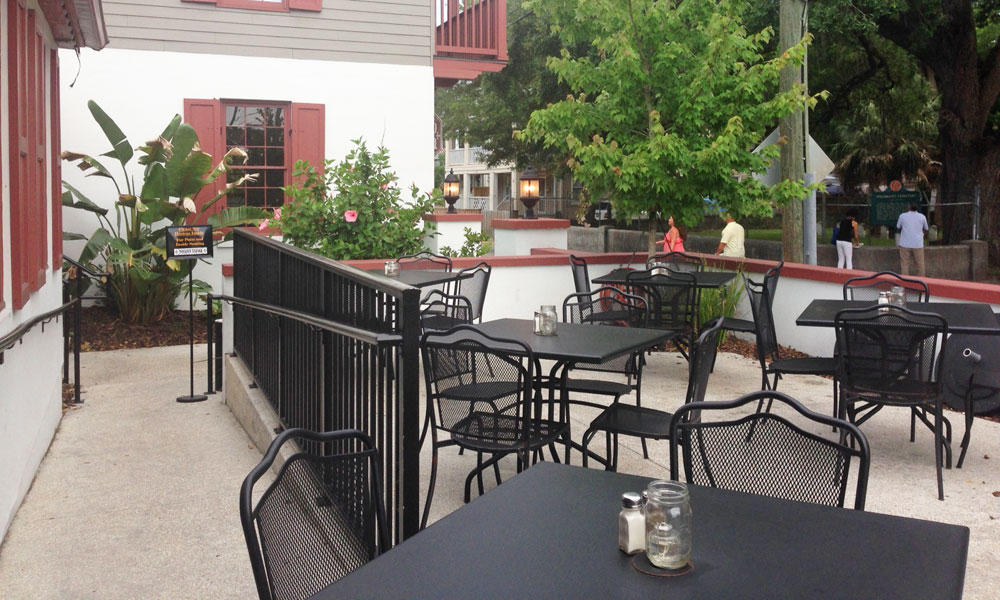 Two wheelchair-accessible ramps lead into Mojo Old City BBQ.
Many restaurants, such as Mojo Old City BBQ, Harry's Seafood, and A1A Aleworks, are equipped with accessible ramps and spacious interiors and exteriors. For those who want to enjoy the St. Augustine nightlife, locations such as White Lion and Meehan's have low tables to enjoy drinks at when the bar is out of reach. Besides that, you will find that most of the restaurants in town are accessible by wheelchair.
St. Augustine is consistently improving its accessibility so that persons with disabilities can truly have fun in the nation's oldest city!
Check out these wheelchair-accessible parks and attractions...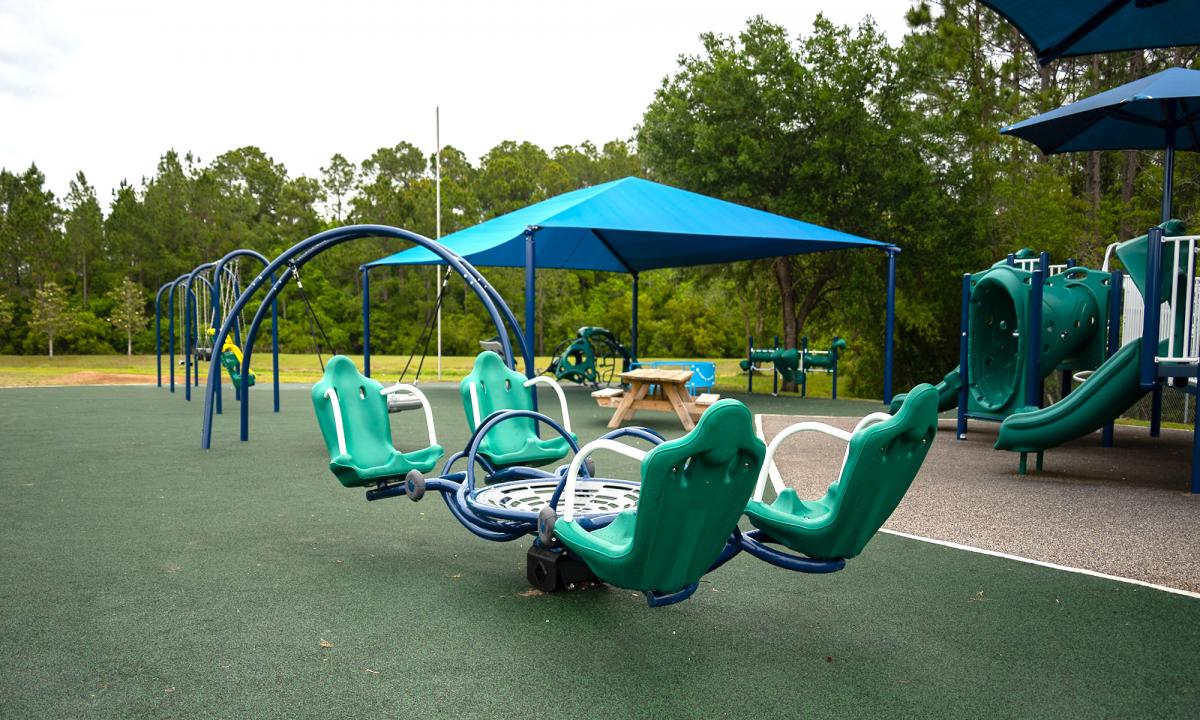 Aberdeen Park Playground is an all-inclusive, wheelchair-accessible playground in St. Augustine.
The TOUCH St. Augustine Braille Project
Five of St. Augustine's historic statues, and two art statues, are accessible to blind visitors because of the TOUCH (Tactile Orientation for Understanding Creativity and History) St. Augustine Braille Project. The bronze braille markers are at the Pedro Menendez; Juan Ponce de Leon; St. Augustine Food Soldiers; Henry Flagler and Father Pedro Camps and the Minorcans statues downtown. They are also available at the St. Augustine Art Association's Heavenly Bodies and Signal from Shore statues.
The plaques use braille letters to describe the history and tactile graphics are used to act as a visual map to describe how the statues actually look. The tactile graphics include descriptions, which direction the statues face, their height, color, action, as well as other details. A raised pictorial representation of the statue is also on the plaque.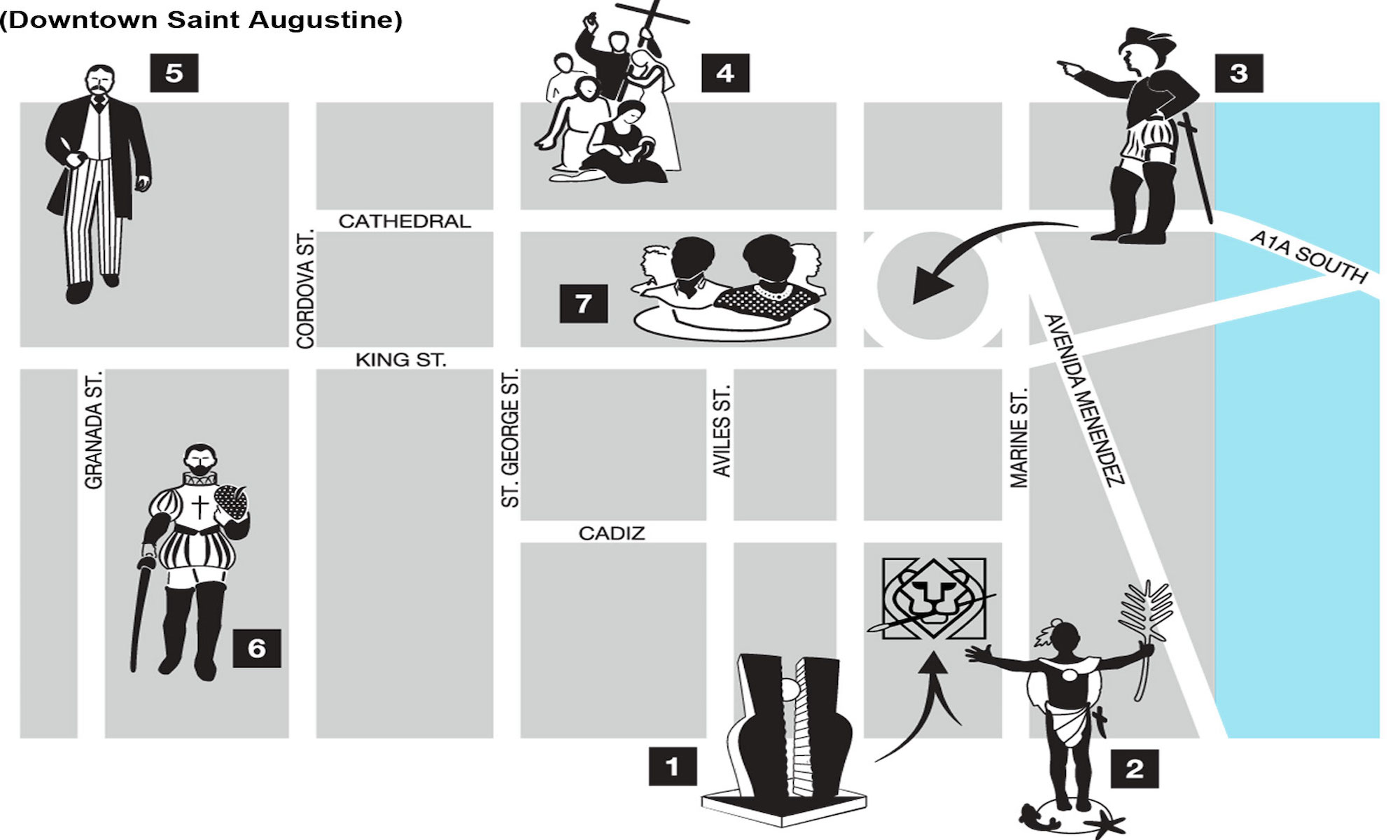 A map to the Braille Trail which also has an audio guide.
We are constantly updating this article whenever we find out about a new accessibility resource.