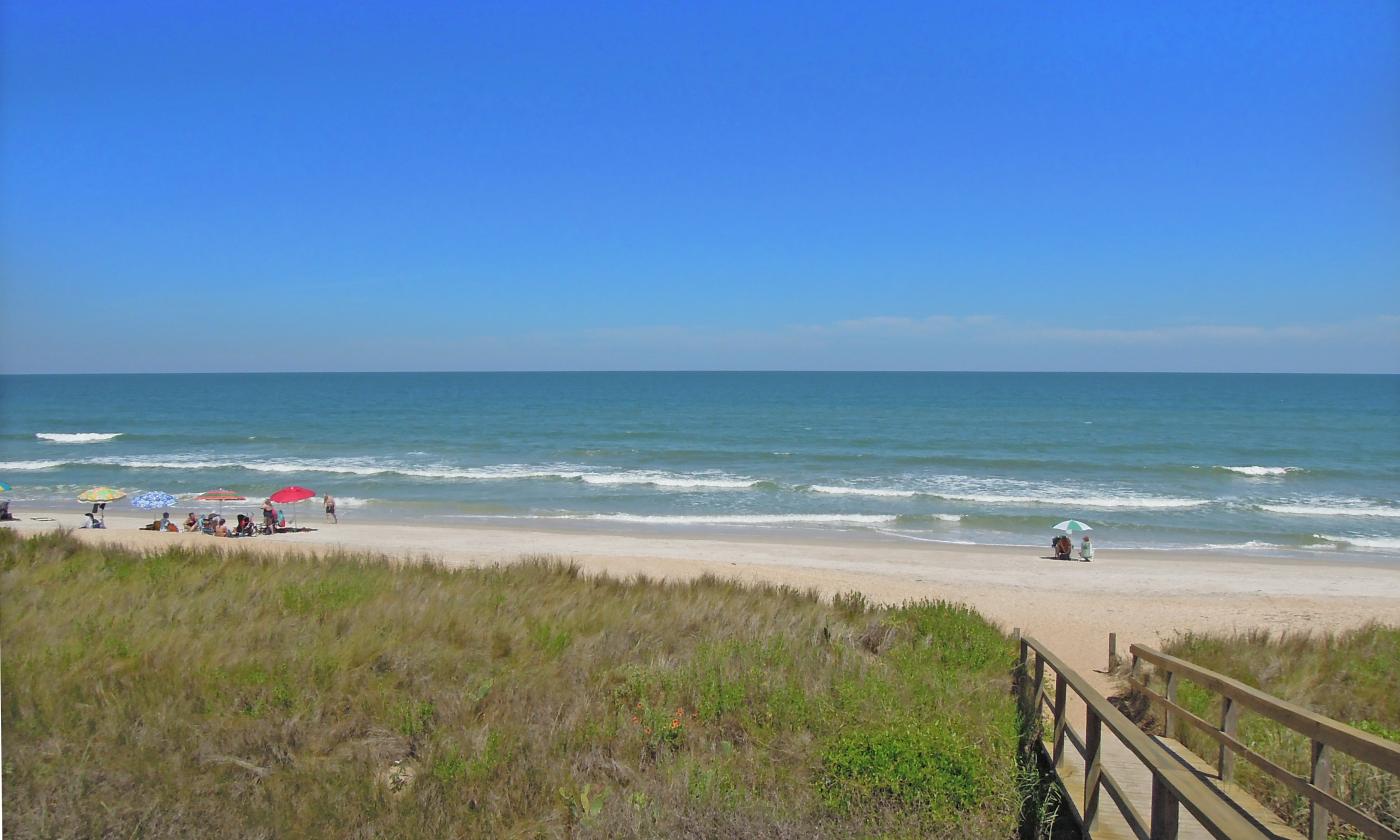 Gettin' Sandy on St. Augustine Beach
A visit to St. Augustine Beach doesn't mean you have to spend all your time in the sun. There are plenty of shops, restaurants, and activities other than getting sand in your bathing suit.
St. Augustine's history is intriguing and beautiful, but St. Augustine Beach is one of the most gorgeous beaches I have ever been to and a major reason why I decided to relocate to Florida. I could spend hours melting like a popsicle with quick dips in the ocean to cool off. My husband is a little more difficult to get to the beach though unless there are good waves for surfing, although lately I've gotten him out there a little bit more with his new drone. Boys and their toys...There is more to do in St. Augustine Beach than pass countless hours in the sun, but first, let's talk about the beach.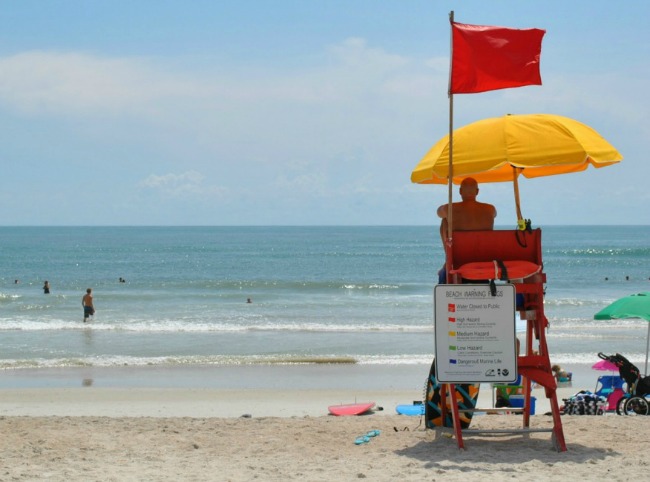 St. Augustine Beach has several staffed lifeguard towers.
First, St. Augustine Beach is also the name of the city along it's shore. The City of St. Augustine Beach begins just south of 312 and continues for slightly more than two miles, with the majority of the town located between A1A and the beach. The city is why you'll find more things to do, eateries, and places to shop along the length of St. Augustine Beach.
Before you head to the beach don't forget some of the essentials:
Sunscreen
Beach Towel
Shades
Umbrella
Beach Chairs
Boogie Board or Surf Board
Reading Material
Games (Velcro ball and mitt, horseshoes, soccer ball or football, etc.)
Sandcastle making toys
A cooler full of fresh fruit, snacks, and beverages (including the oh-so-essential water)
There are a few stores right by the beach if you're missing any of the above. Sunshine Shop is a great place to grab some new swimwear or flip flops. If you're looking for a boogie board and some sand toys on the cheap, stop into Alvin's Island — you can even pick up a gift for your pet sitter or a souvenir for yourself while you're there.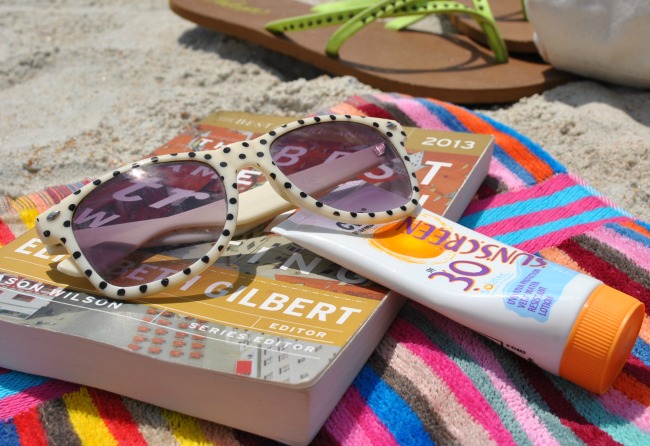 Four things I will not go to the beach without: a towel, suntan lotion, a book, and shades.
One great thing about St. Augustine Beach is that you can actually drive on the beach. I love the convenience of having my Jeep right there and not having to lug everything all the way down to the beach. I've seen a number of people have their cars pulled off the beach because they get stuck in the soft sand. Drive at your own risk if you don't have four-wheel drive, especially if it hasn't rained in a while.  There is a $10.00 fee to drive on the beaches from March 1 through September 30. Vehicle access to St. Augustine Beach is on A Street and Ocean Trace. Love the beach? Any beach? For more information about beach access all over St. Johns County, download the county's beach app here.
If you aren't planning to drive onto the beach there's plenty of free public parking available. There are public parking lots at the Pier and on 11th Street with restrooms and showers (for rinsing off the sand in lieu of moving it from the beach to your car). You can also find street parking throughout St. Augustine Beach. Not staying on the beach? Old Town Trolley has a Beach Bus that is complimentary for their trolley ticket holders, so it's possible to take a tour in the morning and catch a ride to the beach afterward. They will drop you off and pick you up at the beach hotels. See the schedule here.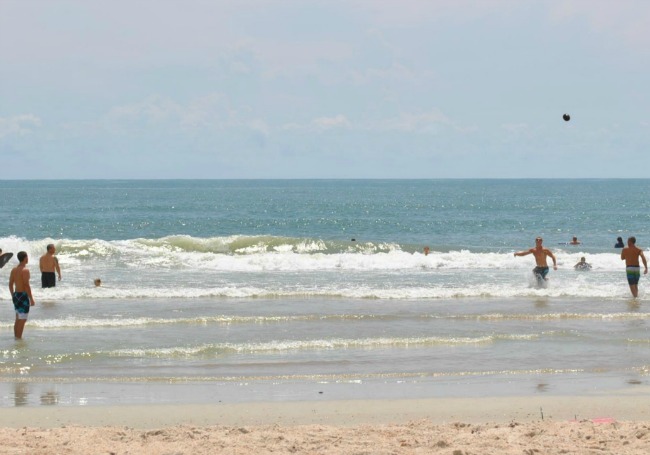 Nothing screams summertime at the beach like tossing a football around in the water.
No one can deny that the scent of saltwater mixed with coconut suntan lotion and the sound of waves crashing is incredibly relaxing. I always enjoy searching the beach for sharks teeth and unique shells and I've found that the best place to find sharks teeth is right at the water's edge. Sometimes I'll even come across one of those orange and purple starfish. They're fun to look at and take a picture of for Instagram, but they are usually still alive so I always leave them where I found them.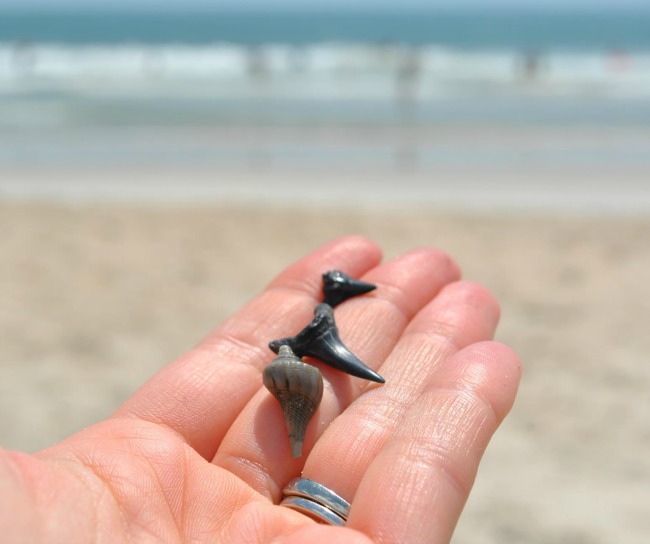 Sharks teeth are my favorite thing to find on the beach!
After a few hours on the beach, I recommend you stop by Stir It Up for a smoothie. My favorite to order is the Uprising, it has banana, peanut butter, and bits of coffee grinds — yummy! There's also a number of casual restaurants on A1A to take a lunch break from the beach. To name a few, Salt Life Food Shack has a patio area that is pet friendly, there is a pool at Jack's BBQ, and Hurricane Wings has an outside dining area.
As I said before there are other things to do in St. Augustine Beach than passing time on the beach. Fiesta Falls Mini Golf is an 18-hole course that everyone can have fun playing. There's also Anastasia Lanes if you're over the heat and want to get out of the sun for some bowling - and into some air conditioning.
After a day in the sun, my ideal evening involves a shower (I always get sand everywhere from laying in the shoreline water), a nice dress to flaunt my fresh tan lines, and a restaurant reservation with family or friends. What's your favorite thing to do after a day at the beach? 
Beach Rules, Tips, and Safety
While we who love to beach may be the most prominent beings on the beach, please remember that our beaches are home to many wildlife, including a number of endangered or threatened species, such as sea turtles, the Anastasia Island Beach mouse, and gopher tortoises — plus a multitude of shorebirds. Any of these may use the beach for nesting and foraging from spring throughout the summer. 
Sea Turtle nesting season runs from May 1 through October 31. Those renting a home or condo on the beach must reduce the impact of their lighting, so please use shades and curtains at night. Never approach sea turtles who are heading to the beach or back to the sea. Please dispose of all your trash and please pick up any plastic or fishing line you see on the beach.
The "Conversation Zone" is 15 feet from the dune front to the shore. To help us to protect birds, tortoises, and that cute Anastasia mouse, avoid walking, driving, or setting up your blanket and umbrellas close to the dunes.
Please use designated beach walkovers to cross the dunes, fill in any holes before you leave, and do not remove any sand (other than the inevitable) or beach vegetation.
Some of the best surfing in the area can often be found at A Street - for information about currents and riptides, go here. 
The following things are prohibited on St. Augustine Beach: glass containers, alcohol, unleashed pets, motorized boats launching or landing, open fires, and loud music.
Places to stay on St. Augustine Beach:
Beachers Lodge: My mom and stepdad always used to stay here when they came to visit before moving to St. Augustine. These are great little efficiency condos - with little kitchenettes - right on the ocean, with a pool too!
Regency Inn & Suites: Regency Inn is a short walk to the beach and has an indoor pool. Evening dip anyone?
La Fiesta Ocean Inn & Suites: A boutique inn right on St. Augustine Beach with award winning landscaping and waterfalls and a private walkway to the beach.
Local St. Augustine blogger Meaghan Alvarado is a Flagler College alumni who writes on many topics ranging from fashion and food to crafts and local St. Augustine happenings.