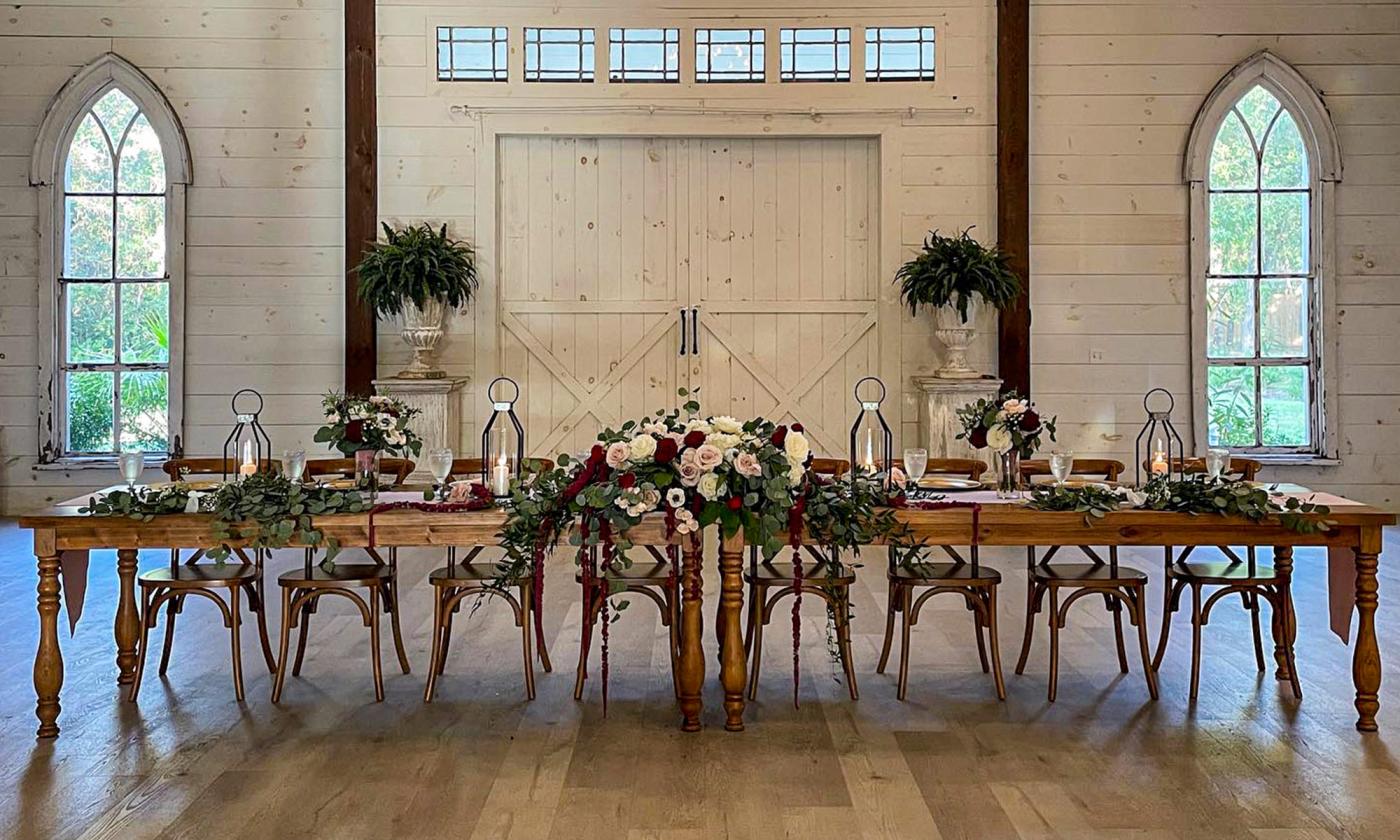 Book a Barn Wedding Venue
Shabby chic wedding venues, where elegance meets rustic, will make your day picture perfect.
It's no secret that St. Augustine has become a hugely popular wedding destination over the years, with its pristine beaches and charming historic downtown. However, there's a third kind of themed wedding that's popping up in and around the nation's oldest city due to the prevalence of local horse pastures, barns, and live oak trees draped with Spanish moss. The barn wedding trend is thriving in and around St. Augustine.
Barn Wedding Options in Town
The Carriage House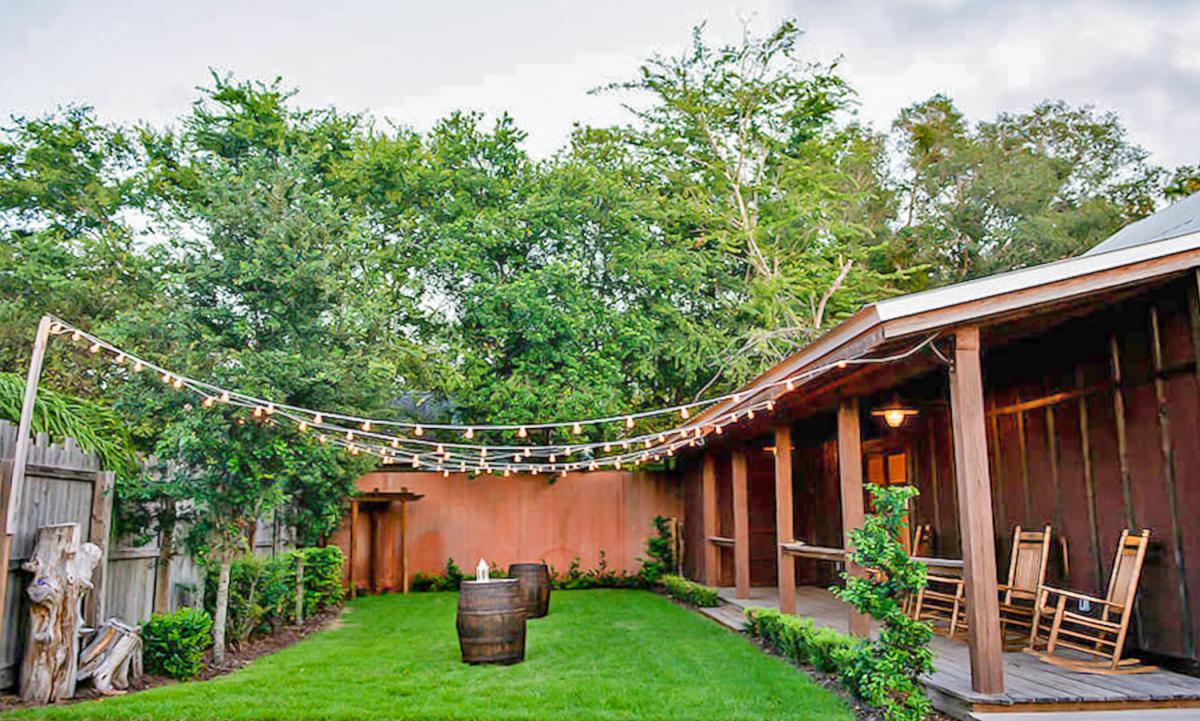 Photo courtesy of Carriage House
Can you say, "Old Florida charm?" If so, you can also say, "The Carriage House" as this place delivers the old Southern charm mixed with modern amenities. With its 27' exposed beam ceilings, 2,000 square feet of air-conditioned space, farmhouse tables, carriage-wheel chandelier, and outside garden area, it's a delight to visit. In fact, since I live so close to it, I cross my fingers every time I drive by hoping someone will invite me to an event here as I know what lies beyond the gorgeous wooden doorway facing San Marco Avenue just north of Route 16 and the iconic 1950s Florida Motel.
With free parking and a location just north of Uptown, it's like city meets country in this not-so-little hidden gem. The seating capacity is for 130 at tables or 160 with theater seating. There are also bridal party dressing rooms and an adjacent covered picnic area. The Carriage House is like a journey to a different dimension — one of days past — that makes for a memorable ceremony and stunning photographs.
The Colonial Oak Music Park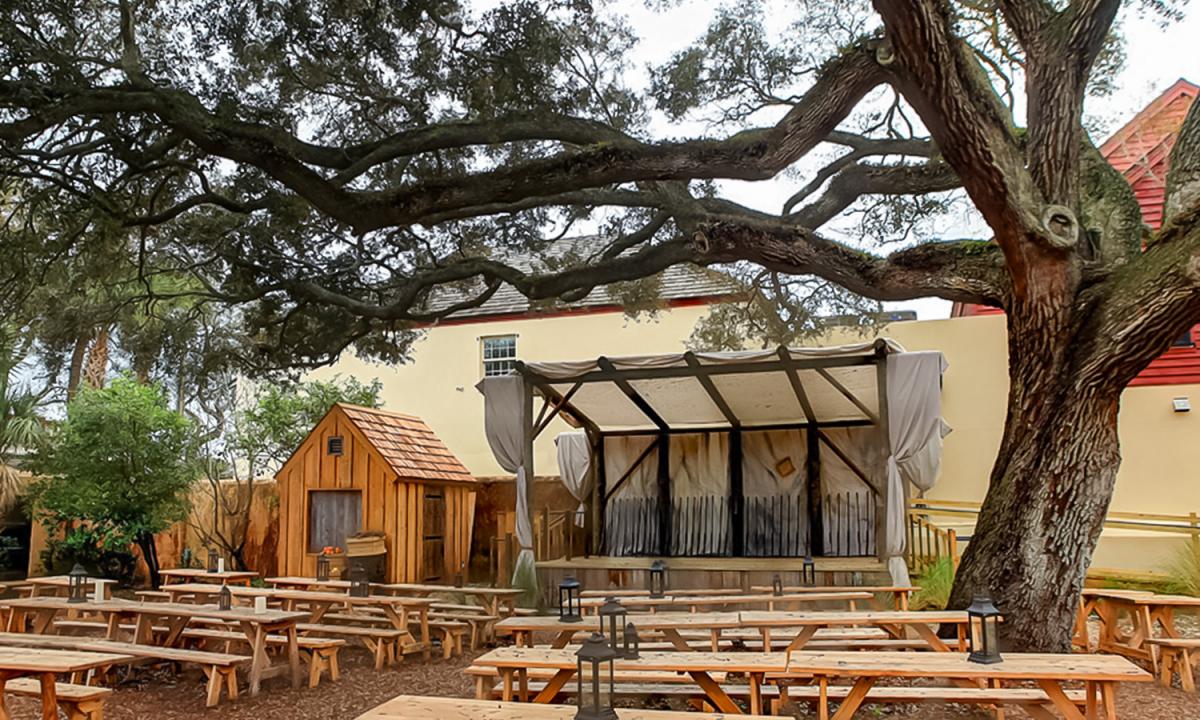 Photo courtesy of Colonial Oak Music Park
The Colonial Oak Music Park, the outdoor event space at the Colonial Quarter, is an enchanting setting for weddings, and it's located in the heart of historic downtown just off St. George Street. The Oak features an amphitheater under St. Augustine's second oldest sweeping live oak tree (one of my favorite local landmarks) with family-style table seating for up to 175 guests. The space also offers a full bar and catered menu options from the on-site chef.
The two-acre outdoor space also houses the St. Augustine Pirate & Treasure Museum, so pirates and re-enactors from the colonial period can mingle and entertain guests as well.
With the twinkly lights on the old oak, you'd never guess that you're in a little oasis off St. Augustine's busy pedestrian street.
Options Just Outside Town
Chandler Oaks Barn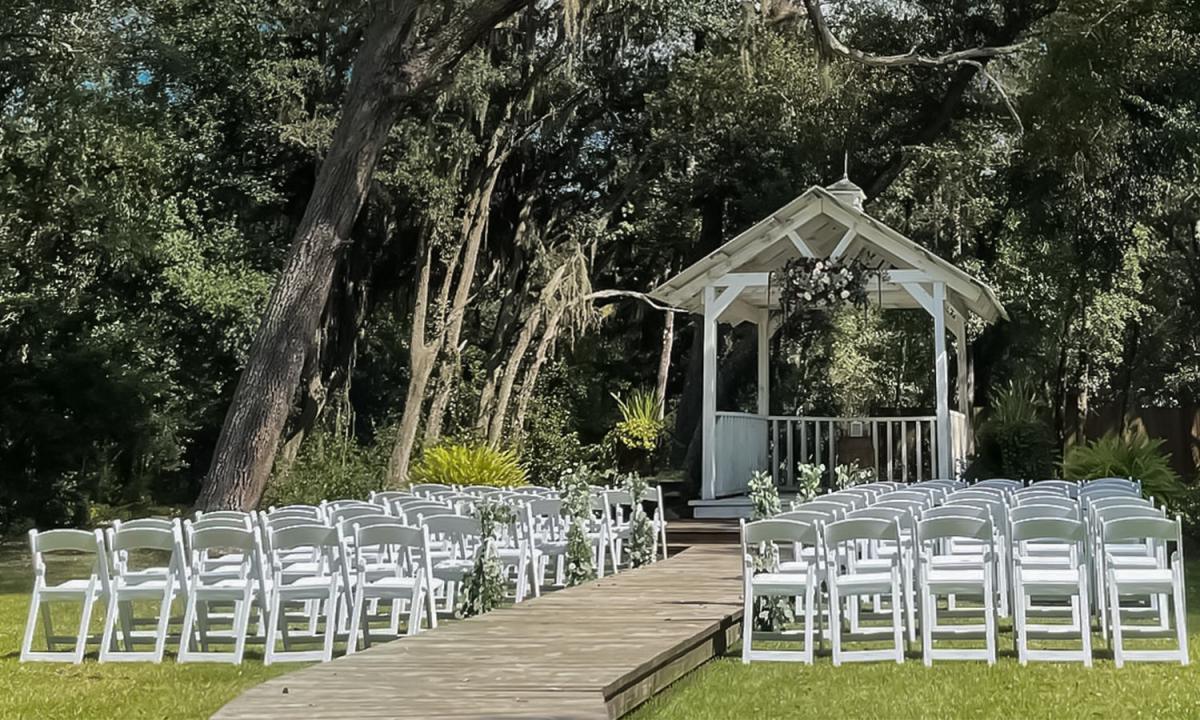 Photo courtesy of Chandler Oaks Barn
Located by the St. Johns River, Chandler Oaks Barn is a place for fairy tales — where rustic meets elegant. The 20 secluded acres of land showcase the white barn, the wedding gazebo, a pond, an adorable bridge, and mature oak trees galore. In my mind I imagine little forest fairies watching the festivities from all the beautiful old oak trees. There's also a rugged groom's parlor and a vintage bridal suite — and farm animals! Ok, sorry … the farm animals are NOT in the groom's parlor or the bridal suite, they're in the pasture waiting for you to pet them. (I literally just jumped up and down clapping!)
Southern Grace Events, a full-service wedding planning company, fell so in love with Chandler Oaks Barn — and its farm animals — that it's now the Barn's exclusive event planner helping engaged couples put together the perfect wedding package. And when you hop on over to their website, it reads, "Hey, Y'all."
They had me at "y'all."
Florida Agricultural Museum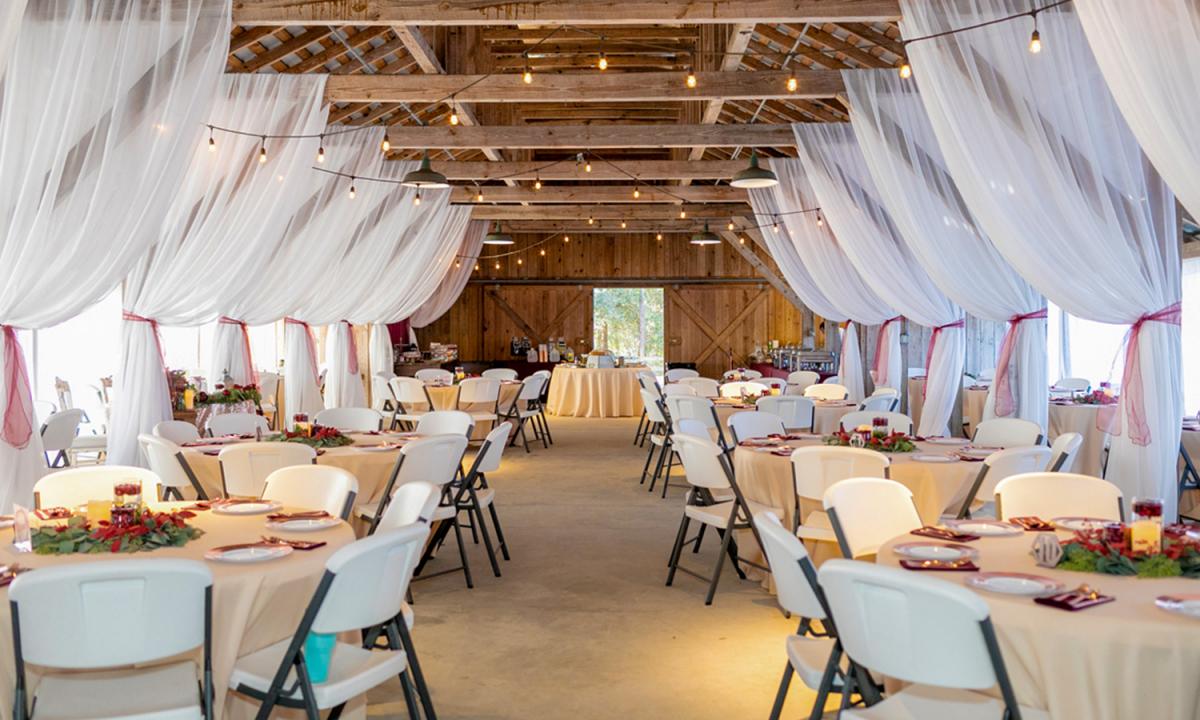 Photo courtesy of the Florida Agricultural Museum
If you want a taste of authentic Old Florida, then the Florida Agricultural Museum is as old - and authentic — as it gets, offering a glimpse into real life from the 1800s. The museum is a 460-acre living history exhibit that includes a five-building citrus complex, a 5,000-square-foot dairy barn, an 1880s farmstead with all its outbuildings, and a turn-of-the-century country store, among other exhibitions.
With horses in the background and hayrides to the wedding site, the museum provides a unique experience filled with rustic charm. The beautiful scenic lake is the backdrop for wedding ceremonies while the covered, open-air 5,000 square foot barn is a spacious reception space with seating for up to 170 people with room left for dancing. The open-air barn can be decorated elegantly, or it can have a casual country theme - the staff can work with brides-to-be to dress it up or down.
Tours of the museum can also be arranged during the wedding reception. With that I say, "horses, and hayrides, and museum exhibitions - oh my!"
Kelly Farm Events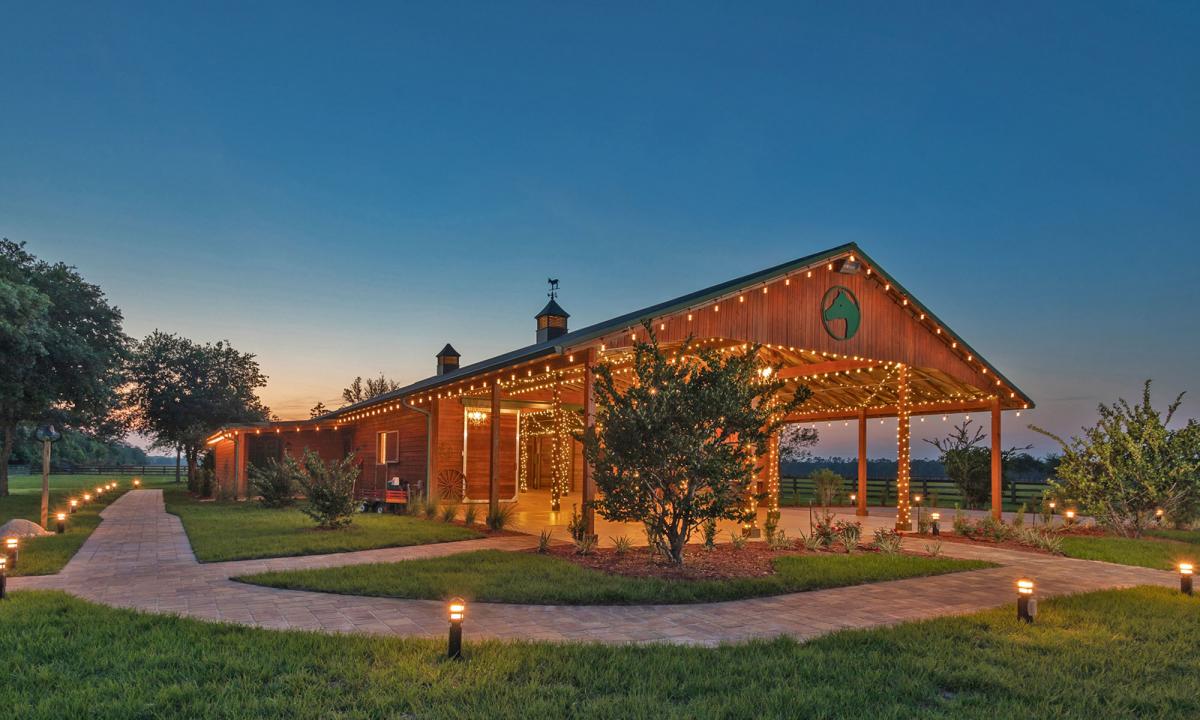 Photo courtesy of Kelly Farm Events
Situated in the gorgeous farmland west of historic downtown St. Augustine, Kelly Farm Events offers a working farm — with horses (!) — and acres of green pastures as a naturally beautiful backdrop for weddings. The barn has been designed to provide rustic charm coupled with modern amenities and comforts. The 95-acre property has been featured several times in Jacksonville Magazine as it's THE perfect place for a country wedding — with horses. Did I mention the horses, and the miniature donkeys, and the miniature horses?! (Pinch me!)
There's also a beautiful outdoor bar under a covered patio with an outdoor sitting area that has a west facing trellis (think, gorgeous sunsets) for wedding ceremonies. The patio sparkles under little twinkly lights after dark.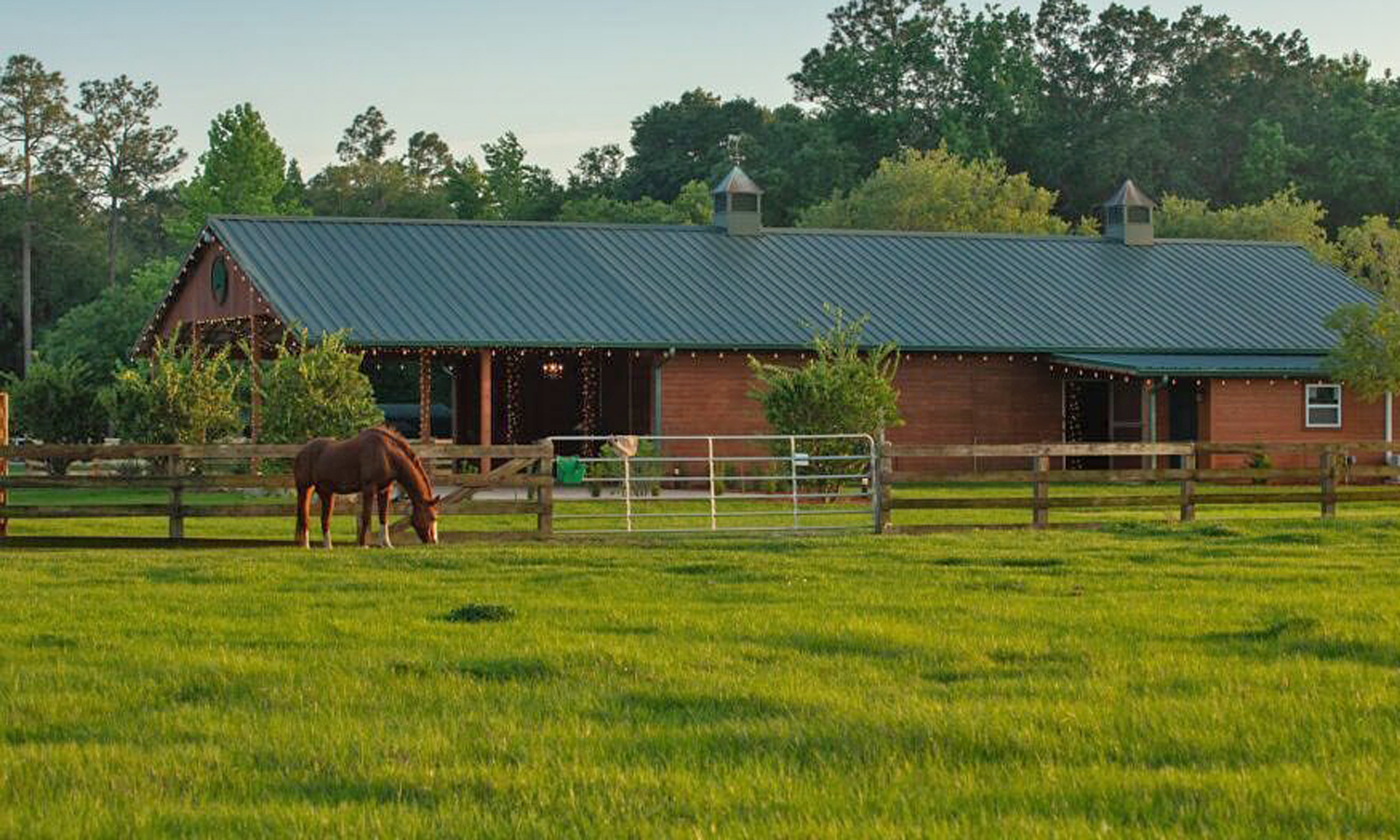 Photograph courtesy of Kelly Farm Events
If you want to get married in cowboy boots, this is your spot … I think I mentioned the horses, right??
The Hope Pavilion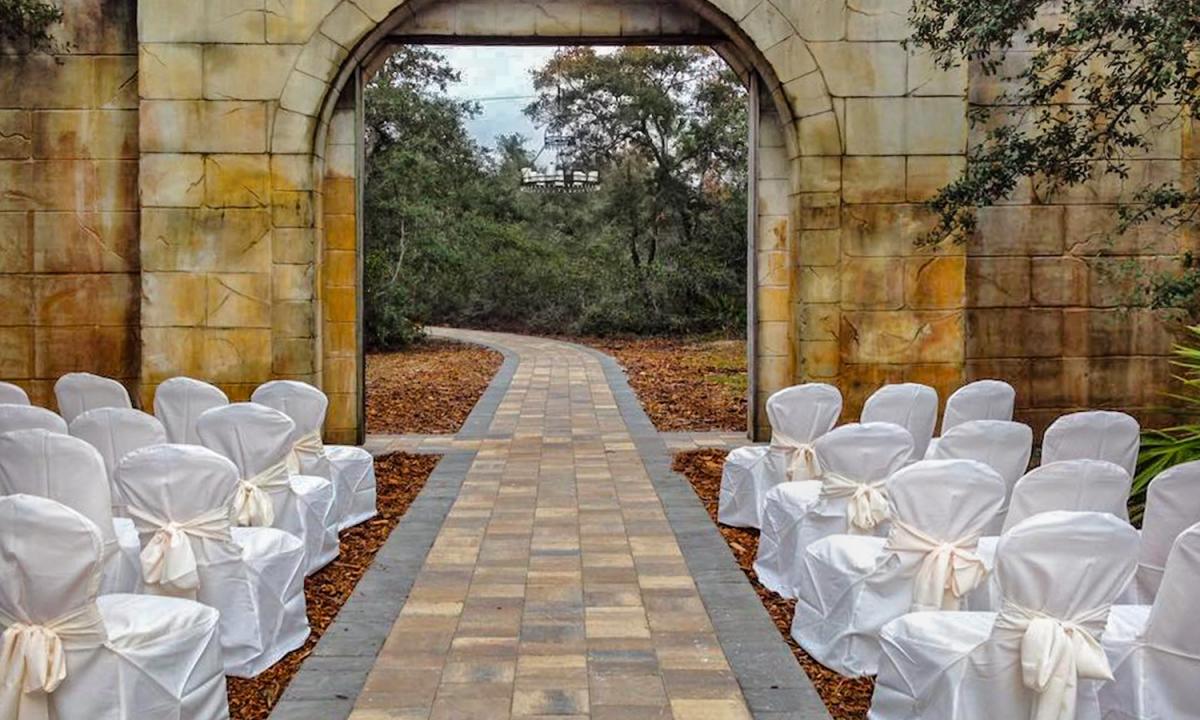 Photo courtesy of Hope Pavilion
The Hope Pavilion at Ponte Vedra's St. Francis in-the-Field Episcopal Church is a rustic, barn-style venue in an "Old Florida" natural spot. Located on Old Palm Valley Road 25 miles north of historic downtown St. Augustine, Hope Pavilion is both peaceful and natural while also being elegant due to the unique secret garden trails. With a covered pavilion wedding and event space, a lazy porch, a cozy fire pit, an ancient marketplace surrounded by woods for cocktail hour, and an open-air secret garden ceremony connected by a wandering stone woods path, your guests will think they've been transported to an exotic location. There's simply nothing else like this anywhere in Florida.
If good nature, southern hospitality, ancient scenery, Old Florida style, and secret garden charm all threw a wedding, it would be at the Hope Pavilion. I'm just hoping they'll open the space for someone (me) to read a book, while fanning themselves and drinking a cold lemonade.
Sykes Family Farms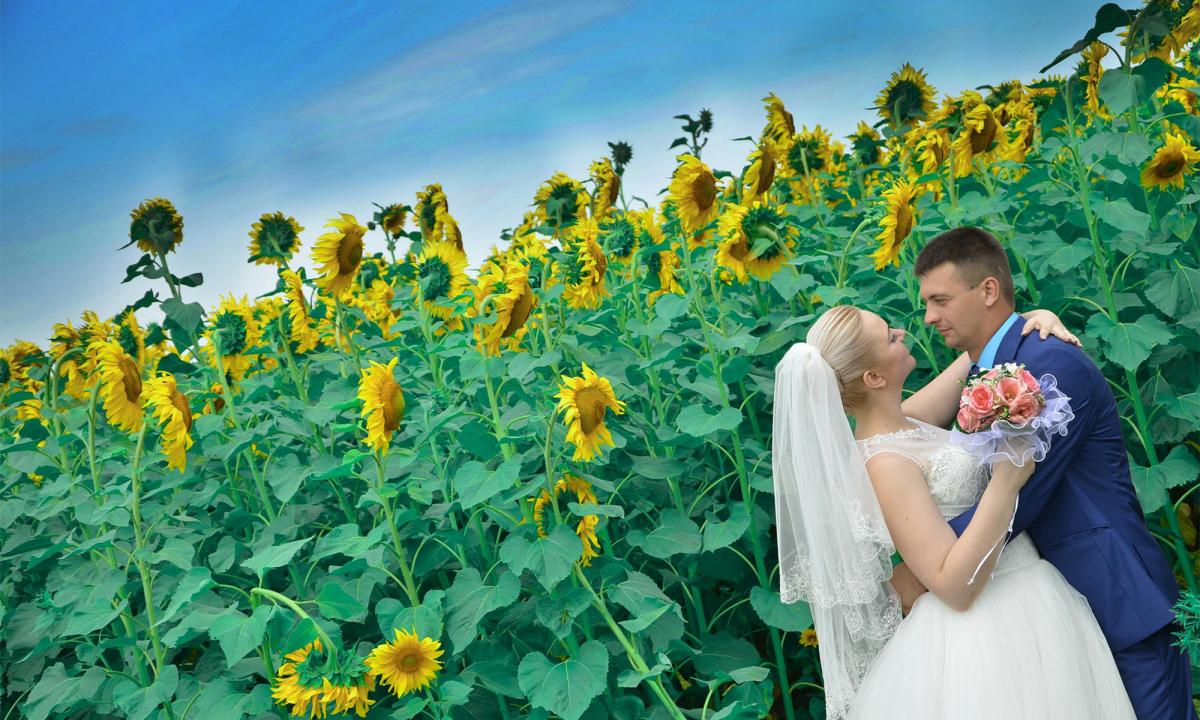 Sykes Family Farms, just outside of St. Augustine in Elkton's farmlands, offers the facility as a wedding venue during off season which runs December through August. The farm is a DIY delight and can accommodate up to 300 people. Sykes has a fully functioning kitchen, covered barns with multiple fans, tube slides for the kids on your guest list, and plenty of outdoor space for socializing. The rest rooms are outside, too, making this a truly rustic venue. And liability insurance is required (for the venue - not the outdoor rest rooms!)
Sykes has one of THE BEST sunflower fields in the area, so if you can plan your wedding around sunflower season, you might just have THE MOST gorgeous wedding photos in all the land. (I'm already jealous.)
Tringali Barn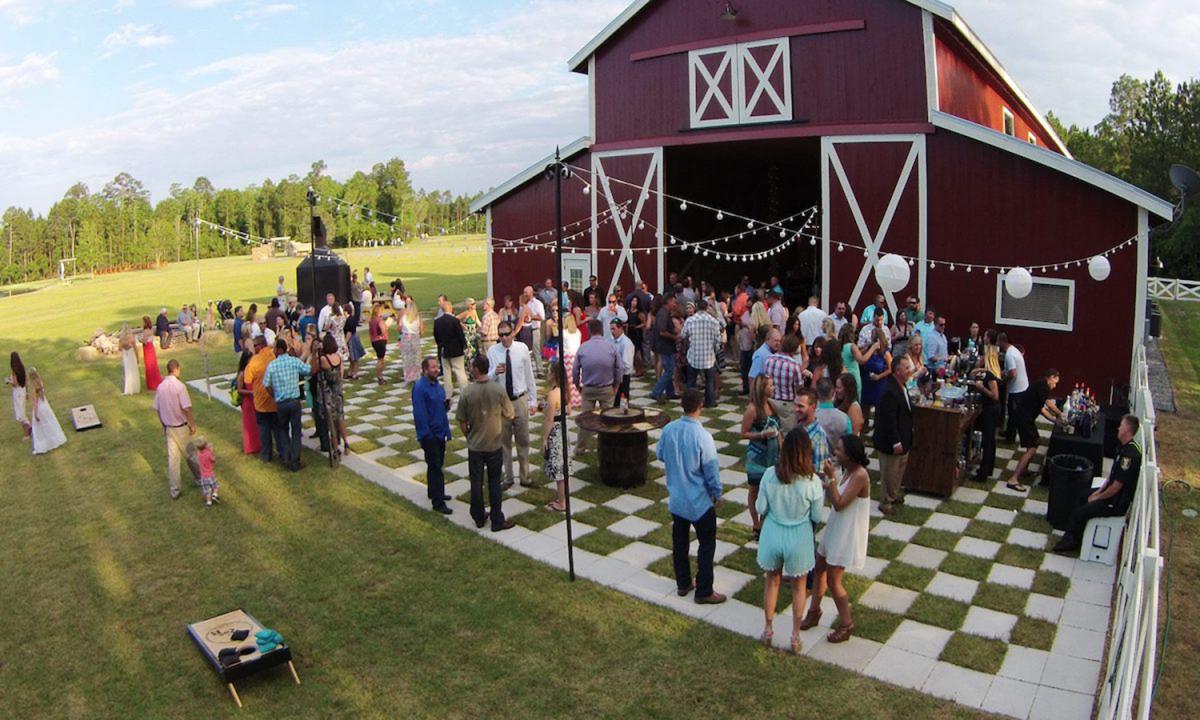 Photo courtesy of Tringali Barn
Although Tringali Barn was recently constructed in 2014 and has all the modern amenities needed for a wedding venue, it has a traditional "red barn" look to it. And I'll be honest — when I see Tringali, I literally want to hug the building. It's that cute. It's decorated with shabby chic chandeliers and whiskey barrels throughout with those magical little white string lights inside and out. (So huggable!)
The space includes 54 acres of greenery with two lakes, a fire pit, an outdoor ceremony area, a patio and two gorgeously decorated suites for the wedding parties. There's also a full catering kitchen with a cooler, freezer, and ice machine as well as indoor restrooms, and ample parking space. If it had bedding, I might want to book it to host an upscale camp for grown-ups!
La Venture Grove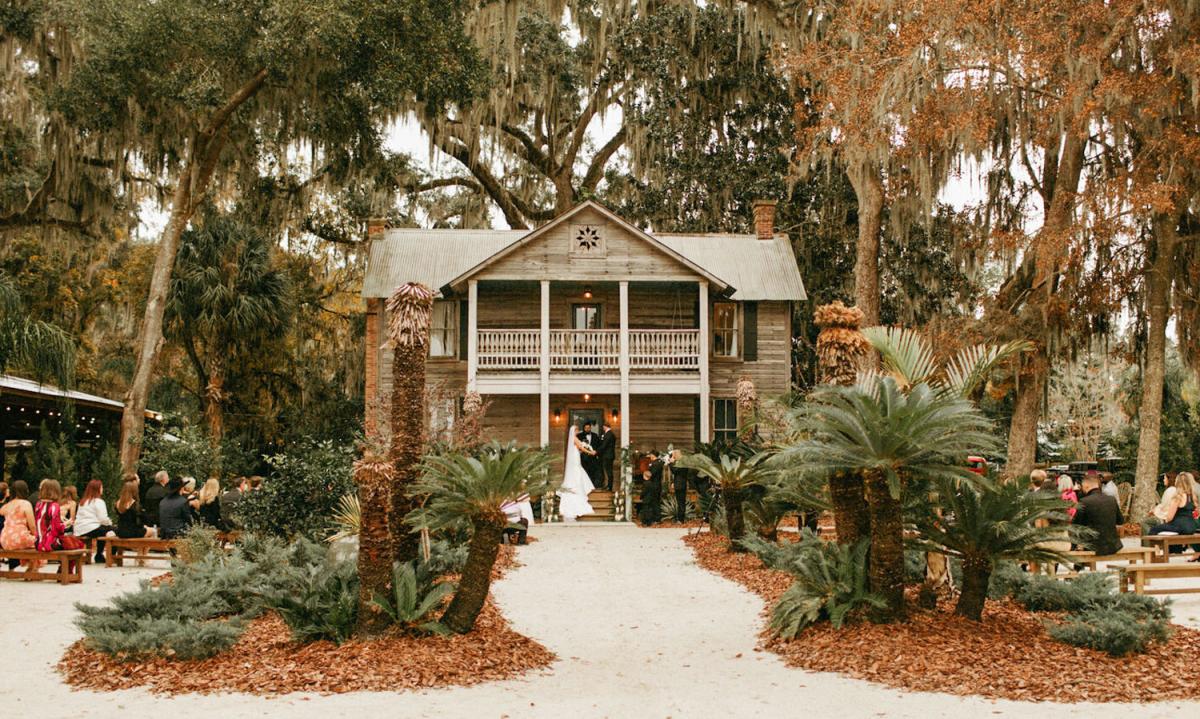 Photo by Stephanie Keeler Photography
La Venture Grove is a citrus grove and historical home nestled in the heart of Switzerland, Florida. "What is this Switzerland, Florida," you say? It's a gorgeous area of St. Johns County that's next to the river of the same name. This six-acre property, 45 minutes northwest of historic downtown St. Augustine, sits on the east side of the river, offering breathtaking waterfront sunsets among the 500-year-old oak trees, all dressed in Spanish moss, scattered throughout the property.
Built in 1880, the home still has the original siding, flooring, windows, and doors and features a luxurious bridal suite and an old smoke-room-style groom suite. Adjacent to the house is a brand new 2,000-square-foot barn-style pavilion. Amenities include farm-style tables, whiskey barrel cocktail tables, and a handmade arbor.
How can you go wrong telling folks you're getting married in Old World Switzerland (Florida) at sunset along the river? Imagine the postcards you'll send!
Couples who desire something a bit different for their destination wedding will find the perfect location for a barn wedding in America's Oldest City. Places in town, or in the surrounding countryside, offer the old-world rustic charm of a barn wedding combined with all the expected amenities for the bridal party and their guests. From historic properties to fields of sunflowers to working farms, each location provides a unique, slightly casual rustic setting — and yes, some even have horses.
Cover photo courtesy of Chandler Oak Farms