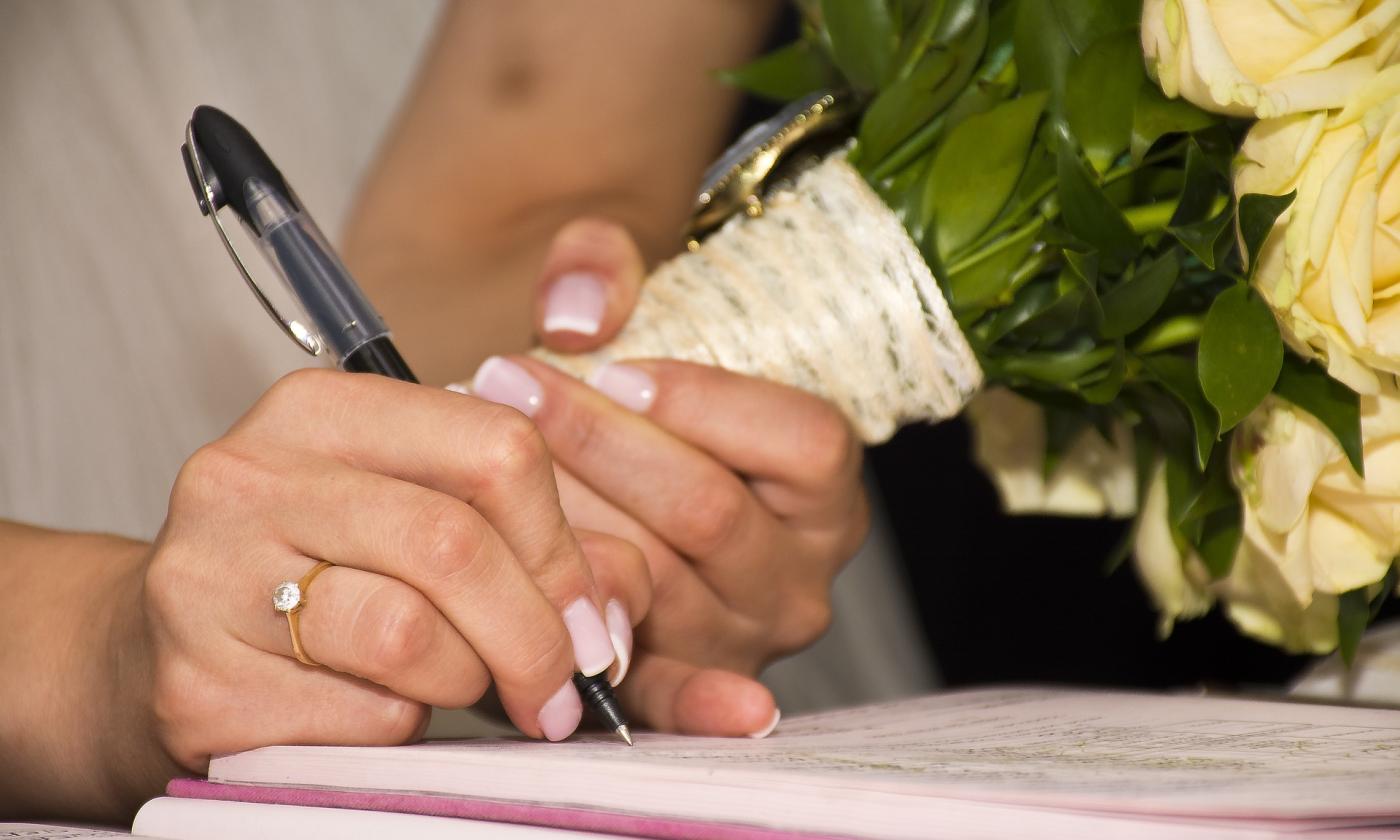 The Legalities of Getting Hitched
How to jump through the legal hoops for your St. Augustine destination wedding.
Congratulations on becoming engaged! We're delighted that you're considering holding your destination wedding in St. Augustine.
Getting married isn't only about tasting cakes and choosing a theme — those who want to end the day with a signed certificate of marriage need to jump through a few legal hoops along the way. Plus, if you're planning a casual wedding in a quiet location such as the beach or a park, permits will be required. (Jump here for information about permitting.) Of course, if you've chosen a wedding venue (like the Treasury on the Plaza) or are working with a local wedding planner, they'll be able to help you keep it all legal. Still, it's best for you to be fully informed.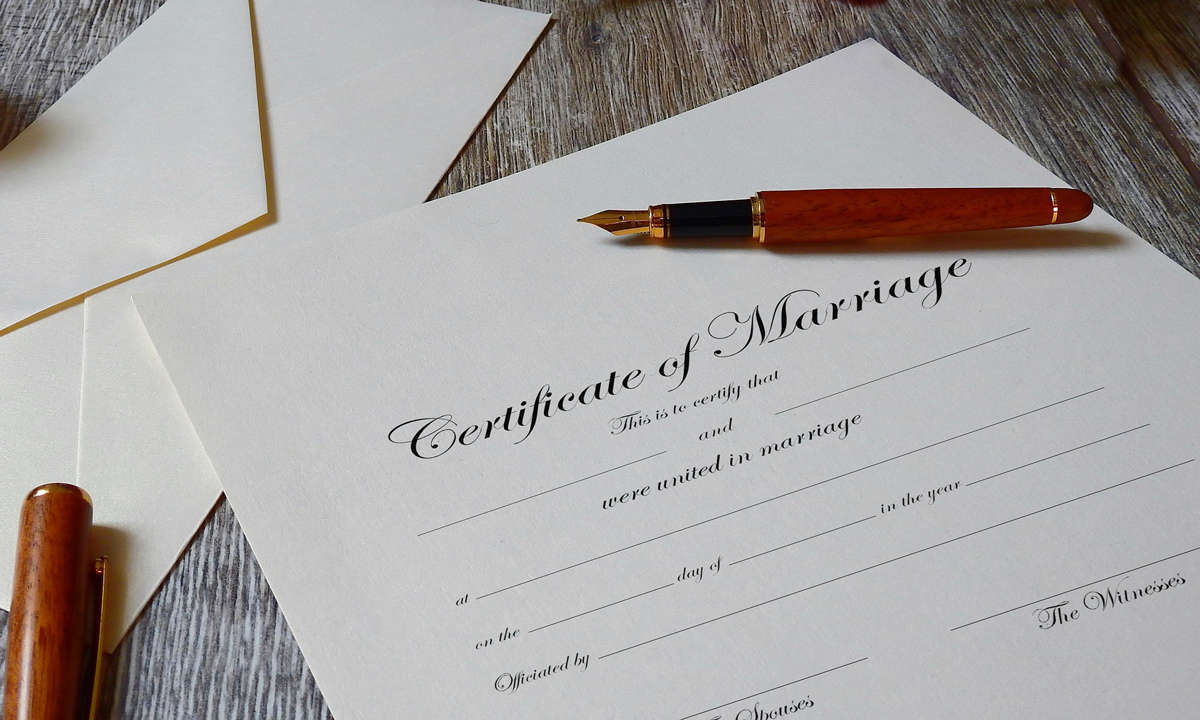 Photo by Pixabay
The Marriage License, Certificate, and Ceremony
First, the Marriage License
Three Quick Tips:
To get married in St. Augustine, you must obtain a Florida Marriage License prior to the ceremony. To obtain the license, you must be present to apply — both of you, together, at the same time — at a Clerk of the Court in a county in Florida.
You can apply on the day of your wedding or up to 60 days in advance of the wedding day. If you're both from Florida, there may be a three-day waiting period. (See below.)
No matter where you're from, if you get married in St. Johns County, your

wedding certificate will be filed with the St. Johns County Clerk

.
The Details: Applying for the Marriage License
Who and Where:
Any couple who wishes to be married in Florida must apply for the license in person, together.
Here in St. Augustine, you'll have to go to the office of the St. Johns County Clerk of the Circuit Court and Comptroller, 4010 Lewis Speedway, St. Augustine, Florida, 32084 — between the hours of 8:00 a.m. to 4:30 p.m. — Monday through Friday, except for holidays.
What you Need:
Each of you must bring one of the following photo IDs: A driver's license issued in the United States, a Federal or State identification card, a passport showing your name and date of birth, or a military ID. If one of you is a non-citizen, an alien registration number, foreign passport, or U.S. Driver's license will qualify.
You will need to provide your Social Security number, but don't need to show the card.
Blood tests are not required.
Both of you will be required to affirm that you've read the Family Law Handbook prior to obtaining your marriage license.
If either of you were married before you will need to provide a statement of how the last marriage ended and the exact date it ended. (Copies of the death certificate or divorce decree or annulment are not required.)
Waiting Period (A) If one or both of you are not residents of Florida, you are still required to affirm that you have read the handbook, but you are not required to take a premarital course or to wait three days prior to getting married. In other words, you could arrive in St. Augustine on the day of your wedding, or the day before, get a license, and get married.
Waiting Period (B) If both of you are Florida residents (even if not from St. Johns County), you must either prove you have taken a 4-hour (minimum) pre-marital course from a provider registered in your county, or wait three days after obtaining the license before holding the ceremony.
Marriage license fees vary depending on your residence and which hoops you have jumped through.
If one or both of you are not a resident of Florida — $86.00, plus tax, with no waiting period.
If both of you are from Florida, and you didn't take the course — $86.00, plus tax, with a three-day waiting period.
If both of you are Florida residents and you took the course through a St. Johns County registered provider — $61.00 plus tax, with no waiting period.
Two caveats:
If one or both of you are 17, you'll need written consent from your parents or legal guardian. Plus, the older party cannot be more than two years older than the younger party.
Once you have the license, the ceremony must take place within 60 days. If you'll be traveling to St. Augustine together 60 days prior to your wedding, you could get your license while in town.
Whew! That was all pretty dry. Let's move on to the slightly more fun stuff.
Photo by Kram Kran Photography
Second, the Ceremony
Eloping — No Bells and Whistles
Whether you're actually eloping or simply want a no fuss, no muss wedding, you can get married at that same Clerk of Courts office. Ceremonies can be conducted Monday - Friday from 8:00 a.m. to 4:30 p.m. and no appointment is needed. 
Eloping — Bells and Whistles
If you're "eloping" or simply want an intimate ceremony you can still enjoy a charming and meaningful wedding. Wedding planners and venues are available for small and large weddings, and if you choose to use their services, they'll be able to help you with the permitting. Still, it's nice to know what's required, so let's talk about more hoops.
Who can Perform the Ceremony?
For a legally certified wedding: Florida law requires the marriage be performed by an officiant who is an ordained member of the clergy, an active or retired judicial officer, a clerk of the circuit courts, or a notary public of Florida. You can find a list of officiants, here. And of course, St. Augustine has many historic houses of worship, as well as newer ones for those who want to get married within their chosen religion.
Want to be married on a boat? Make sure the captain, a crew member, or one of those you brought aboard is an ordained member of the clergy or one of the governmental officials mentioned above.
How do we get the marriage certificate? Within 10 days of the ceremony, the officiant must fill out the signed license and mail it to -- or drop it off at -- St. Johns County offices. There, the marriage will be recorded and a copy of the marriage certificate will be sent to the couple.
And that brings us back to the third quick tip at the top of this article. If you obtained your license and were married in St. Johns County, the original of your marriage certificate (proof of marriage) will live here and a copy will be sent to you. If you need another copy of that certificate in the future, you'll have to apply here to the county to obtain it.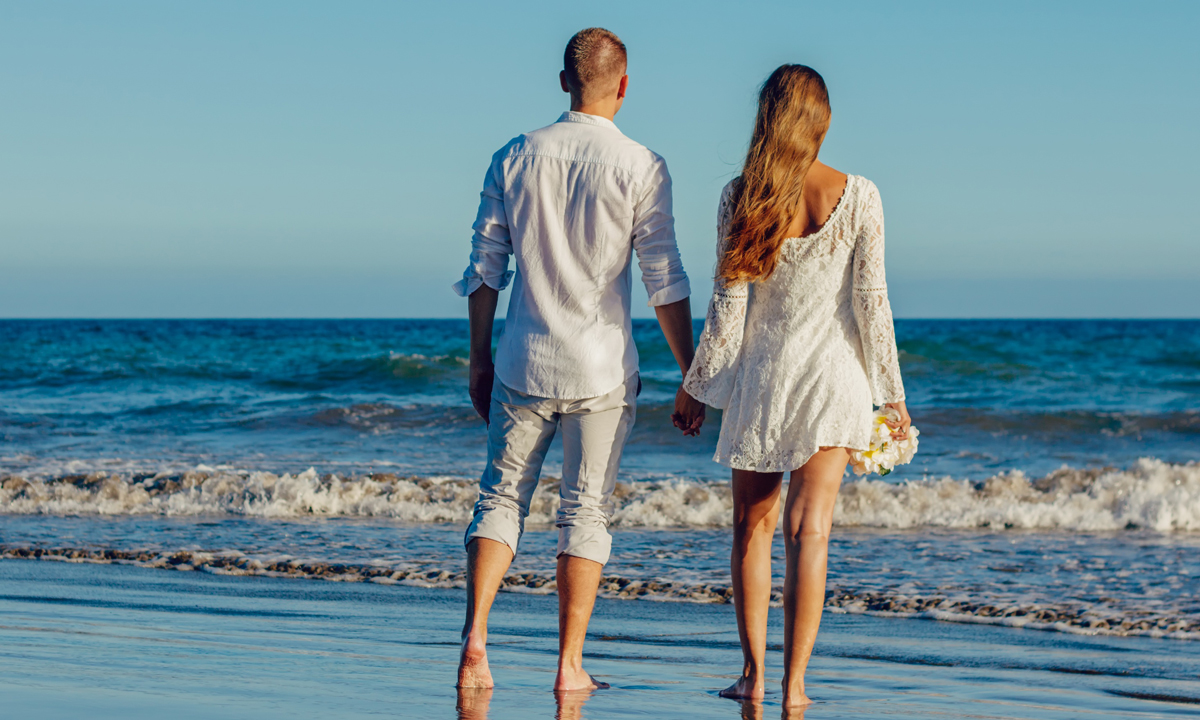 Photo by Pixabay
Permits and Fees for a Wedding at Beaches, Parks, and City Property
Again, you may opt to work with a venue or wedding planner or both. However, if it's just too soon to call in the troops and you want to see the options, or if you're handling all the wedding planning and organizing yourself, let's talk about what it takes to book some of St. Augustine's iconic outdoor locations for all or part of your wedding celebration.
Beach Weddings at St Augustine Beach and Vilano Beach
The relaxed nature of a beach wedding on a lovely day is certainly a dream for some couples and it's possible in St. Augustine. Again there are a number of planners who focus on beach weddings, including Your St. Augustine Beach Wedding, Ocean Racquet & Fitness, and Bayfront Marin House Weddings. Here are a few things to know.
Before booking the beach and checking the weather, check the tide. Some beaches are mostly underwater at high tide and it's not nice to make your grandmother stand in knee-deep water while you share your vows. Here's a tide chart for

St. Augustine Beach

and here's one for

Vilano Beach

.
Once you know which day will have low or half tide at the appropriate time, you can apply for a permit with St. Johns County. The fee is $100.00 plus tax for weddings with 200 people or fewer. There are (of course) rules about the beach: no fires or fireworks, music must not be so loud it can be heard more than 25 feet from the source, alcohol and glass containers are both prohibited. Anastasia State Park also has options for weddings, and a park fee must be paid. 
A word about balloons. As of February 4, 2022, the St. Johns County joined the City of St. Augustine in prohibiting any balloon or sky lantern release outdoors. This is a change from the state law that limits balloon releases to 10 for any event. Persons releasing even one balloon or sky lantern within the boundaries of St. Johns County could be subject to a $500.00 fine.
Beach Wedding at the St. Johns County Pier Beach Pavilion
The Pier Pavilion at the St. Johns County Pier is a hard-covered, open-sided structure that measures 84'X84', can hold close to 200 people, and is handicapped accessible. It can be rented for the day for $450.00 for non-residents of St. Johns County, and $300 for residents. To learn more, contact Danielle Fountain at (904) 209-0752 or email her here. You can also find the permit applications here. If you plan to serve alcohol, make sure to download that permit, too. For more about alcohol, go here.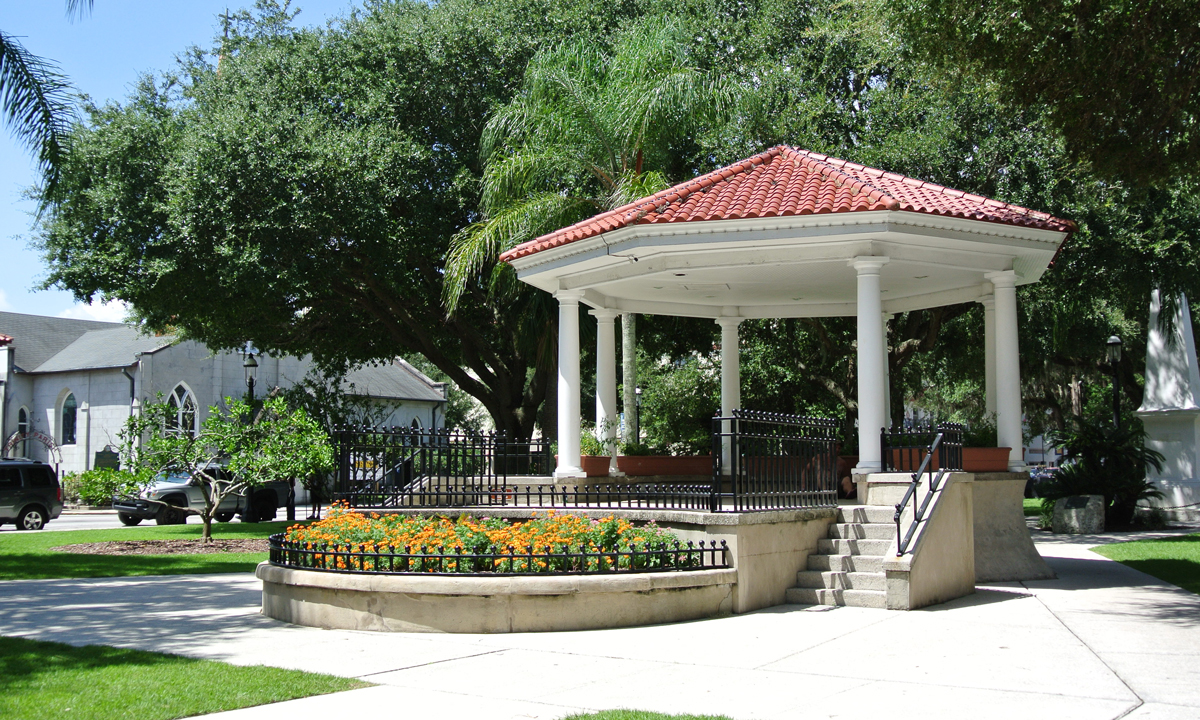 Photo by VisitStAugustine.com
Historic Downtown
There are a number of St. Augustine city-owned spaces that are suitable for a wedding and can be reserved for a private event. These are: Plaza de la Constitución's Gazebo, St. Augustine Municipal Marina, the Willie Galimore Center, and the Lightner Courtyard. (This last one is not to be confused with having a wedding inside the Lightner Museum. To do that, contact the Treasury.) Like any other option, wedding planners are available for these locations. If you want to handle things yourself or just want to learn a bit more before making a decision, read on. 
All city-owned venues can be reserved through the office of Public works. Their phone number is (904) 825-1004. The Wedding Authority plans weddings at two municipal properties, the Lightner Museum Courtyard and the Municipal Marina.
Historic Downtown: Lightner Courtyard
While there are wedding planners who can arrange your wedding at the Lightner Courtard, it's possible to take care of it yourself. There are designated hours, limits on the number of people, and you will have to find a vendor for chairs and other services, but you, too, could plight your troth while standing on the stone bridge over the koi pond. Learn more here, and click on the link to download the application.
Historic Downtown Location: Gazebo in the Plaza de la Constitución
This venue in the park is limited to the Gazebo, and is suitable for small ceremonies. To rent the Gazebo, call that number for the city: (904) 825-1004
Historic Downtown: The Municipal Marina
Events and ceremonies may be held on the lawn area of the Municipal Marina. Public restrooms, electric power, and potable water are available on site. The Municipal Marina can assist with obtaining catering, tents, tables, and chairs for events. Call the marina at 904.825.1026. The Wedding Authority has the authority to book weddings at the Marina. Their number is 904.826.0166
Historic Downtown: The Willie Galimore Center  (Lincolnville neighborhood)
This building has a capacity of up to 143 for a banquet and up to 280 for a stand-up reception. There is a smaller room that will accommodate 30 seated and 80 for a reception. It's located in the Lincolnville Historic District at 399 Riberia. This is not an ornate or historic option, but it is a clean budget-friendly option that's close to downtown and with a kid's playground on the property. You can learn more and download the application here.
Of course there are both historic properties and private enterprises with venues all over St. Johns County. You would need to book their space, but you do not need a permit to do so.
All the Other Stuff: Planning Your Destination Wedding in St. Augustine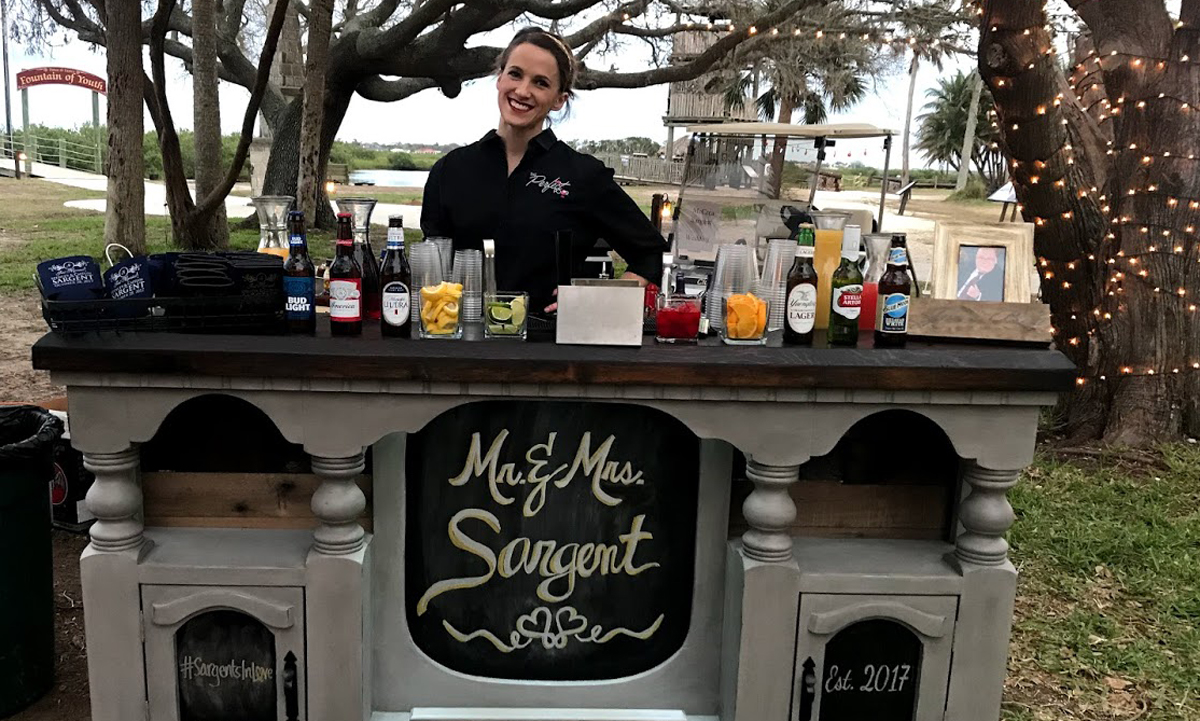 Photo from The Perfect Pour Mobile Bar in St. Augustine.
A word about serving adult beverages. Only licensed venues and caterers with liquor licenses may operate cash bars. If you're holding an event with alcohol in a non-licensed venue you'll have to get an alcohol permit and insurance in order to host an open bar. Here is a link to the information about licenses and insurance. Warning, this is confusing, and I had to go to a professional, Alicia at Perfect Pour, to get schooled on this. In short, outside of licensed facilities, only non-profit organizations can host a cash bar. Individuals may not. Perfect Pour and other mobile bartenders will provide all bar services for open bars, and will guide you through the licensing, insurance, and ordering the alcohol.
Once you know how to make sure your union is legal and find a venue that works best, the rest of the wedding prep is mostly fun with cake tastings, conversations about color schemes, and finding the right music. We have a robust wedding section with directories for venues, entertainment, caterers and bartenders, bakeries, and more. We also have a number of specific articles from everything about pirate weddings, beach weddings, and more to helpful tips for wedding guests.

Local photographers whose photos were used in this article: Kram Kran Photo